If you are using WooCommerce Memberships or other membership plugins, you probably haven't unlocked the full potential of your website.
Because you may not have come across the original Smart Coupons plugin.
From offering exclusive benefits to personalized discounts with some automation touch, you can acquire new members and retain existing members, reducing churn.
Let's delve into how Smart Coupons can elevate your membership offerings and drive customer loyalty.
Seven coupon hacks to acquire and retain members
Smart Coupons is a complete package. Gift cards, advanced discounts and restrictions, BOGO offers, readymade styles, URL coupons…get 10+ different plugins in a single plugin.
This will save you a minimum of $500 and the hassle of managing multiple plugins.
If you don't believe me, 20K+ paid users are a proof as to why the plugin is so popular.
Coming to the hacks:
Welcome discount for new members
This is a great strategy to incentivize new users to join your membership program.
Smart Coupons provide a setting to keep the coupon exclusive to new users.
If you sell memberships as a subscription, you can also offer a discount on the signup fee.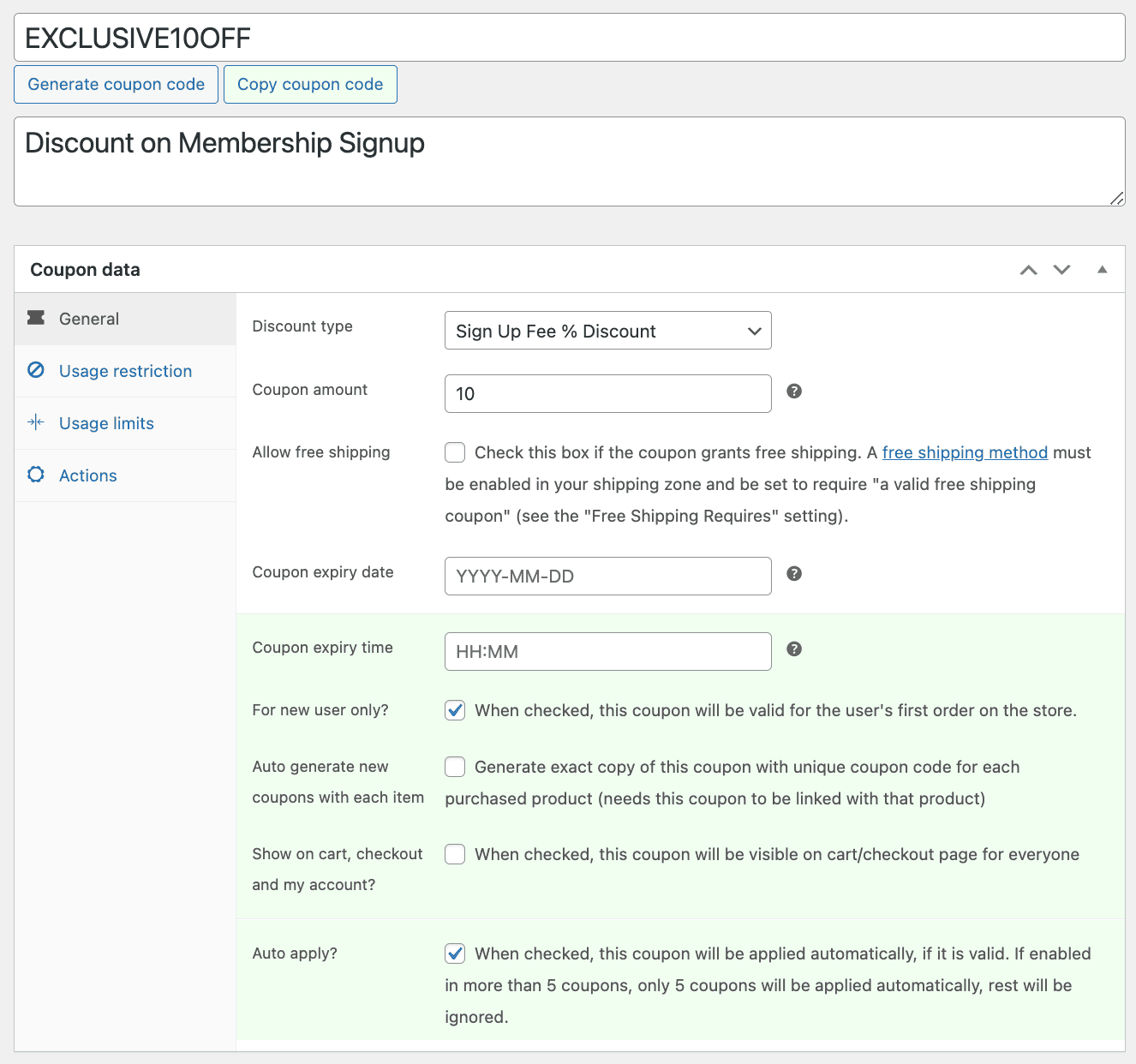 Club this setting with Smart Coupons payment method restriction to avoid misuse. For instance, 10% off on the sign-up fee for a product worth $199 when the payment gateway is Stripe.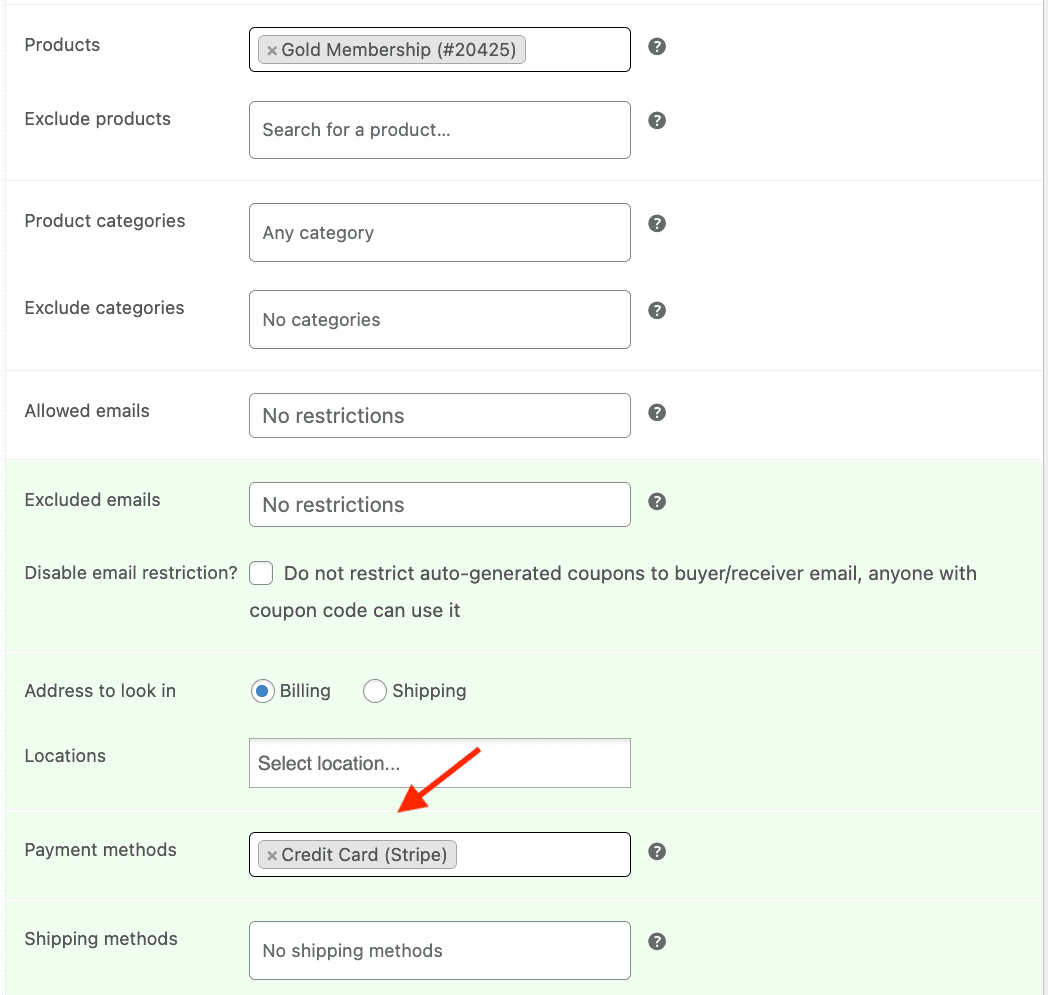 Recurring discount on membership subscriptions
Not just the sign-up fee, you can also provide recurring discounts on membership subscription products. This will encourage customers to use the product for longer, thus retaining them.
You can combine this setting with the auto-apply setting of Smart Coupons, to avoid the manual coupon code application from the customer's end.
Learn more about setting up advanced WooCommerce subscription coupons.
Note – Both the above hacks are valid when the membership product is created using the WooCommerce Subscriptions plugin.
Provide a free gift on membership purchase
This is similar to offering a Buy One Get One free or BOGO offer. Consider you are running a fitness membership program on your website.
When users add this membership product to your cart, you can provide them with some fitness resources PDFs, a yoga mat, and a bottle with your brand name for free.
When users add your fitness membership program to the cart, the desired product(s) will automatically get added for free.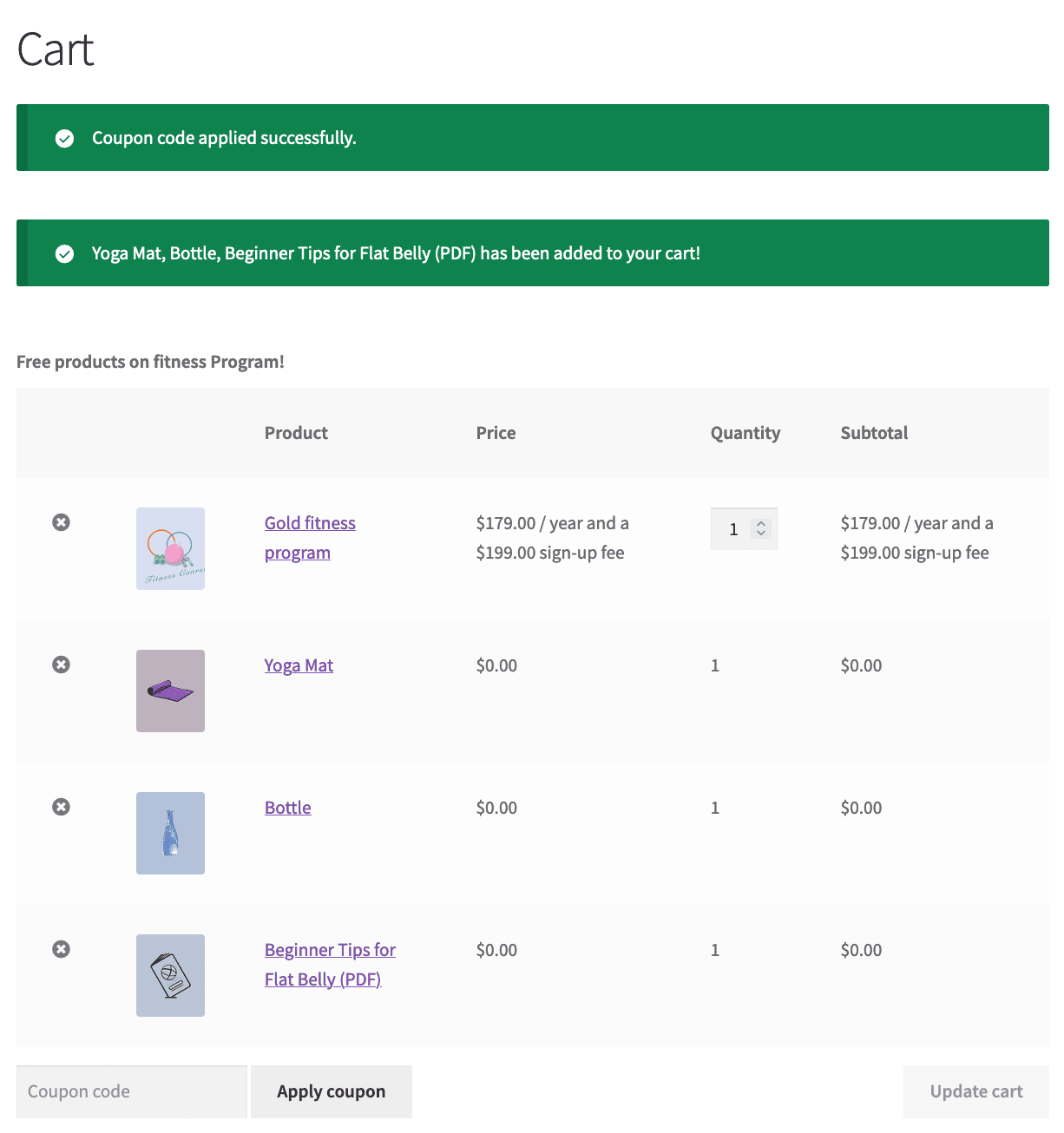 Creating these BOGO offers is very simple with Smart Coupons. Here's how
Restrict membership plan discount by location
When you know where your high-paying customers reside, why not target only them?
These customers are more prone to upgrade to premium membership plans even though the discount offered is less.
Create a coupon that can be applied only to that specific membership plan, and use the Smart Coupons location restriction feature. This will allow customers residing in that particular location only to claim the discount.
For example, target all your Silver Fitness Program members in the UK, Germany, France, Italy and Spain. Offer them a 10% discount for upgrading to your Gold Fitness Program.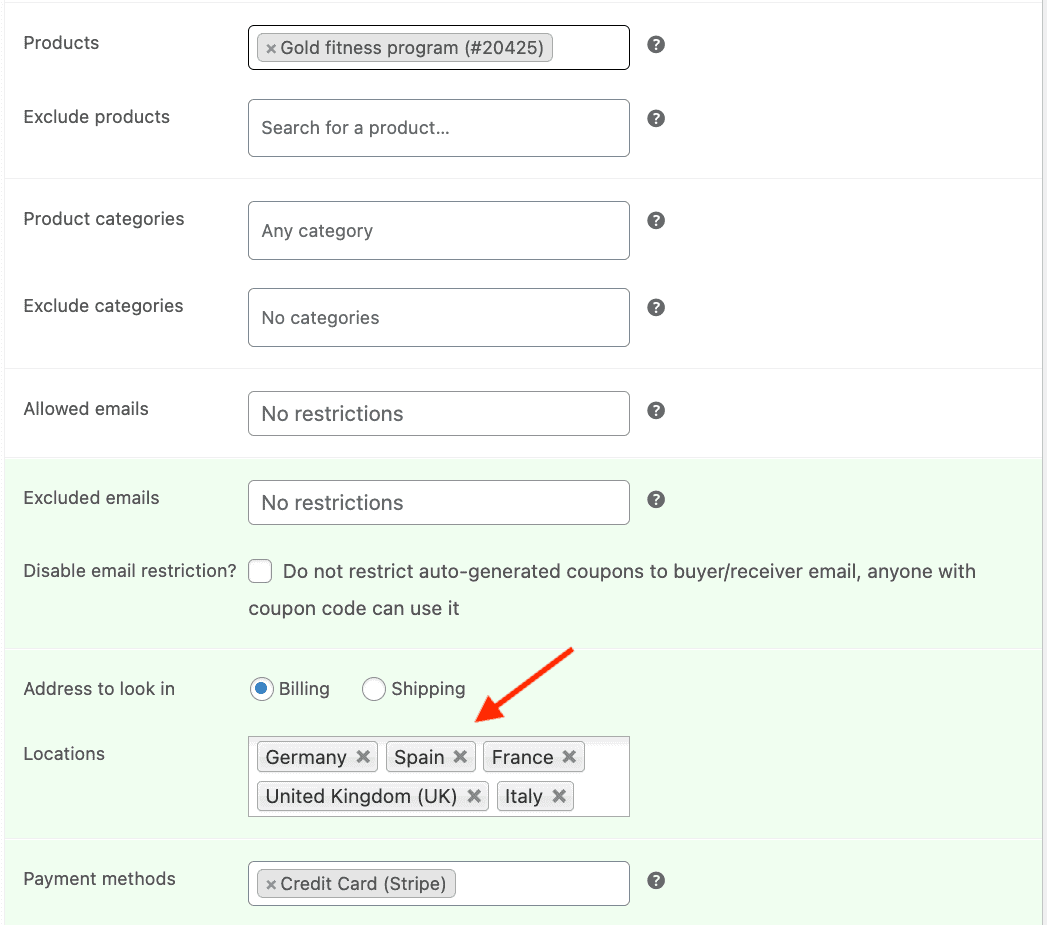 Set the location for the country, state, city or even zip code…full flexibility to you.
Here's how to create location-based coupons.
Send gift cards to build loyalty
Smart Coupons provides an option to directly issue a gift card or store credit to the customer via email.
You can use this opportunity to send them gift cards on their birthdays or before the holiday season. They can use it to upgrade to higher membership plans, renewals or to buy other products from your store.
Coupon codes for affiliates
If you've incorporated the Affiliate for WooCommerce plugin into your setup, you can leverage its smooth integration with the Smart Coupons plugin.
This plugin makes it easy to set up and manage your own affiliate program and reward affiliates for sending new members to your site.
You can assign targeted coupons – location-based, payment method-based, sign-up discount, etc. to affiliates who can use them to promote your membership product to their audiences in exchange for a commission.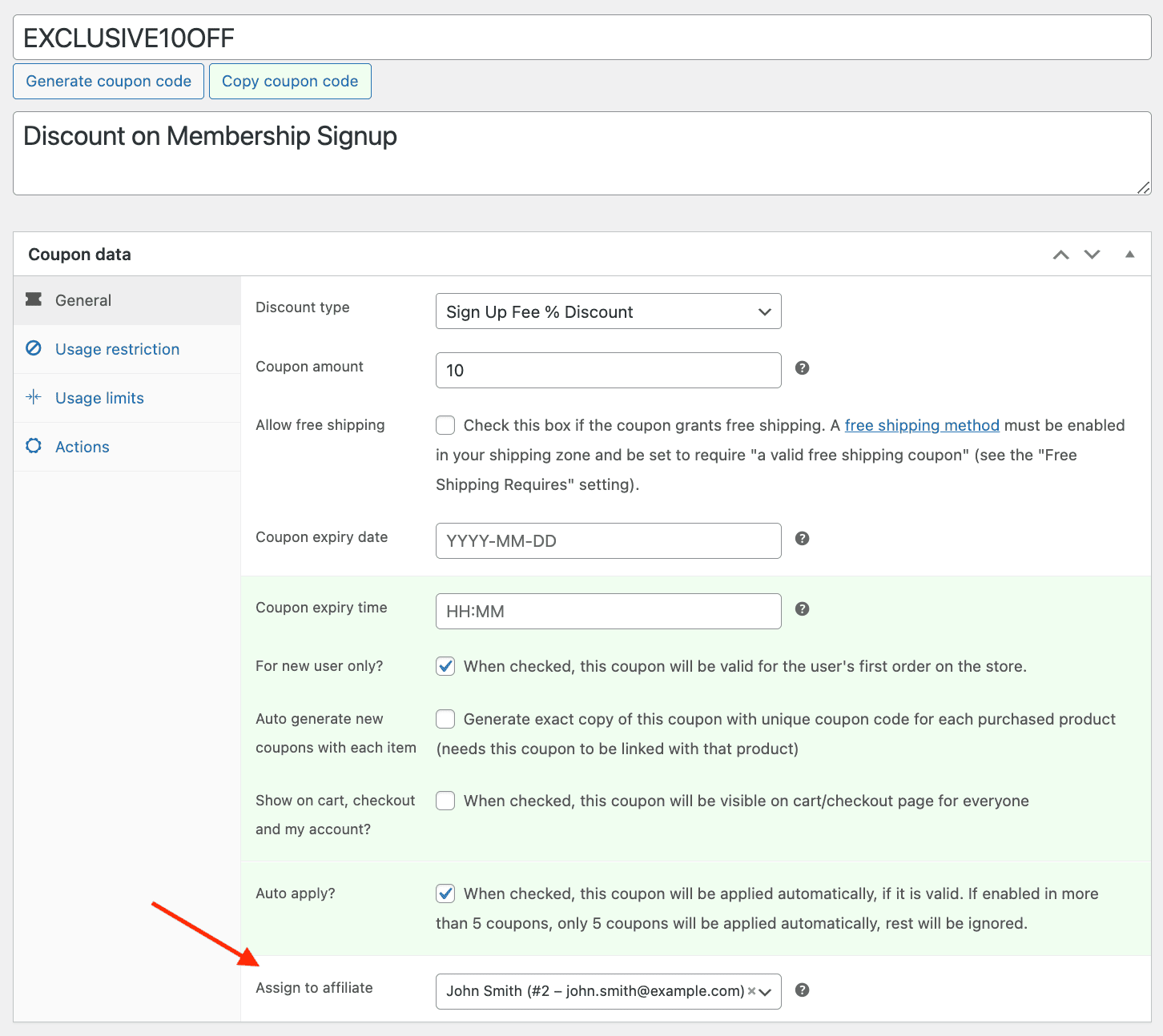 Time-sensitive bulk-generated coupon codes
To gain more customers during the Black Cyber sale, use Smart Coupons to bulk generate hundreds and thousands of unique coupon codes.
Send these codes to the deal sites, whose audience can redeem them on your membership products.
Set the coupon expiry date and time to create urgency, driving customers to make a purchase at the earliest.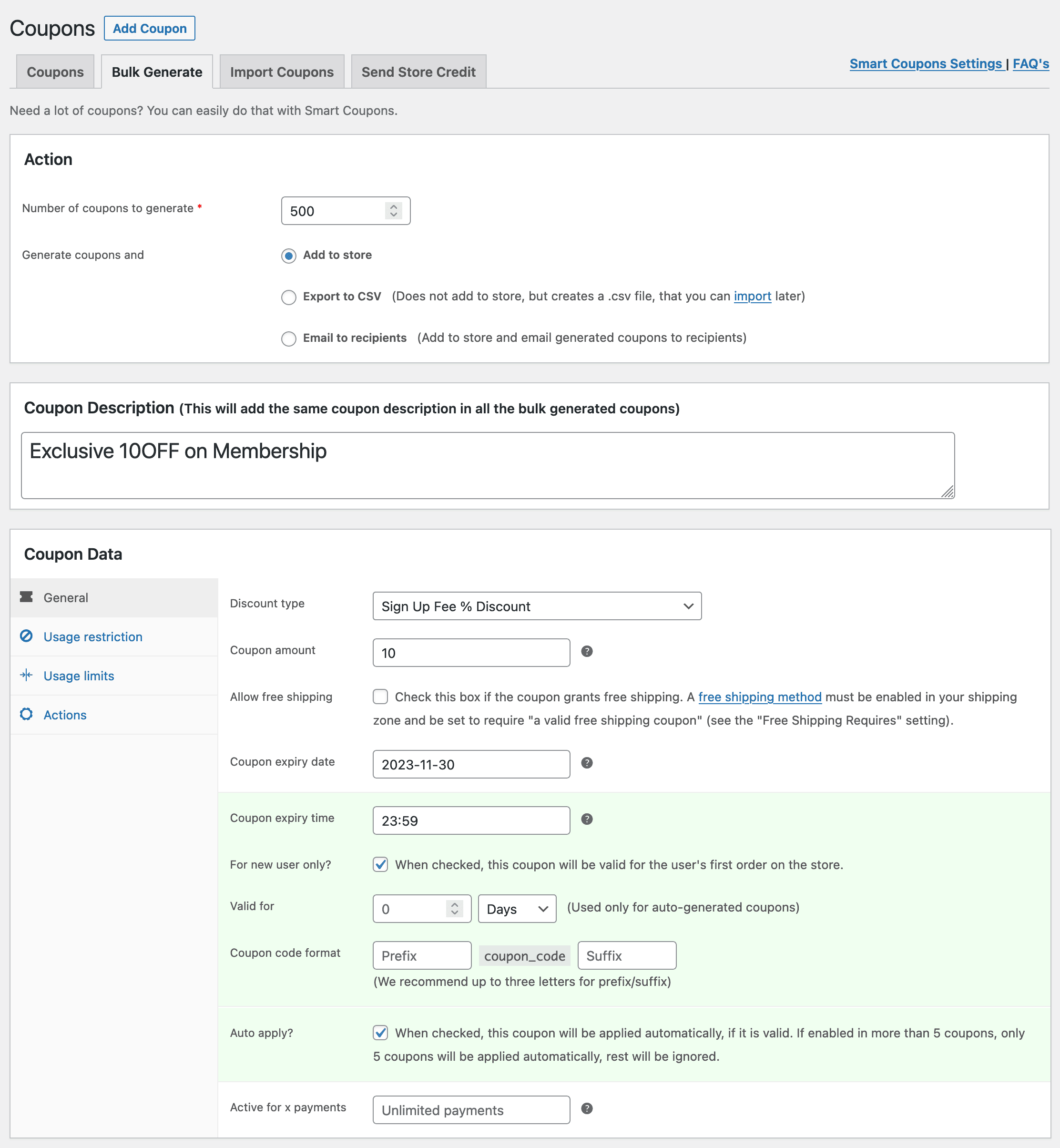 Summary
With Smart Coupons, you have the flexibility to implement a range of strategies, including tailored discounts, limited-time offers, and gift cards, all aimed at enhancing member engagement and retention.
Using it with WooCommerce Memberships empowers you to build a loyal and satisfied member base while maximizing the value of your membership program.