You can easily set up your own affiliate program for SaaS or Software as a Service products in WooCommerce and grow revenue, without spending much time and resources.
Install the WooCommerce Subscriptions plugin or any other subscription plugin to create products and start collecting payments on a recurring basis.
Leverage the Affiliate for WooCommerce plugin to set up your own affiliate program with flexible commission rules and marketing campaigns.
The Affiliate for WooCommerce plugin will help expand your reach by collaborating with affiliates and tapping into their network for your SaaS products' sales.
Let's delve into how to do it.
Why run a SaaS affiliate program?
If people need a product, they will pay for it regularly. That's the beauty of SaaS.
Email marketing solutions, CRM, office tools, chat apps, entertainment apps like Amazon Prime and Netflix…are indispensable. Don't you renew any of the above SaaS?
If you have some strong SaaS products but limited reach, the best option is to set up your own affiliate program.
Like any online product, your affiliates promote a SaaS product to their audiences in exchange for a commission on sales or other predefined actions.
Running a SaaS affiliate program offers several benefits:
Wider reach: Affiliates have their own established audiences, allowing your SaaS product to reach new potential customers that you might not have been able to reach on your own.
Cost-effective marketing: You only pay affiliates when they successfully drive a sale or a desired action, making it a cost-effective way to acquire new customers.
Extra promotion from affiliates: Since affiliates earn a recurring commission, they will put in extra effort to promote products, and somewhere help to reduce churn.
Leverage existing relationships: Affiliates often have established trust and relationships with their audiences, making their recommendations more persuasive and effective.
Increased sales: Affiliate marketing can lead to a significant boost in sales as affiliates actively promote and market your SaaS product to their followers.
Since the default WooCommerce plugin does not allow you to set up your affiliate program, you need a strong plugin or software for it.
Best WooCommerce affiliate program software for SaaS
When it comes to selecting the best affiliate software for your SaaS business, there are several factors to consider. Because the success of your affiliate marketing depends on choosing the right plugin. The plugin should have the following features:
Easy to use without any tech skills
Simple UI, free from jargon
Allow users to manage everything from one place
Real-time tracking of referrals, sales and each affiliate's performance
Flexibility to set commission rules based on different scenarios
Create and send resources to affiliates for promotion
Easy payouts
Clear and concise documentation
Human support that is knowledgeable and quick
And Affiliate for WooCommerce plugin ticks all these and a few more. It is the perfect solution for WooCommerce SaaS businesses.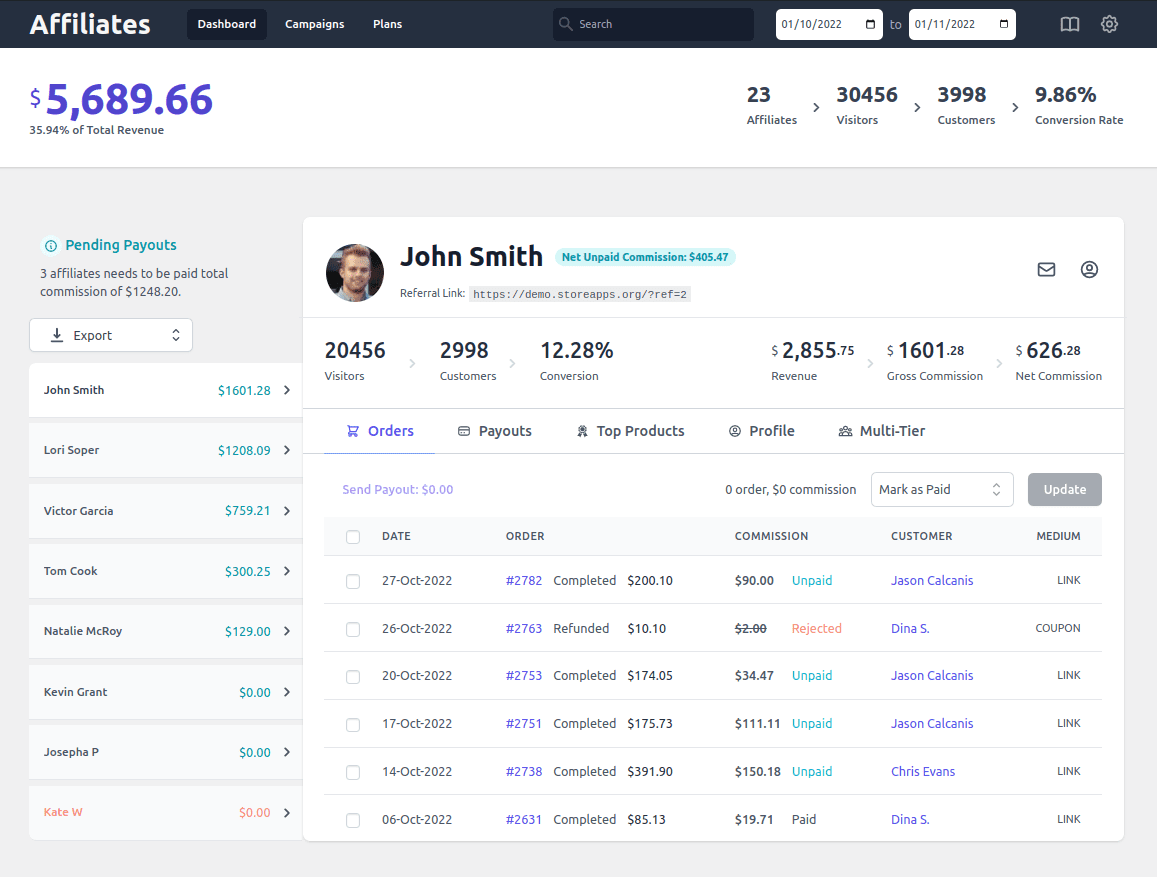 4000+ users have successfully set up and amplified their affiliate program using the plugin.
Let's see how the plugin helps you set up one!
Installation and activation
Since this plugin is dedicatedly built for WooCommerce, there are no integration steps. Simply install and activate the plugin as you do for any other WooCommerce plugin.
Recruit the desired affiliates
Allow affiliates to sign up for your program using the default registration form. You can customize the form fields using Contact Form 7 or Elementor to gather more information from potential affiliates.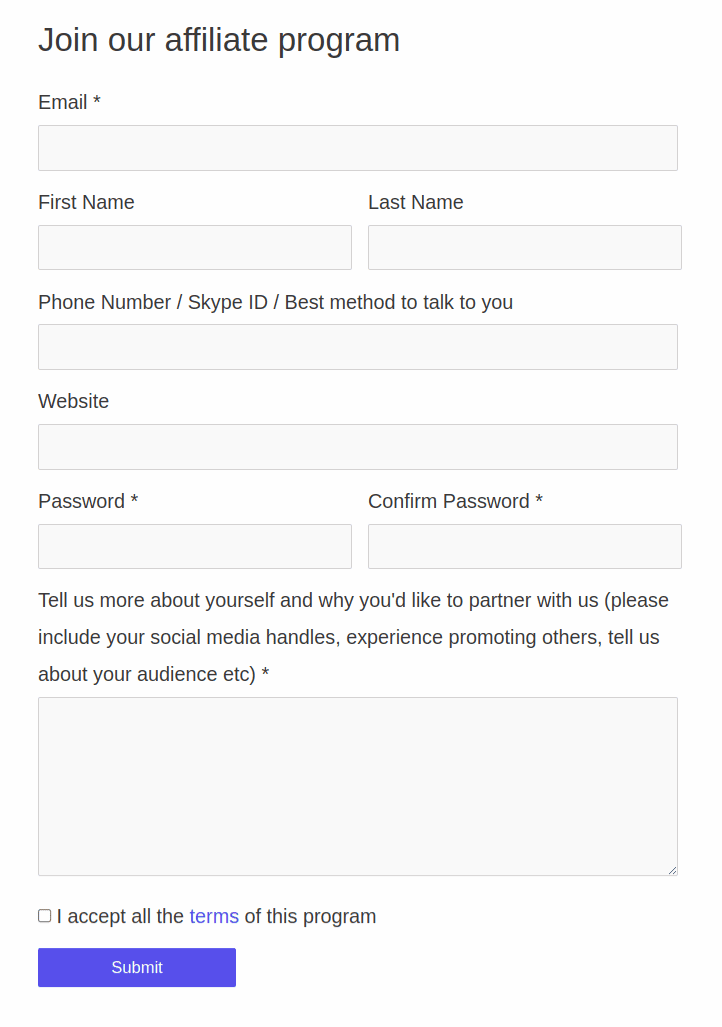 This helps you manually review each submission and approve only the top-notch affiliates. No limit on the number of affiliates you can recruit.
And if you know some customers who can be your affiliates, you can go to that User's Profile and tick the option Is affiliate? under the User settings.
Issue recurring commissions
Being into SaaS, check the box to allow affiliates to earn a commission on a recurring basis. As mentioned, this will encourage affiliates to promote more aggressively and combat churn.

Note – This will work with the official WooCommerce Subscriptions plugin only.
A few more settings and you are good to proceed ahead.
Promotion via links and coupons
The plugin provides a unique referral ID for each affiliate. Your affiliates can effortlessly generate a Referral URL via the link generator to promote the product.
For example -https://demo.storeapps.org/product/jacket?ref=2
Customization is simple too; affiliates can personalize their affiliate ID by opting for their name or brand, like – https://demo.storeapps.org/?ref=smith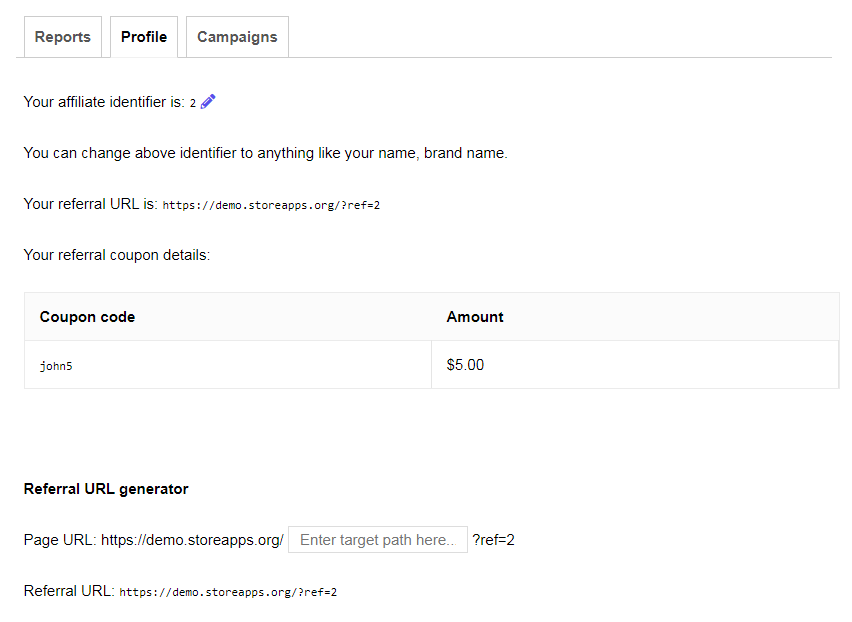 Alternatively, affiliates can utilize coupons for product promotion, upon requesting one from the store admin.
Setting commission rules
This is where the plugin shines the most.
You can create Plans to set up different commission rates for affiliates or products. You can also create commissions based on affiliate tags and product categories.
Smith crossed 500+ referrals; increase his commission from 20% to 25%.
Assign a flat $10 commission to Maria for every sale of your low-cost SaaS product.
30% commission rate for 'Influencer' tag or affiliate group.
In case you upsell/cross-sell some products, assign commission only on the first product in the order.
Set up a three-tier commission plan for your CRM SaaS solution.
and hundreds of commission plans…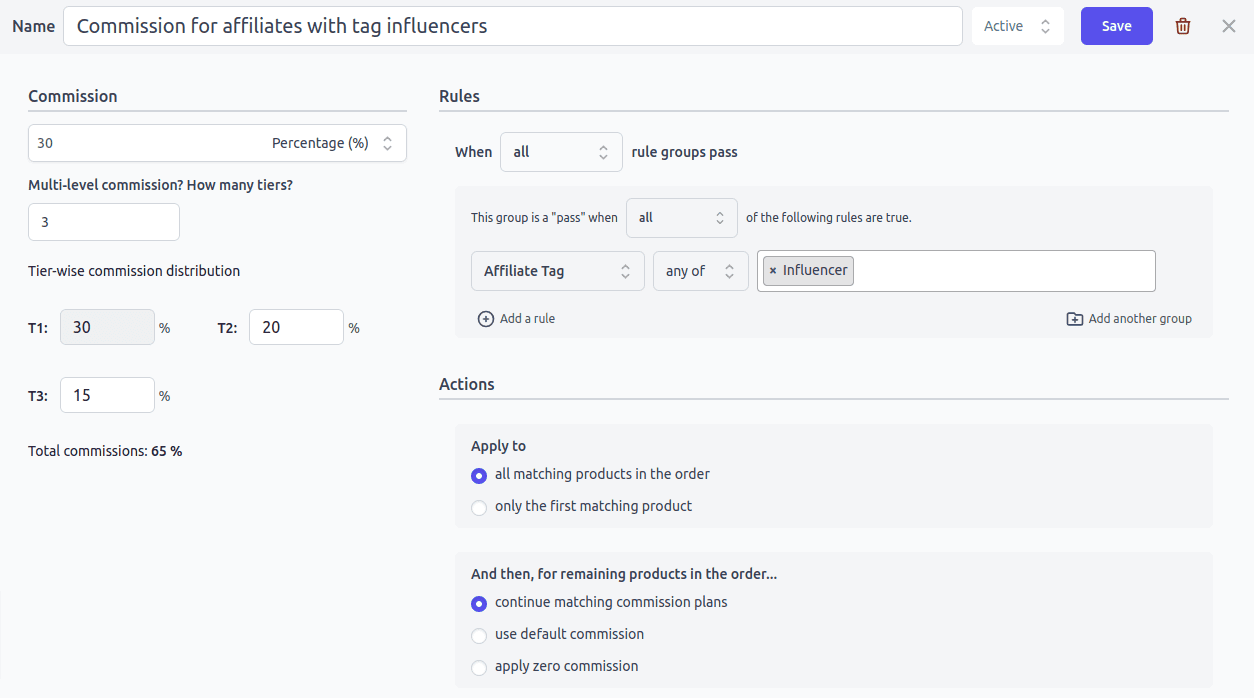 You can also set up lifetime commissions and tiered commissions.
Use the WordPress editor to craft tailored marketing campaigns (creatives) for your affiliates, aligning with your brand's identity.
Within these campaigns, you can seamlessly incorporate a range of assets: images, videos, PDFs, swipe files, banners, e-books, logos, and beyond. Empower your affiliates to utilize these resources across their platforms, amplifying your brand promotion.
Furthermore, you have the flexibility to distribute these assets to all affiliates or limit access to chosen affiliates. More about it here.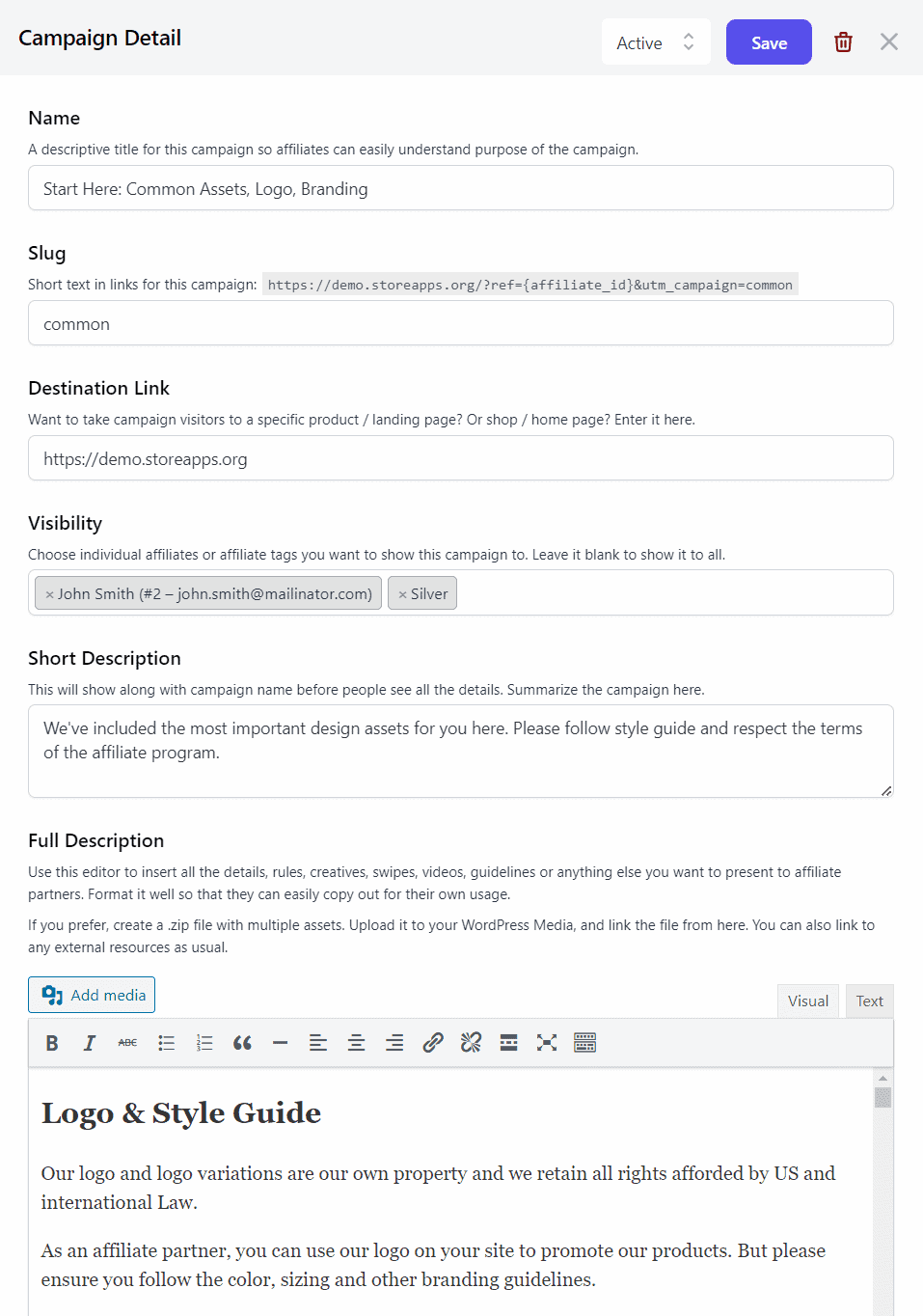 Paying your affiliates
When you pay your affiliates timely, they will be more than happy to stay with your brand longer.
You can pay commission via PayPal or mark commissions as paid and do a manual payout outside the plugin.
Track everything from a single place
We prioritize simplicity, displaying only crucial metrics for a clear affiliate performance overview. No plugin overload, just essential insights for you.
Store owners can track net affiliate sales, unpaid commissions, refunds, payment methods, order dates, commissions, payouts, and more.
There is also a dedicated dashboard for affiliates to track their performance – commissions, sales, products sold; collect resources from the campaigns, view and customize their affiliate URL.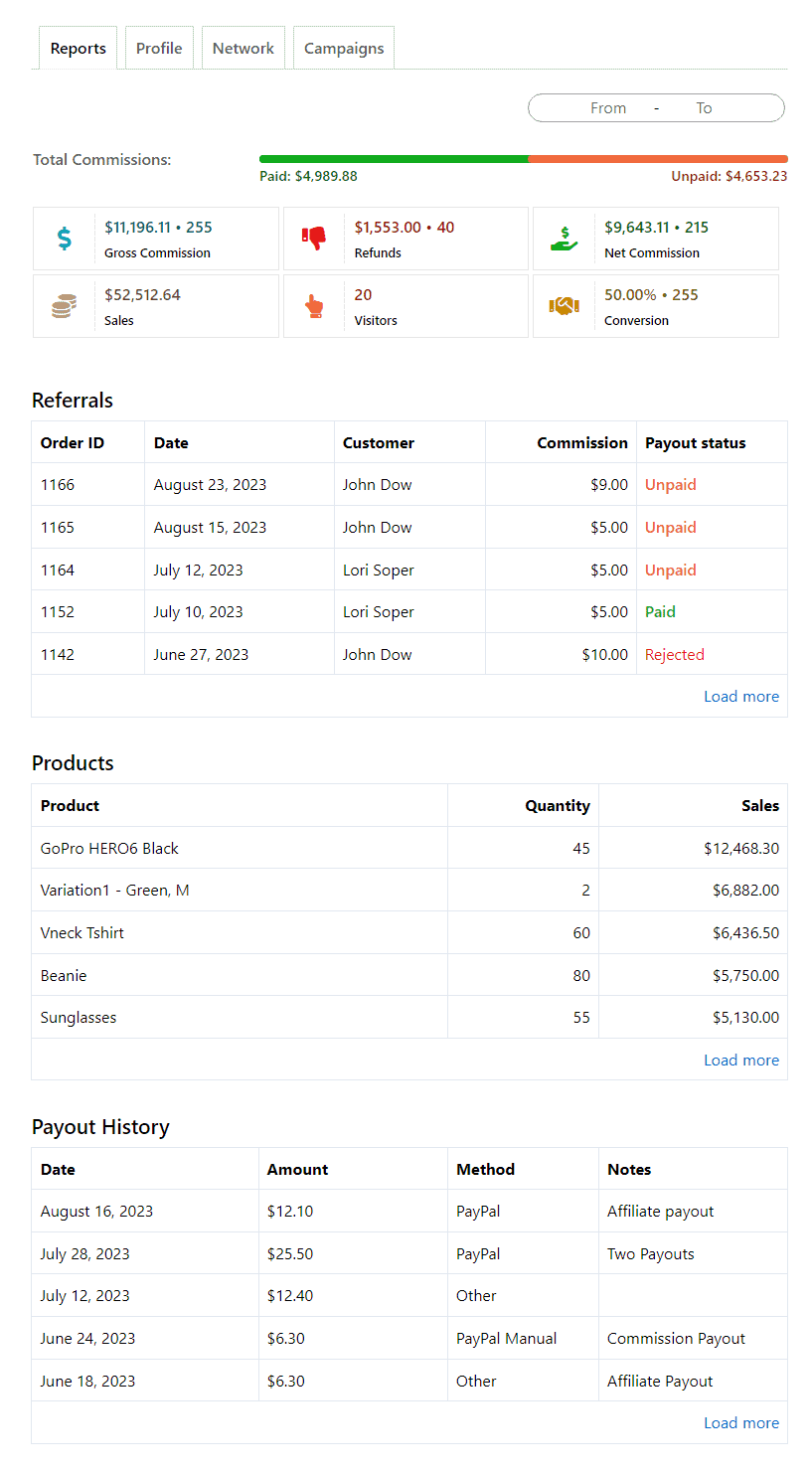 That's it, your affiliate program is set up.
Whenever a visitor purchases your SaaS product through an affiliate's referral URL/coupon, you earn the revenue, and your affiliates earn their commissions upon payout.
This system enables affiliates to advocate for your products within their network, expanding your product's reach and enhancing the global visibility of your WooCommerce store.
Conclusion
The Affiliate for WooCommerce plugin will help you maximize your SaaS products' sales and profits in the long run.
It's simple, highly effective, and has all the features making it the ideal option for beginners doing affiliate marketing or existing business aiming to elevate it.