One of the most important metrics for any business is the Cost of Goods Sold (COGS). Less the cost, the more the profit, the business sails smoothly.
In this article, we'll see how using the popular WooCommerce Cost of Goods plugin, you can identify how much profitable your business actually is.
And also how you can bulk manage the cost of goods.
Why do you need to track the cost of goods metric?
Now, the cost of goods (COG) or Cost of goods sold (COGS) is the direct cost incurred in producing the goods sold by a company. This includes the direct materials, labor, and overhead cost used to create the goods.
Subtract this cost from the net revenue and you get your net profit. Based on this, you can identify where your business is heading towards.
In a nutshell, you can:
Get an idea of how much money you are actually making.
Identify the most and least profitable products in your store.
Spot and remove loss-making products.
Improve your marketing tactics for products based on revenue.
Enhancing default WooCommerce reports
Now, default WooCommerce reports do their basic job. It gives you reports on your revenue, best-sellers, orders placed. But that is not enough.
You need to know exactly how much you are earning and that's where the WooCommerce Cost of Goods plugin shines.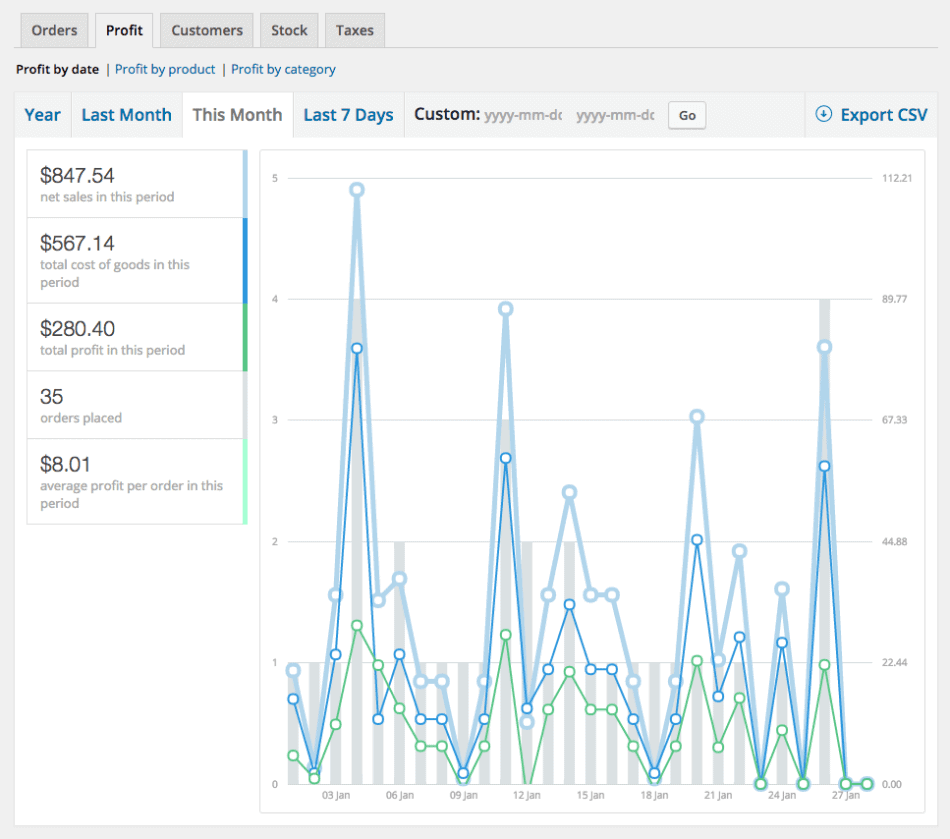 The plugin adds a 'Profit Reporting' section to your traditional WooCommerce reports and provides you with the detailed information you need. You get reports on profit by date, profit by product, profit by category, along with inventory valuations at cost and at retail.
Feature-rich cost of goods tracking for your WooCommerce store
WooCommerce Cost of Goods plugin provides ample features:
Go beyond revenue. Get information about your store's profit, and the most profitable and least profitable products. And not just those that generate the most revenue.
Add the Cost of Goods to each product (including variations) to know the total costs of products sold in each order. This helps you know what you really earned on every order.
Apply costs to previous orders (placed before installation of the plugin) after you set product cost. The total costs for each order line item are saved at checkout. So even if your costs increase in the future, your total costs are always historically accurate.
View profit and cost by date range, product, or category.
Edit line item costs for editable orders.
See a total inventory valuation based on retail prices or the cost of goods.
View costs next to prices in your product manager table display.
Compatible with Smart Manager for WooCommerce and WordPress plugin.
Compatible with Product CSV Import Suite.
Include costs in orders exported with Order/Customer CSV Export Suite.
Include costs in orders exported with Customer/Order XML Export Suite.
Export profit / cost report data to CSV based on the date range.
In-depth reporting
There's no meaning in tracking your cost of goods without in-depth reporting. The plugin gives you actionable information to improve your profitability.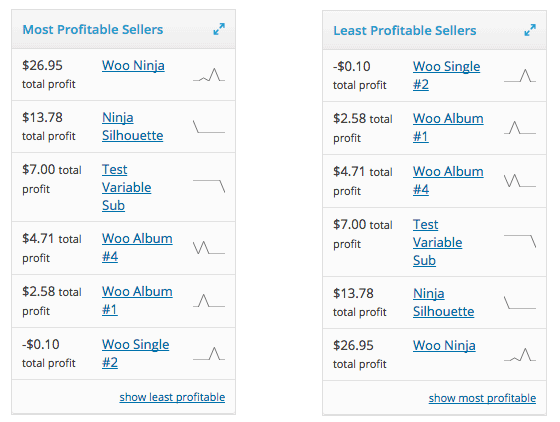 Profit by date – View your net sales, cost of goods, profit, and average profit per order for any date range.
Profit by product – View your net sales for the item, total costs, total item profit, and total item purchases for the given date range.
Most/Least profitable sellers – Identify the most or least profitable products for a given date range.
Profit by category – View total profit for any product category or multiple categories for a date range.
Inventory valuation – View the product valuation as well as the total value of your inventory, calculated using the retail price or the cost of goods.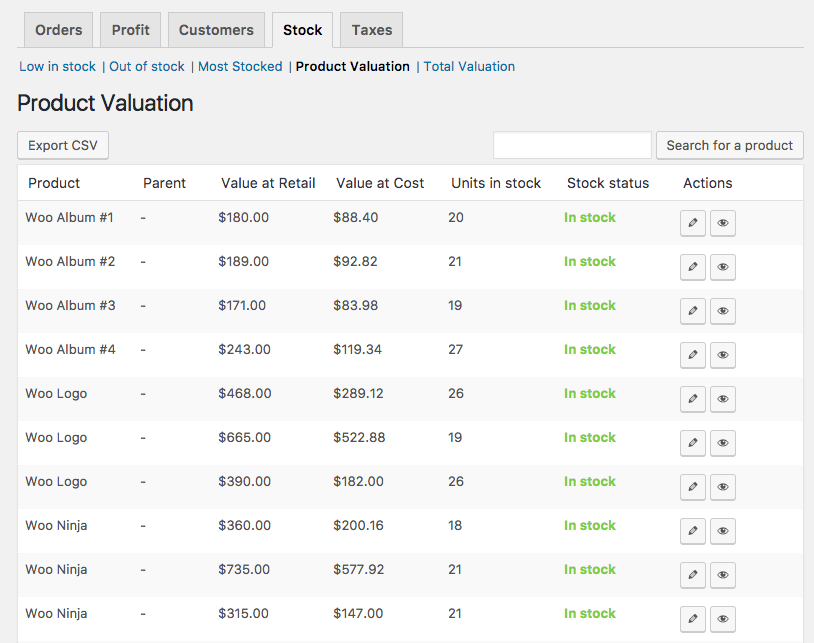 Pricing:
The Cost of Goods plugin costs $79/yr which includes updates and support for one year.
Get WooCommerce Cost of Goods plugin
Bulk managing WooCommerce Cost of Goods
As the business grows, managing the cost of goods for multiple products becomes a tiring process.
Setting up costs, adding costs, modifying costs for each product every now and then is a pain for WooCommerce users. We want users to get rid of that pain and breathe fresh.
That's the reason why we made Smart Manager and WooCommerce Cost of Goods plugin compatible.
From updating the cost of goods in one go or bulk, Smart Manager makes it possible in no time.
You get an Excel-like spreadsheet to modify the cost of goods directly, update the cost of all the goods on your WooCommerce store, search for a product amongst thousands and modify the cost, etc.
Using Smart Manager to bulk manage WooCommerce Cost of Goods plugin
Add the cost of goods in bulk
Let's say you sell around 90 different types of T-shirts (including variations) on your store. The basic cost remains the same, only the selling price changes as per customization.
You need to add the basic cost to all these T-shirts, say $5.
Using Smart Manager, select all the products, click on Bulk Edit, set the cost as $5 and update. All the T-shirts' prices will be updated instantly.
Also, stay relaxed in terms of calculations while updating the cost in bulk. With Smart Manager at your side, there is no room for errors.
Modify the cost of goods in bulk – add shipping charges, taxes
For the same T-shirt example, the cost per T-shirt has increased because of the addition of shipping charges and taxes.
The total cost will now increase by 15%.
Again, with the help of Smart Manager, select all the products, click on 'Bulk Edit' and increase the cost by 15% and update. The new price will be reflected on all the T-shirts.
Add the cost to variations/categories
Like updating the cost for all your products in your WooCommerce store, you can also add/update the cost of products based on a particular category only.
Say, for example, you want to update cost only across two categories – Electronics and Clothing.
Search for these categories using Smart Manager, select them and modify the cost directly.
Reduce the prices of least selling products
The best part of WooCommerce Cost of Goods reporting is you can easily figure out your best and worst-selling products based on the reports.
You identify that 5 of your products are not-selling as expected. You plan to reduce their selling price by 20% to boost their sales.
So, instead of going inside each of these products and reducing their prices one-by-one, directly reduce their prices in one go using Smart Manager.
Final thoughts
Believe me, monitoring profits was never easier without WooCommerce Cost of Goods. The reports are in-depth, and exactly what you need. So get this WooCommerce Cost of Goods plugin today. You won't be disappointed.
And if you want to bulk manage the cost of goods, look nowhere than Smart Manager.