Dear folks, welcome to an in-depth guide on WooCommerce subscriptions.
They say money is in the list. Correct. But the subscription business is a goldmine.
Why? You'll know after reading this piece.
How to set-up WooCommerce subscription products, best WooCommerce Subscriptions plugin, how to manage your subscription business easily…all covered here.
So without the hullaballoo, let's begin.
What is a subscription?
In simple terms, a subscription is an agreement where you will receive products or services from a company by paying regularly.
For example, you sign-up for Amazon Prime Membership.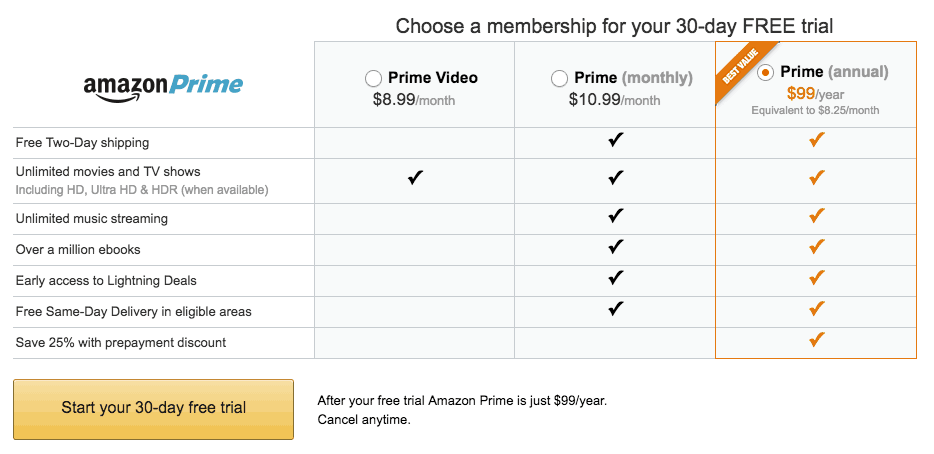 From magazines to OTT platforms…why is everyone going for a recurring business (subscription) model?
We all know there are many crucial components responsible for a business's success or failure. But the one that should remain on focus at all times is the customer.
The changing behavior trends of customers are powerful enough to drive changes in business models. And businesses that adapt early to the changes stand to survive.
One such successful trend today is the recurring subscription business model. And this applies not only to WooCommerce but all others.
This business model has been pioneered by the newspapers and magazines, and now it's the preferred business model adopted by businesses and websites. That's why Amazon, Netflix, Dollar Shave Club, any big brand you name and they offer some product or service as a subscription.
Why are subscriptions a win-win?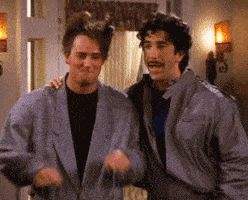 The reasons are obvious.
For your customers
Subscriptions are easy on the pocket.
The automatic payment process gets rid of all the buying hassles.
Flexibility – upgrade or downgrade plans, switch, cancel or re-subscribe easily.
Customers receive the product on a regular basis.
For business owners
The model offers guaranteed revenue.
More the customers, more the money…gets double, triple in the long run (provided churn is low).
Increase in customer lifetime value.
Businesses can predict revenue, volume and demand in advance.
But there are a few CONS
Customers are vary of contracts initially and are reluctant to trust the product initially (Though Free trial takes care of this).
Challenging to get people to commit to long-term regular payment.
Maintaining the product value and service quality up to the subscriber satisfaction.
Retaining customers or keeping the churn rate low is difficult.
However, despite a few drawbacks, the subscription model is worth the risk and money-making. No doubts, businesses are blooming who opt for recurring revenue model.
Let's see how subscriptions can change the game for WooCommerce businesses.
WooCommerce & Subscriptions – The bread and butter
Now WooCommerce is the most popular eCommerce platform on the web for small to large-sized online merchants using WordPress. Very powerful.
And with the support of WooCommerce Subscriptions plugin, it's even more powerful.
WooCommerce Subscriptions is the official and one of the most popular WooCommerce plugin.
The extension allows you to set up various subscription products and services with recurring pricing models.
If you are into WooCommerce and not doing subscriptions, you are leaving money on the table. I'm sorry to say that but it's the truth.
WooCommerce store owners have multiplied their revenue exponentially with the use of subscriptions.
Top features of WooCommerce Subscriptions plugin
Create subscriptions for physical and virtual products or services.
Integrates with over 25 payment gateways.
Includes options to set sign-up fees, free trial periods, expiration dates.
Provides manual and automated renewal options and email notifications.
Supports variable pricing, so you can have multiple options for a product with different prices for each option.
Gives customers the ability to upgrade or downgrade their plans as needed.
Summarizes subscription information and customer data in detailed reports.
Performs rebilling for failed payments.
WooCommerce Subscriptions plugin pricing
$199
Get WooCommerce Subscriptions plugin
How to set-up WooCommerce Subscriptions plugin and subscription products on your website
Now that you're acquainted with the WooCommerce Subscriptions plugin, let's talk about setting it up on your store. And further things to manage it.
The whole process of managing WooCommerce Subscriptions is streamlined by the use of the WooCommerce Subscriptions plugin.
This is very simple. You need no tech knowledge.
Step 1 – Purchase and install WooCommerce Subscriptions plugin
The installation and activation process for WooCommerce Subscription plugin is the same as WooCommerce.
Navigate to Appearance > Plugins > Add new and upload the WooCommerce Subscriptions zip file. Activate it and you are good to go.
Step 2 – WooCommerce Subscriptions Settings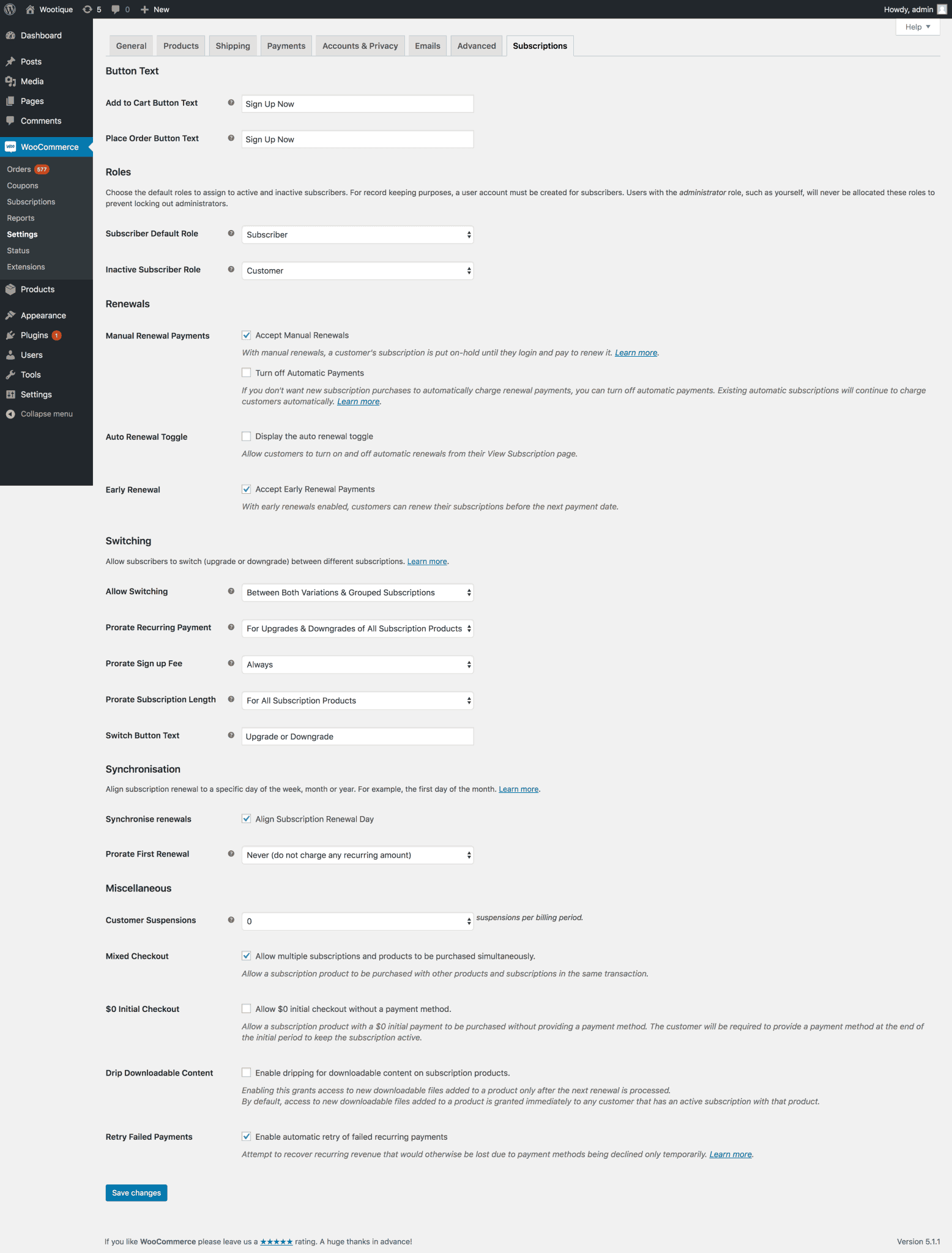 Navigate to WooCommerce > Settings > Subscriptions.
Button Text – This appears on the sales page. You can go with the default text or change it as per your requirements.
Roles – This option will let you change the default role of a new subscriber from those available in the drop-down. Similarly, you can also set the role of an inactive subscriber.
Renewals – Check the "Allow manual renewals" box to enable subscribers to pay manually for their renewals. Check the "Turn off automatic payments" box if you want to disable automatic payments for the subscriptions.
Switching – This feature allows users to upgrade or downgrade between subscriptions.
Miscellaneous – Includes multiple options like allowing the user to suspend their subscription, mixed checkout, free initial checkout, etc.
Refer this doc for more details
Step 3 – Create a new subscription product
You can create simple subscription products or variable subscription products, much like WooCommerce does for normal products.
We'll see creating a simple subscription product.

Go to: WooCommerce > Products > Add Product.
Under Product type, select 'Simple Subscription'.
Simple – Works like a simple product. Customers can sign up for one subscription option at a set price.
Next, set the subscription terms.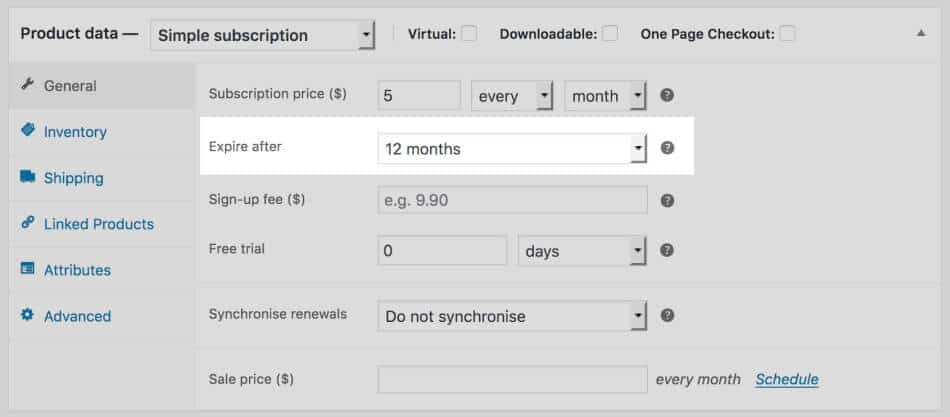 Subscription price:

The cost of the subscription product.
Billing interval: How frequently customers are charged (every one, two, three, four, five, or six periods).
Billing period: How often customers are charged (daily, weekly, monthly, or annually).

Expire after: How long the subscription will stay active before expiring.
Sign up fee: Additional fee required at the time of signup.
Free trial: How long customers can use the subscription for free before signing up for paid plans.
Add other product details as required.
You can also do the following:
Set sale price
Apply coupon on sign-up fees
Limit subscription
and more…
Finally, publish it.
Congratulations! Your subscription product is now ready.
Refer this WooCommerce Subscriptions plugin in-depth docs
Step 4 – Choosing and configuring payment gateways
WooCommerce Subscriptions plugin supports both automatic and manual types of recurring payments.
But, due to additional security measures associated with storing customer payment information, not all payment gateways support it.
However, major WooCommerce payment gateways like Square, Stripe, PayPal, and Amazon Pay support subscriptions.
List of payment gateways that supports automatic recurring payments
Each has different features you may want to consider when choosing which to offer on your site.
Step 5 – Managing subscriptions
WooCommerce Subscriptions plugin provides an administration page to view and manage subscriptions ordered with your store.
The Manage Subscriptions page can be found at WooCommerce > Subscriptions.
When a subscriber subscribes to your products/services, they will appear here. You can even edit the subscriptions from here when the subscribers request changes.
Over time, you may decide to change your subscriptions in a variety of ways. Raise or lower the price, add new products or services, or adjust a variety of other options for your customers.
Well, you are now in a great position to set-up subscription products on your WooCommerce store.
So let's now talk about some popular tools to better manage your WooCommerce subscriptions and grow sales.
Five best tools to better manage and grow WooCommerce subscriptions business
You need something quick and easy. Subscriptions are not just about creating products. It's about managing them, your customers, growing sales and a lot more.
Here's what you need to better manage your subscriptions business:
Smart Manager is compatible with WooCommerce Subscriptions plugin. This means you can manage all your WooCommerce subscriptions from one place, 10x faster.
Extending the trial of your 50 customers in one go, reducing the sign-up fee for selected products quickly, canceling subscriptions in bulk, you can do easily without entering into each subscription with Smart Manager.
What more you can do using Smart Manager: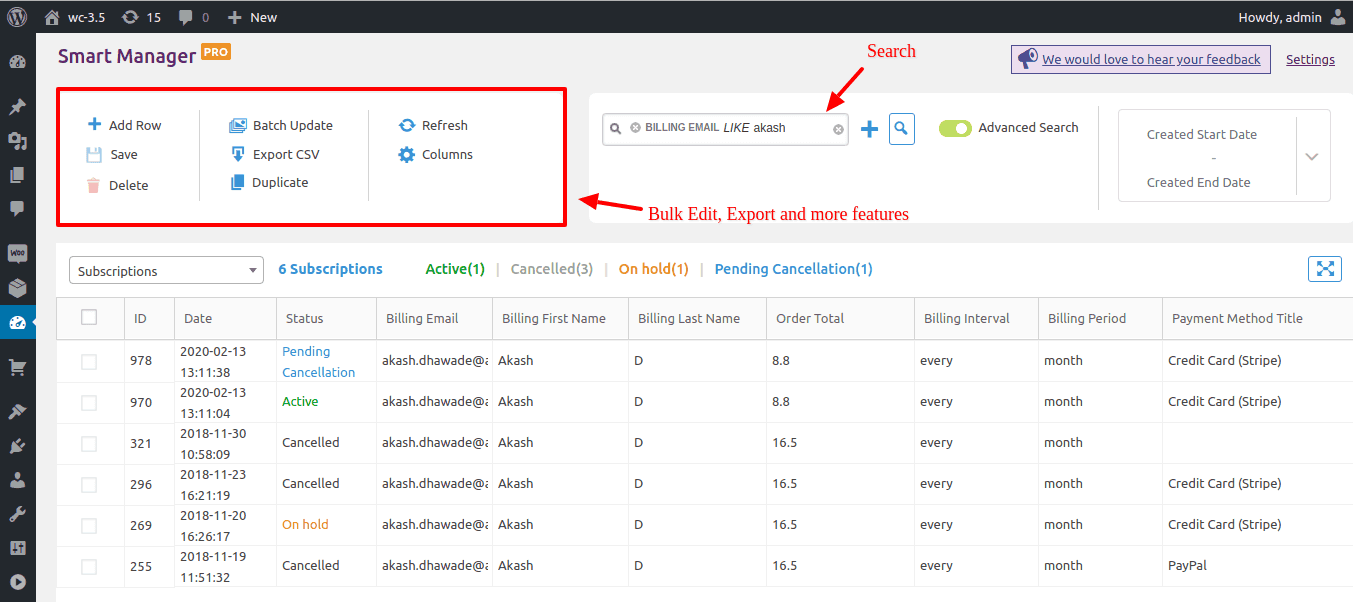 Changing subscription statuses, re-activating or canceling subscriptions in bulk.
Directly edit a subscription without moving to individual subscriptions.
Search for a subscription amongst thousands and make an instant edit.
View orders, users, refunds at a glance
Export subscriptions as CSV – all or based on filters
View live demo
Learn more
What's the MRR, is the churn high or low, how many upgrades…you need to have this data in real-time to know where your business is heading towards.
Putler is an awesome tool that generates subscription reports, analytics and insights for multiple WooCommerce stores… all at one place.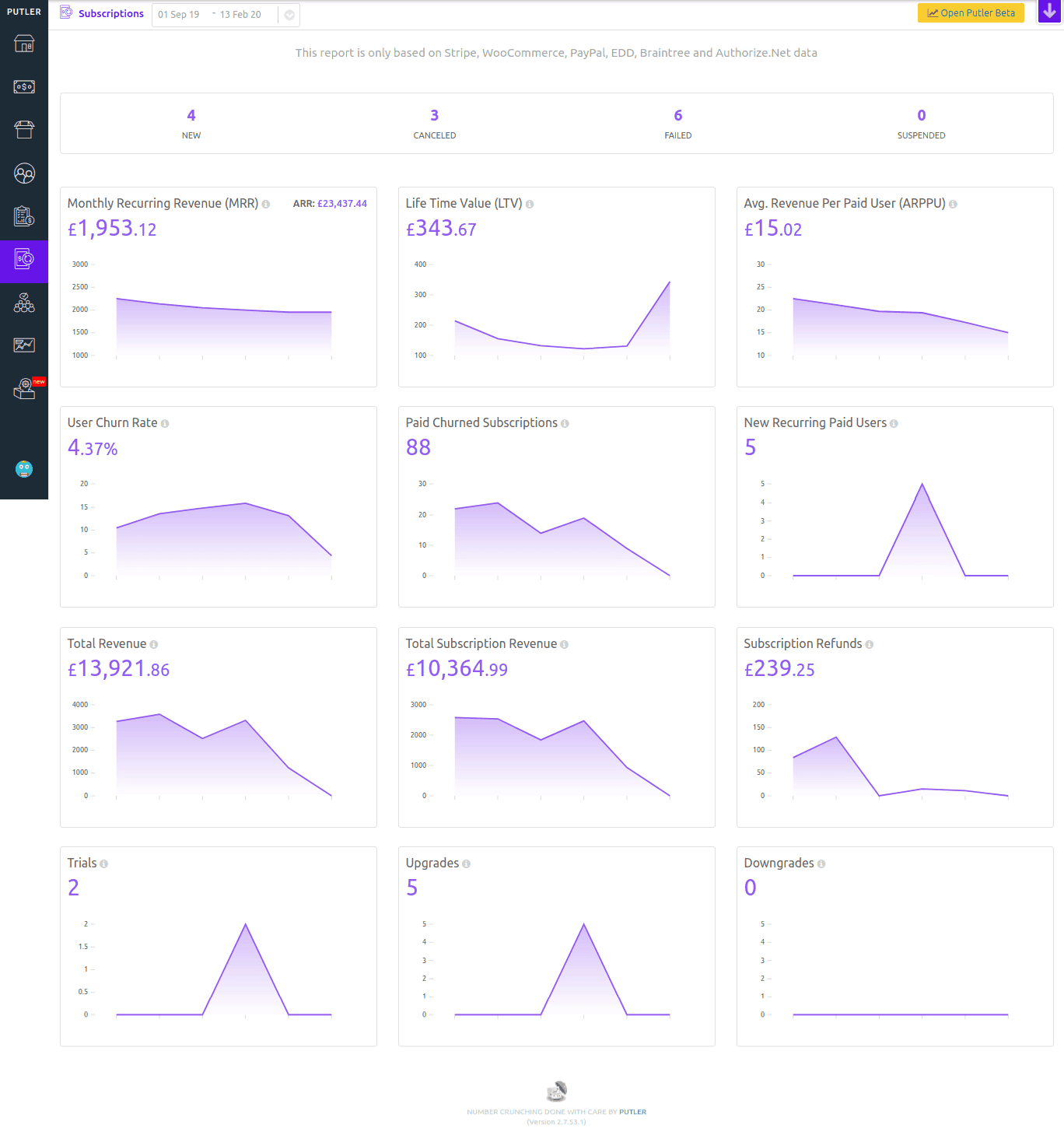 View live demo
Start Free Trial
Smart Offers is a powerful plugin to create sales funnel and targeted offers.
Being compatible with the WooCommerce Subscriptions plugin, you can easily upsell, cross-sell offers on subscription products and earn more revenue.
As shown in the example, if you are selling a lower plan subscription, you can simply use Smart Offers to upsell a higher plan subscription license and pocket in more revenue.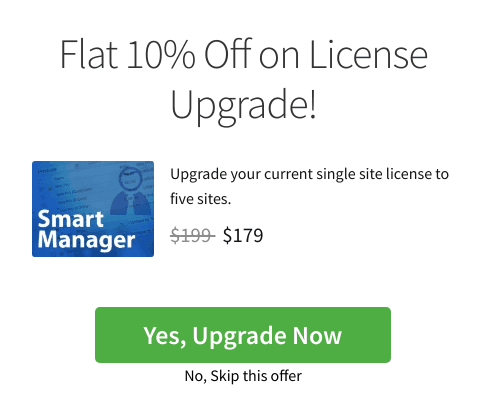 The best part about Smart Offers is the targeting rules – you can show offers only to selected users and increase conversions.
View live demo
Learn more
Affiliate For WooCommerce is one of the hot-selling plugin on WooCommerce.com. Being compatible with WooCommerce Subscriptions, your affiliates can easily earn recurring revenue from subscription products.
View live demo
Learn more
Smart Coupons is an all-in-one coupons plugin. Discount vouchers, gift cards, bulk generation, advanced restrictions, etc.
It also works with the WooCommerce Subscriptions plugin. So all much-needed coupon features you can apply while selling subscription products like:
Restrict coupons on products based on payment methods, location, shipping, etc.
Bulk generate coupons to redeem on subscription products
Issue gift cards on a subscription product purchase
and a lot more…
View live demo
Learn more
WooCommerce subscriptions and memberships – what's the difference?
Now, this is one hot topic on the net. So I thought let me simplify it.
WooCommerce Memberships
In simple terms, membership is about Access. You restrict things/products/services to only members only. Other people don't have access to it.
Example – Club membership of WordPress themes
WooCommerce Subscriptions
As with subscription, it has nothing to do with access control. The idea of a subscription is to accept recurring payments, at a fixed interval!
However, you can sell memberships as a subscription product.
Example – You have resorts across the USA. You offer three membership plans – Silver, Gold, Platinum based on features. John pays $1000 every year for your Gold membership.
The best part, you can set this up using a very popular and official WooCommerce Memberships plugin, which is compatible with WooCommerce Subscriptions plugin.
Best subscription business applications
Quite a few. We picked the popular ones.
1. Membership Plans
No doubt, the most common and widely used subscription-based business. You may be subscribed to any one of these – Amazon, Netflix, marketing magazines, etc. It can be monthly or annually. Such online tools are known as Subscription as a Service or SaaS.
2. Plugin Licenses
If you are selling digital goods or plugins, offer plugin licenses as a subscription product. Single site, multisite and developer licenses. You can play with price anchoring to sell these products more.
3. Subscription Boxes
Now, this is some innovative concept. You get a box consisting of items on a fixed schedule. Food packets, beer, beauty products, health supplements, etc.
This method allows customers to check out new products and become familiar with new brands. As an entrepreneur, you can build a solid business with a predictable amount of revenue by using this model.
4. Recurring Services
This includes offering physical services like spa, servicing of electric appliances, pet care, etc. This is yet another soon to be dominating space in the physical service industry.
However, in the digital world, it's quite dominating. Web hosting, maintenance, designing…all these are offered as a package based on features with varied pricing.
Conclusion
Play your cards right and selling subscriptions on your WooCommerce store will be highly profitable. Guaranteed!
And the best part, you don't need to go elsewhere hunting things. You have a powerful plugin WooCommerce Subscriptions and all the tips listed in this article to manage your business.
Easy and quick. So get started now. We wish you a thriving business.
Any questions or suggestions, share your thoughts in the box below.