Involved in affiliate marketing or willing to get started? What you need to know is that the market is competitive, and you need to take the help of technology to make your way to success. An affiliate program is a great way to improve your revenue generation possibility.
With the right choice, you can win the game. Tapfiliate is a well-known affiliate program tool that claims to be super-easy and inventive. But how true are these claims? Is there any viable Tapfiliate alternative for WooCommerce? Read this Tapfiliate review to know all these aspects.
Quick Tapfiliate review
Tapfiliate is not a standalone WooCommerce plugin. It's a SaaS-based plugin that integrates with WooCommerce, making it easy to reward, track and incentivize affiliates.
As per the website data, over 2,000 global affiliate marketers have already used this tool to grow their businesses.
We now look at Tapfiliate features and how it helps set up your affiliate program.
Note – Tapfiliate plugin images on this blog are taken from their website.
Setting up Tapfiliate plugin
To use Tapfiliate for WooCommerce:
Install the plugin from the WordPress plugin directory.
On your WordPress Admin dashboard, go to Settings > Tapfiliate.
Enter your actual Account ID. Also, enable WooCommerce if it is not enabled. Save the settings.
Note – This integration works for one WooCommerce store at a time. It will not work if a custom checkout page or separate checkout plug-in is being used (i.e. Cartflows).
Affiliate recruitment
Forms
Tapfiliate provides registration forms to allow users to sign up for your affiliate program.
Tapfiliate by default will ask for the affiliate's first and last name, email, address and website.
However, you can also add custom fields to the affiliate registration form to collect information like:
Social media handles
How affiliates intend to promote your brand or products
Affiliates preferred coupon code
Note – The fields will be added to the second step of the affiliate sign-up form.
In the next step of the signup process, you will also collect the affiliate's payout method.
Learn more about affiliate recruitment
Affiliate approval
By enabling Affiliate recruitment, your new customers will become affiliates and receive a referral link that they can use to promote your business. To auto-approve affiliates, go to your Program's settings and toggle the 'auto approve affiliates' option.

Another option is to manually approve or disapprove affiliates for your program.
Affiliate referral links and coupons
By default, affiliate referral links are "pretty links" generated using the affiliate's first and last name. When this option is enabled, your affiliates are also (by default) able to customize their affiliate links on their end.
The plugin also provides coupons that affiliates can use instead of links to promote your brand / products.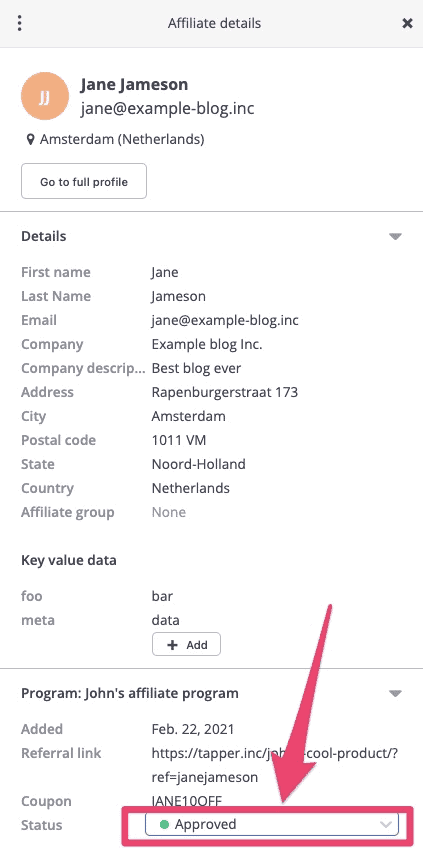 Note – Only affiliates can customize and update their referral code. When the referral code is changed, the previously shared referral codes will no longer work.
Commission types
You can have the standard / default commission rate (fixed or %) for your affiliate program and varying commission rates. Tapfiliate calls it the 'Extra Commission types' feature.
You can create additional commission rates based on:
Product/SKU/Category
Lifetime commissions
Recurring commissions
This is quite beneficial to introduce new products, highlight specific items or feature popular categories.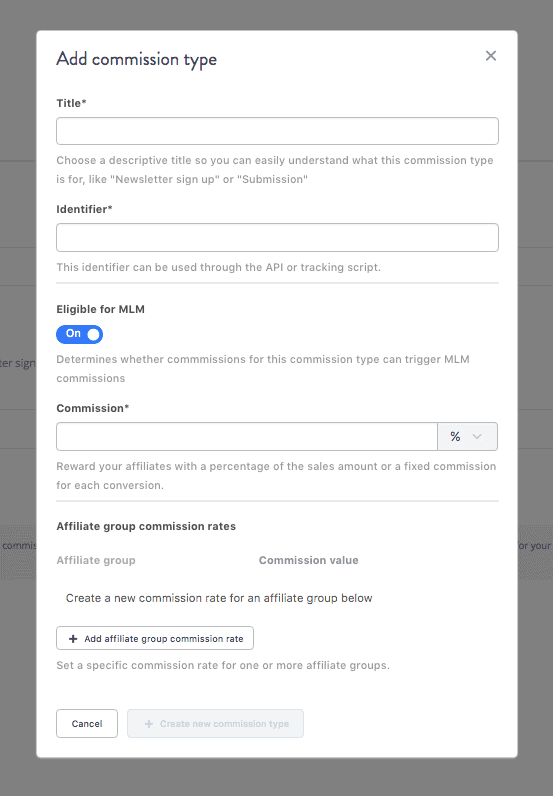 For WooCommerce stores, the ability to track commission types is built into the plug-in.
Note – You'll need the help of a developer to help set up the logic on your end for Extra Commission types.
Multi-tier affiliate program
Tapfiliate also provides the multi-level affiliate marketing (MLM) or multi-tier affiliate program feature whereby affiliates are incentivized to recruit new affiliates.
And on a successful referral, the eligible affiliates involved will earn a commission.
For example, if Laura refers to John for your affiliate program, then on a successful referral by John, both John and Laura will earn a commission.
Affiliate groups
This is an easy way to organize your affiliates and create exclusive commission rates for the members within an affiliate group. That way, you can override the standard commission and issue a higher reward for the conversions they drive.
Marketing assets
Offer your affiliates the possibility to link to specific products or landing pages than your default landing page URL.
To do this, provide affiliates with some marketing assets they can use to promote your brand.
The plugin supports these marketing assets:
Image banners
Tweets
Facebook posts
Youtube & Vimeo videos
Text links
Product feeds
(HTML5) banners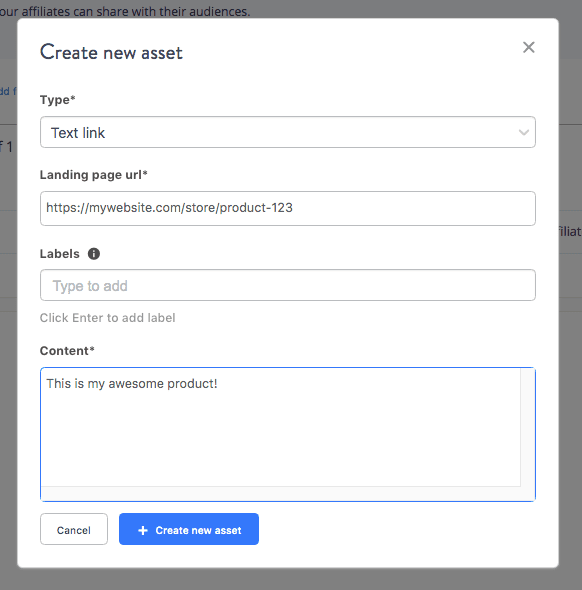 Once you upload assets to your program, your affiliates will have access to these on the "Assets Wall" and be able to share them directly to their social channels, or embed them on their websites.
Reporting
Stay updated with every key detail about your referral program with detailed reporting.
Each of your affiliates gets access to their personal dashboard.
In this dashboard, affiliates can track their own progress, retrieve and share assets, track their bonuses, check their attributed conversions, and review payouts.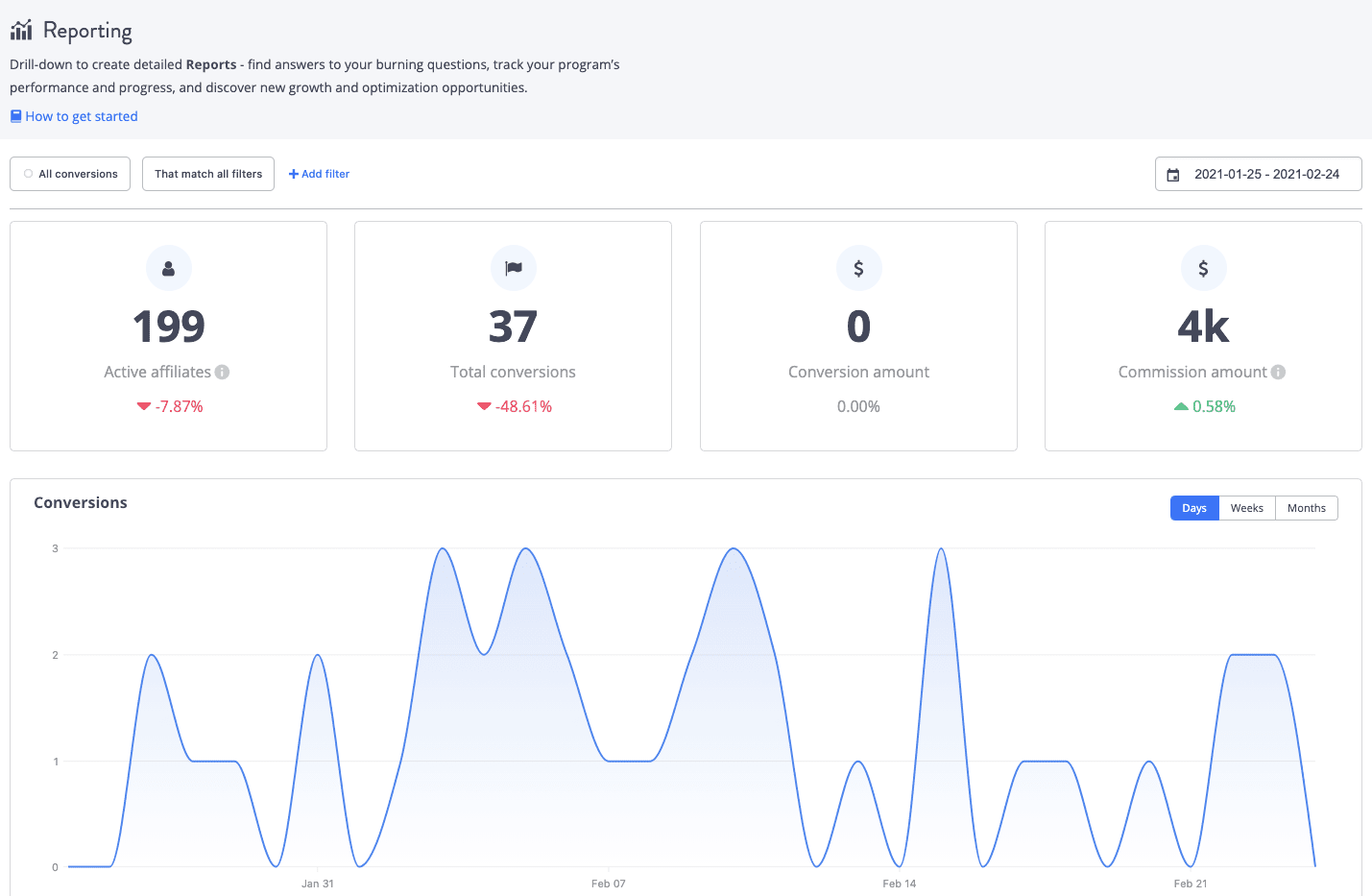 For store owners, you need to keep a check on different pages to monitor performance which we feel is too much:
Conversions & Customers pages – conversion status, commissions, filters, affiliate id, landing page, browser, etc.
Assets page – where you upload marketing materials for your affiliates
Reporting page – commission status pie chart, top affiliates, referrals, landing pages, assets that drive the most clicks and conversions, etc. You can also export data from this page.
Payments page – affiliate's approved commissions(balance), amounts due up-front, past payments files, etc.
Payouts
When you're ready to pay your affiliates, you will do so by settling their balances.
Keep in mind that payments to affiliates are not automated. To officially pay out your affiliates, you'd still need to upload the payment file to a specialized service such as PayPal Bulk Payment.

Tapfiliate supports 20 payment methods. These are mostly banks. It also includes support for PayPal and bitcoin.
Learn more about Tapfiliate payouts feature
Other Tapfiliate features
Creating multiple tiers of commissions – 15% on conversions up to 50, 20% on conversions up to 100…
Set triggered email notifications.
Team members – allow multiple people to access the affiliate program-related details.
Six supported affiliate languages.
Automated refund & dispute handling.
Admitad Partner Network integration to get access to 100K+ active publishers.
Tapfiliate pricing
It offers four subscription plans (with a 14 days trial period) to cater to a diverse audience.
Starter – $59/month
Essential – $89/month
Pro – $149/month
Enterprise
Pros:
Quite a good number of features including the essential ones.
Support for multiple languages makes it perfect for affiliate marketers having a global reach.
Integration with 25+ leading SaaS and e-commerce tools.
Cons:
To enjoy the integration, you must know how to work with APIs.
Some required features in the higher plans.
Need technical assistance for multiple features.
Too many pages, dashboards, jargon which makes it difficult to use and manage.
Higher pricing.
While it seems impressive, it lacks behind. The Tapfiliate free trial is limited. Some may even find Tapfiliate pricing unjustified. This makes result-driven affiliate marketers look for a Tapfiliate alternative for WooCommerce.
Affiliate for WooCommerce – An ideal Tapfiliate alternative?
Affiliate for WooCommerce is a powerful software that lets you create your own affiliate program. As the plugin comes from a trusted brand, StoreApps, quality is certain.
Btw…it's a standalone plugin for WooCommerce, so no hassles of integrations.
It has an active customer base of 4000+ and is consistently rated five stars.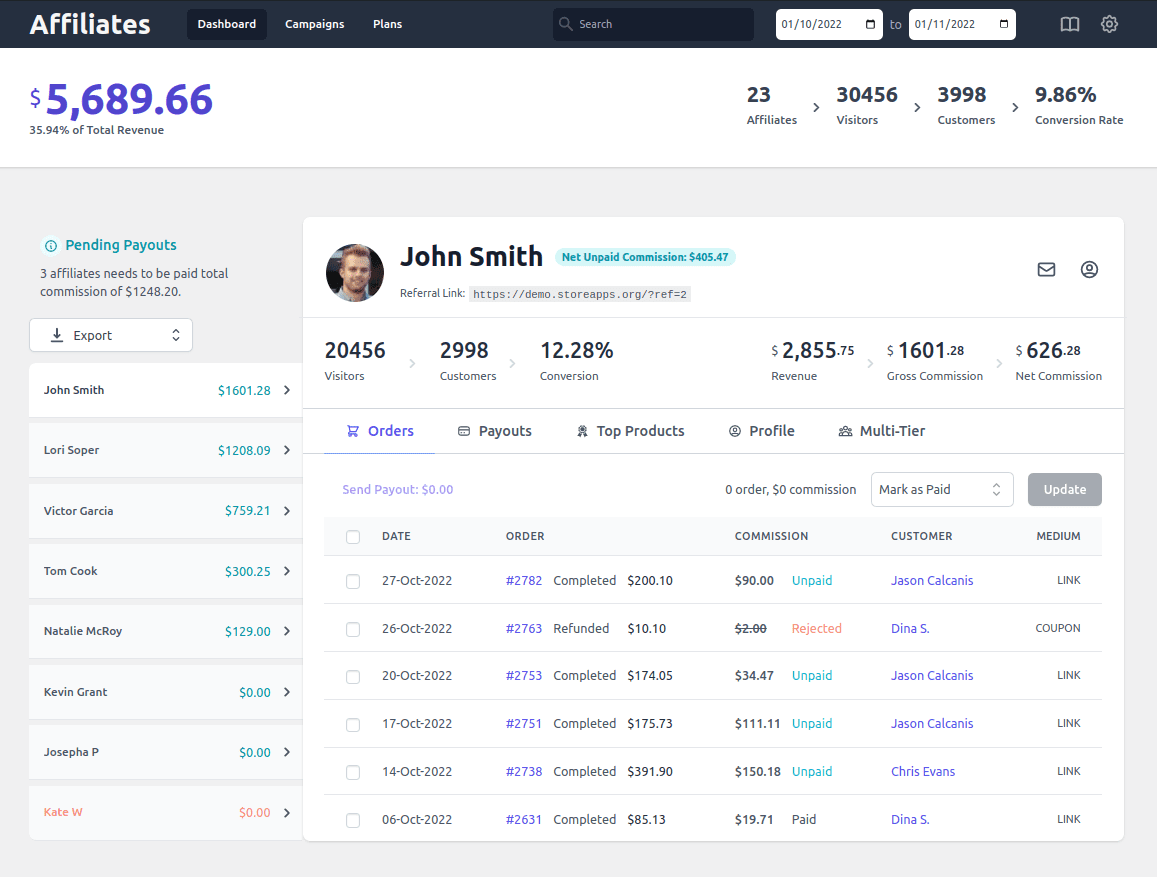 With its self-care and highly interactive dashboards, it's easy to monitor the progress of every affiliate and the overall program in real time.
And yes, unlike Tapfiliate, you don't need coding assistance nor there's any cap on the features.
Setting up
Purchase the plugin from the WooCommerce marketplace.
Unlock the Zip folder and activate it.
Go to WooCommerce > Settings > Affiliate. Set your requirements and you are good to go.
Affiliate recruitment
Forms
You can use a shortcode [afwc_registration_form] on any page or post of your site. This will show the registration form to visitors on your site to allow users to join your affiliate program.
You can show the default fields and also add some more fields to collect necessary information from affiliates.
Another advantage is you can use Elementor Form Builder and Contact Form 7 to set up custom forms.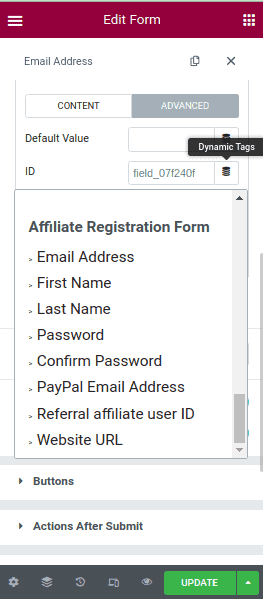 Affiliate approval
You can approve affiliate requests automatically or manually. And reject/disapprove affiliate requests. You also have the option to auto-approve all newly joined users as affiliates or make affiliates based on their user roles. For example, make your Subscribers as affiliates.
Affiliate referral links and coupons
Your affiliates will find their referral ID (auto-generated) from their My Account > Profile. They need to suffix it in the URL of any product they want to promote.
Affiliates can also use coupons instead of referral links to promote your brand/products.
Affiliates can modify the affiliate tracking parameter and also make the affiliate URL pretty.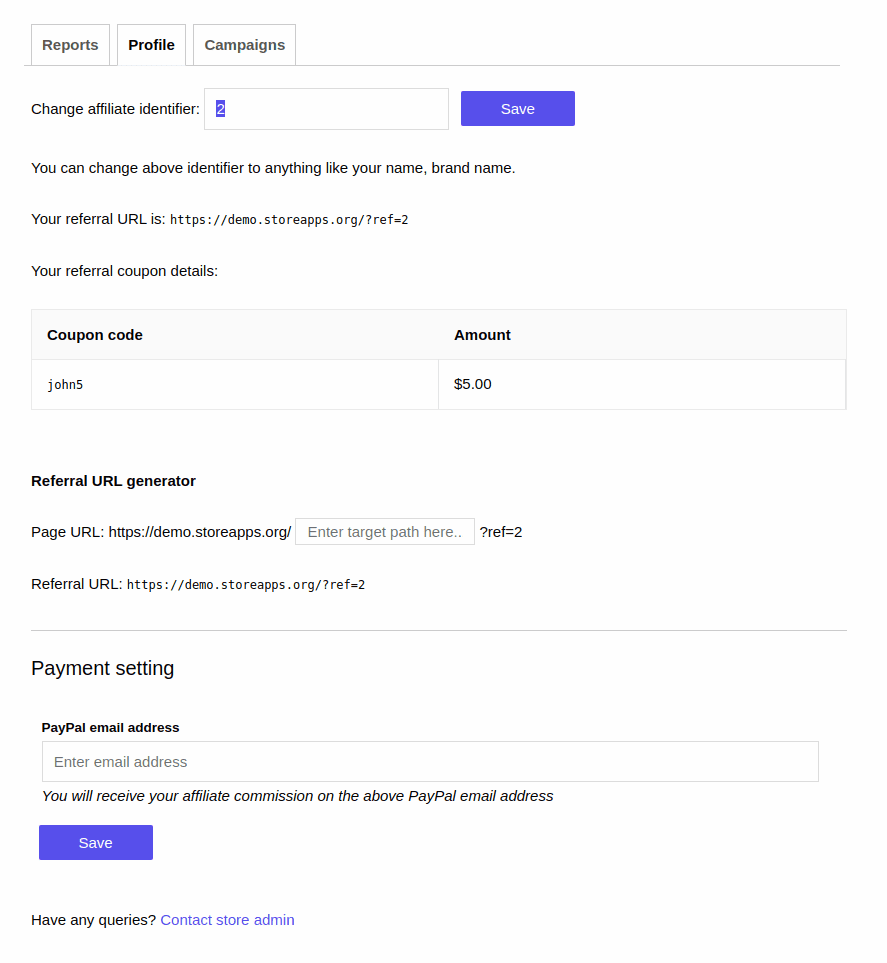 Commission plans
Affiliate for WooCommerce commission plan system is the best in the market.
With the commission plans or rules, you can decide which affiliate will earn how much and on what. You can set commission plans based on:
Products
Product category
Affiliates
Affiliate tag
And also set recurring commissions as the plugin is compatible with WooCommerce Subscriptions.
For example, a 25% default commission to Mac, but a 30% commission to Mera on the sale of perfumes; a flat $15 commission on the sale of low-selling products; 40% commission only to Influencers; no commission on the sale of upsell items…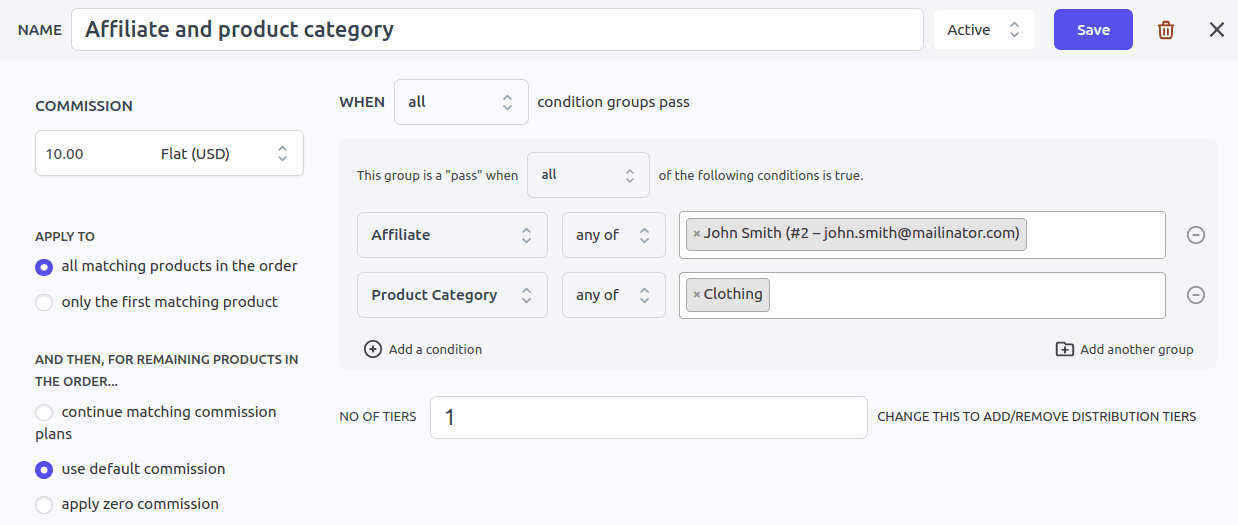 Multi-tier affiliate program
Affiliate for WooCommerce plugin also provides a multi-tier affiliate program feature. You can create a commission plan with an 'n' number of tiers. Affiliates receive commissions on both their own sales and sales made by individuals they refer to your program.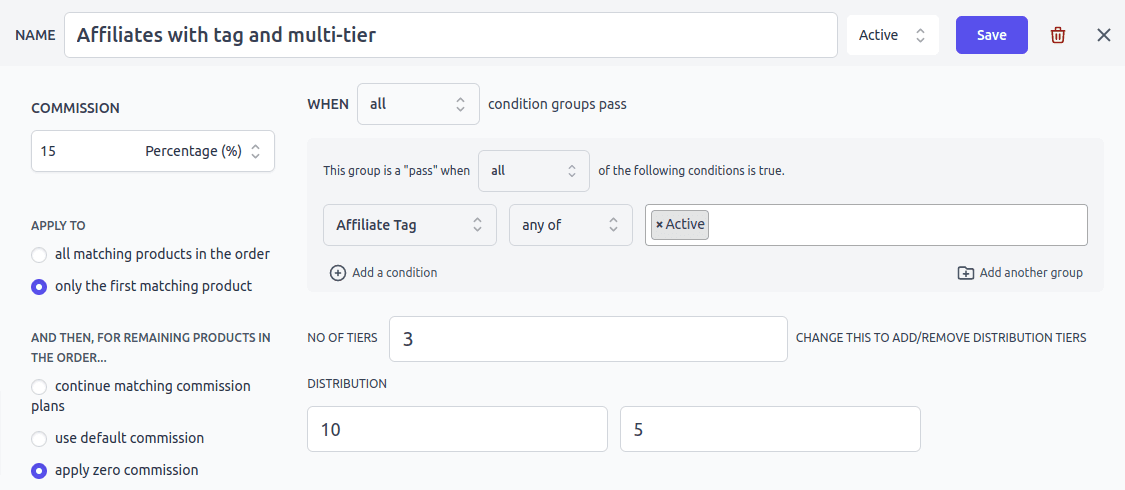 You can organize your affiliates into different groups based on tags and create exclusive commission rates for the affiliates within that group.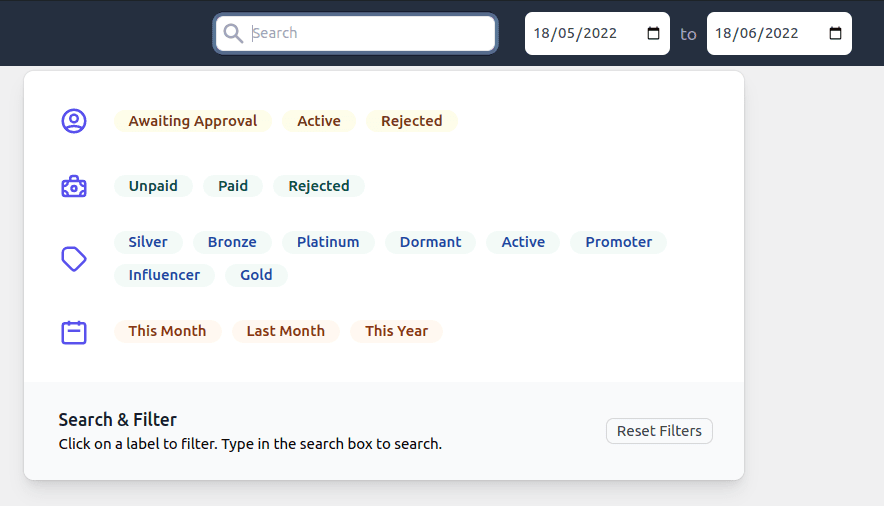 You can use pre-defined tags like Gold, Silver, Influencer as well as create your own custom tags. It also becomes easy to filter affiliates based on tags and other parameters.
Learn more about affiliate tags
Marketing assets / Marketing campaigns
Create affiliate marketing campaigns using your familiar WordPress editor. Add images, banners, videos, swipe files, HTML, PDFs, any promotional material your affiliates can use to promote your brand.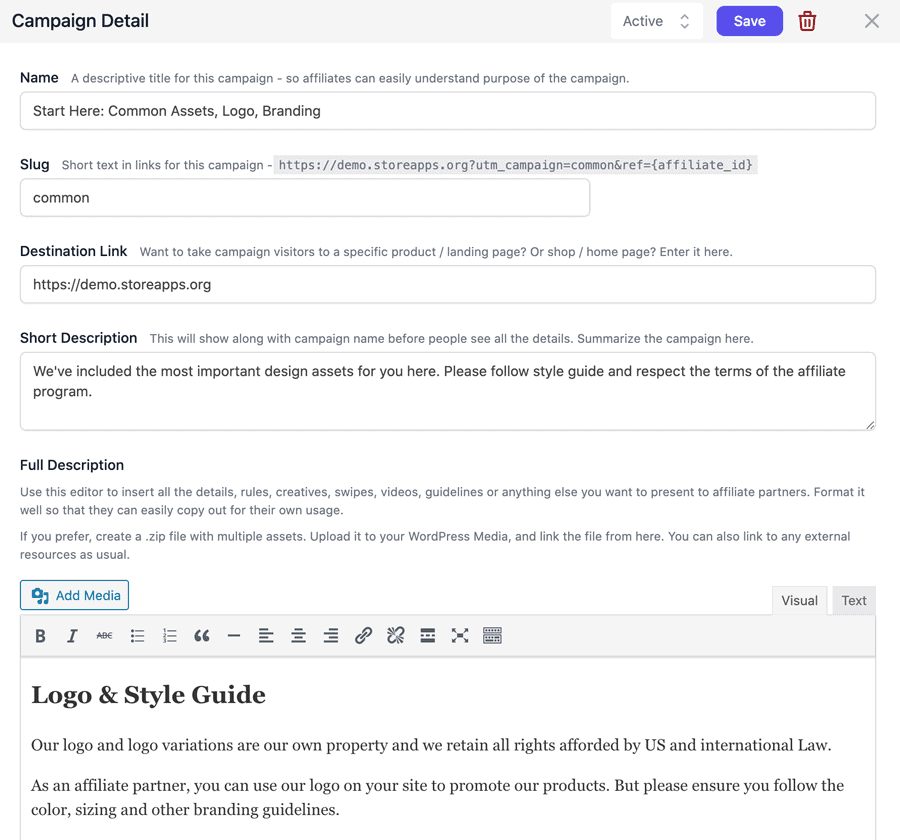 Reporting
This is another area where the Affiliate for WooCommerce plugin shines. Manage everything from a single dashboard – affiliate tracking, campaign creation and payouts.
No switching to multiple dashboards/screens like Tapfiliate.
Store admin can monitor net affiliate sales, unpaid commissions, refunds, visitors, customers count and conversion rate and also complete details of each affiliate – payment method, order date, commission paid, payouts, products sold, tags.
And for the affiliates, they can track gross and net commission, total sales and conversion rate, commission earned from each customer, payout history, product wise commission.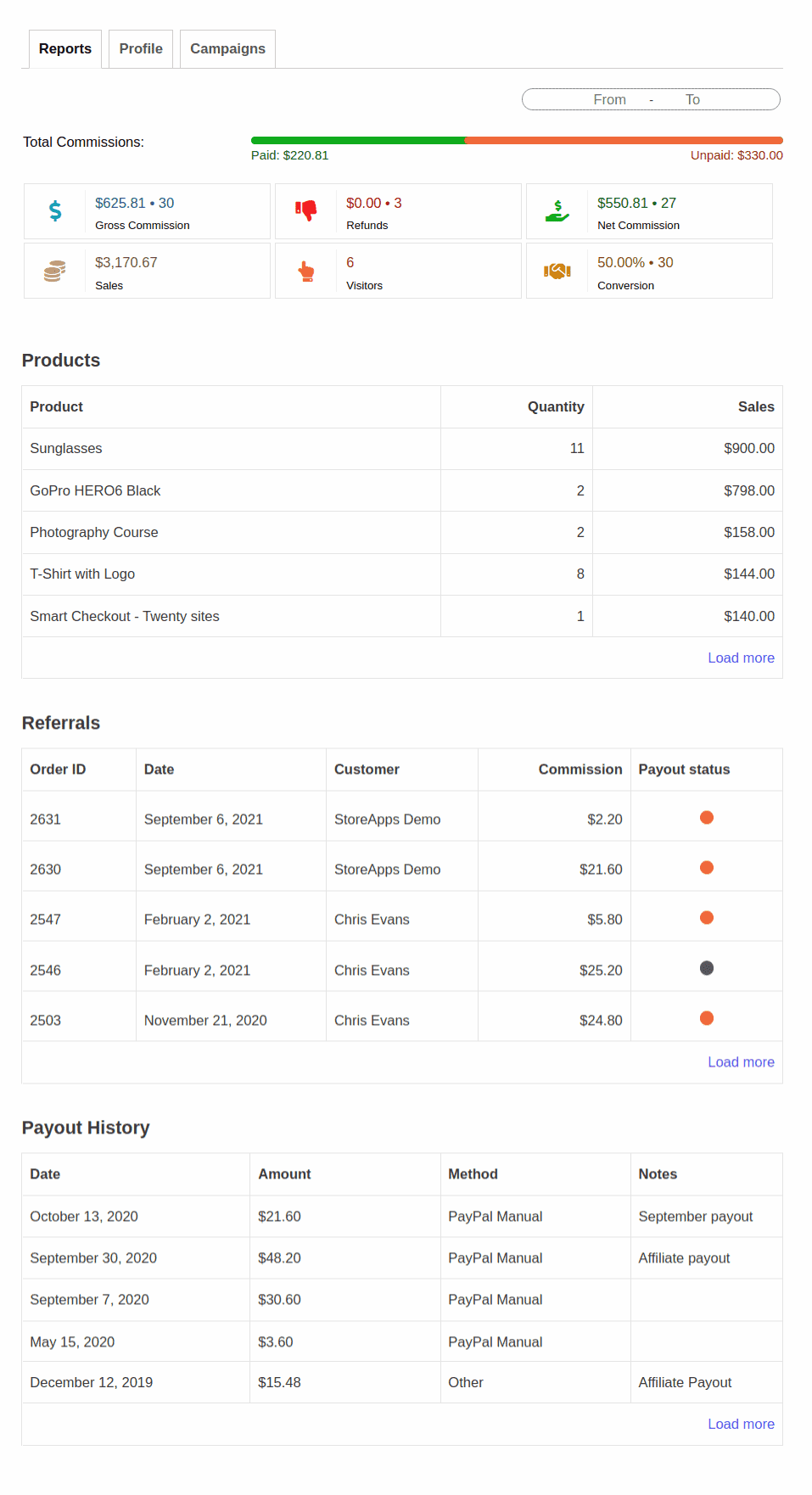 Payouts
Pay your affiliates manually or via PayPal (free plugin).
In manual payouts, you pay the affiliate out of this plugin (direct bank / wire transfer, cash, cheque payments, credits and reward points) and can record the payouts in the tool. You can also do a mass payout to your affiliates using the PayPal Payouts API.
Note – API is already integrated with Affiliate for WooCommerce plugin. So no need to worry or do a manual setup compared.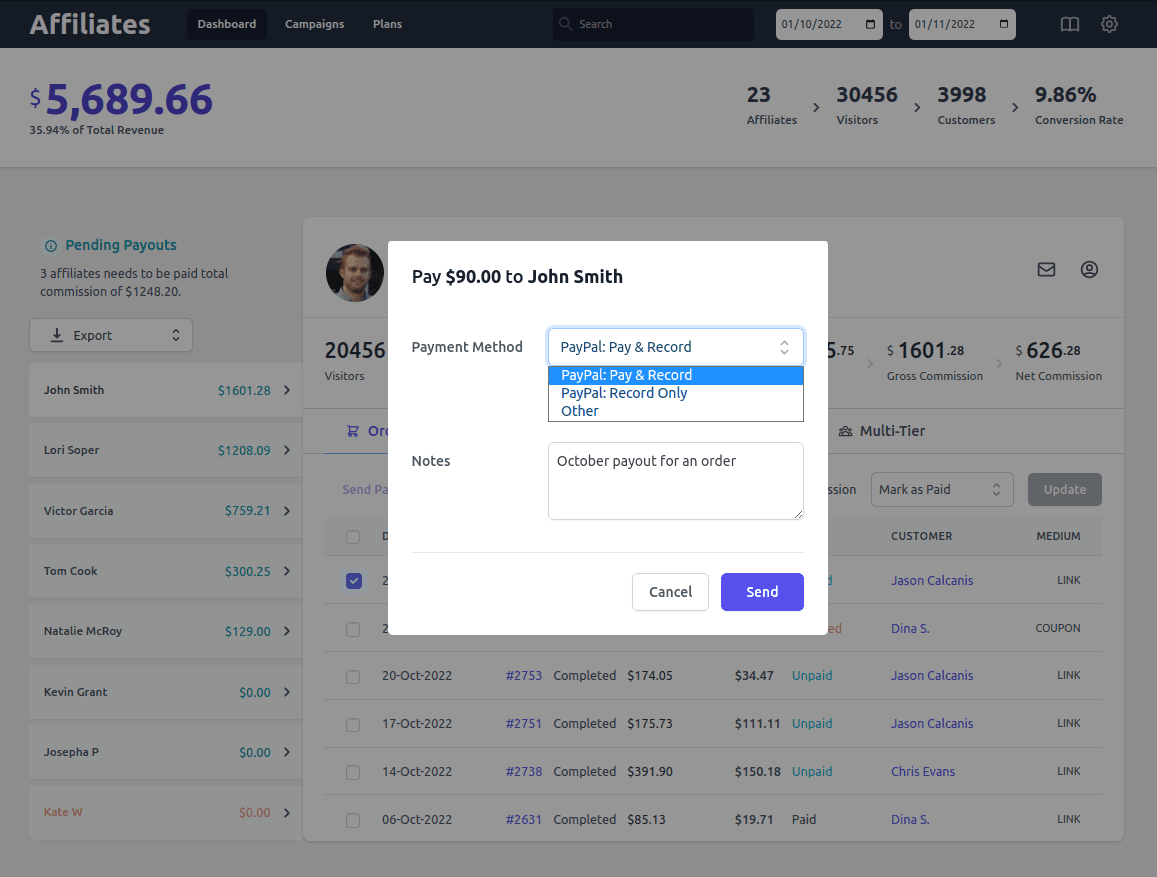 Affiliate for WooCommerce pricing
Affiliate for WooCommerce comes with simple and hassle-free pricing. It's billed annually at $129 per year.
Pros:
Easy to set up and manage. Single screen interface, no jargon.
No site slowdowns, works on shared hosting – efficient code quality.
Regular improvements and updates.
All the required features you need.
Very less price compared to Tapfiliate without compromising on quality.
Cons:
Comes with only one subscription plan.
Missing features like team members, automated refund & dispute handling, partner network, multiple tiers of commissions.
Fewer integrations.
Try Affiliate for WooCommerce live demo
Which plugin to choose and when?
Well, it depends on your affiliate program requirements and budget.
If you need the essential features, awesome support, everything manageable from a single place, no technical assistance and a far more affordable deal, go with Affiliate for WooCommerce.
If you want to spend 10x or more the price of Affiliate for WooCommerce, but get some more features, you can opt for Tapfiliate. But keep a developer ready as you will need assistance from them.
Conclusion
Affiliate marketing, when done, will turn out to be a viable money-making tool. To ensure your affiliate programs are updated and impressive, you need tools like Tapfiliate and Affiliate for WooCommerce. In this Tapfiliate review, we learned that the tool is great, but its cost is high.
Affiliate for WooCommerce seems a better choice for WooCommerce users.