Although it is easy to edit the prices of a couple of products in your WooCommerce store, it becomes a tedious task for store owners and marketers to make edits when there is a massive number of products to edit.
To not to exhaust you with this entire process, Smart Manager comes into the picture. It's a simple plugin that not just saves your time but also gets the work done aptly.
There are options to discount as well as upgrade your WooCommerce sale price in bulk quickly.
This article will help you understand all the functionality that is available regarding the sale price updates and how you can perform those steps.
Editing WooCommerce sale price and regular price can't get better than this
You may have to change the product prices multiple times during festivals, holidays or any special occasions when there are multiple offers running on all the products of your stores. You can't simply invest hours and hours to change the prices of each product manually.
Smart Manager helps you edit the prices of each product as well as the prices of all products in bulk with the same convenience.
You can also set the sale price as regular price, or use 'copy from' to assign a single sale price to multiple products.
Steps to perform bulk edit for sale price / regular price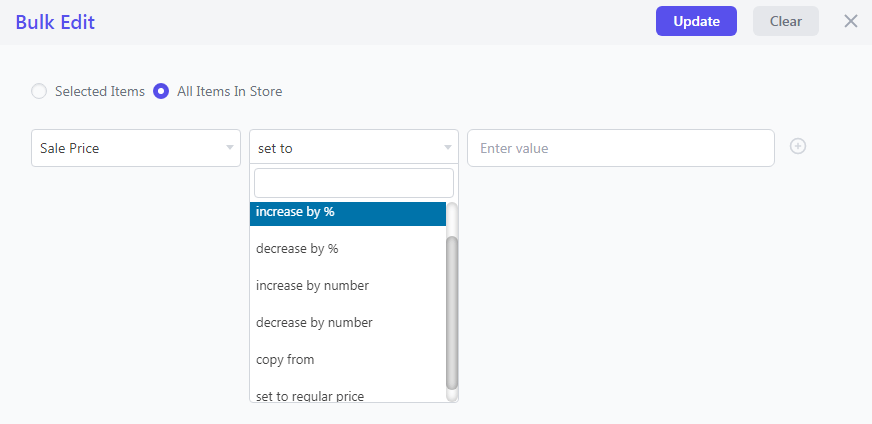 Go to Smart Manager > Products dashboard. Click on the top header checkbox to select all items available on your store. Or select the ones you want to set or edit prices for.
Click on Bulk Edit which is right on top of the header checkbox. It will open up a slide over panel.
Select Sale price from the drop-down list of select field.
In the drop-down of the next option set to, you get options to determine the exact sale price you want to set:

set to
increase by %
decrease by %
increase by **specific number**
decrease by **specific number**
copy from
set to regular price

In the last drop-down, you can fill the value and Update
As you complete this, you will see the Sale price column updated as per the edits you made. You can perform a similar thing when dealing with regular prices in WooCommerce.
How to update sale price or regular price for a single product or limited products?
Well, you do it directly using the spreadsheet.
Click on the cell of the particular item you want to edit
Edit the price you wish to set and Save
How to edit sale price based on product category?
Mention the product category you wish to edit in the Advanced Search bar placed at the top.
Click on Bulk Edit if you wish to edit all the items in one go
Select Sale price from the drop-down list of select field
In the drop-down of the next option set to, choose the option as per you wish to edit the price.
Click on the update button
That's all.
Using the Advanced Search option, you can edit prices based on product attributes, prices above or below a value, product tags and others.
Ending notes
With Smart Manager, editing the sale price, the regular price has become easier than ever. Not just for products, you can also bulk edit data fields for orders, coupons, users, any WordPress post type.
19K+ users rely on it daily to ease their store management tasks. Are you next?