A perfect incentive to get more sales. One thing which benefits all three parties – store-owner, affiliates and customers. That is WooCommerce affiliate coupons.
What's this WooCommerce affiliate coupon?
Not a win-win but a win-win-win
Buyers are happy as they get products at a discount.
Affiliates are happy as commission is earned.
Store-owners are happy as product is sold. Moreover, they may acquire loyal customers in the process as well.
Are coupons better than affiliate links?
Standard affiliate marketing (use of links) is more of a one-to-one arrangement. It's good. But with coupon affiliate marketing, you partner up with more affiliates, coupon sites and others who distribute your coupons and give you more traffic.
Many reasons to go for coupons over affiliate links but these are my top three picks:
1. Coupon codes trigger the mind easily
Who doesn't like discounts! It's a psychological effect. Seeing a coupon code at the first instance gives the impression that the sale is on. Even a small discount makes the price seem much lower than the original one. And customers are willing to buy at lower prices. In-fact, they wait for this occasion.
2. Replaces plain links on Instagram and other social platforms
Instagram is becoming a hot property to showcase your products and earn. And you'll find buyers as well. Courtesy – good looking photos. But the affiliate links posted will be simple text and not actual links. Instead if its a coupon, potential buyers will easily copy that code to claim the discount.
3. Gives your brand more visibility
Don't we search for food, taxi coupons on deal or coupon sites? It's easy to list coupons anywhere. Don't under-estimate your affiliates. If these affiliates are some coupon or deal sites, your brand gets a lot of traction. Your brand is introduced to online shoppers who haven't even heard of you yet. Your influence grows bigger slowly but consistently.
The easy way to create WooCommerce affiliate coupons
Now, you'll find plugins that only does this feature. Or you may need to create a coupon in WooCommerce and then link to affiliates. This is also a long procedure.
Worst, you may land upon some code and get stuck.
Why these when there's a simple and readymade solution out there?
It's the Affiliate For WooCommerce plugin.
Here's how you can get coupons for affiliates: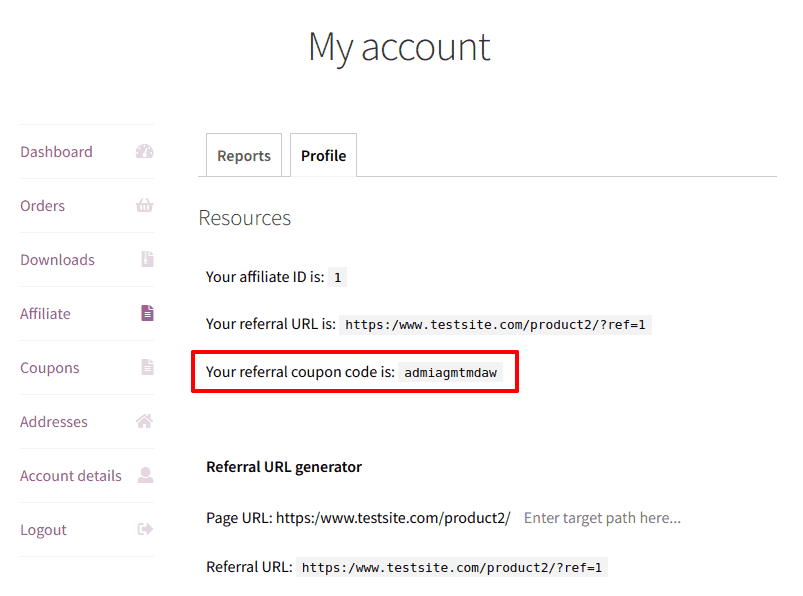 Affiliate For WooCommerce plugin auto-generates coupon for each affiliate. Your affiliate simply needs to go to the Affiliate plugin dashboard, take the coupon code, share it and let customers do the rest.
On successful purchase, the customer gets the discount and affiliates will be rewarded with the commission on that coupon every time a sale is made.
No complexities whatsoever.

Check it on our demo
What makes Affiliate For WooCommerce plugin a preferred choice amongst users
Btw…this plugin does a lot more than you have thought of. It's the most simple plugin to create your own affiliate program.
Easy set-up, self-manageable.
No site slowdowns, works on shared hosting – efficient code quality.
Affiliates can generate links and track commissions themselves.
Unlimited affiliates, links, visits!
Real-time, accurate and advanced reports. Gross and net commissions, order sync, conversion rate, product performance, and other useful metrics.
Payout partners easily using PayPal MassPayout API.
Affiliate leaderboard shows you top-performing partners at a glance.
and a lot more…

Get Affiliate For WooCommerce plugin
For whom and how this affiliate coupon feature helps?
1. Bloggers / Influencers
When bloggers or influencers pitches your product to their readers, it's worth sharing the coupon code. People believe them more rather than you telling about your products.
2. Podcasters
Ideal for recruiting podcasters as affiliates, because they can give out their discount code to their listeners while still earning a commission.
3. Store-owners
Well, you want more sales and more the coupon is shared, the more chances of acquiring paid customers.
4. Deal or coupon sites
These sites want more commissions. They will be happy to promote you more and more using the coupon code.
5. Developers
Developers need good plugins to install on client sites. Naturally, they recommend plugins they are affiliates of. When client buys that plugin using the coupon code, developer earns a commission.
Conclusion
There's always more you can do to reach more customers and using affiliate coupons is a golden tactic.
More importantly, pair with the right coupon sites and affiliates for an effective promotion strategy. It will drive more clicks, more sales and increase your brand outreach.
And not to forget, Affiliate For WooCommerce plugin to set-this up easily.