Offering discounts to your customers is great. But are you offering them relevant discounts?
A better focused and targeted discount strategy can always give you better results.
How do you design such strategies?
By understanding the behavior of your customers based on their previous purchases.
With Smart Coupons, you can offer them discounts to make them spend a little more on your store than usual.
This article will help you understand how you can send these coupons in bulk after users have made a purchase. In other words, you can issue coupons based on customers' previous purchases.
How to send coupons to your customers based on their previous purchases?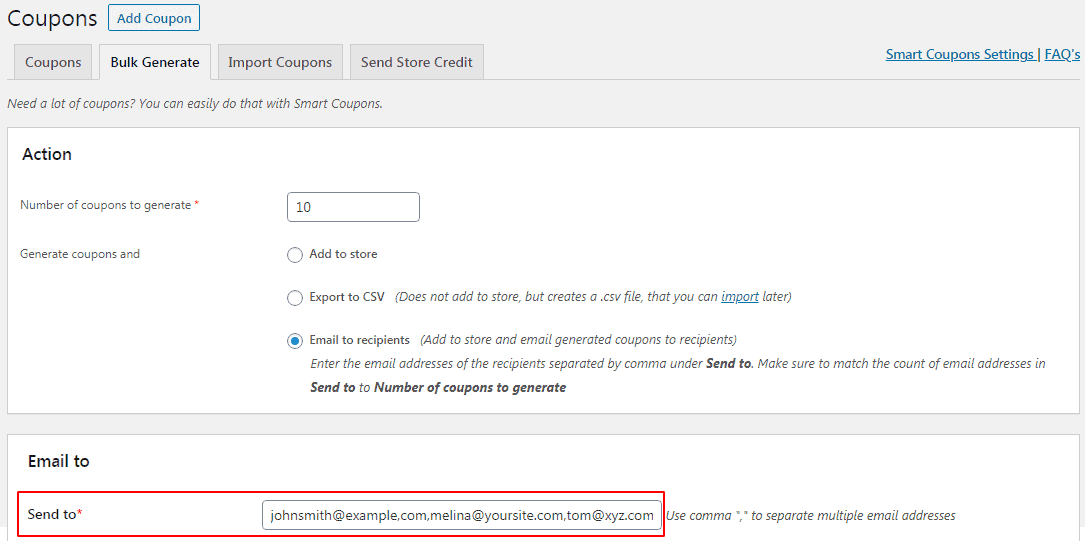 Go to WooCommerce > Marketing > Bulk Generate
Enter the number of coupons you want to generate
Choose Email to recipients. Enter email of those or get the list of purchasers.
In the Email to section, enter email ids of all the participants you want to send the coupons to (insert a comma in between each email id to send bulk ids in one go).
Under Discount type, select the type of discount you want to offer from the drop-down. It can be a coupon or a gift card.
Write the message (optional)
Complete the coupon description (optional but recommended)
Set coupon expiry date and time if you want the coupon to be valid for few days/weeks/months.
Apply any additional restrictions under 'Coupon Data' as you do for any WooCommerce coupon.
Click on Apply
The customers will receive the coupon or the gift card in their email. They can use this coupon while making another purchase on your store.
Note – You can also issue a coupon with products that is valid for an X time period.
How do targeted coupon strategies help to grow your sales?
The possibility of your customer redeeming the discount coupon is always higher when you send them what they're looking for or what they usually purchase.
For example, a customer buying books often would definitely be interested if you're offering a 30% discount on any new publication.
This is why understanding customer behaviour or customer segments is important. Approach your customers with discount coupons that they can't wait to redeem.
As always, do not do an email blast. Select only some of the users in the list who are prone to make a purchase again. They can be –
Recent customers who made a purchase 15 days ago
Customers who purchased above $100 or other higher amount
Customers who are dormant and haven't made a purchase since six months
High-end customers who purchased your premium products
If you are selling subscriptions, offer a coupon on renewal
Ending notes
WooCommerce Smart Coupons allows you to create and execute this and many more such coupon strategies with its top-rated features.
Join the community of 15000+ users of Smart Coupons plugin to grow your store faster, gain more customers and build your brand loyalty.