If your WooCommerce store sells variable products, i.e. multiple variations of the same product, it is very much possible to run out of stock for some of the variations anytime.
Whenever you do, you must keep your customers updated about the same. So that they don't place orders for those products or specific product variations and later on get disappointed learning the fact that the product can't be delivered currently.
To save yourself and your customer from such unpleasant experiences, all you have to do is mark those products as 'Out of stock'. You can also choose to leave a small note informing when they can expect the product to be available in the store again.
With Smart Manager, it's just a few clicks away. You don't have to go to each product page and do it.
This article will help you understand how you can bulk mark such product variations out of stock with Smart Manager and save time.
How to bulk mark a product variation as 'Out of stock'?
In the Smart Manager dashboard, products shown with a horizontal blue line are the variations of the product. Product variations will be shown in the grid, only if the "Show Variations" checkbox is checked.
For a few product variations, you can directly mark them 'Out of stock' using Smart Manager's Inline edit feature. To do the same in bulk, refer to the below steps.
Find out all the product variants in one go

Go to WordPress admin > Smart Manager
Select the post type Products from the drop-down
Click on the Advanced Search toggle
Now, to get a list of all variations, search for 'parent > 0' in the Advanced Search functionality.
Mark product variations 'out of stock'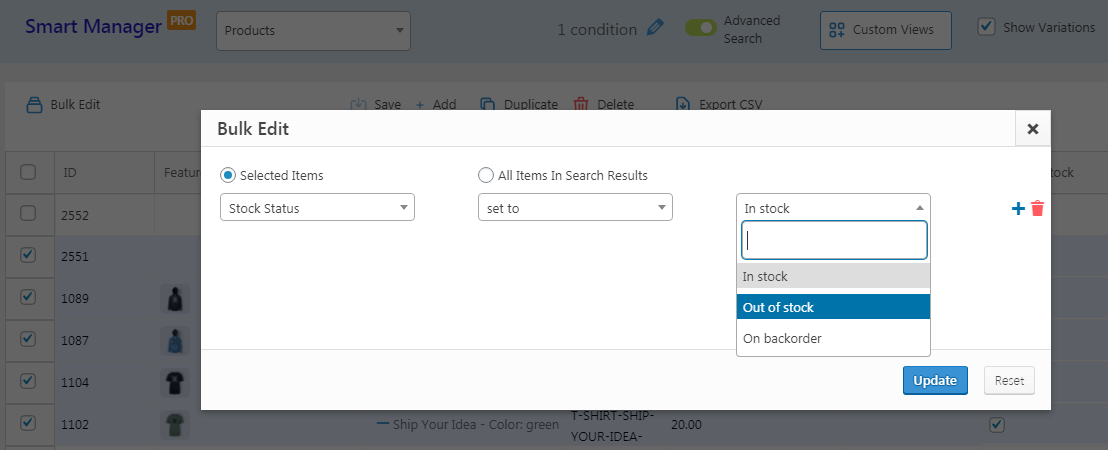 Select the ones you want to show Out of stock
Go to Bulk Edit
Select Stock Status in the first drop-down list
Select action as set to
Select out of stock in the last drop-down list
Click on Update.
That's all.
Get Smart Manager
Like you, 19000+ people are using Smart Manager to convert their 'hours' of work into 'minutes' of work.
You can also bulk edit users, coupons, orders, any WordPress post type and explore many more features present in your Smart Manager plugin.