Simple and to the point, WooCommerce dropshipping guide. We value your time, so won't bore you with too long content.
What is dropshipping, should you opt for it or not, is WooCommerce dropshipping better than Shopify dropshipping, best dropshipping plugins…all you need to know is covered here.
If you are a newcomer or already have an online business, this blog will be quite valuable to you.
So without the fuss-fuss, let's begin.
What is dropshipping model?
In layman's terms, dropshipping is an online business wherein you earn money by selling products directly to customers from different sellers/vendors without storing those products yourself.
You can even get those products shipped with your branding and packaging. A smart way to build your brand name and expand your business.
Remember some years back, when your mom, aunt or other relatives used to sell products by showing a product catalog, taking orders and then directly sending them to you. That's dropshipping. It's still relevant today. Just that Whatsapp images have taken over the catalogs.
With the advancement of technology, more online stores, especially WooCommerce and Shopify, dropshipping has made millions of people go the online way to make an income due to low overheads.
However, the main success of dropshipping depends on the right products and the right dropshippers.
The biggest example is Amazon. It is one of the biggest marketplaces where dropship items are sold, with Amazon selling very little itself.
Benefits of dropshipping
Recent stats predicts dropshipping industry to reach a market valuation of $557.9 billion before 2025. That's very huge, considering the benefits dropshipping offers.
Let's look at some top dropshipping benefits:
Significant cost reduction – No need to have a manufacturing unit or your own or rented warehouse. You won't end up with surplus stock if the goods do not sell.
No supply chain or logistics hassles – Since delivery is handled by suppliers, you also stay free from the supply chain and logistics hassles. A significant cost reduction here as well.
Access to awesome products – You have full access to multiple products from different vendors. With the help of WooCommerce dropshipping plugins, you can easily import these products to your store instead of doing it manually. Saves you a lot of time!
Work remotely – Gives you the flexibility to work from anywhere and on your own schedule.
Scaling up – Keep a track of your inventory – how it is moving, whether orders are fulfilled, sales made and so on.
Disadvantages of dropshipping
The pros are quite enough to convince users to opt for dropshipping. However, its major limitations can't be ignored.
Competitive and saturated market – being cost-effective, you'll find millions of people in the dropshipping business, selling the same products you also sell. With such saturated markets, it can be tough to get going and keep the momentum.
Slimmer profit margins – Your suppliers take care of the delivery process. So your profit margins are low.
Finding a reliable supplier – It is not always easy to find a reliable supplier. Even if you, there are a lot of terms and negotiations to be made. If a supplier messes up an order, you're going to have to deal with that mistake even though it wasn't your fault. That can certainly make for some frustrating customers.
Therefore, finding a profitable niche with low competition can be tricky, but it's not impossible. You also need to be careful about setting your prices so that you still end up making a profit.
Why choose WooCommerce dropshipping over Shopify dropshipping?
A lot of guides will tell you about how great it is to do dropshipping with Shopify. Plugins like DSers, Spocket, Oberlo, Printful, Printify and others make it quite easy and flexible to do.
It is true, there is quality but there is hype as well. The Shopify marketing team is quite talented at this front. Shopify recommenders also get some extra sweet commission for it.
With WooCommerce, you have the following advantages:
Free and open-source – It is cost-effective as the plugin is free. You need to pay for the hosting. Shopify, on the other hand, is going to cost $29 per month no matter what. Plus there are additional costs for premium themes and a 2% transaction fee on credit card purchases if you don't use their payment gateway system.
Stricter terms and services – When you use Shopify, you have to abide by their terms of service. That means there are some things you just can't sell with Shopify. With WooCommerce, entrepreneurs find that their products don't fall into the same restrictions, terms, or policies that other platforms may have.
SEO-benefits – SEO capabilities from WordPress are easily applied to their WooCommerce stores, allowing them to rank higher on search.
WooCommerce does have some limitations because of the manual work involved related to supplier management, order tracking and more.
But why bother when a WooCommerce dropship plugin can do wonders for you?
With that being said, let's see how to set up a WooCommerce dropshipping store and then some popular WooCommerce dropshipping plugins.
How to set up your WooCommerce dropshipping store?
Once you find good products and a winning supplier, you're ready to actually build your WooCommerce dropshipping store.
Choose a domain name and hosting plan
Buy a domain name and a hosting plan. A domain name allows your customers to find you online, and hosting will house all your store's website pages and necessary files, allowing your website to run smoothly.
There are many companies out there that help you build a WordPress site and provide hosting – GoDaddy, SiteGround, Cloudways, Hostinger and others.
Use WordPress to build your site as simple or as complex as you like. Powering the majority of websites on the internet, WordPress is easy to use and flexible enough to give you the features your business demands.
Install the WooCommerce plugin
The WooCommerce plugin is what gives your WordPress site that e-commerce functionality. Install and activate and you are good to go. Once done, you can start adding products.
Adding dropshipping products
There are two ways to add products:
Manually — recommended if you only plan on selling a handful of products. It gives you more control over how the products look and display on your website.
Via plugin — recommended if you want to add a lot of products in one shot. This method is faster, but you won't have much control over the way the products are displayed.
Tips on which products to sell
We would all want to import the best products for our store. But that's not easy and profitable as it sounds. So here's how you can choose which products to select and sell on your store:
Find a product with enough demand to make it worth selling
Do not jump directly on popular or competing products that may drown you
Opt for a product that's priced in such a way that you still make a profit
Be aware of the product dimensions to roughly estimate the shipping costs
Do keyword research on marketplaces like Amazon, eBay and others to see what's trending
Choose a product niche you know enough about to better promote your products
Finding the right suppliers
Once you've identified the products you want to sell, it's time to talk about how to find product suppliers to handle order fulfillment for you.
A few popular places include AliExpress, SaleHoo, Doba, DHgate, Wholesale2b, and Worldwide Brands. You can browse through these marketplaces to see if they carry the products you want to sell.
Then, you need to ensure that the supplier is reliable and will deliver your products in a timely fashion.
Tips on finding the suppliers
Check the supplier ratings to see customers satisfaction
Examine their policies and shipping times. Stay away from suppliers that charge you an ongoing monthly fee.
Read product ratings and reviews to determine the quality of the suppliers' products.
Ask for free samples to test the product quality yourself first
Make sure the supplier responds to inquiries and messages on time
Look out for a supplier well-versed with the latest technologies and tools
Calculate the costs and logistics
Now that you have your list of products and reliable suppliers, calculate your costs and logistics like shipping times and fees.
Provide your buyers with accurate information because online shoppers don't like surprise costs.
You can charge your customers the same shipping fee, or you can opt for a flat rate shipping that covers your expenses no matter where the product is shipped to.
Set your pricing options
When it comes to pricing your products, you can choose from these options:
Fixed markup on cost — adding a dollar or percentage amount to the cost of products. If a product's average price is $50, you can charge a 10% markup on it and sell it for $55. Or, add a fixed dollar amount of $5 to every product you sell.
Tiered markup on cost — suitable for selling different products with varying price points. For example, add 25% markup for products cheaper than $50 and 5% markup on products over $100.
Manufacturer suggested retail price (MSRP) — charging the amount recommended by the manufacturer. It's a fair price strategy that doesn't lead to undercutting other sellers while still making a profit.
Choose a payment gateway
WooCommerce integrates with more than a dozen payment gateways, so there are plenty for you to choose from, no matter where you're located. With sales, there are also refunds to handle.
When making a selection, consider the specific needs of your business, including:
The fees and location you sell products
The currencies you sell in
The type of checkout process your customers require
Our in-depth blog post on WooCommerce payment gateways compared the popular gateways and help you choose the best ones suited for your store.
Calculating your profits
The formula looks like this:
Profit = Product selling price price – (Product purchase price + Shipping costs + Returns)
Instead, the formula should help you find the best pricing model for the products you want to sell and enable you to make a profit.
That's it. Your dropshipping store is ready to roll. All you need is to select the right plugin. So let's take a look at them.
Best WooCommerce dropshipping plugins
There are 20+ plugins to choose from. We have short-listed the most popular ones.
DropshipMe
Support for WooCommerce and AliDropship, DropshipMe has become quite a popular name. It's a freemium WooCommerce dropshipping plugin that offers thousands of best-selling products from AliExpress.
Top features
Easy and quick import 50,000+ best-selling products from AliExpress
No product search required saving tons of time
Optimized and professionally edited product images and titles that make your web store very attractive
Fewer disputes with selected suppliers
Import real customer reviews for better conversions
Recommended pricing markup that automatically apply to all imported products for better profits
Lifelong customer support
Pricing
Starts from $29. Varies based on the products you import but it's a one-time payment. There's also a free version of the plugin.
Spocket
Spocket is a highly popular SaaS to grow your AliExpress dropshipping business. It has integrations with WooCommerce, Shopify, BigCommerce and other platforms.
Top features
Helps you source products from suppliers in the US and EU
Choose the best products to dropship from various categories
Order product samples and test out the products and suppliers to build a reliable dropshipping business.
One-click order fulfillment
Heavy discounts ranging from 30-40% on all products
Showcase your brand via invoices
Real-time inventory updates
Pricing
Pricing starts from $25 / month. It varies based on the features and products you import. Spocket also offers a 14-day free trial.
WooCommerce Dropshipping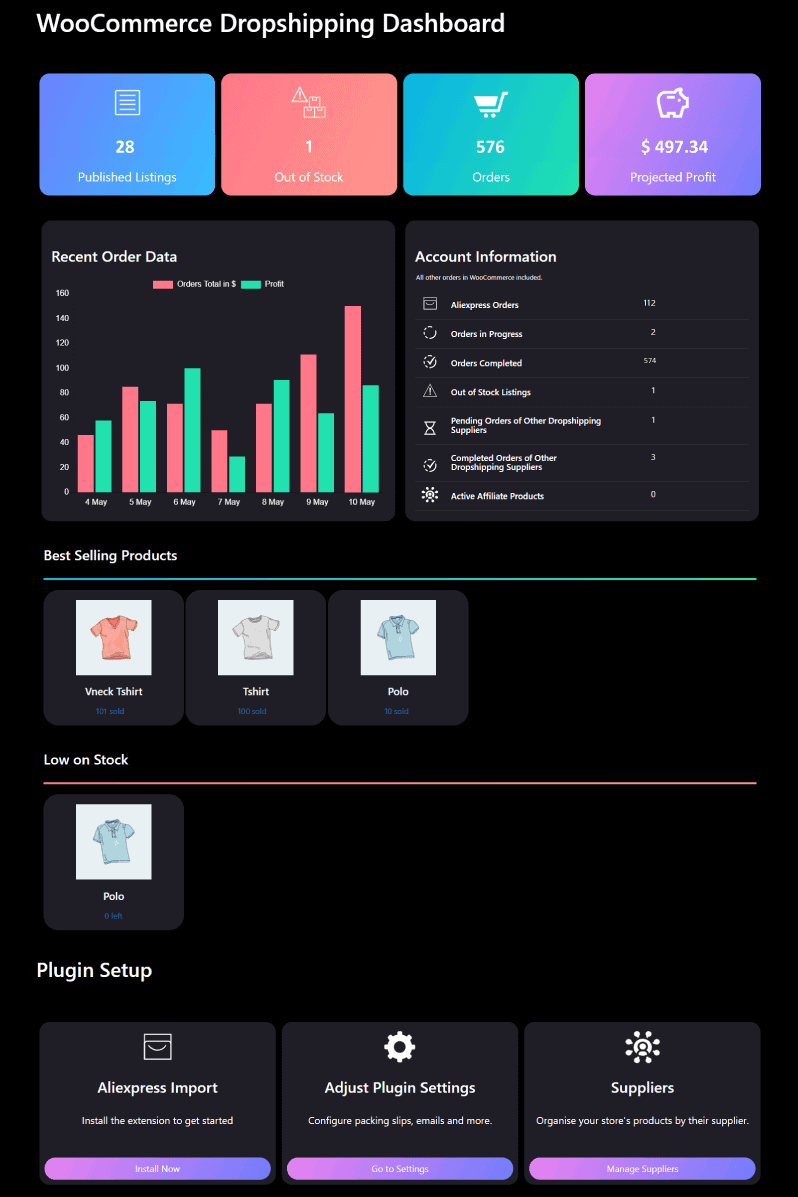 If you like to purchase an extension from the WooCommerce marketplace, you can consider the WooCommerce Dropshipping extension.
The plugin allows you to import products using a CSV file. You can also manually add suppliers to your WooCommerce store.
Top features
Start dropshipping with AliExpress, local suppliers around you, or to become an Amazon associate.
Dedicated dashboard to monitor performance – orders, suppliers, profits, affiliate products…
Chrome extension to bulk import products along with images and comments from AliExpress website
Set profit margins for AliExpress products based on a percentage or fixed amount offset
Allows for automatic completion of shipping details
Automatically sends order notification emails to the supplier for order fulfillment.
Auto-generates order notifications and sends them to your suppliers via email.
Pricing
$79 per year
Get WooCommerce dropshipping plugin
Printful
Printful is a slightly different dropshipping solution. It allows you to dropship printed products such as mugs, t-shirts, hoodies and other products from locations in the US and EU.
Though the product range is limited, Printful stands out quite ahead in terms of print quality.
Top features
Support for WooCommerce, Shopify, BigCommerce and other major platforms
Powerful mockup generator to help design products to sell
Global in-house and partner facilities offer competitive shipping rates and consistent quality.
Order tracking and fulfillment automatically
Allows to add your own branding
Pricing
Free. Once you make an order, you will be charged for manufacturing and shipping.
WooShark
While most dropshipping plugins focus mainly on products from AliExpress, WooShark also allows to sell eBay, Amazon, and Etsy products, considerably widening your product options.
The free version is good but restricted to import products and corresponding details from AliExpress and eBay.
Top features
Unlimited and bulk product import from AliExpress using the Chrome extension
Import and customize product specifications, descriptions, ratings, and reviews
Automatic support for over 52 languages and currencies
Variations can be customized, deleted, or edited
Automatic price calculation and AliExpress checkout form completion
Import products into selected WooCommerce product categories
Stock levels and price synchronization for single or all products on AliExpress and eBay
Pricing
$40, one-time payment
AliDropship
AliDropship is another popular dropshipping plugin for WooCommerce. It also helps you easily import products from AliExpress and then fulfill those orders. You can also use it as a standalone WordPress eCommerce store.
Top features
Chrome extension to easily import products one by one or in a bulk
Import reviews into your site directly from AliExpress
Built-in image editor to change product images while importing items and directly from WordPress admin panel.
Earn 8% commission on each purchase as an additional bonus
Advanced pricing markup formula to apply your rules for particular products or all items in your store.
Full after-sales support and life-long free updates
Pricing
$89, one-time payment
WooDropship
WooDropship is a premium WooCommerce dropshipping plugin that allows you to add, edit, publish and sell AliExpress products on your WooCommerce store.
Top features
Chrome extensions to import AliExpress products in one-click
Edit dropshipping products' title, description, variants, pricing and more as you wish.
Automated order fulfillment
Customizable pricing rules
Pricing
$49, one-time payment
Offermative
Well, Offermative is not a dropshipping plugin. But it will surely help you set your dropshipping store on fire with its automated and high-converting offers.
Run upsells, cross-sells, BOGO, product recommendations and other offers on your hundreds and thousands of products and get sales on auto-pilot.
Yes, all these without you doing anything. Select readymade offer designs, tweak some rules and copy if needed and make your offers live.
Pricing starts from $99.
Launch your dropshipping store
Now you're ready to launch your online store and start making sales.
Dropshipping is a viable business model where you don't have to worry about inventory management, supplying the product or dealing with shipping.
It also requires no upfront investment, so it's a low-risk way to start an online business that's perfect for those new to the idea of selling online or those with a limited budget.
I hope you find this blog valuable. Do share your feedback and suggestions in the comments box below.