The phrase 'the best of both worlds' fits perfectly for this blog.
Because integrating WooCommerce memberships and subscriptions creates a powerful combination, allowing you to offer recurring subscription plans with exclusive member benefits, driving recurring revenue and customer loyalty.
Let's see the benefits of using both the plugins together and how to bulk manage WooCommerce subscriptions and memberships.
What is the difference between memberships and subscriptions?
Memberships provide access to exclusive content, perks and benefits, often with upfront or periodic fees. For example, five years holiday club membership that has access to premium rooms and discounts during peak seasons.
Whereas subscriptions offer recurring access to products or services with scheduled payments, focusing on ongoing delivery rather than exclusive content.
Subscriptions have an upper hand over memberships when it comes to offering free trials, upgrade/downgrade and provide additional perks as add-ons.
However, memberships have the upper hand in terms of community building, member-only events and exclusive offers that make customers feel special.
So what if you can club the advantages of subscriptions and memberships?
For example, offer your resort membership on yearly subscription plans. Each plan has different benefits and exclusive bonuses. The customer will get nudged to subscribe to the higher plans provided the benefits are worth those extra bucks.
Benefits of integrating WooCommerce memberships and subscriptions
WooCommerce Memberships plugin is tightly integrated with WooCommerce Subscriptions plugin.
Once you add a subscription to a membership, it unlocks a plethora of benefits:
Sell recurring memberships (monthly or yearly)
Provide different subscription options to your customers based on their desired level of membership
Upgrade / downgrade memberships
Provide free trials
Prorate memberships
Allow members to pause their own subscriptions
Grant access to members-only content to active subscribers
Offer additional perks and exclusive content to your subscribers
Encourage customers to stay longer, boosting loyalty
Track member and subscriber activities, analyze data, and make informed business decisions.
However, there is one major disadvantage.
But considering the advantages, you must use them together.
This WooCommerce memberships subscriptions integration doc mentions how you can tie membership access to a subscription.
How to manage WooCommerce subscriptions and memberships from one place?
You can now manage hundreds and thousands of subscriptions from one place using an Excel-like spreadsheet, within minutes using the Smart Manager plugin.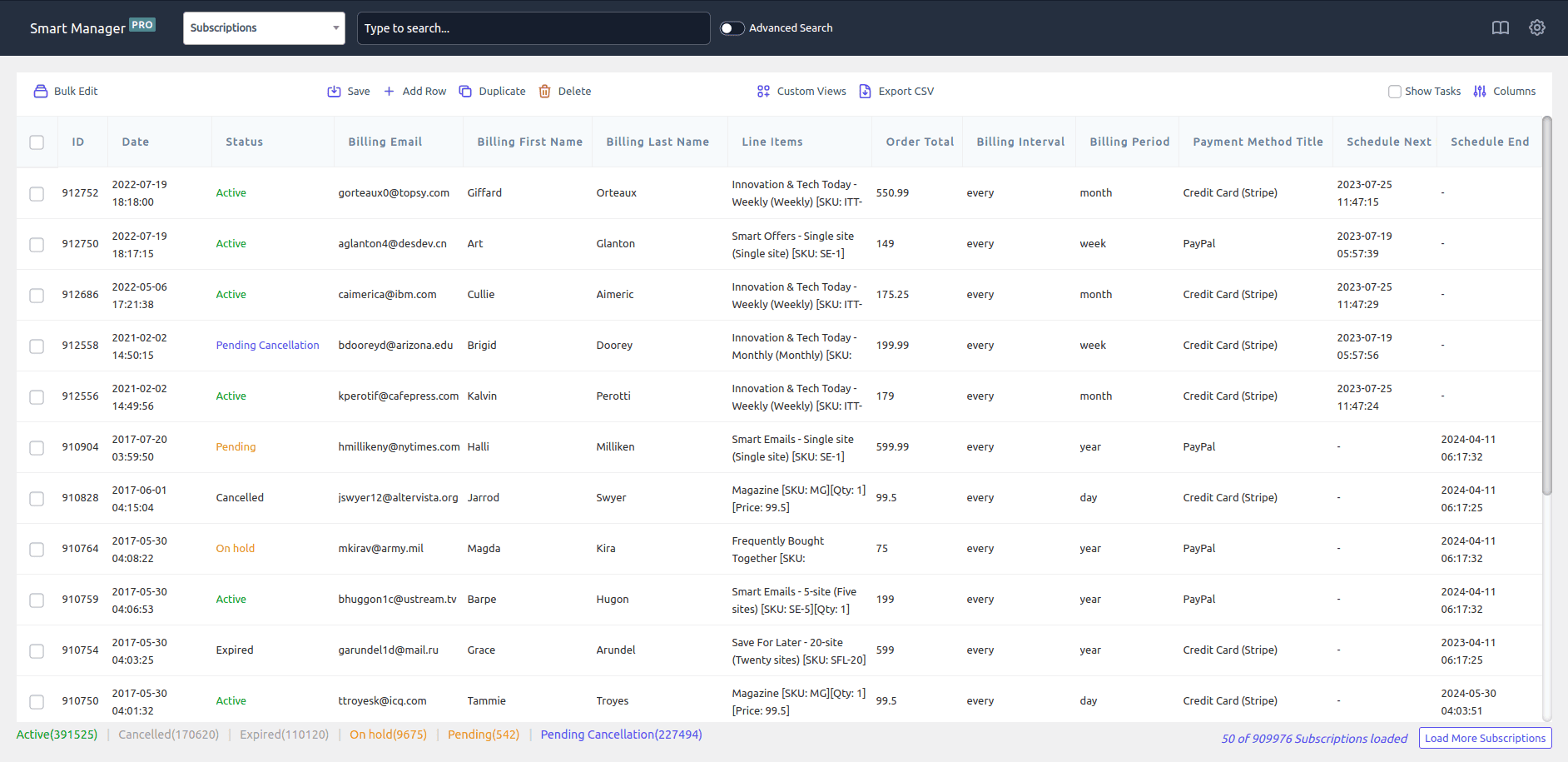 From changing subscription statuses to canceling them, here're some examples of how to directly manage and bulk edit subscriptions with Smart Manager.
Change subscription status to Active from Expired for specific customers.
Cancel all subscriptions of Jackson and Maira for the Q2 of this year using search filters.
Export all monthly and yearly subscriptions to CSV for the previous year.
Extend free-trials of selected users.
Reduce the sign-up fee for all your subscription products by 50% during Black Friday sale.
Extend the 'next payment date' of 20 of your subscriptions.
Cancel/suspend subscriptions of 50 customers who haven't renewed past Jan 2023.
Add a fixed shipping charge to all your products.
Like subscriptions, you can also manage and bulk edit memberships:
Make changes to a membership plan.
Upgrade membership of Yoko Abe who purchased it exactly a year ago from today.
Migrate 30 members from their Gold plan to the Platinum plan based on their order total till date, say $3000.
Activate 200 expired memberships in bulk.
Use search filters to get data of ninety customers and set free shipping for them.
Offer a $20 gift card (using Smart Coupons) as perks during your website anniversary to 600 members.
Cancel the monthly subscription and sign-up for an annual subscription for twenty of your members.
Sort all expired memberships by email.
Winding up
Boost sales, retain customers, increase loyalty, get new customers, build community…if you are looking for all these, we recommend using both the plugins.
This combo allows businesses to provide ongoing value and a sense of community to their subscribers.