With the advent of online coaching slowly taking over all across the world, it is impossible to ignore how well it is doing for small businesses. According to Verified Market Research, the online coaching platforms market size was valued at USD 1938.39 Million in 2020. By 2028 alone, it is expected to reach USD 4567.42 millions.
After the pandemic- hit, you're bound to find online coaching for different sectors such as career, health, dating, relationship, wellness, and most importantly, education. In 2020, online coaching increased by a whopping 57%.
While everything continues to shift online, your course may not be as good as the ones offered online. 
Your solution
So, where should you get started if you wish to build your online coaching website?
Your best bet is the WooCommerce plugin. It's a free, flexible solution for all your online business requirements. It also has tons of integration options, works best for e-commerce sites and lets you cut down the high costs charged for simple features. 
Start with a WordPress site, install the WooCommerce plugin and start building your online business just the way you like with lots of customization options!
Online coaching requires partial payments
You've built your site, but you're not simply providing a service, are you?
A successful business will only be recognized by its profits and impact. So, what's the solution for building a profitable online-course selling business?
Offering partial payments!
Take inspiration from several colleges offering online courses with different options for paying fees. Either pay the fees for the course in one single go or opt to pay for it in installments after the commencement of classes. 
This business model works because of several reasons:
Customers get the freedom to choose
Offering to pay in installments is a big 'Yes' for customers. When they see this option, it lets them choose how they would like to pay for the membership or classes. 
For customers who do opt for this option, keeping track of monthly expenses becomes simple.
A one-up from your competition
It is most likely that your competitor may not have the same payment options as you. Imagine if you're the only online guitar coaching tutor who offers partial payments amongst your competitors.
Of course, when you're the only one offering this service, customers are more likely to prefer your online course. Partial payments, thus, have the ability to differentiate you from your competitors.
Increases your sales
We already know that customers love options. When there's a lack of payment options, there's bound to be cart abandonment. But, when they get to pay in installments, you're more likely to score a lot of buyers for your service. Increased sales would be yours to grab! 
Ropes in budget-buyers
A customer will always think twice before buying anything online. This is especially true when the service in question is not under their budget. For instance, you offer online yoga classes for Rs. 3000 for six sessions. 
When this service is offered with a WooCommerce installment payments plan, your customer is more likely to put it in their cart. That's because, without the partial payment options, your client wouldn't get the benefit of affording your yoga classes with full payment.
How to set up WooCommerce partial payment for online course selling sites?
The Deposits for WooCommerce plugin lets you accept partial payment for profitable online course selling. Whether they're deposit payments by percentage or a flat amount, or even your own custom payment plans, it fulfills all your requirements.  
Not only does it work for both digital and physical products but for each product you can have multiple payment plans. Feel free to try other options like force deposits, partial payments, and payment plans.
On top of this, you can also enable reminder emails and send invoice emails automatically on the scheduled date for scheduled payments in the payment plans. 
Let's get started on how you can set-up partial payment for profitable online course selling.
Example 1: Percentage deposit
After installing the plugin, go to WooCommerce > Settings > Products > Deposits. Enable the deposits on the checkout page setting and configure the remaining settings.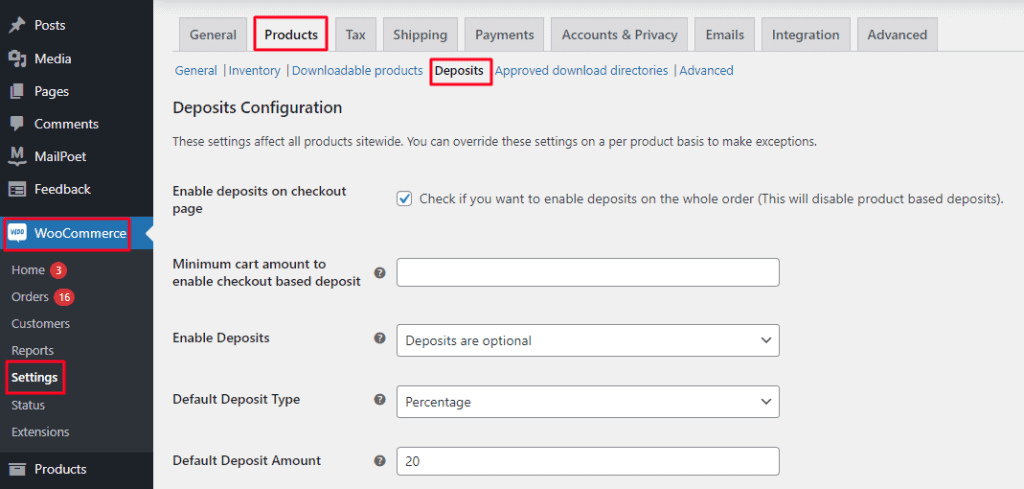 For instance, you can go with the Deposit Type Percentage and enter the percentage to 20. Save the settings.
When the customer adds the product to their cart, on the checkout page, they'll get the option to choose how they would like to pay – Deposit or Full Amount.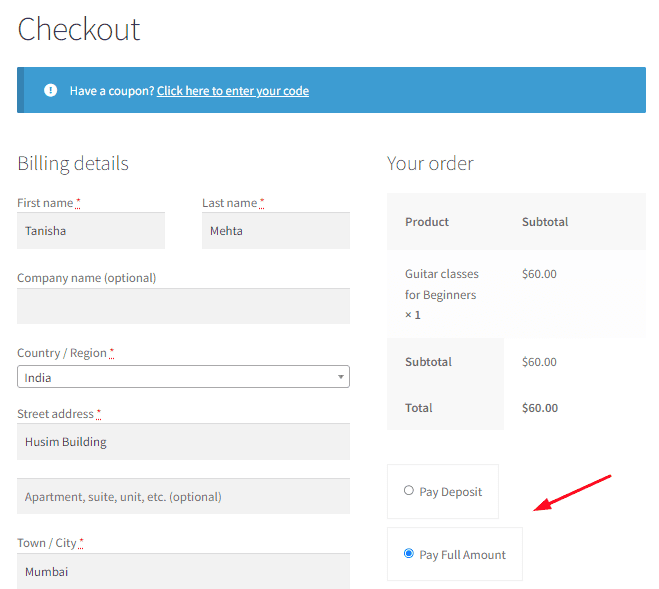 When they select Pay Deposit, they'll have to pay 20% of the total cost of the product, which would be a $12 deposit.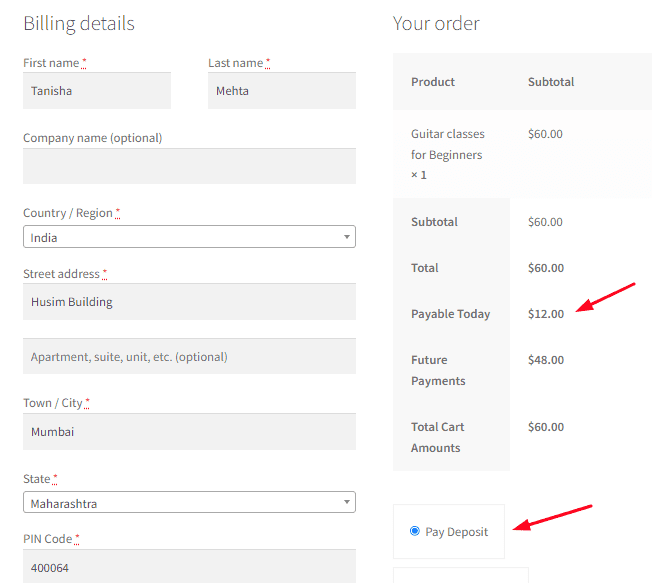 Similarly, you can even set-up a fixed amount deposit. 
Example 2: Payment plans
Let's say that you wish to create a payment plan. You can go to Products > Payment Plan > Add Payment Plan. Give your payment plan a name and select the scheme. For instance, you can go with a Fixed Amount scheme where all three installments are $20 each.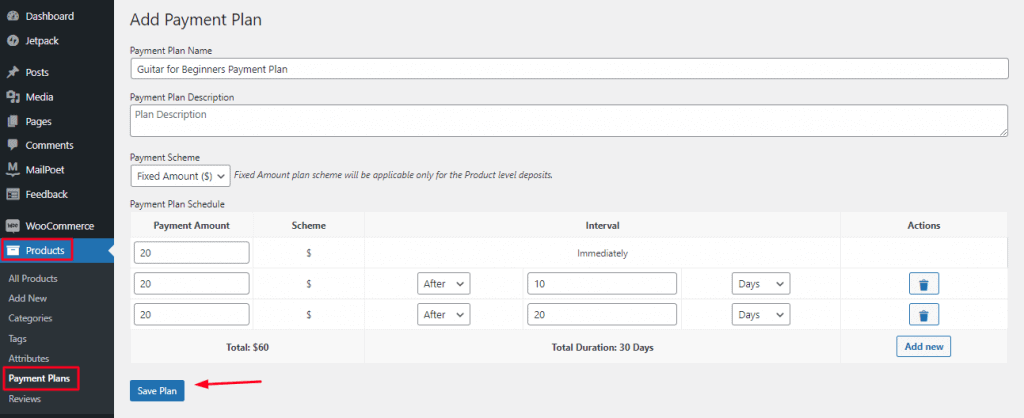 Click on Save Plan once done. Now, go to WooCommerce > Settings > Products > Deposits. Under default Deposit type, choose Payment Plan. Choose the created Payment plan in the Default Payment Plans setting and fill in the other details.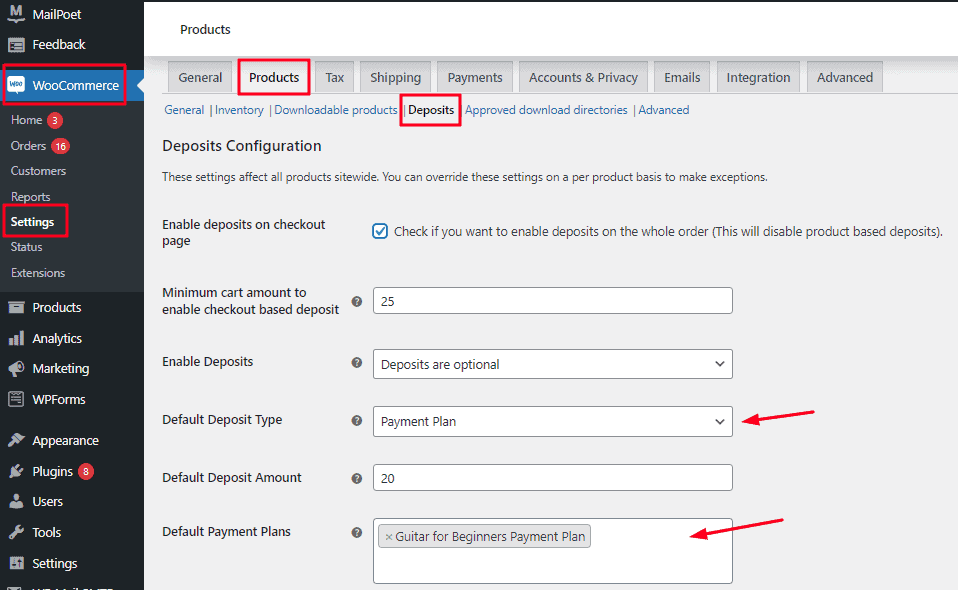 Don't forget to save these settings.
When your customer will go to the product page, the plan along with its details will be displayed as shown below: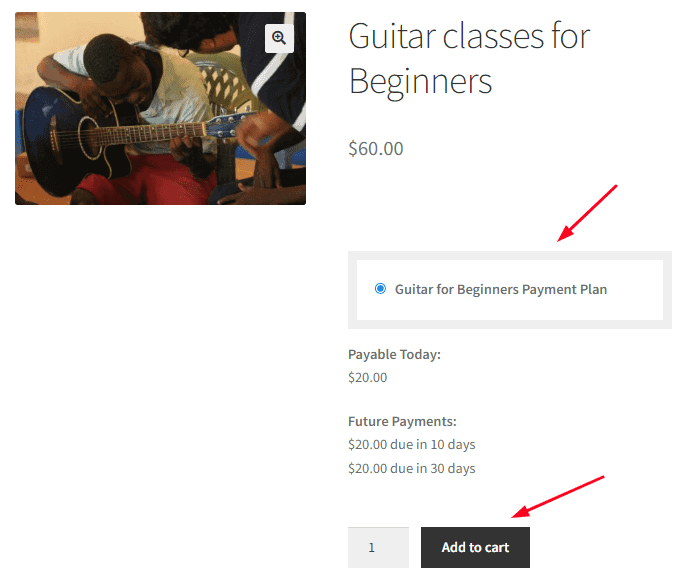 After the service has been added to the cart, the checkout page will also show the installment details: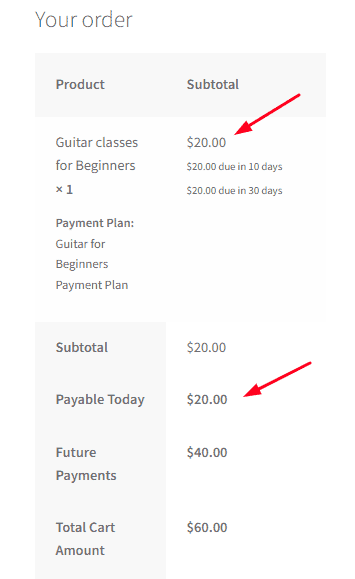 FAQs
How long does it take for WooCommerce to deposit money?
The time it takes for WooCommerce to deposit money into a merchant's account depends on the payment gateway used. Some payment gateways allow for immediate deposits, while others may take a few days to process and transfer funds.
Conclusion
Consumers value quick, convenient options when it comes to services. Setting up partial payment for profitable online course selling is your way to go about it. Start growing with WooCommerce and Deposits for WooCommerce plugin today!