What made my days during the COVID-19 pandemic? Coffee from Starbucks, pizza from Dominos, pastries from my friend's bakery shop Cakeholic…all online.
The COVID-19 pandemic has brought about a significant impact on the operations of many industries, especially the WooCommerce restaurant industry. Online orders skyrocketed and continue today as well.
There's a restaurant exactly opposite my house, but still I order online from it. It gives me exposure to live items available and of course, the sweet deals and coupons.
With hundreds of restaurants offering deals online to satisfy millions of foodies like me, you need to amp up your game to attract customers with innovative strategies and boost your sales.
So in this article, we shall learn more about smart marketing tactics which any food business can apply without hassles.
Bonus, you'll also learn about a popular restaurant plugin and how online restaurants/bakers/florists can easily manage and bulk edit their products and orders.
Orderable – A better way to manage online ordering system
When you talk about any WooCommerce restaurant plugin, it's hard to go beyond Orderable.
Orderable is a WordPress plugin that allows restaurants, bakers, florists or any store dealing with the food business and delivery items to create a digital restaurant menu for customers to order from. All these without any coding knowledge.
So all you have to do is add your menu items, process orders, and deliver them.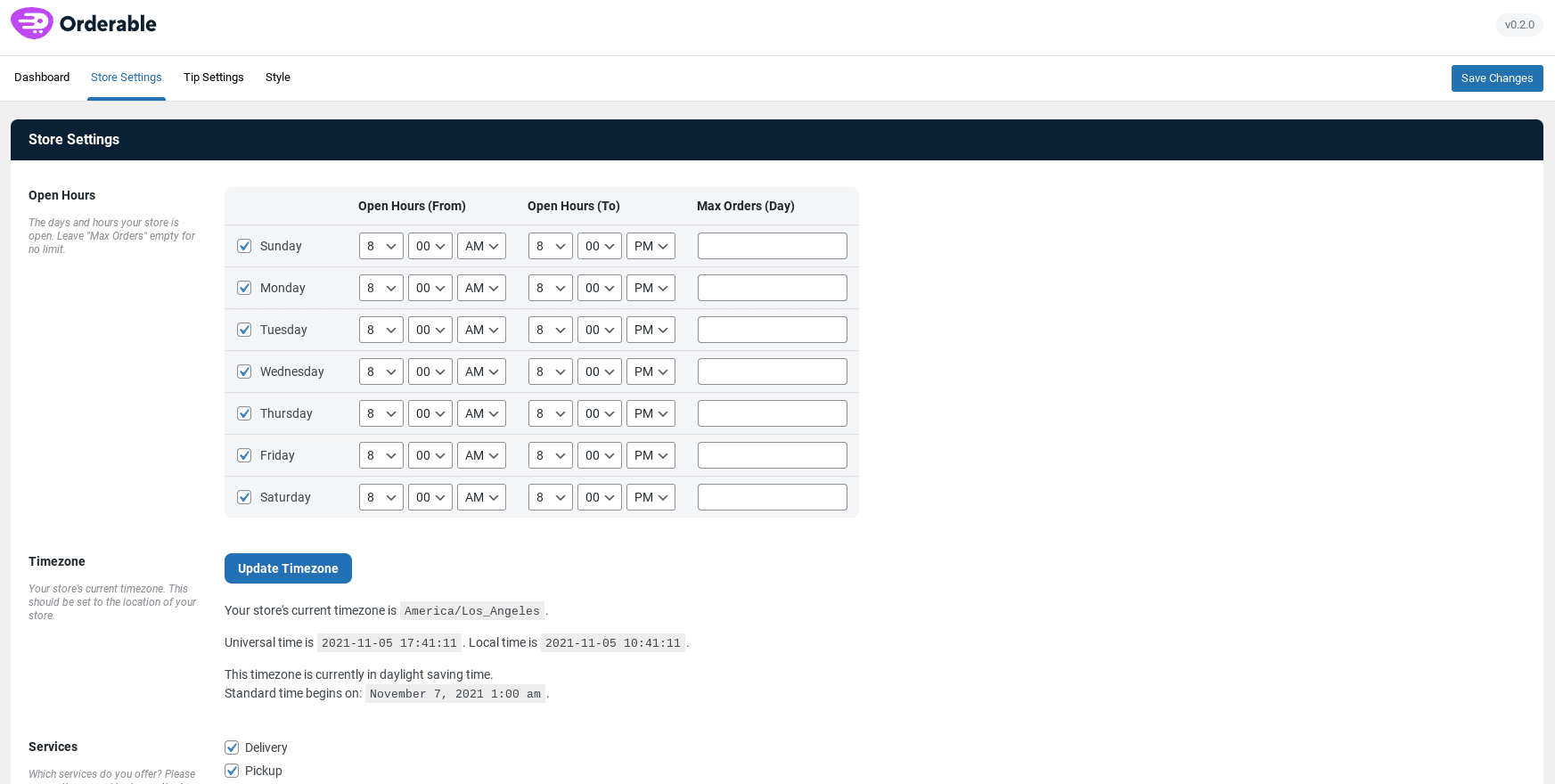 Here are some key features of this plugin:
A modern and app-like menu/food ordering design
Product add-ons (sides, toppings, dietary choices etc)
Customizable time slots
An improved checkout
Tipping
Easy order management
and lots more…
Pricing: $149 for a single site license. You can also download the free version.
Nine strategies WooCommerce restaurant sites must leverage to boost sales
Gift cards, upsells and cross-sells, discount coupons…let's look how you can use them effectively to boost sales.
Set up order bumps
An order bump is an offer that is presented to the customers directly on the checkout page. The customers can add the products to their purchases in just one click.
Order bumps are beneficial for restaurants as they allow you to expose your customers to additional food items. Further, it helps you in selling food items that may work wonders when paired with other dishes. By increasing the cart value, order bumps help you increase sales.
For example, extra toppings on the purchase of a pizza or candles with a cake. Here's how an order bump offer looks: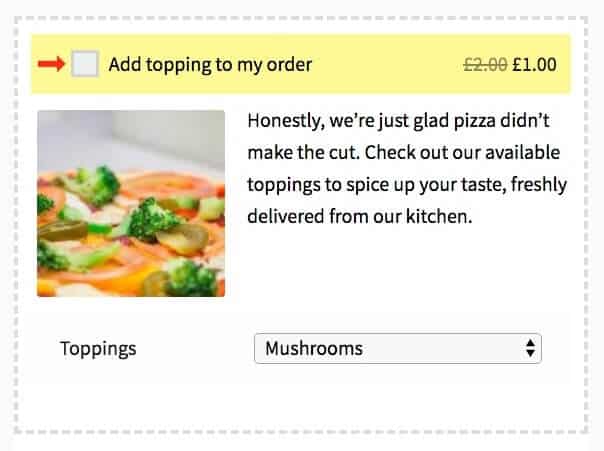 If you are using the Orderable plugin, you get this order bump feature by default.
You can also try out Offermative plugin to set up automated order bump offers on your store – high converting designs done for you. Select and deploy.
Issue gift cards for repeat sales
A restaurant business works more on repeat customers and making them happy should be your top priority.
A gift card is a prepaid money that can be used as an alternative to cash for making a purchase. Being the ultimate proof of customer loyalty, gift cards guarantee that the said customer would return to your restaurant or share the gift card with their family or friends.
Here's how you can leverage gift cards to boost sales:
Share a gift card online or with your dine-in customers on purchase of a bill value above $X.
Promote the gift card on various social media channels to attract more customers.
Encourage your restaurant staff to promote and share the gift cards. You can also give away gift cards to the customers who visit your restaurant on their birthdays.
Smart Coupons plugin by StoreApps offers an all-in-one solution for restaurants to create gift certificates in just a few clicks. Every gift card can be customized for limit and validity. You can also create physical gift cards with Smart Coupons.
Give a coupon for next order
Share a discount coupon with customers with every new order. Customers can use this coupon to claim a discount on their next purchase from your restaurant. As it encourages customers to place another order, it is also one of the best tactics to increase repeat sales.
You can use the Smart Coupons plugin to create next order coupons on the go and share them with the customers without any hassles.
Provide quantity discounts
As the pricing for items is reduced, the customers are motivated to place orders in large quantities. It places your restaurant in a good light and strengthens your position in the competitive market.
Smart Coupons plugin helps you offer discounts based on the item quantity. For example, if a customer places an order of 10 donuts, the restaurant can configure to offer a 15% discount on the total order.
Enable side cart widget
A side cart is an excellent cart replacement option that streamlines the customer experience. With the help of a side cart, restaurants can display the order items in a beautiful cart that slides open from the right side of the screen.
It eliminates the need to visit the cart page to check out the items in the order and facilitates a faster checkout.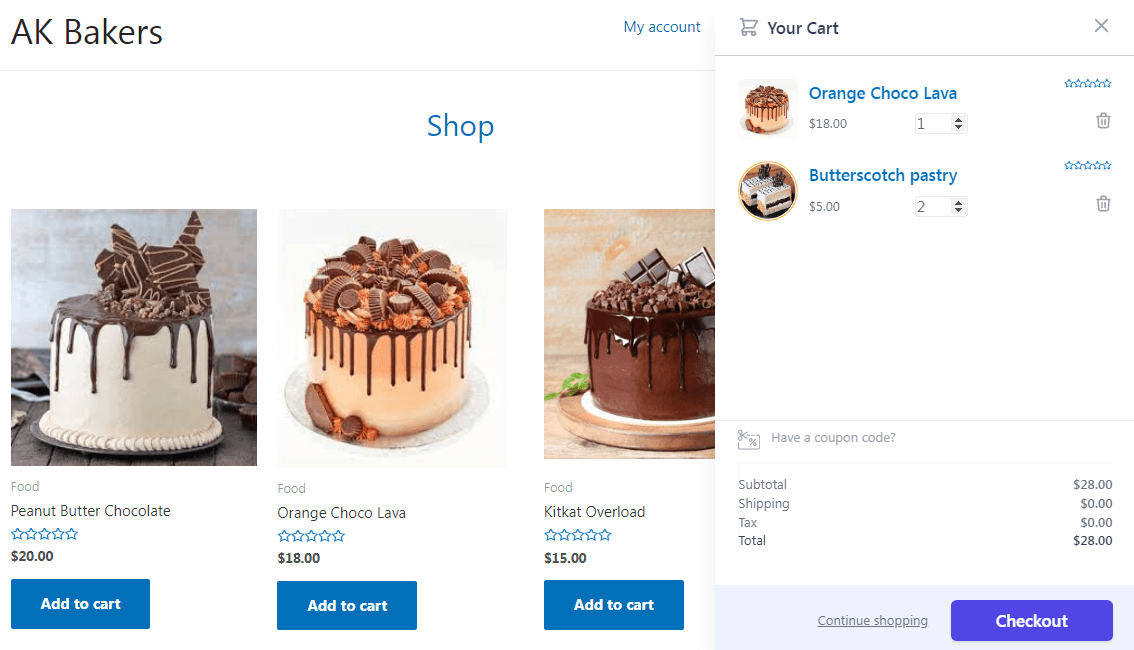 With the help of Cashier plugin, restaurants can enable a side cart widget on their website in just a few clicks. Once the plugin is installed, a cart icon will automatically be displayed on every website page (except the checkout page).
The customers will be able to update or remove the items, apply gift cards or other coupons to the order, view cart total and taxes, and more.
Set up special one-page checkout pages
As the name suggests, the one-page checkout enables customers to skip the lengthy checkout process by presenting all information on a single page. It is a compact version of the standard checkout process that includes cart items, payment details, billing and shipping information, and more.
If you sell very limited products or have some special products you want customers to buy quickly, set up a one-page checkout page containing those products only.
Besides the side cart widget, the Cashier plugin can be used to set up one-page checkout on the websites.
Cashier plugin also helps restaurants enable direct checkout on their websites via Buy Now button links.
This is super useful for repeat customers, one product and small value transactions wherein customers can skip the cart (further review ain't required) or even pay and complete the order in one click.
Show relevant upsells and cross-sells
Cross-selling involves selling additional products to customers. While upselling involves selling additional, usually more expensive products. Both these techniques help in improving restaurant sales.
By providing convenient product recommendations, restaurants can provide unparalleled convenience to customers and boost their revenue.
Dominos is leveraging upselling to increase the order value. For every customer adding a small-size pizza to the cart, Dominos suggests upgrading to a larger-size pizza at some discount or some incentive like extra cheese.
For cross-selling, you will be offered a Coke or garlic bread on the purchase of a pizza.
Smart Offers is a powerful WooCommerce upsell plugin that helps create and target upsells and cross-sell offers in the sales funnel based on cart total, product in the cart, categories and other conditions.
BOGO
Buy One Get One is one of the oldest sales techniques yet the most effective one for restaurants and bakery stores. As we all know, this sales promotion gives customers two items at the price of one. According to Wiser, 66% of customers prefer BOGO over other discount promotions.
Buy one pastry and get another at 50% off.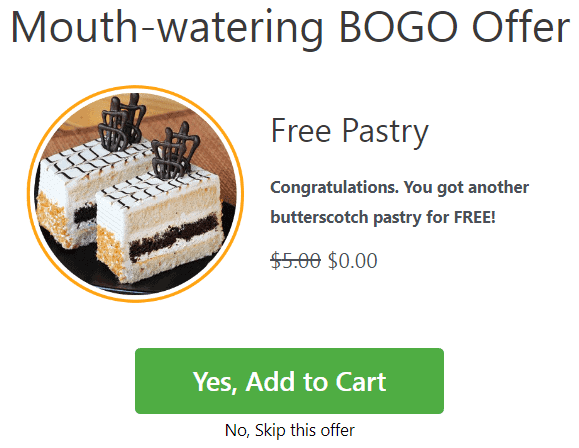 You can take the help of Smart Offers here also to set up BOGO offers in the sales funnel.
Implement at least five or all these nine tactics on your WooCommerce restaurant site and you'll be surprised to see quick results.
Now, let's move on to a very interesting yet important section.
How to bulk edit and manage restaurant products from one place?
Consider it's your restaurant anniversary and you need to reduce the prices of hundreds of food items (variations) – pizzas, burgers, pasta…by 15%.
It's very frustrating to update the price by going to each product. At the minimum, you would spend your entire day just updating the price.
Now, what if you can do the same task within minutes…or seconds?
Smart Manager plugin would help you accomplish the same.
Be it WooCommerce products, orders, blog posts, users, customers or any WordPress post type…Smart Manager will help you manage and bulk edit them at a blazing speed using an Excel-like spreadsheet editor.
You can also make edits directly to the records using the spreadsheet, export data to CSV, add, delete and duplicate records, and set up custom views with Smart Manager.
So if you are using the Orderable plugin, Smart Manager is a valuable addition to your store.
Managing products, orders and Orderable post types with Smart Manager
Like products, orders and other WordPress post types, you can also manage custom post types of Orderable plugin with Smart Manager.
Let's see some use cases to manage them better and get massive time savings.
Products
As you can see, you can view all your products from one place. This makes it easy to make changes. Be it price, stock status, quantity, category, attribute, etc.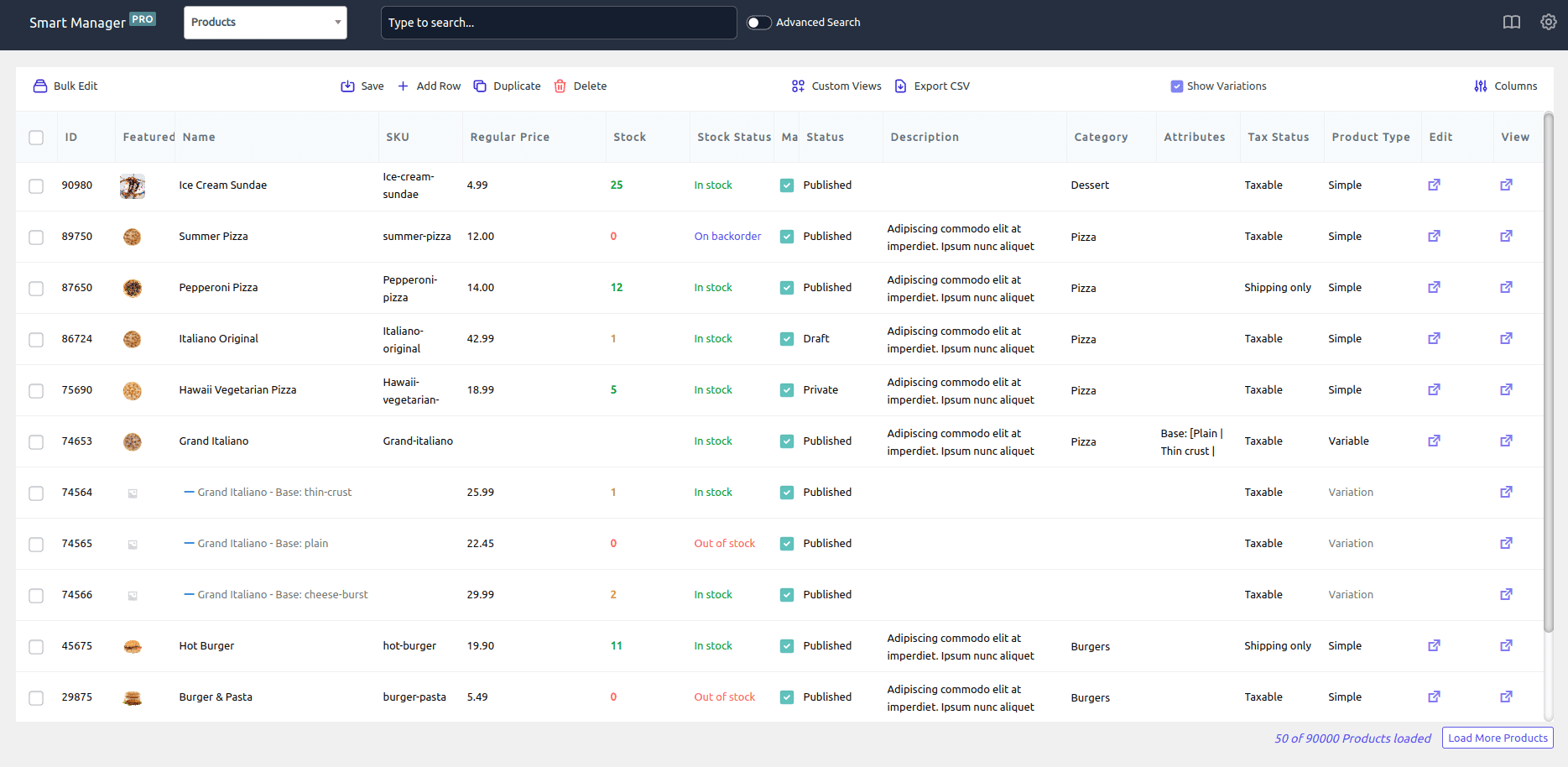 Let's consider the same store anniversary example above for bulk edit.
Click on the header checkbox to select all products.
If you would like to edit prices only for specific products based on categories (like burgers) or other filters, use the Smart Manager Advanced Search option.
Click on the Bulk Edit option. It will open up a slide-over panel.
Enter the conditions for sale price, category and other fields as shown.
Click on Update.
All your product prices will be slashed by 15% in a matter of seconds.
Note – In the case of filtered results, choosing the header checkbox will apply the updates to all products in the search result.
Orders
Like products, you can also manage all your store orders from one place, including custom orders. You can change custom order statuses added by Orderable in bulk, add new orders directly, apply filters and edit order fields, export orders to CSV, etc.
Order Statuses
You can assign the same custom status (Make to Order) to multiple orders in bulk using Smart Manager.

Product Layouts
Modify title, move layout to draft, edit layout settings as and when required.
Product Addons
Modify title, edit content, change status, view when all the addons were created, other order conditions and fields using the inline edit. Make edits, save, done.
Table Ordering
Instead of creating QR for tables one by one, create one using Smart Manager and use the Duplicate feature to create multiple QR. Then directly make edits to the records as needed.
Another advantage is you don't need to create them daily. You can create hundreds and thousands at once and then simply change the date in bulk as required. Smart way, isn't it?
Timed Products
When some products are available only for a limited period and no longer available, use the spreadsheet to move these products to draft at once instead of going to individual products and doing it.
Conclusion
These were some of the best strategies WooCommerce restaurants can implement to increase their sales.
Many restaurants from all over the world are already leveraging these tactics and have successfully boosted their sales. When are you doing the same?
And with Orderable and Smart Manager at your disposal, it's like icing on the cake. One makes setting up an online restaurant and ordering a breeze, the other one makes managing the restaurant products and orders a breeze.