WooCommerce has helped businesses seeking e-commerce infrastructure to sell their products online with point of sale (POS) plugins making online retail hassle-free.
In this article, we would be discovering some of the best WooCommerce point of sale (POS) plugins, to help you find the best option that matches your business requirements.
Let us understand what a point-of-sale plugin does before we take a look at the WooCommerce plugins.
What is Point of Sale (POS)?
Point of Sale or POS is the place where the transaction regarding the sale of a product takes place.
What does a POS do?
A point-of-sale system helps storekeepers to keep a track of inventory, cash flow, products, orders and customers all at once.
A WooCommerce POS plugin allows you to use a front-end interface in your physical stores or on the go (like setting up a merch booth at an event).
The POS plugin will connect to your online business automatically to sync orders, inventory and other information. The WooCommerce REST API, which allows easy connection, is used by most WooCommerce POS plugins.
While the specific approach differs depending on each plugin, most of these tools will provide you with specialized desktop and tablet apps/tools. While some plugins don't have specific tablet apps, they do have responsive designs that allow you to use the web-based POS on a variety of devices.
It will automate your store management system by taking orders, processing transactions, updating inventory and maintaining analytics.
Some basic elements of POS
Cash register
Server
Cash drawer
Barcode scanner
Inventory database
Custom receipt printers
Debit / Credit card swiping machine
How is POS useful for a business?
Having a WooCommerce POS helps you bill for the products, maintain inventory stats in real-time, and keep a track of the payments on the web browser, something similar to that of a billing counter cum cash cum inventory management, all at once!
What are the benefits of using POS?
Effortlessly maintain records.
Easily track the payments for every sale.
Manage bulk orders and inventory without hassles.
Secured payments by using trusted payment gateways.
Cloud storage for data that gets automatically synchronized.
Eight best WooCommerce POS plugins
When selecting the ideal POS system for your online store, keep the following factors in mind:
Unique traits and usability
Payment gateways
Supported platforms and devices
Set-up cost and compatibility with your store
Third-party plugins integration
Let's begin with the plugins list. We start with the extension listed on WooCommerce marketplace.
Point of Sale for WooCommerce
This is a premium WooCommerce point of sale plugin by Actuality Extensions. It is a feature-packed plugin that is meant for managing in-store orders via the WooCommerce POS interface.
It's designed exclusively for WooCommerce and is ideal for brick and mortar stores. You can keep a track of products, taxes, orders and customers by turning your web browser into a cash manager.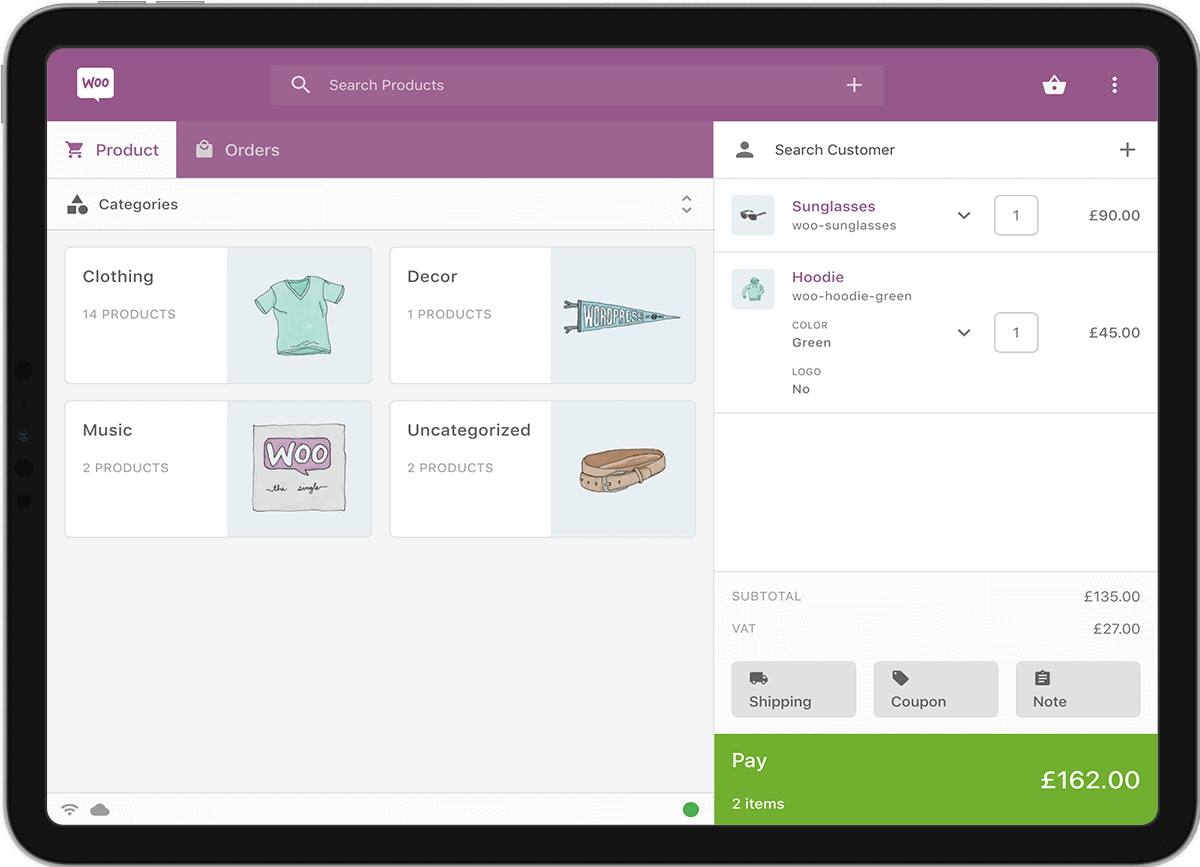 Top features:
Simple to install without any third-party API interfaces. Open a register and start selling.
Manage multiple outlets and registers. Assign users to outlets to provide a register and cashier user access environment.
Add custom products with attributes right from the POS interface.
Reward your customers with fixed or percentage-based discounts, including coupons.
Accept cash, or process payments with the third-party card terminal of your choice.
Configure what prompts appear at the end of each sale. This may be an email, printing of receipts, reviewing attached notes or capturing signatures for authorization purposes.
Showcase your products in detail using the built-in product preview panel.
Serve your regular customers by quickly scanning their assigned customer card to load their details to the POS.
Define and set your preferred units of measurement for stock-keeping.
Scan any product SKU barcode using a compatible USB or Bluetooth barcode scanner to identify a product or product variation.
Automatic tax calculation based on tax rates and class settings.
Print product barcode labels to quickly scan and add products to the order.
Manage your stocks easily through the stock-keeping interface. Enter your product SKU and new count, and choose to either update, replace or remove stock count.
Generate reports based on sales placed through the POS by register, outlet or cashier.
Pricing: $199
Get Point of Sale for WooCommerce plugin
WooCommerce POS
WooCommerce POS is a cross-platform WooCommerce plugin that is supported by different platforms like Android, iOS, Edge, Chrome, Firefox, Safari and Opera. It offers a speedy Point of Sale system for WooCommerce. It has both a free version (9000+ active installs on WordPress) and a paid version. No need to sync inventory and no monthly subscription fees.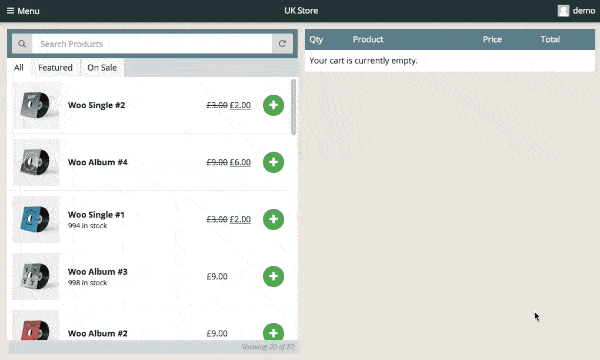 Top features:
Product inventory is stored locally which makes searching and filtering product data much faster.
Barcode hotkey to switch between barcode and normal search.
Create several stores, each with its tax rates and receipts.
Edit cart items – change product title, price and tax rate on the fly.
Add new customers during checkout.
Quickly update customer details and view previous order information.
Reports for POS vs online, sales by cashier, sales by store and sales by payment method.
Pricing: Free version on WordPress.org, Pro version for $129.
Point of Sale System for WooCommerce (POS Plugin)
With the WooCommerce Point of Sale System, you can manage both your online and offline stores simultaneously. The plugin can be purchased from CodeCanyon.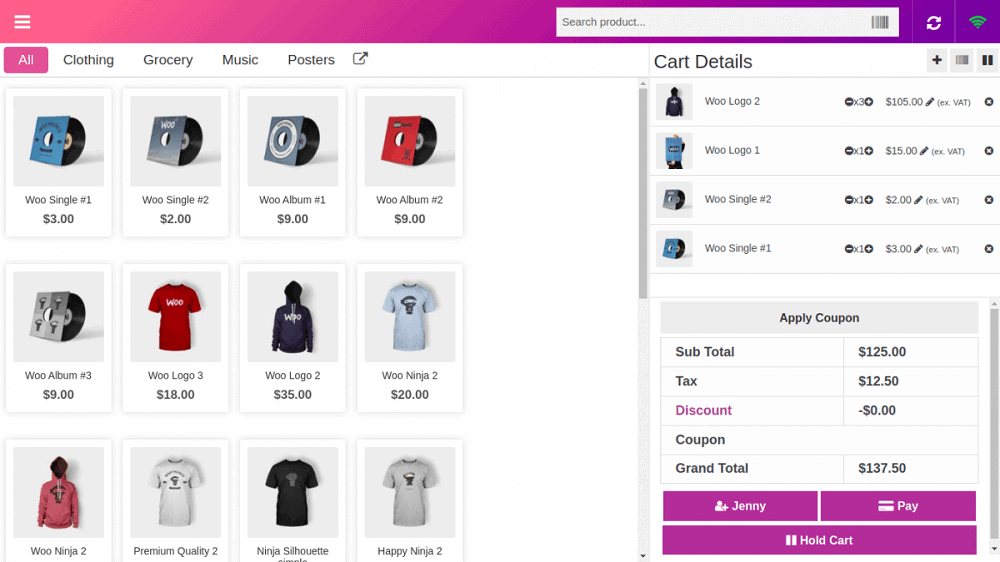 Top features:
The admin can create multiple store outlets for the online store and assign them sales agents.
Master stock can be assigned in bulk by the admin.
The admin can generate a barcode for both product IDs or SKUs.
The admin or sales agent can set the unit price based on the weight of the product.
Barcode readers to add products to the cart.
POS users can search products on the basis of SKU.
The customer can pay via multiple payment methods which get recorded in the POS. Additionally, customers can even go for a split payment.
The POS agent can apply a coupon to the cart. However, the POS user can edit the price of items in the cart.
Supports multiple currencies to allow the sales agent to select the perfect currency for the store.
View sales reports based on time duration – yearly, monthly, weekly or custom duration.
POS agents can sell a new product that is not available on the website.
Pricing: $99
Get Point of Sale System plugin
YITH Point of Sale for WooCommerce (POS)
Designed natively for WooCommerce, YITH Point of Sale for WooCommerce offers you a feature-packed POS register. It connects to your shop through the WooCommerce REST API.
Top features:
Create multiple stores and registers. For every register, you can set up several cashiers, customize receipts, set up the categories and products, activate specific payment methods and more.
A dashboard that allows analyzing the sales trend and the revenue of each point of sale and to filter this information by store, cash register and date.
Right from the POS register view, you can add new products, manage prices and stock and sync this information with your e-commerce store database.
Enable the multi-stock feature and set up different stock values for each Point of Sale.
Manage discounts, coupons, markups, shipping, and add notes on products and orders.
Retrieve saved shopping carts to complete the order at a later stage.
Split payment – allow your customers to pay half with cash and half with a credit card.
Allow the cashier to find products by SKU or by the barcode generated.
Pricing: $190
Hike WooCommerce POS
Hike offers robust POS software that can be easily integrated with your online store powered by WooCommerce. As a cross-platform application, it gives you the flexibility of using it on any platform and device of your choice. Moreover, it works on the offline mode too, letting you leverage a feature-packed WooCommerce POS for your business.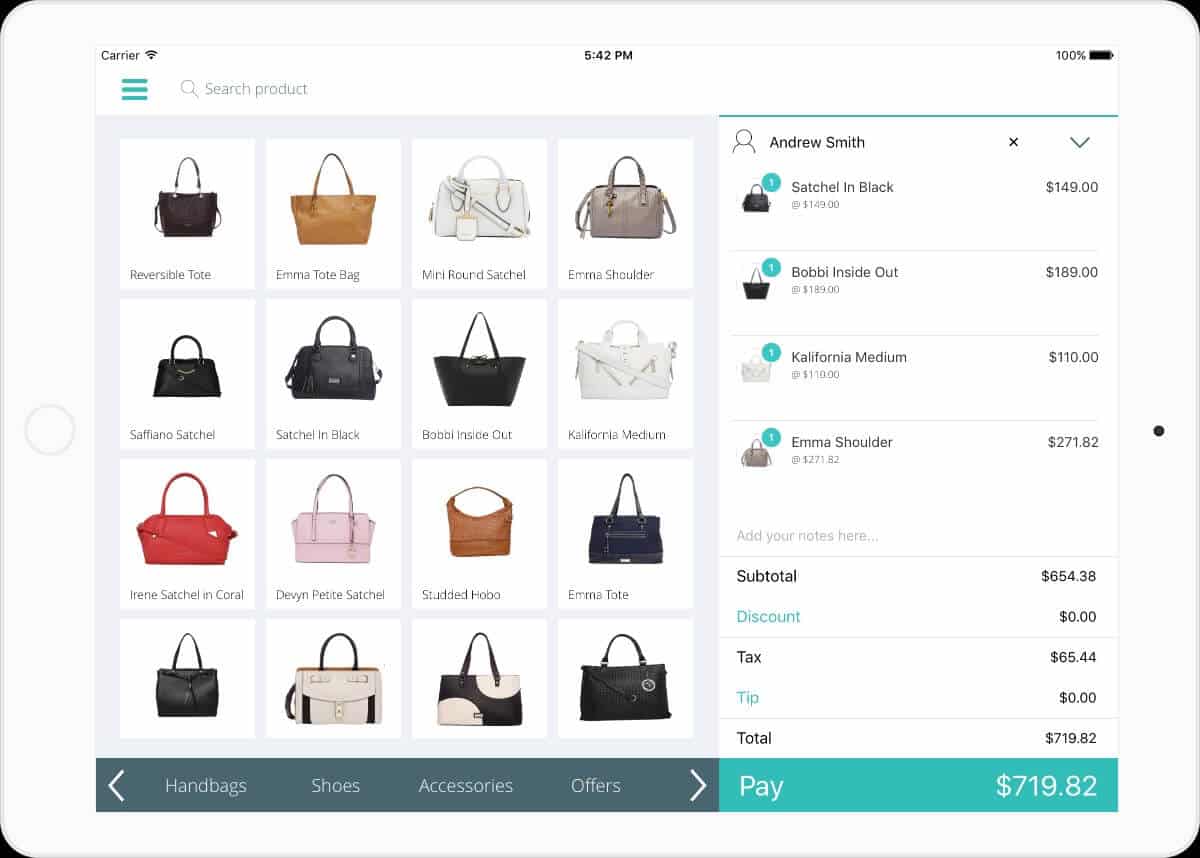 Top features:
Create multiple stores and registers. For every register, you can set up several cashiers.
Hike POS works on iPad, PC and Mac. Data syncs to a central database in the cloud so you can use any / all supported devices in your outlet/s.
You can sell even if your internet is down. When your internet is back, transactions are automatically synced back to the cloud.
Tap, search or scan barcodes to add items to the shopping basket.
Add custom sale items on the fly right at the checkout.
Park orders for later fulfilment. You can also park lay-by orders with partial and periodic payments.
Apply discounts to an entire sale or simply alter $ value for particular product line items.
Sell gift cards that your customers can use as payment method. Track gift card usage and balances.
Partial payments – with the ability to park orders with partial payments, you can accept deposits and lay-bys.
Easily setup product variants such as colours, size and material. Manage bar codes and stock at variant levels.
Manage stock down to variant, track stock levels, transfer inventory between stores and manage purchase orders.
Centrally managed customer profiles whether they buy with you in-store/s, online or both.
Run a powerful & flexible loyalty rewards program.
Pricing: 14-days free trial, Paid plans starting from approx $50/month.
Get Hike WooCommerce POS plugin
Point of Sale (POS) for WooCommerce by FooSales
With FooSales, you can turn any tablet or iPad into a point of sale device for WooCommerce. FooSales is designed and built to work natively with WooCommerce and it connects to your store using the official WooCommerce API.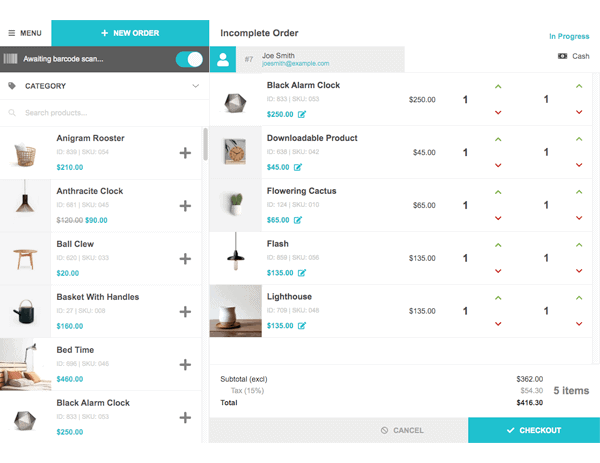 Top features:
Add products to the cart by using the search function.
Use the device's built-in camera or a handheld barcode scanner to scan the barcode of a product that has a corresponding product ID or SKU stored in your database.
FooSales supports WooCommerce coupon codes and prices can be changed for individual products.
All new orders, canceled orders, refunds and product changes are stored on your device and can be synced with your WooCommerce database when you're back online.
View historical sales data of orders that were captured in FooSales. You can search for orders and view all the items that were purchased as well as the customer billing and shipping details.
Pricing: $149
wePOS
wePOS is a single-page application that helps you manage multiple stores and cash counters concurrently. These counters can be managed individually, through different cashiers for more sales that makes it an efficient POS plugin for WooCommerce.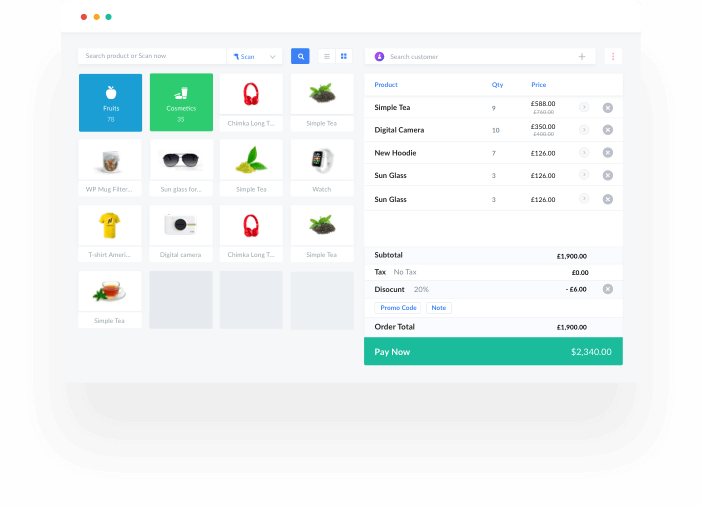 Top features:
Manage unlimited outlets and counters concurrently. You can manage these outlets separately and have different cashiers / agents assigned.
The assigned cashiers can get access to only the counters that you have assigned them to. This protects privacy and helps to manage a secure payment on your store.
Operate multiple live carts without losing data. Initiate checkout for multiple customers at the same time.
Customize the style and every single detail in your invoice as you want.
Supports cash, cards and all the other popular payment gateways.
Pricing: Free version available on WordPress.org, Paid plans starting from $99.
WooPOS
WooPOS offers a comprehensive POS and integration for WooCommerce.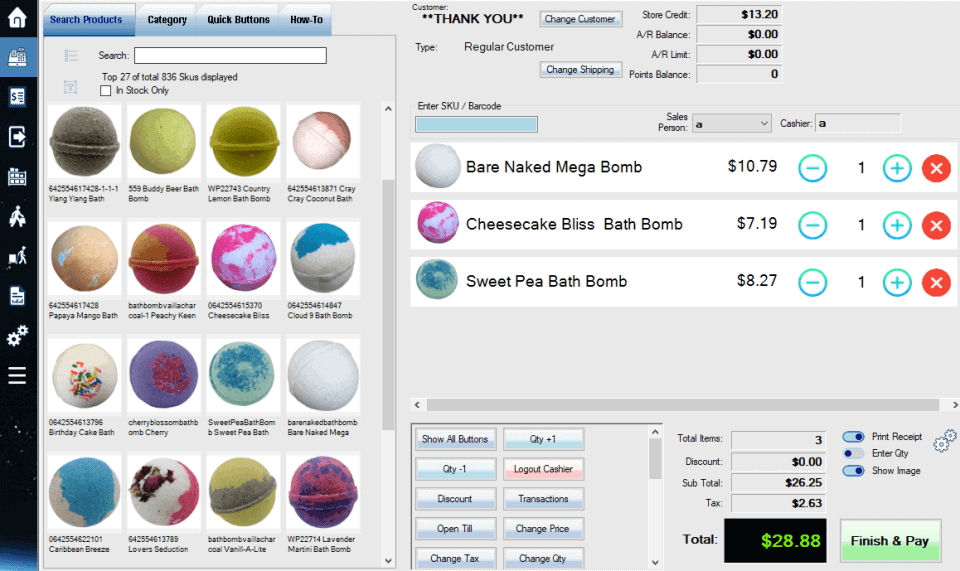 Top features:
You can make transactions secured through payment gateways for your online WooCommerce and physical stores.
It offers built-in CRM and a cloud-based online database. Works offline as well.
You can manage clients across multiple storefronts through physical or online stores.
Process discounts, store credit and loyalty systems with a robust POS system built with customization in mind.
WooPOS works with any type of product or service, regardless of your industry.
Track staff hours and performance data to help get the most out of your team and increase accountability. WooPOS will help you control staff permissions and reward your top employees.
Track each product with high levels of detail. Easily track and transfer your inventory between stores.built-in barcode and label designer.
500+ valuable reports to help with business improvements and decision making.
Pricing: 30-days free trial, Paid plans staring from $99/month.
Special mentions
Well, these plugins mentioned below are not your typical POS plugins but handles some part of the POS very efficiently.
Cashier
Optimize your checkout funnel with this popular plugin for WooCommerce. Cashier will help you add a Buy Now button to skip checkout and payment steps and complete the order in one click based on the customer's previous order and payment details.
You can even set up a one page checkout for products and allow customers to complete the transaction quickly.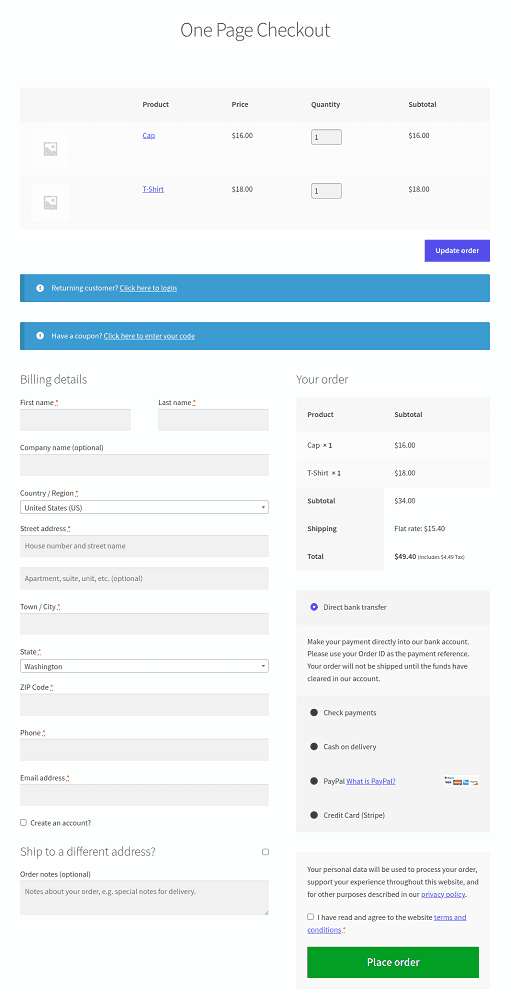 Top features:
Checkout field editor to edit and manage core WooCommerce fields and custom fields.
Automatically recommend frequently bought together items.
Show both the WooCommerce Add to Cart and Buy Now buttons on the product page.
Share Buy Now links via email, social media, or embed them anywhere on your website.
One-click checkout works with these payment methods – Stripe, PayPal Standard, Braintree, Authorize.Net, Cheque Payments, Direct Bank Transfer and Cash on Delivery.
Side cart panel to allow users modify cart items without moving to cart page.
Enter the cost of goods and track profits for simple and variable products.
Redirect to any page using Add to Cart links.
Show cart notice for free shipping.
Pricing: $49
Smart Manager for WooCommerce and WordPress
Smart Manager plugin is your go-to solution if you want to manage WooCommerce inventory, stocks, orders, coupons, any WordPress post type 10x faster using an Excel-like spreadhseet.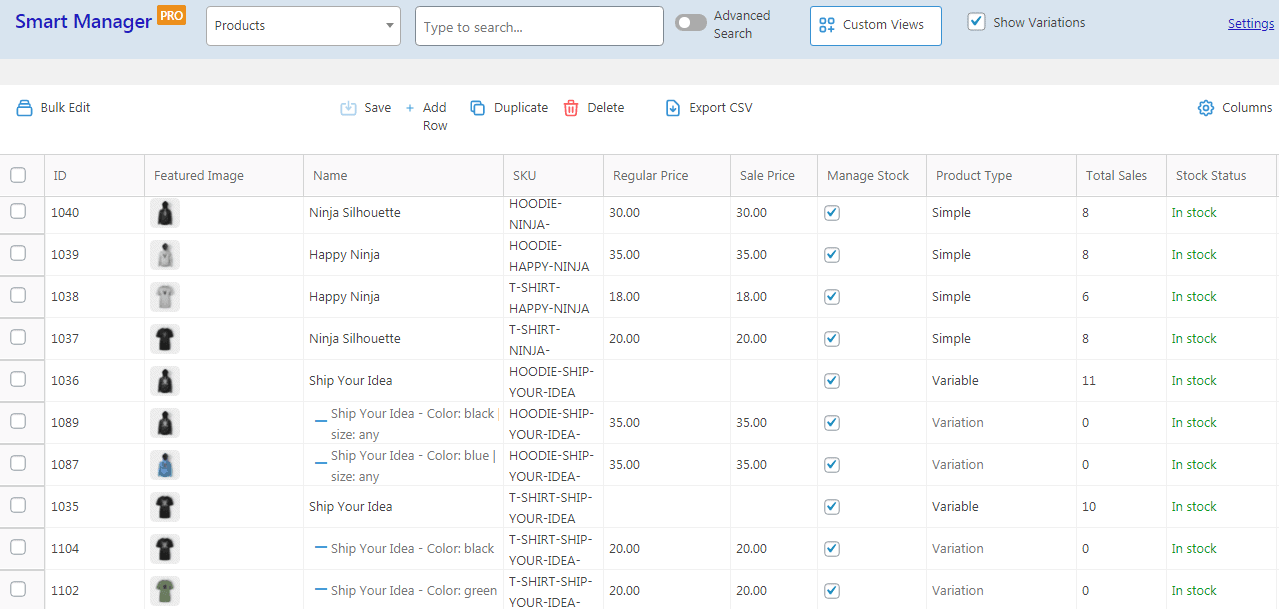 Top features:
Directly add any number of new products to stock from the spreadsheet.
Bulk edit price, stock, description, backorders, etc.
Not just simple products, but also manage product variations, affiliate, subscription…all Woocommerce product types.
Set SKU, stock status, the price for each product.
Set sale price based on the product's regular price using bulk edit.
Increase or decrease sale price by X% or X amount.
Delete all products in one go.
Duplicate selected products or your entire store.
Admin columns management, Excel-like custom views to view only specific data as and when required.
Advanced search filters using AND, OR rules that fetch exact results quickly amongst thousands of records
Export product data to CSV based on date, column and search filters
Pricing: Free version on WordPress.org, Pro version for $199.
Square for WooCommerce
Square for WooCommerce is a POS plugin that allows you to take both online and offline payments for orders. It helps you manage inventory and sync it with the sales and customer data dynamically.
Top features:
Square supports major debit and credit cards across the US, UK, Canada, Australia, and Japan,
Ideal POS system if you have stores across different countries
Offers well-rounded security to accept payments
Dedicated disputes team
Saves you from fraud by keeping a check on the transactions
Pricing: 2.9% + $0.30 per transaction fee.
Get Square for WooCommerce plugin
Recommended WooCommerce point of sale plugin
It's always hard to pick between similar options. Every plugin has its own pros and cons.
If you are looking out for a premium plugin and want to purchase it from WooCommerce.com, Point of Sale for WooCommerce should be your pick. It's popular, has all the required features and is easy-to-use.
Also, if you want to improve your checkout process and manage your WooCommerce store 10x faster, use Cashier and Smart Manager plugins respectively.
On a parting note
Using a WooCommerce Point of Sale plugin makes sales seamless and hassle-free, bringing everything down to a single place, where you can manage it more efficiently.
Depending upon your budget and the business requirements, you can choose the right WooCommerce POS plugin from the above options to the behest of your business growth.