Howdy WooCommerce users! The holiday season, the money-minting season is here. It's time to recover what you couldn't due to the COVID-19 crisis and earn even more than that.
Now, holiday season preparation is not easy. You need to tick all the boxes. Be it store management, running offers and funnels, manage shipping, optimizing checkout or others. Believe me, you can't get things done without best WooCommerce plugins to increase sales.
So, based on various store-related activities/tasks you do as mentioned below:
Manage and update products, prices in bulk
Creating sales funnel, upsell, cross-sell, etc. offers
Create and issue store credit, gift cards, discount coupons
Optimizing checkout process
Manage shipping rates
Get qualified leads using affiliates
Warm-up your email list / send attractive emails
Recover abandoned carts
Remind customers about their favorite products
Analyze in-depth WooCommerce reports and analytics
Create custom thank you page, product bundles and others
We'll see each activity in detail and some best WooCommerce plugins 2023 for each that will help you make this holiday season a grand success.
Manage stock, products and variations, update prices in bulk within minutes
You have to deal with simple and variable products, in hundreds and thousands. You need to set different prices for different products before running an offer. You also need to manage them.
Not just products, but also customers, orders, coupons, etc. All this without errors. But, you also want to accomplish these sucky, tiring tasks within minutes to focus on your marketing activities.
You should also ensure what should be kept more in stock to not fall short of inventory during peak time.
Therefore, these best WooCommerce plugins to increase sales will also help you manage your WooCommerce store efficiently.
Smart Manager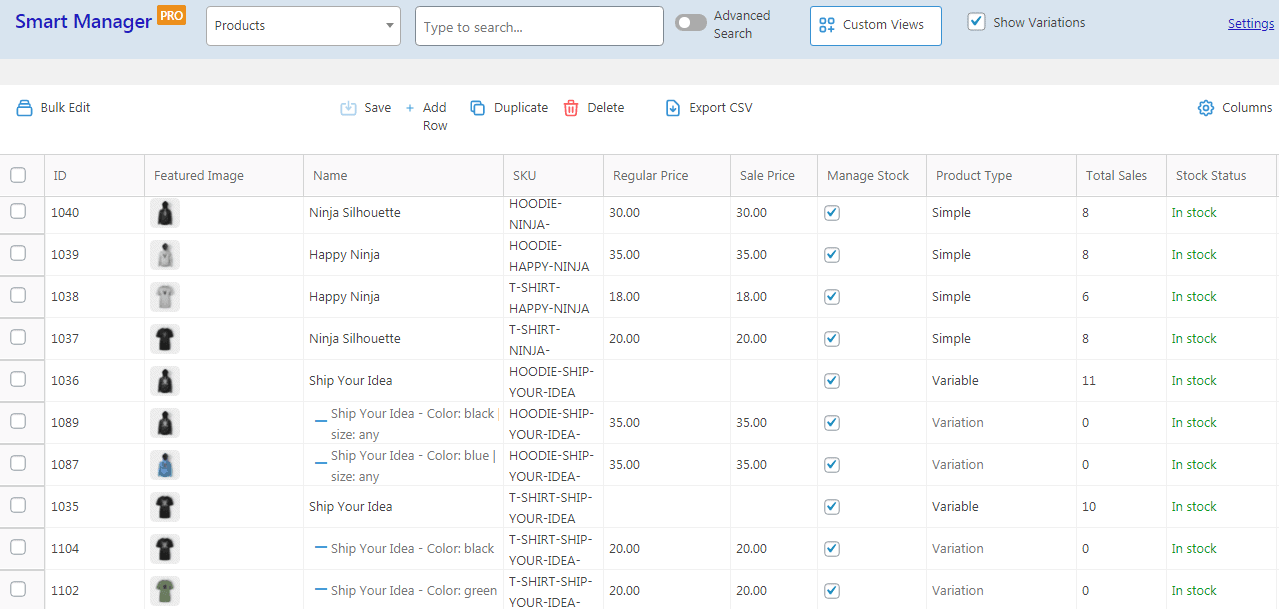 Smart Manager helps you manage your WooCommerce store 10x faster by cutting down hours of repetitive work. It's makes your store administration a cakewalk.
Why use this plugin?
Search, edit and bulk manage all post types
Bulk edit product prices, inventory, names, categories and other product attributes
Bulk edit post status, post categories, post date, post tags, etc.
Bulk edit coupons – expiry date, usage limit, etc.
Look up and manage orders and customers quickly
Export orders, products, customers, any WordPress post type data
Search and bulk edit backorders, offer discount for backorders, export them.
Delete all products / delete products based on filters, product categories and attributes.
Manage WordPress user roles – change user role, change password, etc.
View customer's lifetime value, last order date and contact details
Bulk Variations Manager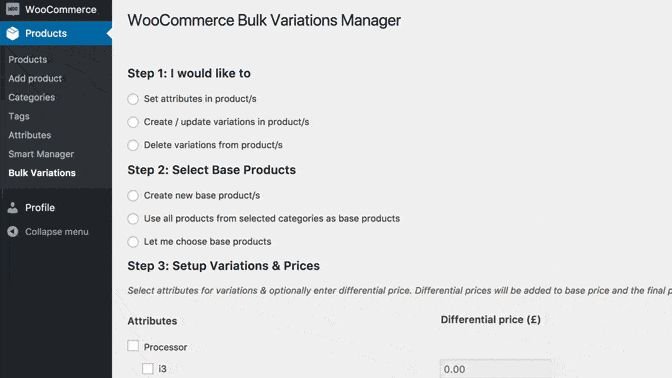 WooCommerce tools like Bulk Variations Manager lets you It gives you a simple and easy interface that even non-techies can use!!
Why use this plugin?
Add a bunch of variations to multiple products using product attributes
Add, update and delete thousands of product variations from one simple form
Bulk delete variations from products
Select attributes for variations & optionally enter differential price
WooCommerce Stock Manager

Best, free WooCommerce stock management plugin on WordPress. Manage stock of products and variations from a single screen.
Why use this plugin?
Table cells and dropdowns to manage stock data
Create, remove or update many stock items at once directly
Show, hide stock columns based on your needs
Update stock status, quantities, manage stock
Set and modify sale price or regular price, backorders, tax status, tax class, shipping class, weight.
Export all stock data from your shop, edit them and import back with a CSV file.
Run targeted offers in the sales funnel and sell more
Being the holiday season, people buy more. Therefore, along with your main offer, show upsell, downsell, cross-sell and other offers to keep on increasing your sales. Not just to everyone and on all pages, but to specific users and on specific pages.
The more convincing and smartly you design the offer, people will buy without a second thought. And we have a ground-breaking plugin for it.
Smart Offers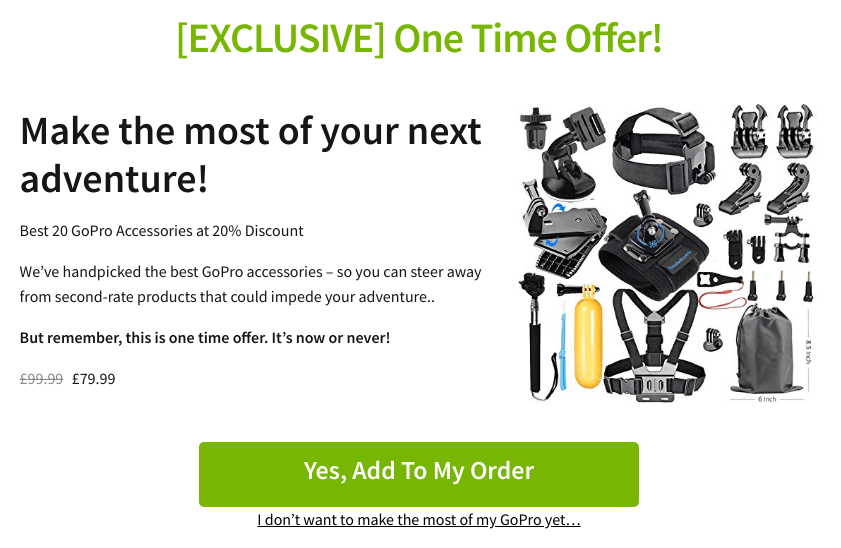 Smart Offers is your money-minting machine. Set it up once and it will give you sales on autopilot. Not just any offer, but powerful and targeted offers in the sales funnel.
Why use this plugin?
Create upsells, cross-sell, one-click upsells, bogo, giveaways, tripwire, free shipping offer and other offer types
Target offers based on products and variations, quantity, product categories, cart total, attributes, user roles.
Enable direct checkout or one-click checkout
Use top WordPress page builders like Elementor, Beaver Builder and others to design your offers
Compatible with WooCommerce Subscriptions, Smart Coupons and other plugins.
Create coupons in bulk and schedule them
Coupons act as a gift that makes visitors go crazy. Giving store credit or gift cards to your customers during the festive season will make them more delighted than ever. Credits & gifts ensures more sales in the future from them and helps grow the customer lifetime value.
And what can be better than delighting customers by directly sending coupons before Thanksgiving or Black Friday! WooCommerce Smart Coupons plugin is the best option for this.
Smart Coupons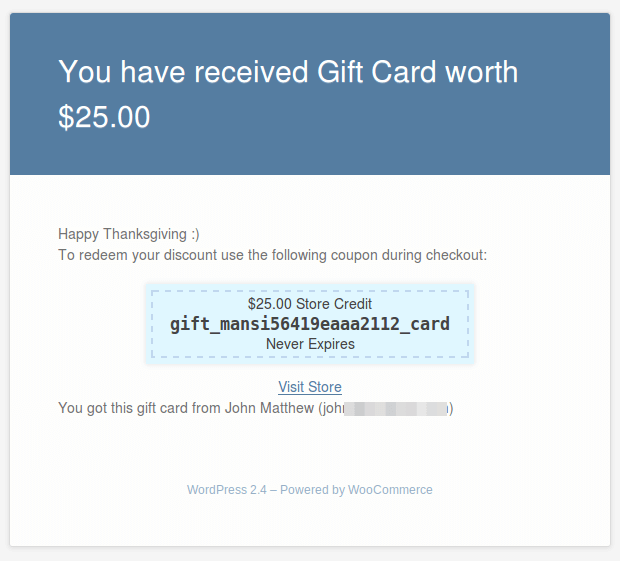 WooCommerce Smart Coupons plugin makes it easy to create, issue and manage everything around coupons, store credit, gift cards and more.
Bulk generate coupons, schedule them and download a CSV. Then use your email marketing software to send those coupons to your customers well before the sale starts.
Why use this plugin?
Group coupons by categories, automatically apply coupons, applying multiple coupons from URL, new coupon restriction rules…
Beautiful new designs and color schemes for coupons
Create and send gift cards to customers during holiday season or allow customers to purchase gift cards from your store and schedule them.
Display coupon code notice sitewide (no need to use other plugins, very useful for sitewide sales)
Leverage targeting – apply coupons only on specific shipping methods, payment gateways, countries, user roles or a combination of these.
Provide products as free gifts via coupons
Get WooCommerce Smart Coupons plugin
Optimize checkout based on what you sell
Holiday season customers are very enthusiastic to get faster delivery of products.
But 21% of them easily abandon cart due to lengthy checkout process. To avoid losing them, place only minimal and relevant form fields on the checkout page.
If you are selling digital products, better to skip cart and have a direct checkout.
For existing customers, use their past order information to fill their billing, shipping and payment details automatically. (One-click checkout).
You can even opt-for one page checkout if you are selling very few products, like less than 10.
And for stores like grocery, fashion, where people tend to visit cart page frequently, use a multi-step checkout.
Cashier for WooCommerce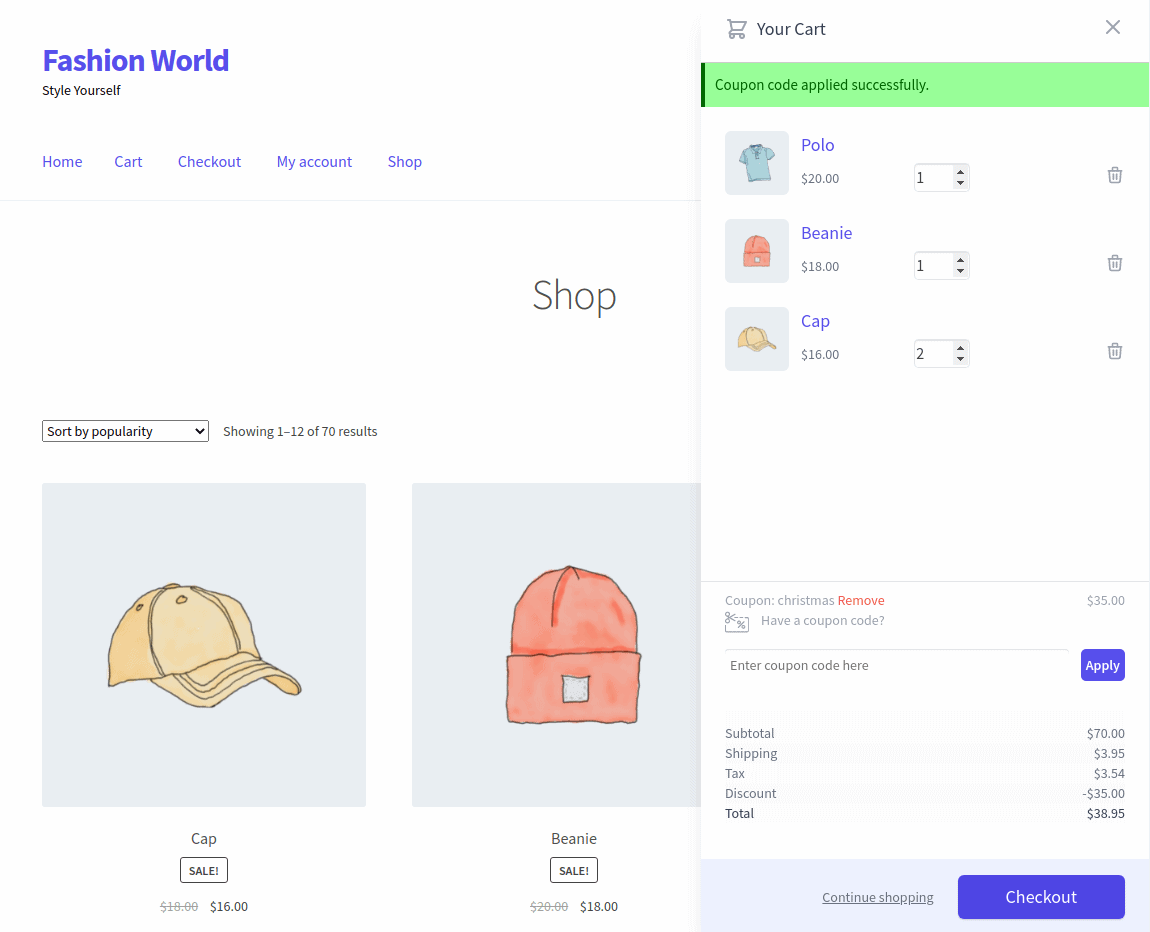 Cashier plugin helps you have a direct checkout as well as one-click checkout on your WooCommerce store.
Cashier will help you add a 'Buy Now" button, clicking on which users can skip the cart and proceed to checkout. It can also skip checkout and payment steps and complete the order in one-click based on the customer's previous order and payment details.
Why use this plugin?
Autofill shipping and billing related information for logged-in customers
Automatically recommend 'frequently bought together' items
Allow visitorr to review cart items in a side bar widget without moving to the cart page.
Show both the WooCommerce 'Add to Cart' and 'Buy Now' buttons on the product page.
Share Buy Now links via email, social media, or embed them anywhere on your website.
One-click checkout works with these payment methods – Stripe, PayPal Standard, Braintree, Authorize.Net, Cheque Payments, Direct Bank Transfer and Cash on Delivery.
WooCommerce One Page Checkout

WooCommerce One-Page Checkout allows you to display both product selection and checkout forms on one page. Customers can add/remove products to an order and complete payment without leaving the page.
Why use this plugin?
Built-in templates to add a list of custom products, pricing tables, etc.
Display an entire catalog of products or add featured ones on the single page.
Simple code-free setup to add checkout pages in your WordPress product page with an appealing GUI.
Shortcodes to design a user-specific landing page
Get WooCommerce One Page Checkout plugin
CheckoutWC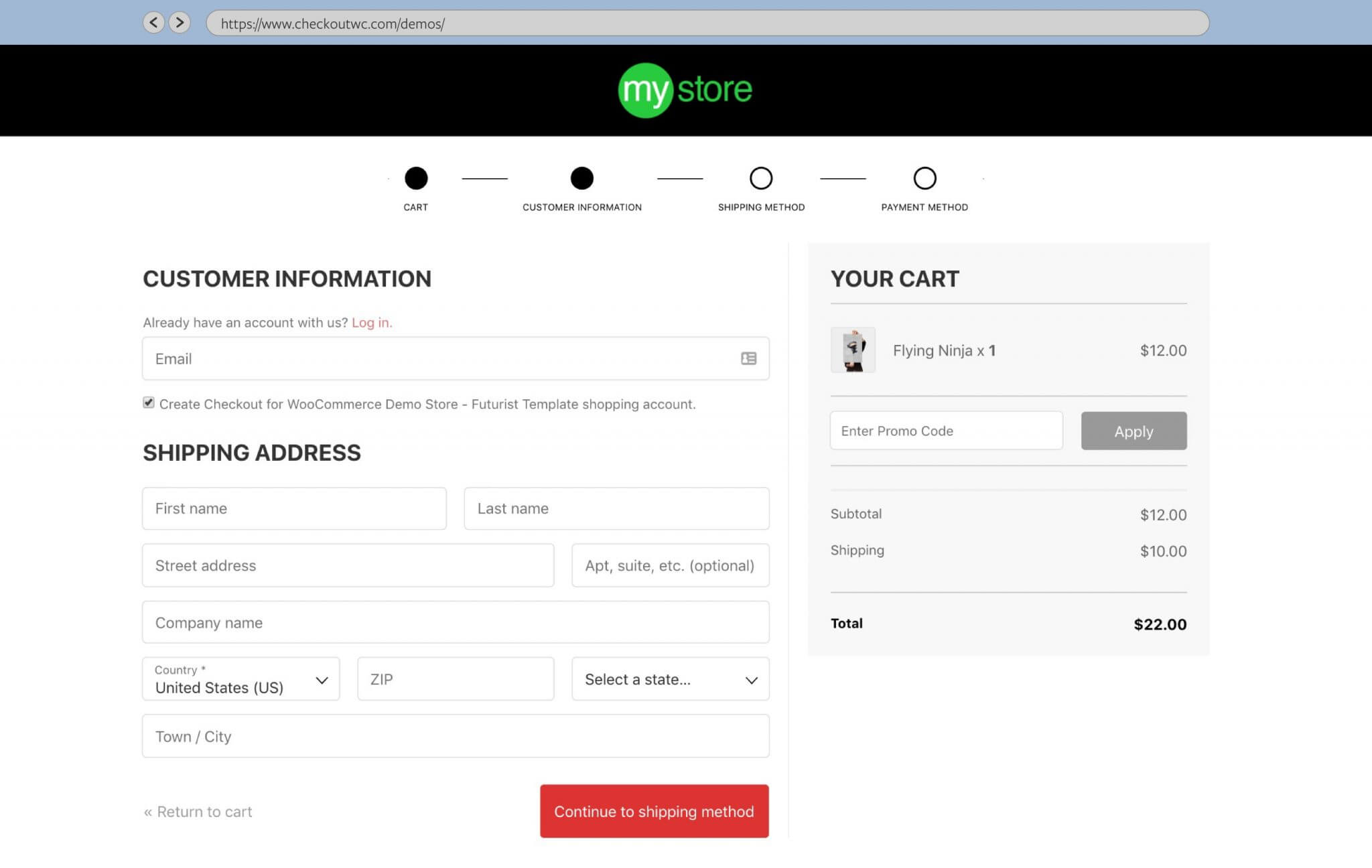 CheckoutWC is a top-rated and popular WooCommerce multi-step checkout plugin. The plugin replaces your checkout page with a beautiful, responsive, and conversion optimized design.
Why use this plugin?
Works with all WordPress themes out of the box.
No configuration or coding knowledge required.
'Card Editing' feature allows your customers to edit their cart right from checkout.
'Address Autocomplete' feature uses Google Maps to autocomplete the address fields.
Support most gateways, shipping providers, and add-ons
Add & manage the best shipping rates
Delivering different products to different visitors at different places is a tedious process as there are varying shipping rates.
Be it the location of users, cart total, quantity, taxes involved, or product dimensions, the best shipping rates need to be calculated and added to the orders so that they shouldn't look expensive to customers and ensure a successful purchase and delivery.
Table Rate Shipping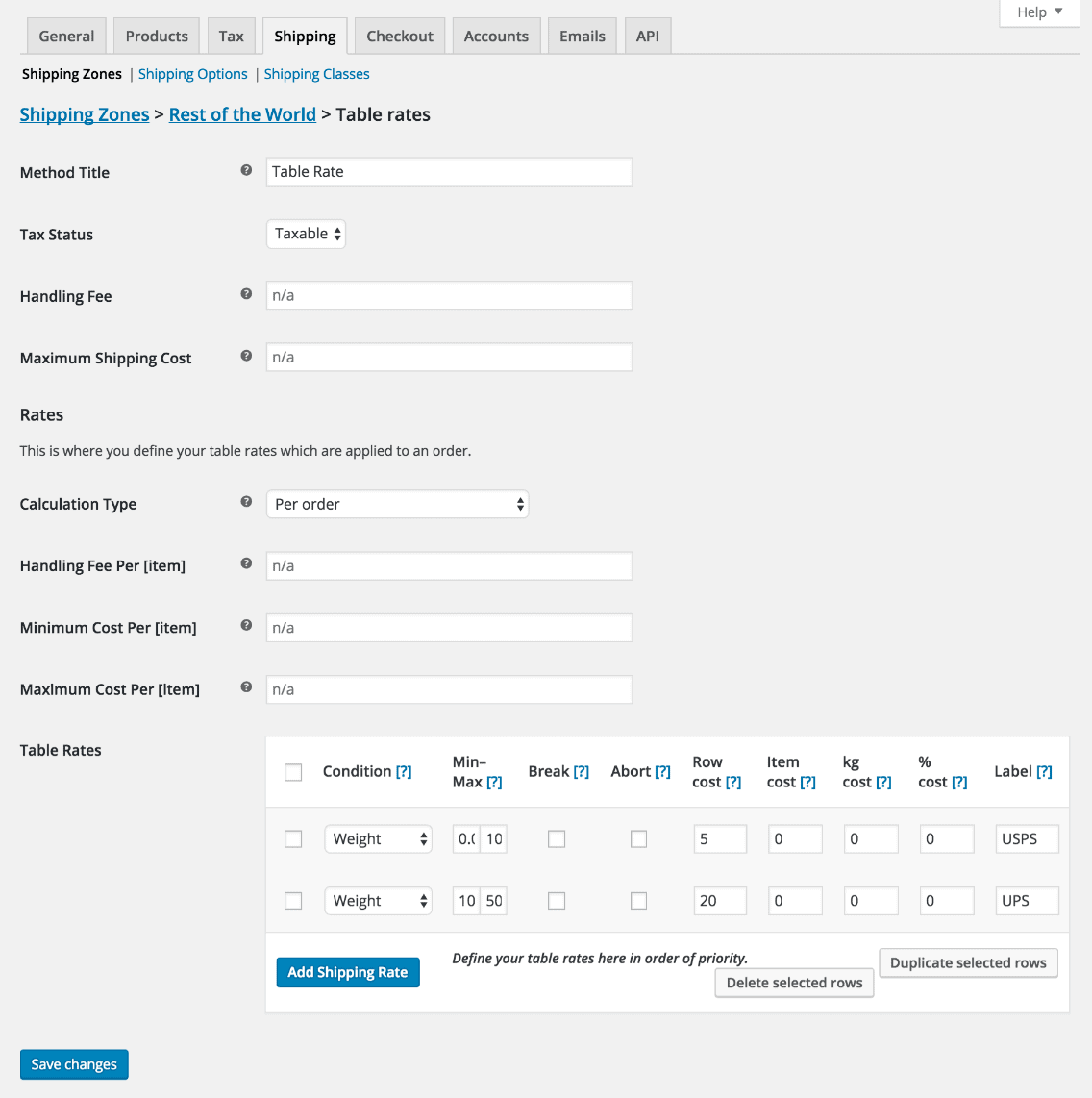 This plugin is developed by WooCommerce and is very popular. You can define multiple shipping rates based on location, price, weight, or item count. Wildcards may be used to match multiple regions too.
Why use this plugin?
Add multiple tables of rates per shipping zone
Several types of table rate calculation – Per order, per item, per line, per class.
Add rules based on weight, number of items, number of items by class and price.
Add costs per row, per item cost, a percentage and per weight unit.
Get Table Rate Shipping plugin
Table Rate Shipping for WooCommerce

This WooCommerce plugin has the ability to add multiple rates for a given customer based on a variety of conditions set by the admin. These can include shipping destination, cart subtotal, item shipping class, price, weight, and so much more.
Why use this plugin?
Extensive list of conditions – subtotal, quantity, weight, volume, product category, etc.
Multiple conditions allowed in each table row
Drag 'n' Drop table rows to control the priority of the conditions and costs
Disable shipping taxes per instance
Get Table Rate Shipping for WooCommerce plugin
Get qualified leads and sales using affiliate marketing
Your affiliates can be a good lead generating machine for you. You know people trust you more when someone else tells others about you, rather than you doing it yourself. Your affiliates do the same thing. If your affiliates are some top customers or influencers having a well-engaged audience, you can easily get a sales bump during the holiday season.
Affiliate for WooCommerce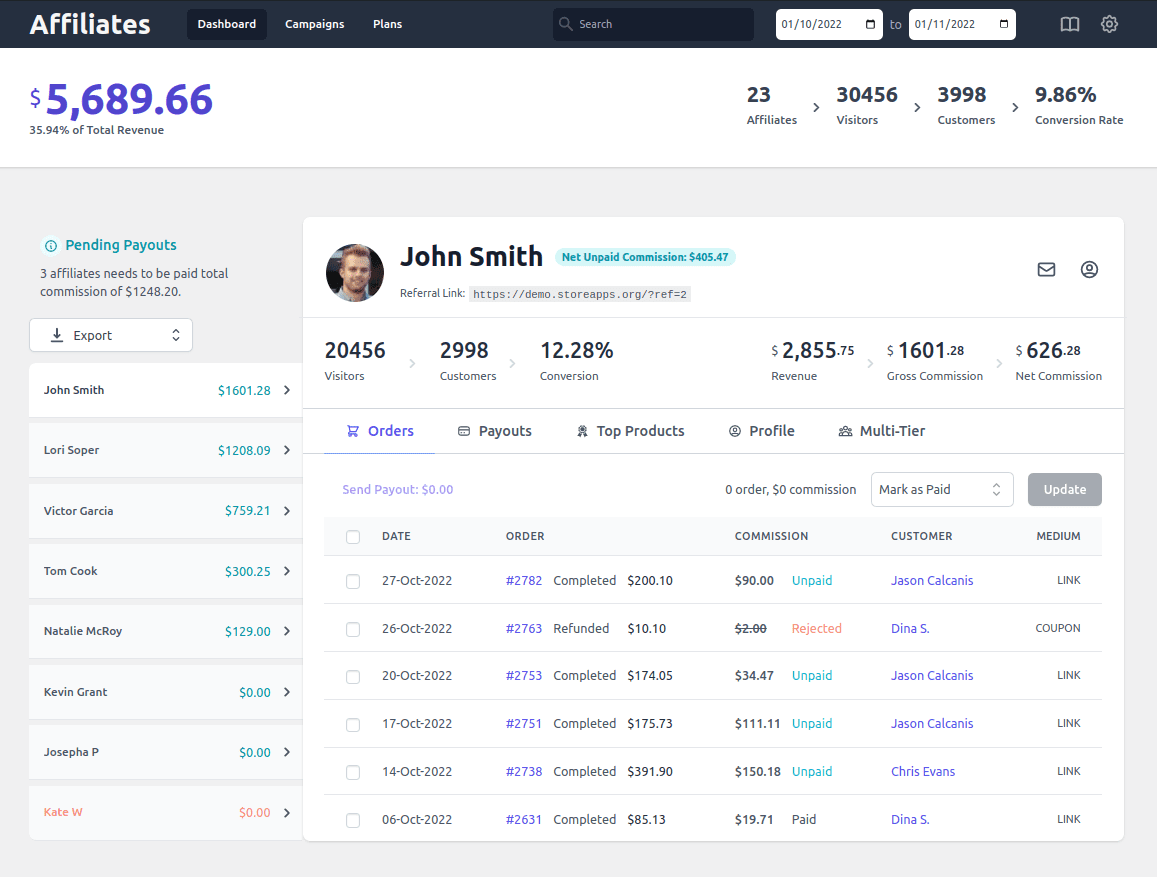 Affiliate For WooCommerce plugin enables you to run your own professional affiliate program. It's the most simple to use affiliate plugin. The best part, you can track everything from a single place – sales, referrals, commissions, product details, etc.
Why use this plugin?
Simplified setup, self-manageable
Track referrals using links and coupons. Affiliates can share coupons on social media like Instagram where links are not allowed.
Pay affiliates using PayPal.
Affiliates can register, generate links, and track commissions themselves.
Accurate reports and real-time information.
Most powerful plugin to set up commission plans – based on product, product type, category, taxonomy, price, quantity, tag based, order based.
Predefined labels to filter affiliates
Get Affiliate for WooCommerce plugin
Build your unique brand identity, warm up your list before sending offers
Emails are the backbone of the holiday season. To compete with your competitors and encourage the audience to purchase your offers only, well-designed & timely emails must be delivered to your audiences having the right and value-added content.
Not just random emails, but emails that stand out from others. Emails that give you a distinct positioning. Also, a proper sequence of emails and which emails to be sent to which customers are very much essential.
Email Customizer Pro for WooCommerce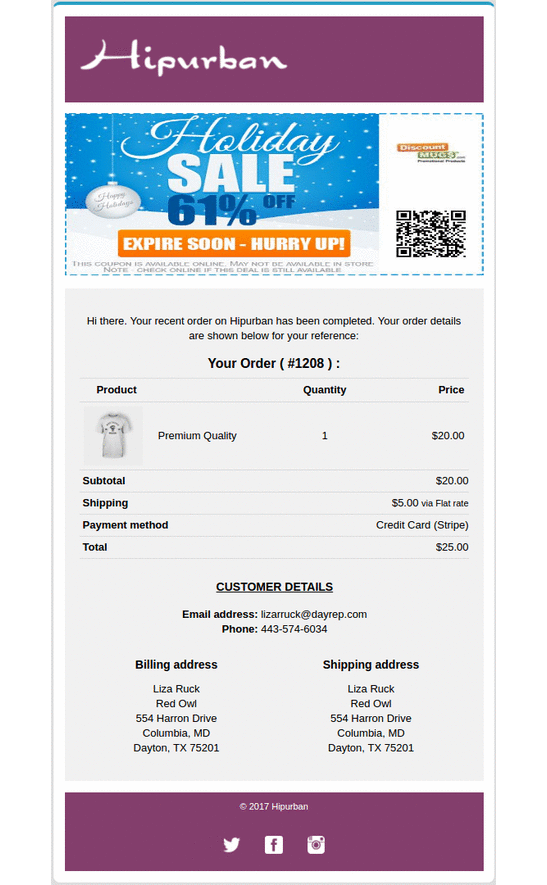 Transform default WooCommerce order emails into unique, fully-branded messages. Customize email templates – text, colors, header, footer, and others. Make your emails stand out, and provide clear content and calls to action.
Why use this plugin?
Customize WooCommerce Subscriptions emails and all eleven WooCommerce email templates.
Live preview
Fully responsive
Edit email content live. Add your own content – text, image, video, links, etc. Customize them using HTML/CSS.
Send test emails to see how the emails will look on the customer's end, and tweak as needed.
Get Email Customizer Pro plugin
Email Subscribers & Newsletters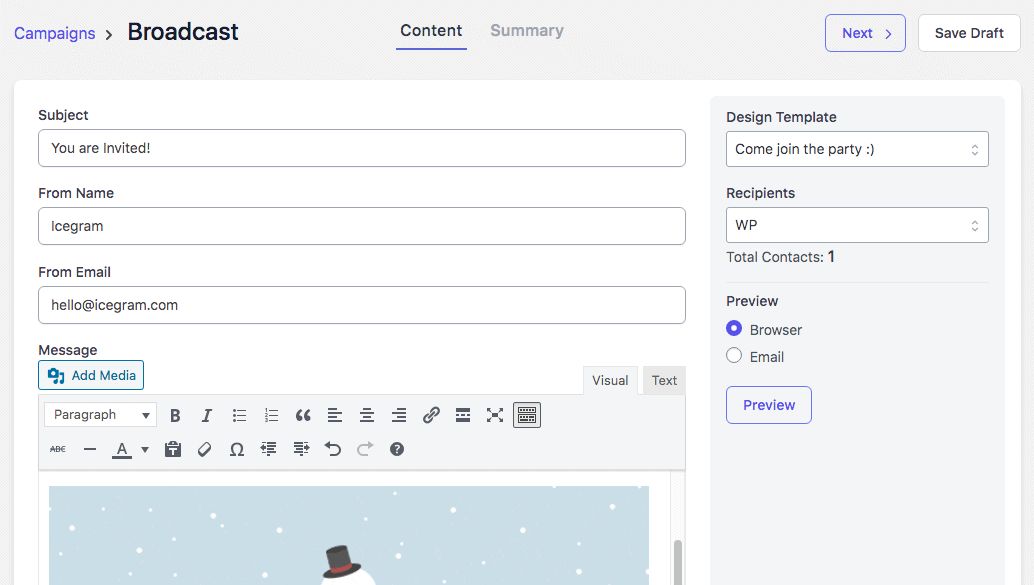 Email Subscribers is a complete newsletter plugin that lets you collect leads, send automated new blog post notification emails, create & send newsletters and also manage them all in one single place. It's an insanely affordable & powerful email marketing solution for WordPress.
Why use this plugin?
Automate your email marketing with simple yet powerful tools. Send one time and recurring campaigns easily.
Manage your audience lists and segments. Remove fake and invalid emails to improve list hygiene.
Use an email sender of your choice to lower costs, improve deliverability and reputation.
Email designs crafted to increase engagement, opens and click rates. No complex builders and editors.
Recover lost sale using cart recovery emails
In cart abandonment recovery, you can send emails to shoppers reminding that they abandon your cart just a few minutes ago and know the reason for it or email an offer.
You can also create automatic & well-timed email reminders to be sent to your customers who have added your products to their cart but did not complete the order.
AutomateWoo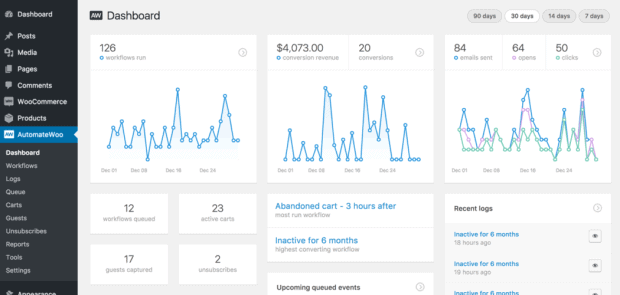 Everything related to email is easy using AutomateWoo – designing, subject, content writing, triggers, rules, etc. The reporting is also powerful and in-depth.
Why use this plugin?
Automatically email customers who buy specific products and ask for a review.
Remind customers using emails at set intervals about their items left in the cart.
Target inactive customers with special offers via email marketing campaigns.
Send SMS notifications to customers or admins.
Encourage more product reviews by offering discounts.
Notify customers before a saved credit or debit card expires.
Abandoned Cart Pro from Tyche Softwares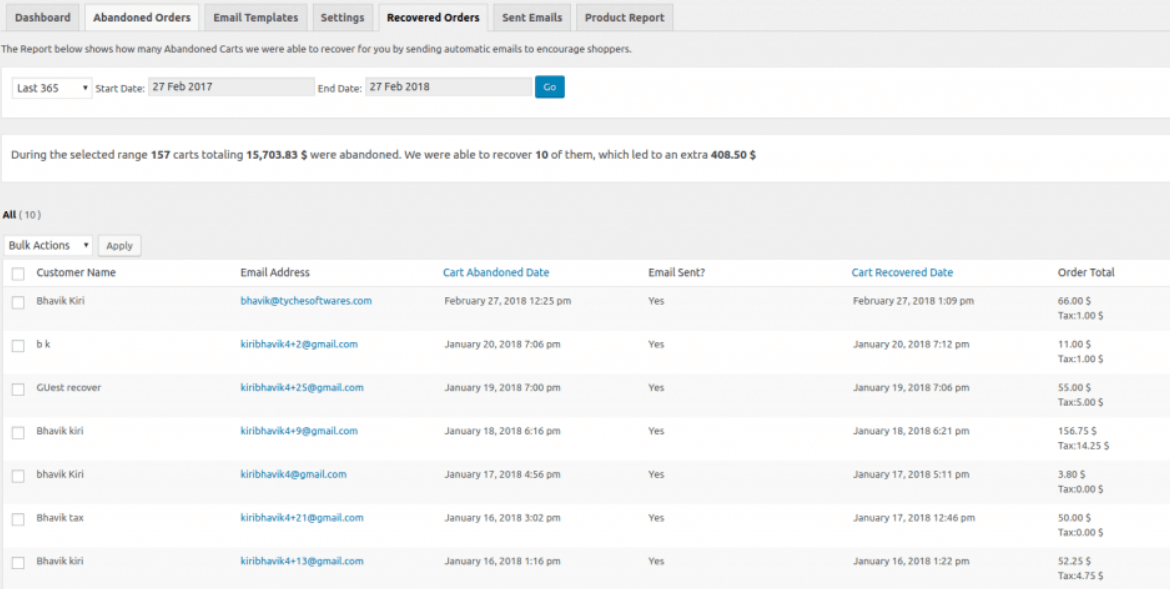 This plugin gives store owners the ability to recover sales with WooCommerce that are lost to abandoned shopping carts by logged-in customers or by visitors. Store owners can set up automated emails as well as text messages to be sent to customers to recover the abandoned carts.
Why use this plugin?
Send automated messages at intervals you define
3 pre-built workflows optimized for conversions
12 different abandoned cart email templates to choose from
Auto-apply discount codes at checkout and upsell other discounted products
Remind customers about their favorite products and lure them to make a purchase
Due to a lot of offers everywhere in the festive season, visitors will flock from here and there and ultimately return to your site if they found your deal the best.
Don't lose them again. Convert them and make them glued to your site. place only minimal and relevant form fields. Show them their favorite products they were interested in earlier. This will make them purchase your product instantly.
Recently Viewed Products for WooCommerce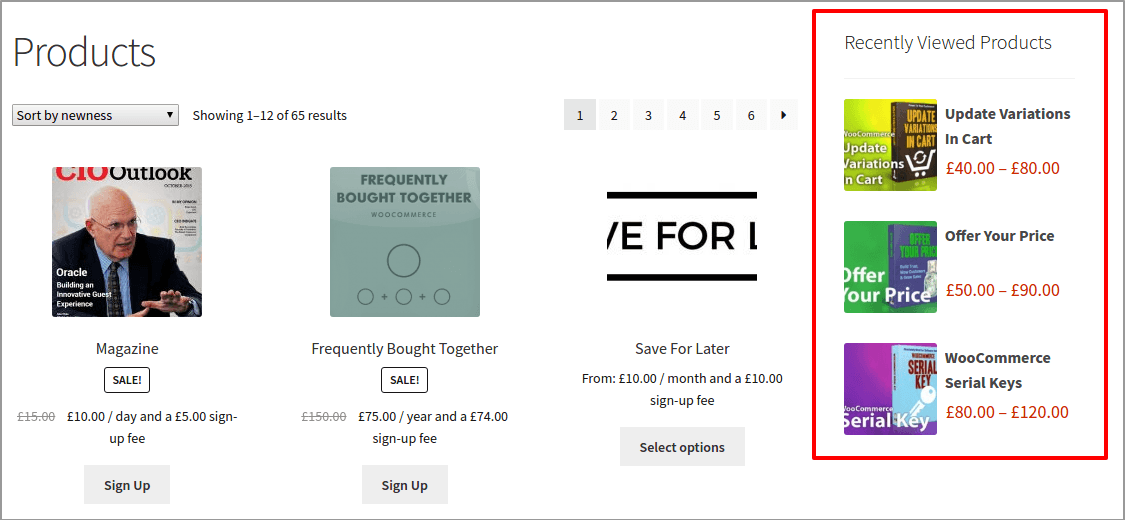 Visitors react more to visual content compared to written matter.
Show them their recently viewed products so that they remain in the purchasing frame of mind even if they are viewing different products.
Get Recently Viewed Products plugin
Save for Later for WooCommerce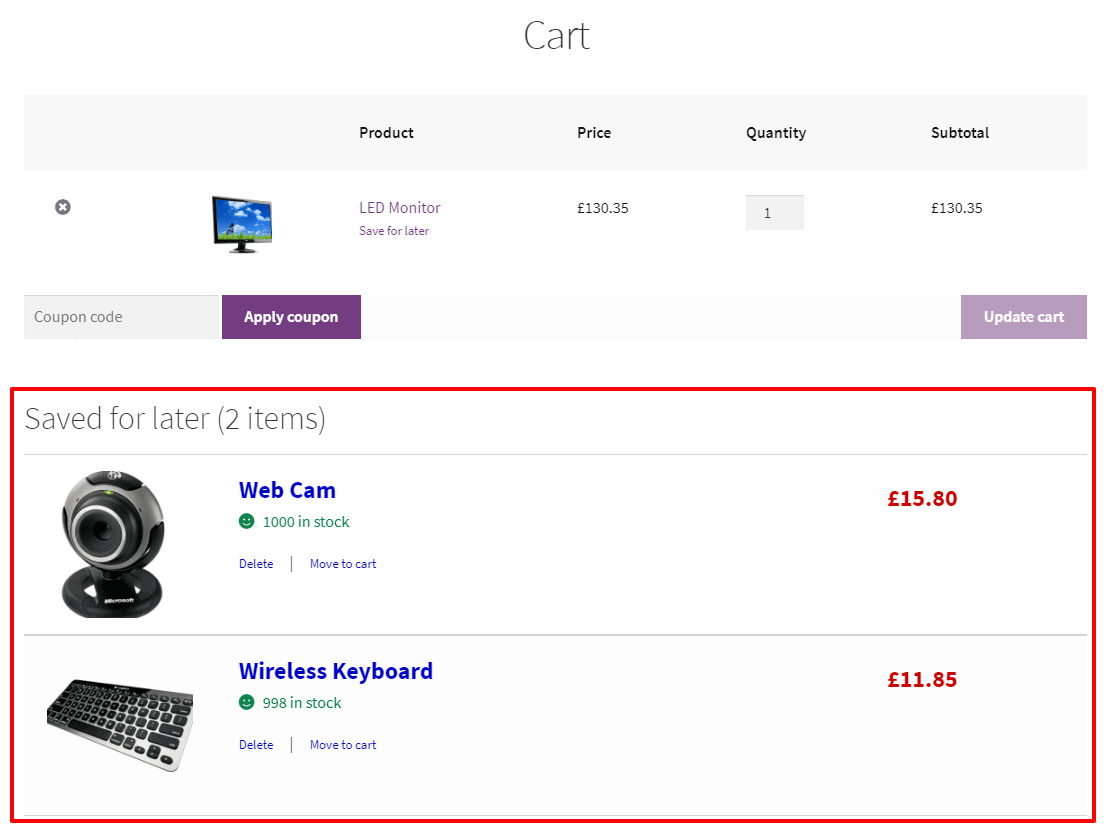 WooCommerce Save for Later plugin allows both guests and logged-in users to save items in cart, persuading them to make an instant purchase. Guests and logged-in users can add/move/delete products from cart to Save for Later list and vice-versa…all from the cart page.
Make only data-driven decisions to plan your offers
As the holiday season is the most profitable, you need to track how many transactions you made, what was the revenue earned, which were the best products, who were your most profitable customers, etc.
It helps you to make further business decisions on whom to target when and with what offers. It also helps to understand the key performance indicators such as customer lifetime value, average revenue per user, churn rate, etc.
Putler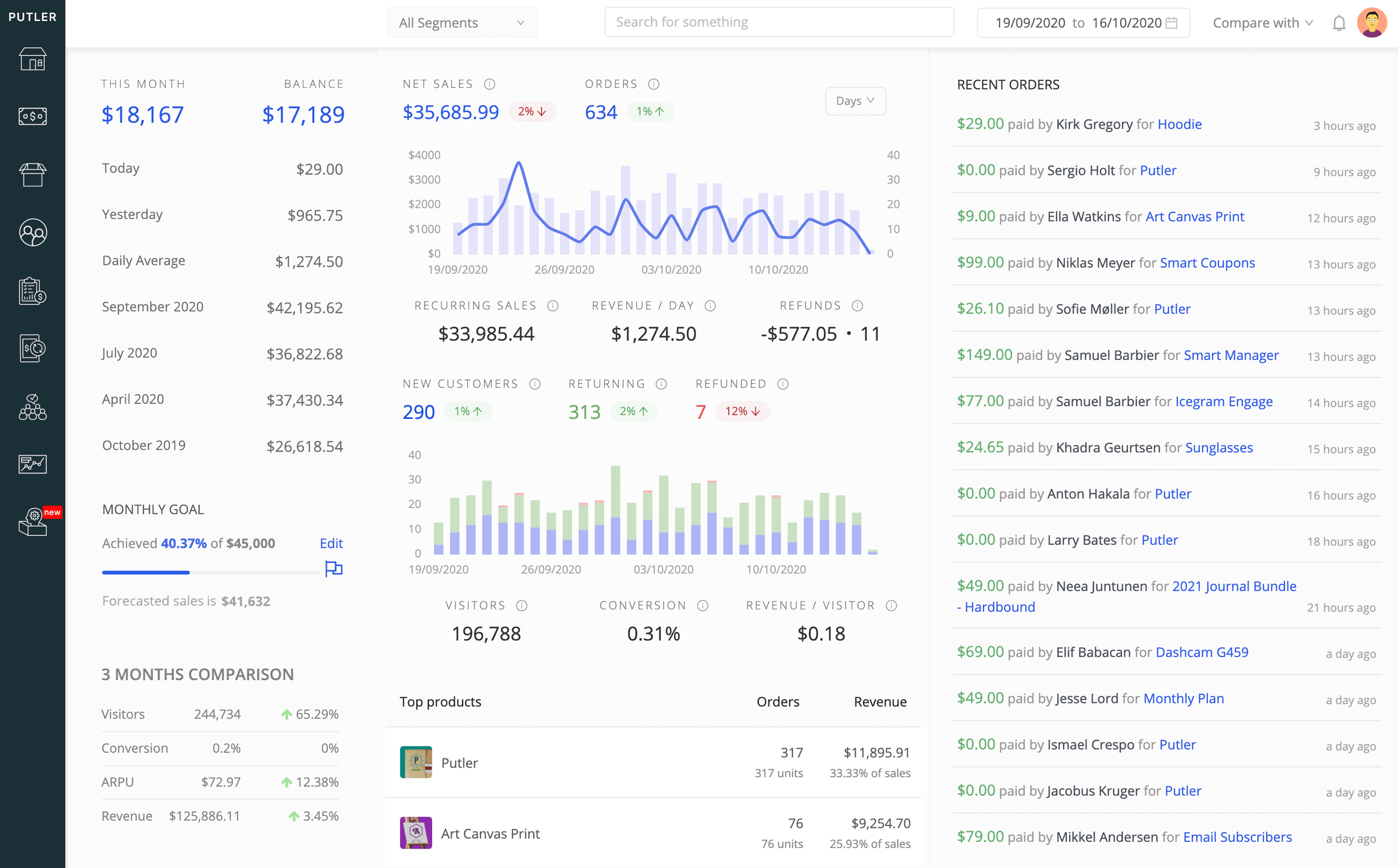 Putler provides in-depth e-commerce analytics and reporting for your WooCommerce store. Products, customers, sales, transactions, audiences…get a complete analysis of your business in real-time.
Why use this plugin?
Consolidate transactions from PayPal, Stripe, WooCommerce tools and 14 other platforms.
200+ ready metrics & advanced eCommerce reports
Intelligent standardization and cleanup for emails, addresses
Customer profile enrichment and history
Growth modelling – what to focus on to 10x your business
Some other helpful WooCommerce plugins for WordPress to grow sales
Ready to get 3X profits?
These were some of the top-rated and best WooCommerce plugins using which you can easily manage your WooCommerce store and achieve more than your set target for the holiday season.
So, apply the top gear and chase the profits that are waiting for you!
Find the article useful? Have other plugins to share? Let us know in the comments section below. Until then,