First, let me clarify the confusion related to "gift card ideas".
This blog isn't aimed at individuals seeking to purchase or send branded gift cards like Amazon, Bath & Body Works, JCPenney, Starbucks, Uber, Netflix, Etsy, Airbnb, Disney, etc.
There are already numerous articles out there that compile lists of the best gift cards from popular brands, perfect for gifting during holidays or special occasions.
Instead, I'm referring to how businesses can strategically use gift cards to boost sales, attract new customers, and foster loyalty among existing ones.
And if you happen to run a WooCommerce store, you're in for an even greater benefit. A single plugin – Smart Coupons can bring these creative concepts to life for your business.
Top gift card ideas for different businesses with examples
Electronics, books, stationary, food and drinks, digital products, fashion and lifestyle, beauty, toys, travel and tourism, hotels, bookings, rentals, jewelry, finance, home decor…whatever business you run, these best gift card ideas will make any occasion special and memorable.
Offer fixed denomination gift cards
There are gift cards with a set price range, $5 to $500 for example.
Elena, who operates an online departmental store, provides these fixed denomination gift cards to her customers. They come in values of $5, $10, $20, $50, $100, $200, and $500.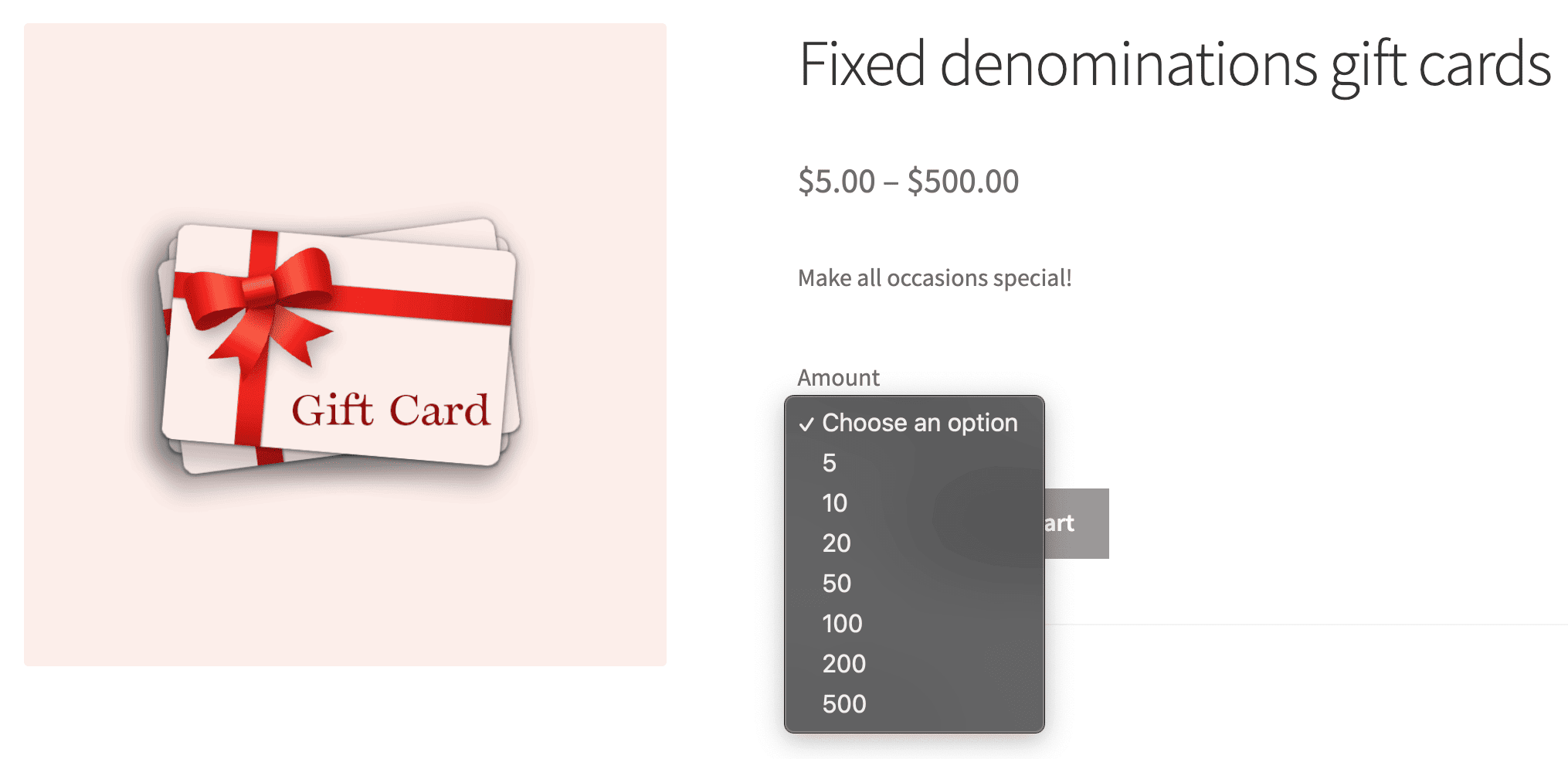 Customers find it easy to purchase them as per their budget and occasion. They can use the gift cards for their own purchase or send them to someone else.
They can also schedule the gift card so the required person gets it on their birthday or the Black Cyber season.
Sell gift cards at a discount
Pat operates an online electronics store and noticed that visitors were abandoning their high-end electronic items in their shopping carts due to the high prices.
To address this, Pat began offering discounted gift cards, such as a $100 gift card for only $90. This strategy proved successful as visitors purchased these gift cards to later use on premium MacBooks and iPhones.
Issue a gift card for a refund
Jason had booked a premium villa at a resort for his family vacation, which amounted to $1500. Unfortunately, unforeseen circumstances compelled him to cancel the reservation.
The resort's policy says all cancellations made 7 days in advance will get a 50% refund and the remaining 50% as a gift card. As per this policy, Jason received a $750 refund and a $750 gift card.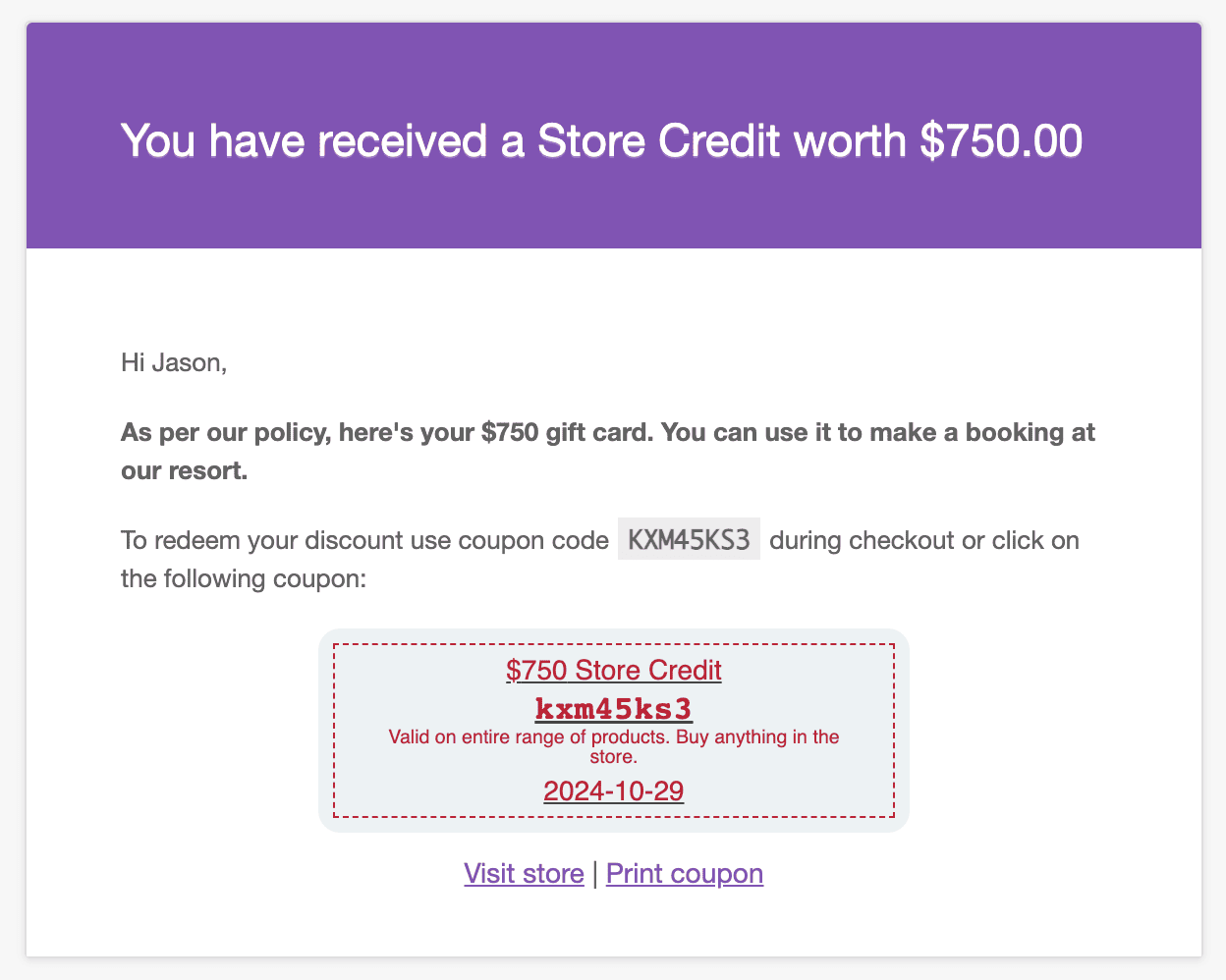 This is a clever retention strategy, as Jason now has the flexibility to use the gift card for a future booking. Moreover, since customers hold the gift card, it's highly likely they'll make another purchase before it expires.
Use gift cards on shipping cost
Antonio observed that due to higher shipping costs for furniture items, customers abandoned the cart.
He allowed customers to apply the gift card on shipping, making them reduce the order total and go forward with the purchase.
Happy customer, happy Antonio!
Redeem gift cards above a quantity
Maria operates a luxury fashion store and has recently launched a new Spring collection.
Recognizing the value of her new collection, Maria has opted not to offer discounts on it. However, she also wants to encourage her existing customers to make larger purchases.
To achieve this, Maria allows customers to redeem a gift card only when their shopping cart meets certain criteria.
For instance, the cart should contain more than 5 items from the 'Women's clothing' category and the cart's total should exceed $2000.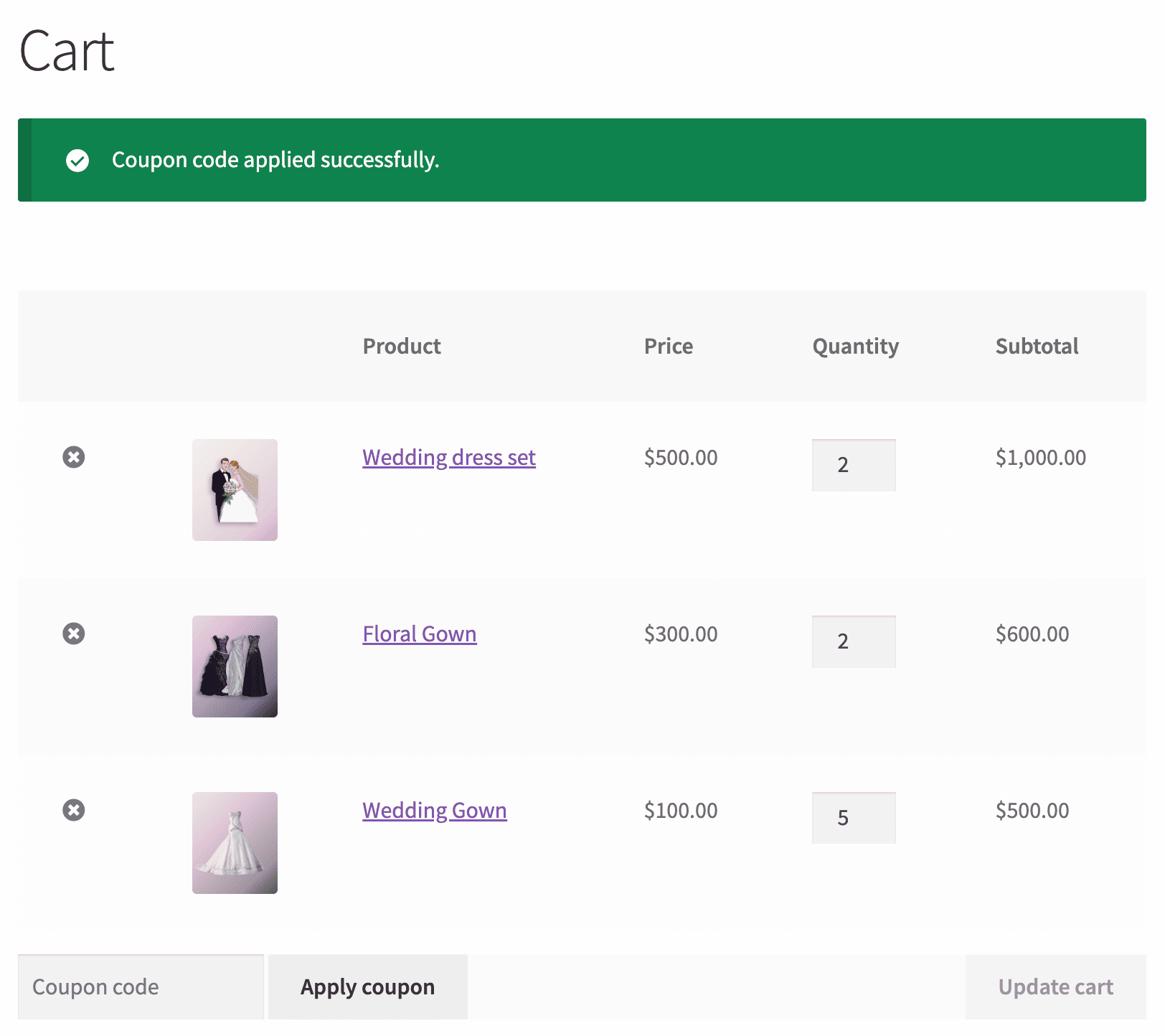 A savvy gift card idea for women like Maria to grow their own online shop sales, right?
Giveaway gift cards to Champions
Champions mean your top spenders and frequent purchases. Actually, you can categorize your customer base into eleven segments based on their purchase behavior, known as RFM analysis.
A super-sexy tactic for targeted email marketing.
Meet Goldie, the owner of a jewelry store, who is eager to incentivize his top customers to make a purchase. Goldie plans to send a personalized gift card worth $50, funded from his own account, exclusively to these valued patrons.
This gesture will enable these champions to indulge in their love for jewelry and make their desired purchases.
Use gift cards on subscription renewals
Tim runs multiple e-commerce websites selling digital products based on subscriptions. He sells hosting, plugins, themes; provides music streaming, video streaming and games.
In a bid to incentivize customers to renew their subscriptions, Tim now permits them to apply their gift cards towards a specified number of subscription renewals, enhancing their commitment to his services.
Attach gift card for the third purchase
Derek, who owns a health and fitness store, used Putler to identify customers who had purchased only twice.
He created $20 gift cards that could be applied to any of his vegan health supplement products in his store. He then emailed these gift cards to the twenty identified customers to encourage their third purchase.
Issue a gift card with bundles
Jetha and Babita are a romantic couple. Their chemistry is visible in their online home decor and furniture products and website design.
They have created some attractive product bundles on their website on the occasion of Valentine's Day.
To increase sales of these bundles, they attach a $20 gift card to it. When customers add the bundle to their cart, the gift card automatically gets added, which they can use for future purchases, adding an extra touch of romance to their shopping experience.

Now, that's some sexy gift card idea for couples!
Bulk generate gift cards
Gasly wanted to reward his employees during special occasions like Christmas. He bulk-generated 240 gift cards, each with a unique coupon code, and distributed them to his employees as a token of appreciation.
Distribute gift cards offline to redeem them online
Shizuka has a cafe outlet. She recognized the need to go online to stay in the competition. To expand her presence, she established an online cafe that sells coffee, mocktails, quick bites, some vegan food and bakery items.
She ran an email marketing campaign to inform her existing customers. Additionally, she implemented an affiliate program, collaborating with food bloggers to enhance her brand's visibility.
She also thought of going the social media ads route but found it very expensive, without guaranteed results.
Gift card for location-based new users
Finn provides spa treatments, salon services and other home essential services online.
On account of his store anniversary today, he created a gift card that only new customers residing in New York can apply to avail of the services.
Implement all gift card ideas with one plugin
The WooCommerce Smart Coupons plugin allows you to implement these strategies effectively, helping you boost sales, retain customers, and create engaging promotions on your WooCommerce store.
You can create and send, or allow your customers to purchase gift cards on your WooCommerce store.
Another flexibility of using the WooCommerce Smart Coupons gift card feature is the restrictions feature.
You can restrictions based on location, payment, user role, emails; set the expiry date and time of the gift card, which helps you avoid misuse of the gift card and target specific customers.
Check out some gift card-related blogs to set up some of the above use cases.
Summary
From selling fixed denomination gift cards to offering gift cards as a BOGO offer, all the ideas will help you expand your customer base, settle unhappy customers and keep the engagement on.
And with putting some limitations on gift card use, you can reach your goals while protecting your budget.
Any business can implement any of the gift card ideas. We suggest trying different gift card campaigns based on your budget and target audience.
For WooCommerce businesses, you need a powerhouse like Smart Coupons that can help you create and launch such gift card campaigns with ease.