A WooCommerce fashion store is selling one lipstick for $5 and a bundle of two lipsticks for $8. What would a buyer choose?
The bundle, right? Because you are getting more at a less price. That's the power of WooCommerce product bundles. More value at the best price.
To learn more about why to use product bundles, how to create them, how to effectively upsell them, and which types of stores should use which tactics to upsell bundles…keep reading!
What are WooCommerce product bundles? Why are they irresistible?
Product bundles WooCommerce or product packages consist of some individual goods or services that are grouped/clubbed/assembled/mix-and-match together and sold to consumers as one combined package. With the upsurge in online shopping, selling or upselling WooCommerce product bundles can prove to be highly successful!
A key benefit of adding product bundles is that it illuminates similar products you offer, encouraging customers to explore and buy more.
Additionally, people believe that they are getting more value by purchasing a bundle than by purchasing products separately.
By using product bundles in WooCommerce, you can leverage the power of Upselling and Cross-selling to boost your sales.
You can also offer bulk discounts on product bundles, like saving twenty percent on all bundles or forty percent off on selected bundles to clear inventory.
Let us dive deep and understand the three types of product bundles most widely used.

For example, when you add a laptop to the cart, you will be shown an upsell of related products that include a mouse, headphones, memory card reader, and other accessories (a bundle of products).
Another example would be on the purchase of a razor, a set of blades is offered as a bundle (bundle of the same product).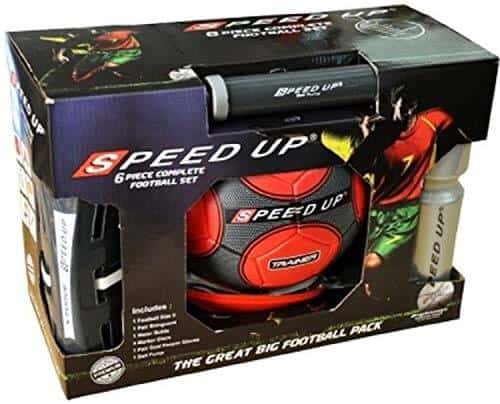 For example – A whole kit consisting of a football, pair of shin guards, socks, arm sleeves, a sipper and pump, and a duffle bag.
Multiple quantities of the same product or product type are offered as a bundle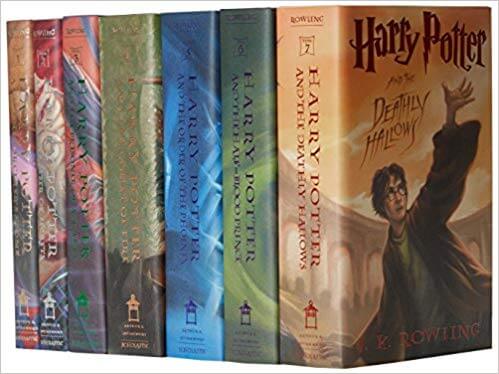 For example – A bundle of three identical T-shirts or all Harry Potter books.
After skimming through WooCommerce multiple product bundles and WooCommerce multiple product packages , let us understand 'how' to upsell product bundles via Smart Offers and grow sales! It is as simple and quick as it could be.
But first, let's see how to create product bundles the easy way.
How do I create a WooCommerce product bundle? (Two simple ways)
There is no bundle-type product option in WooCommerce's default installation. Hence, you'll need to install a plugin to create bundle products in WooCommerce.
We'll talk about two popular plugins (easy ways) on the WooCommerce marketplace that help create product bundles – Chained Products plugin and Product Bundles plugin.
Using Chained Product plugin
Chained Products plugin makes it easy to create pre-configured WooCommerce product bundles, sales packages, product packages, kits, force sells, giveaways and combos.
When users purchase the main product, they get all the chained products automatically.
In this example, we are creating a bundle wherein on purchase of a Dell laptop, users also get a laptop bag and a USB light.

You can create a new bundle or chain products to an existing product to make a bundle.
Go to WordPress admin panel > Products > Add New or open an exiting product (laptop) to which you want to chain some products.
Under Product data, select the Product type. Here, we select 'Simple product'.
Now go to Linked Products to add products for the bundle.
Start typing name of a product. Select the exact product from the suggestions displayed and also set quantities for each.
If you would like the stock of chained products to reduce when the main product is ordered, tick Manage stock for chained products.
Set up the price and all other details for the main product as usual.
Click Update or Publish to save the changes.
That's it. Within a minute, your product bundle is ready. Here's how it will look when a user considers a Dell laptop for purchase.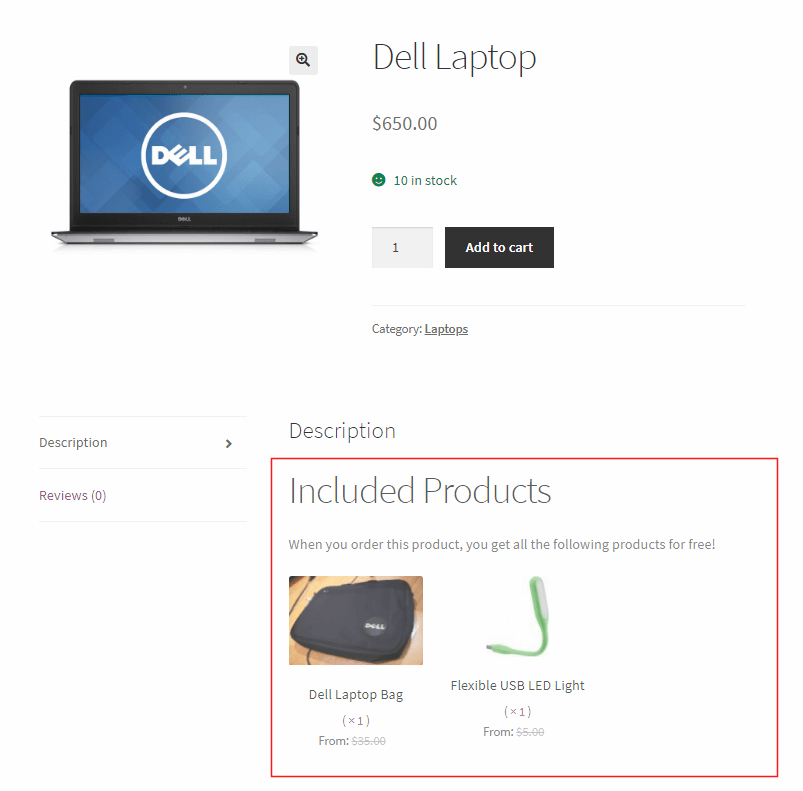 Try Chained Products live demo
Using Product Bundles plugin
Unlike chained products where bundles are pre-configured and the user can't remove the chained items, the Product Bundles plugin allow users to select or remove what they want in the bundle.
Here's how to create a product bundle: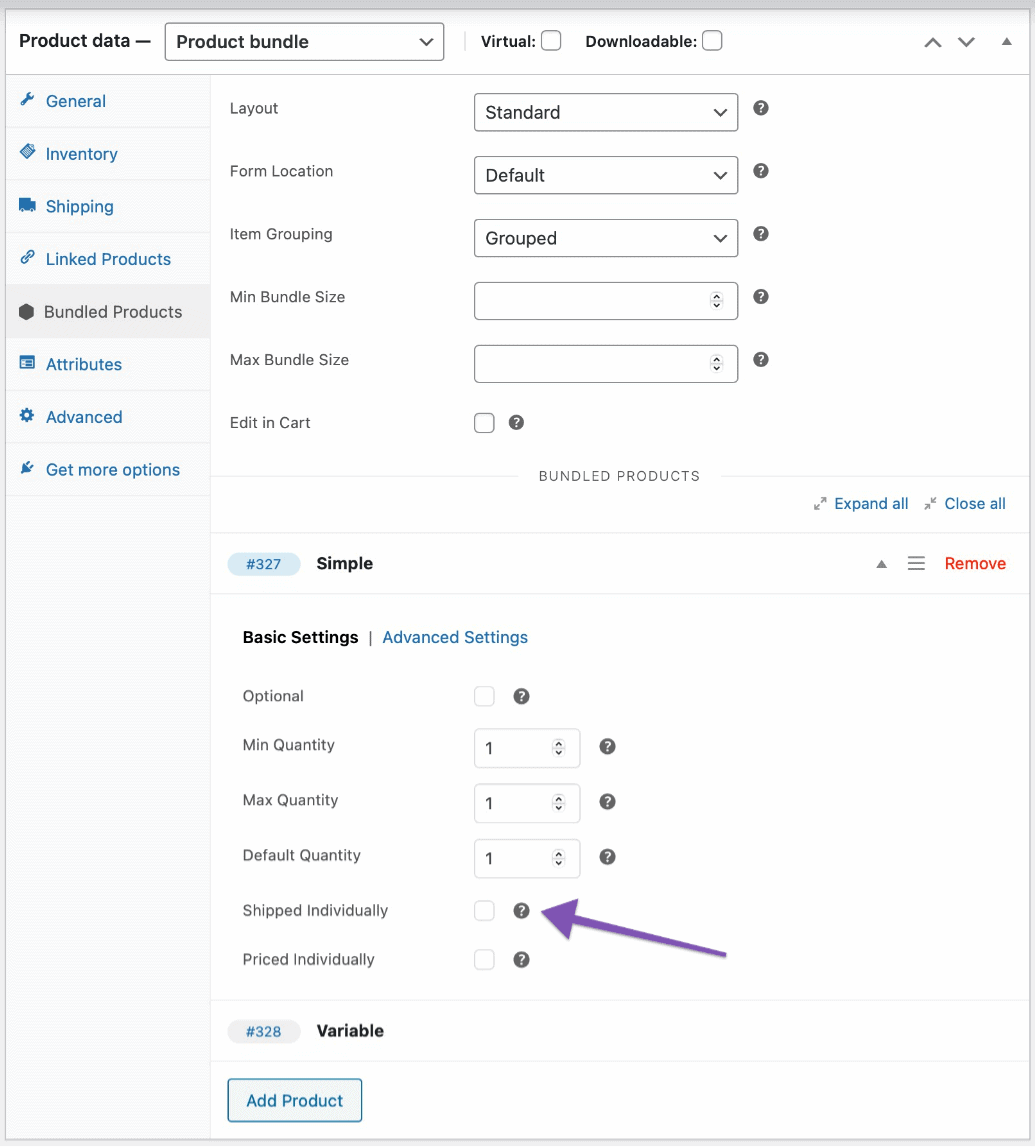 Go to your WordPress Admin panel > Products > Add New.
Select the Product bundle type in the Product data panel.
Go to the Bundled Products tab.
Click Add Product and use the search field to find and add products to the bundle. Repeat as many times as needed, each time by clicking on a search result to add it.
Hit the Publish button.
Under the Bundled Products tab, for the product you add, you can specify various parameters, such as the minimum and maximum quantity. More about it here.
The plugin allows to bundle simple products, variable products and simple/variable subscriptions but not grouped and external products.
Now let's see how to upsell WooCommerce product bundles
You know upsell offers are a great bait to encourage visitors to spend more. But if you have a bundle as an upsell, don't you feel the deal becomes even sweeter? You can pitch not one but several relevant products together as a bundle to users, give your products more visibility and your users will also be delighted.
There are times when you have product bundles that can go very well with some products, but you only want to offer them to a very small number of users for targeted conversions. For example, on purchase of a camera, offer a bundle of accessories.
Once you create your WooCommerce product bundle, you are now ready to set up an offer to upsell your bundle using the Smart Offers plugin.
Why Smart Offers?
Create targeted WooCommerce upsell, cross-sell, BOGO, order bump, one-click upsells, etc. offers in the sales funnel.
Integration with popular WordPress page builder plugins, WPML, WooCommerce Subscriptions and Smart Coupons plugins.
No coding required.
Get sales on autopilot.
Example 1 – Upselling a bundle of different products on purchase of the main product
NOTE: In this case, both the main product and bundle will be added to the customer's cart.
To start with, let us take this example – You want to offer GoPro Action Camera Kit (product bundle) to any customer who has a GoPro Camera in their cart.
Here's how you can create an offer using Smart Offers –
Step 1: Choose product and price

Click on What to Offer. Add details of the product you want to upsell along with the price. To offer a bundle at a flat or percentage discount, choose the value accordingly.
Step 2: Set targeting rules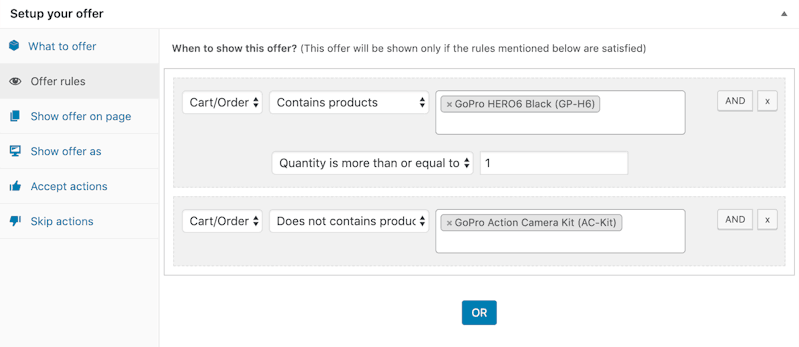 The next tab displays the Offer rules. This is the tab where you can decide the conditions as to when should your customer see this offer.
For instance, you want to show this offer only when the customer has added GoPro Hero Black in their cart and not GoPro Action Camera Kit. Otherwise, it makes no sense.
Smart Offers also gives you options like cart total, the number of products, product category, and others to target your upsell offer.
Step 3: Select page to show the offer

Further, decide where you want to show the offer. Here's a quick synopsis of the options Smart Offers provides. Self-explanatory!
Step 4: Choose how to show the offer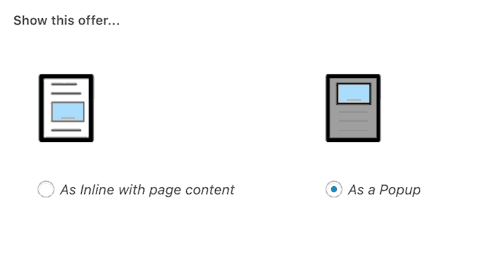 The next step is to decide how to show the offer. You can choose to show the offer as an 'Inline' or a 'Popup'.
Step 5: Set next set of actions on offer acceptance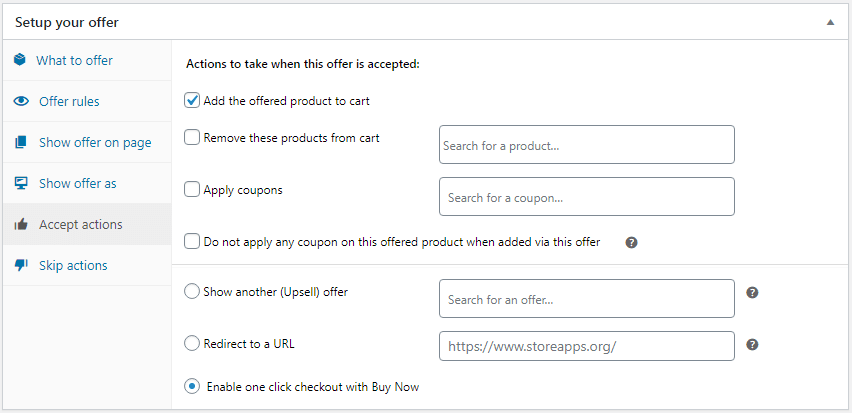 Now we come to the crucial step as to what to do next as the customer accepts the offer. You can choose from a range of options as shown above.
Here, we choose Add the offered product to cart. Moreover, we also selected the Enable one-click checkout with Buy Now option. This option skips the cart or checkout steps and completes the order quickly.
That's it! You are almost done creating an upsell offer for anyone who adds GoPro Hero Black to their cart! You have the power to control and design your offer, enough to scale up efficiently!
Step 6: Set next set of actions on offer rejection

However, if your customer declines the offer, you can choose the next action item from any of the above by clicking on the 'Skip actions' tab.
Congratulations! You're done with creating an upsell offer for your WooCommerce bundle products. Here's how it will show up.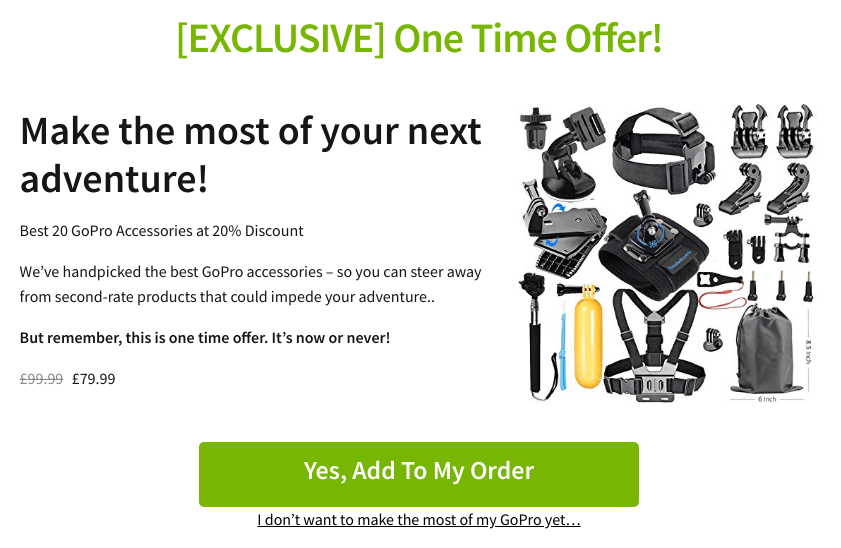 We'll now see another example of upselling a product bundle consisting of multiple quantities of the same product.
Example 2: Upselling a bundle of the same products on purchase of the main product
NOTE: In this case, the main product will get replaced by the bundle and get added to the customer's cart.
In this example, the customer who intends to purchase a single product; say an Oreo cookie, we upsell a pack of 4 Oreo cookies (bundle of the same product) when the customer adds a single cookie pack to his cart!
And when the customer accepts the offer, the single Oreo pack should be replaced by the bundle.
Step 1: Choose product and price

Click on What to Offer. Here, the offered product is an Oreo Snack Pack Of 4 at a fixed price.
Step 2: Set targeting rules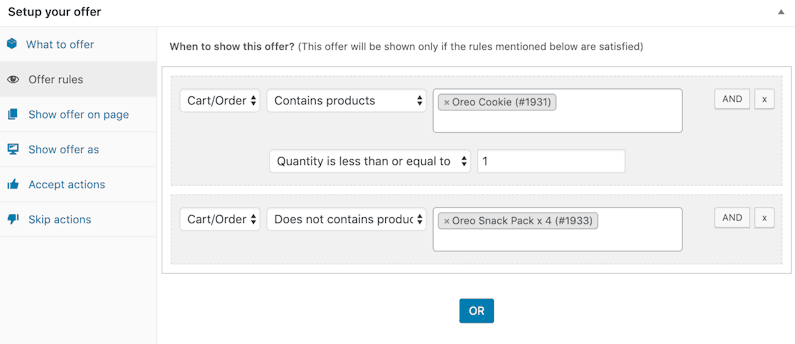 In our example, two of the most important requirements are:
The customer should have a pack of Oreo cookies in the cart.
The customer should not have an Oreo cookie pack of 4 (bundle) in the cart!
You can also specify the quantity if need be.
Step 3: Select page to show the offer
Cart page, checkout page or other, decide where you want to show this offer.
Step 4: Choose how to show the offer
Similarly, decide 'how' to show the offer – Inline or as a Popup.
Step 5: Set next set of actions on offer acceptance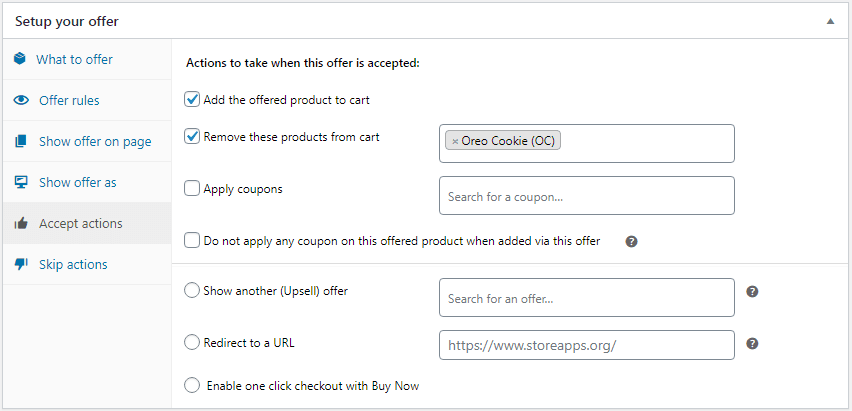 Again, this is a crucial step to decide what happens if your customer accepts or rejects the offer! Smart offers give you a list of options to choose from.
Here,
Click the Add the offered product to the cart box to add the Oreo bundle to the cart.
Click the Remove these products from cart, to remove the single Oreo cookie.
Step 6: Set next set of actions on offer rejection
You can simply choose to hide your offer likewise in the above example if the customer rejects the product WooCommerce bundle upsell offer.
Bravo! You have created another WooCommerce product bundle offer easily. Here's how the upsell offer will look.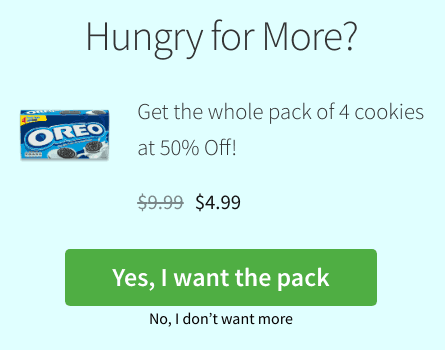 You are now all set to create awesome WooCommerce product bundles and plan the growth of your business!
Six WooCommerce product bundles upsell applications for different store types
Let's explore a few as to how you can use bundles to boost your sales.
Best suited for – Electronics, Health & Fitness
Let's say you run an electronics store and someone purchases a mobile phone. You can offer the person a bundle of protective cases and headphones at a discount.
If you are a fitness trainer and when someone buys your fitness plan, you can offer them a bundle of dietary supplements and protein shakes as a complementary offer.
Best suited for – Fashion, Grooming
A person wants to buy a razor. Naturally, an offer where you upsell blades is common and the customer may or may not buy based on his need.
But along with blades, if you add shaving cream and after gel as a bundle (let's call it a shaving kit), the deal is even sweetened. And if you show reduced prices of each product, the customer won't deny that offer.
Upsell the entire bundle at a reduced price
Best suited for – Groceries, FMCG
One soap costs $1, but a pack of four soaps costs $3. What you'll choose?
Now, you won't have time to go to the grocery each time to buy one soap. And there's a need for soap daily. So smart people will choose the bundle of four soaps on an obvious note.
Upsell product bundles on quantity/size without discount
Best suited for – Groceries, FMCG
In the previous example, you offered a WooCommerce bundle discount. But in this case, increase the quantity while keeping the price unchanged.
For example – If one soap cost $1, offer five soaps at $4.
Best suited for – Travel, Tourism
Clubbing premium products is also a great upsell tactic.
For example – Holiday packages are also bundled deals. Offering a stay in hotel + lunch and dinner + air ticket as a bundle.
Upsell bundle as Buy One Get More (Paid/Free)
Best suited for – Food & Beverages
Purchase one large-sized pizza, get two small-sized pizzas at just an additional $3.
Or buy a big bottle of Coke and get two small Tropicana juices for free.
This is a psychological and emotional marketing tactic. We can't resist our cravings and sellers take full advantage of them.
These are just some of the many use cases!
Use Smart Offers plugin to run these offers on your store and start getting extra sales today.
New plugin to automatically create and show offers
Our Offermative plugin automatically picks up products/categories to promote, discount pricing, targeting rules, offer designs and even writes headlines and all other copy text.
WooCommerce upsell, cross-sell, discount coupons, BOGO it's all there.
Other popular WooCommerce product bundles plugins
You can also have a check on these freemium/paid product bundles plugins:
FAQs
What is the difference between group and bundle product in WooCommerce?
Grouped products only allow customers to purchase a certain number of each individual item, whereas bundled products give them the option to select from a variety of options and quantities for each item. To allow your customers to choose the size, color, material, etc., you should use bundled products.
What is the difference between product set and product bundle?
Customers can also order each product separately when purchasing a product set. They cannot with bundles. An orderable product in a bundle is just one item. Options cannot be ordered separately either.
How do product bundles appear in WooCommerce?
Product bundles appear in WooCommerce as a separate product that consists of multiple individual products bundled together and offered at a discounted price.
Conclusion
As a result of knowing what bundles are, how to create and upsell WooCommerce product bundles, and why they can be useful, are you ready to set sales figures for your business growth? If so, use Chained Products and Smart Offers plugins to keep adding more revenue to your store.
Until we bring in something new to your plate, happy growing!