If you are using WooCommerce, you need to manually add orders for all these and similar situations:
You want to give special, exceptional pricing to a customer.
At times, you want to just send a 'payment invoice link' to your customers.
You want to pre-fill order details for customers and allow them to make payment only.
At other times, you may have products that do not show up on your catalog, but you want to give them to some customers.
This article will help you cut down the time spent by your customer while making a purchase and also how you can manage orders better.
Here's how to add orders manually in WooCommerce
Go to WooCommerce > Orders on your WordPress admin panel.
Click on Add order to add a new order. Fill all the details – customer name, their billing / shipping details, email, etc.
Keep the order status as Pending payment.

Add products, their quantities and prices, discounts, shipping and taxes.

You can add details under the Custom Fields section and Downloadable product permissions if required.
Under Order actions, choose the Email invoice/ order details to customer option.

Click on Create
That's it. Your manual order is created.
If the customer is a Guest, anyone with the link Customer payment page (can be found under WooCommerce > Orders > the manual order created) will be able to view the payment page and pay for the order.
And if the customer is registered, they can log in to their My Account area, see this order and a Pay button to make the payment.
Sending a reminder notification or invoice to the customer (with a payment link)
You can also resend order email to your customers for making the payment:
Click on Order actions.
From the dropdown, select Customer invoice.
Click the Save Order and Send Email button.
Tip: Make sure your order confirmation emails have product images and links to helpful content so that your customers are satisfied with their shopping experience.
How to manage hundreds and thousands of orders from one place?
If you create hundreds of manual orders like these or have other online orders, editing their details like order status, customer billing and shipping details, other order details will be a nightmare.
Instead, you can use Smart Manager plugin to add, manage, bulk edit order details from one place using an Excel-like spreadsheet.
You can directly change order statuses of a single order or apply filters to update order statuses in bulk for hundreds of products at once. Massive time-savings!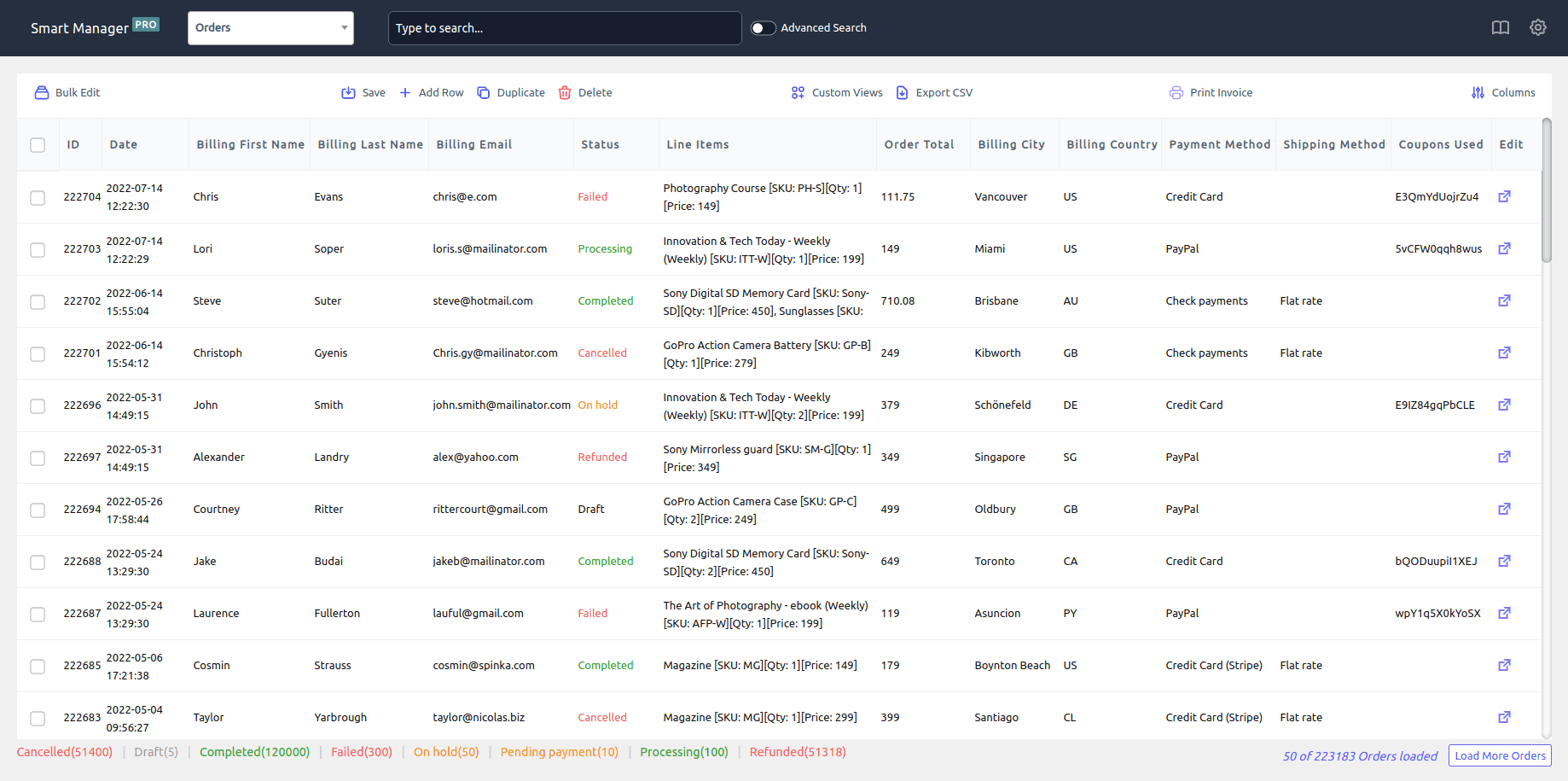 You can also export orders to CSV, delete orders, duplicate orders and perform other order related operations using the sheet editor.
The backstory
This was actually something a customer asked us for on support. We felt this will be useful to other WooCommerce users too.
P.S. Approaching our support is as easy as chatting with a friend. Do not hesitate to contact us if you have any questions!