Do people always look for WooCommerce discount offers? Yes, but not always on the initial product. A person at a Subway will be looking for a discount on the Pepsi offered along with the sandwich. Or if a combo is at a discount.
So, instead of a discount on the initial product, pitch additional related products at a discount to enhance the deal value. That's where WooCommerce upsells, cross-sells, BOGO and other offers take the charge. People will buy more than a single product because of the value associated, shooting up your average order value.
This is relatively simple to incorporate in the offline world. Subways, McDs, grocery stores…you end up buying more.
What about online and for WooCommerce? Well, it's quite easy and inexpensive too. Better, it can get you money on auto-pilot.
How? Using Smart Offers, a powerful WooCommerce booster plugin to grow sales. This article will list all the 20+ different offers you can create in the Woo funnels using Smart Offers plugin and keep minting money.
Never settle for one
Every step matters. Landing pages, pre-checkout offers, cart and checkout offers, post-checkout offers. It's the overall experience you create for the users when they are in your sales funnel.
Here, we'll talk about how different offers can convert visitors at different points in the sales funnel.
Your aim should be to convert people to add at least one product to the cart and then pitch relevant products at a discount. That's what makes the deal look sweet.
More the people buy, more the sales and a big boost to the average order value.
And Smart Offers make it quite easy and flexible to create and target offers.
For any offer you create with Smart Offers, these steps remain the same:
Select product to offer with the main product (keep empty for site wide discount), set no discount or some discount.
Set offer rules (Smart Offers powerful rule engine is what makes this fun).
Select the pages to show the offer.
Choose how to show the offer.
Define actions if an offer is accepted – show another offer, redirect to checkout, etc.
Define actions if an offer is skipped – show another offer, hide the offer, etc.
Refer this documentation on setting up offers with Smart Offers
Types of WooCommerce discount offers you can create with Smart Offers
Follow the above steps, play with some rules and all your below offers will be set up. Let's begin with the most popular offer type – WooCommerce upsells.
Upsells
Persuade the customer to buy a more expensive product than the one they have in the cart. Time-proven and tested strategy to boost average order value.
While buying a 128GB iPhone, the seller will suggest a 256GB variant. And sooner or later, you end up buying it.
Or take the case of digital products. Instead of a single site, you are offered a multi-site license.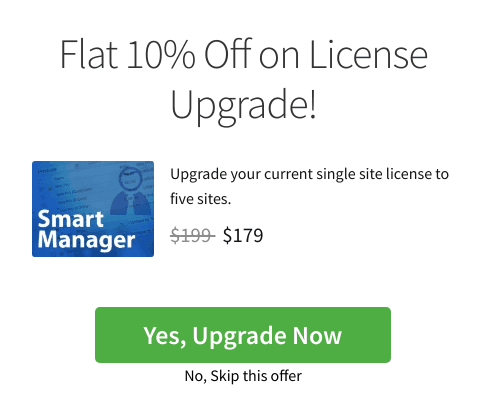 Amazon does it very smartly and effectively. They want you to get attracted by the product value and not intimidated by the higher price.
We recommend showing upsells on the cart page.
More about WooCommerce upsells here
One-click upsells
When a customer makes a successful transaction on your WooCommerce store, show them relevant upsell offers on the order received page.
As the customer's payment details are already known from the previous order, there's no need to enter them again. When the customer accepts that upsell offer, the transaction is completed instantly.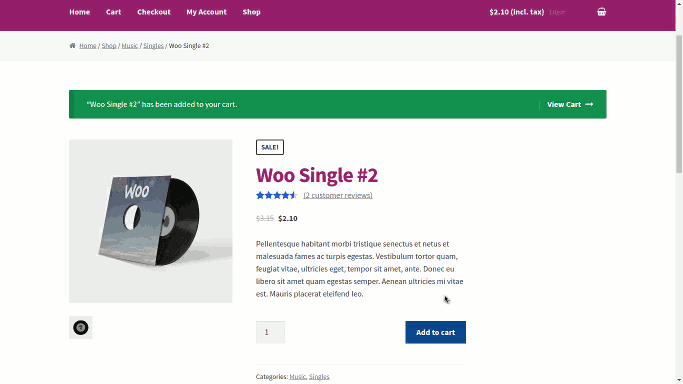 Why use WooCommerce one-click upsells / post purchase upsells?
Instant checkout – all happens in a single click.
Eliminates search effort – Customers don't need to browse related products.
Full control over upsell offers – Redirect customers to another offer if they accept the first one. If they decline, show a downsell offer with more discount.
Boost average order value – More than a single purchase shoots up the average order value.
Learn more about WooCommerce one-click upsells
Cross-sells
Offer some complementary products or products that are related to the main product.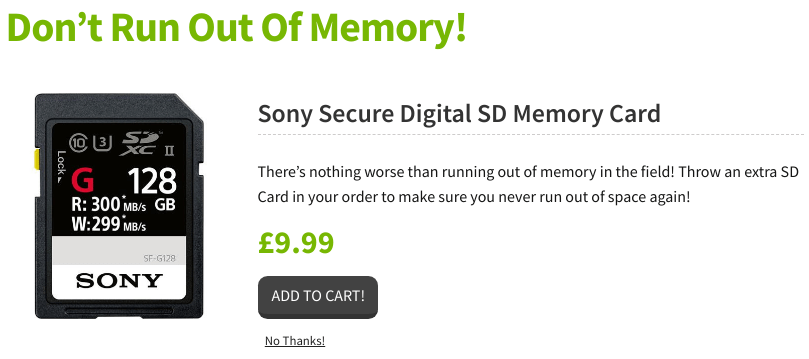 For example, offering a memory card on purchase of a camera or bag on purchase of a laptop. You know people need that product. Then why not take the initiative to offer them without them taking the effort! We recommend showing cross-sells on the product page.
Everything about WooCommerce cross-sells
Downsell
Downselling is preceded by up-selling or cross-selling. When someone rejects your offer, offer an alternative product at a lower price with limited features to close the deal.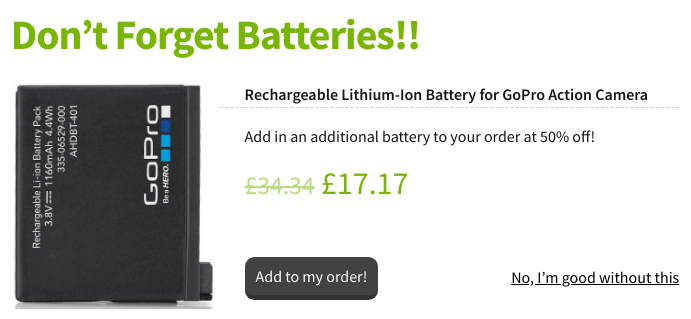 A classic downsell example would be at McD. You reject a big coke offer on fries and you are offered a small-sized coke. Or in the above example, if the user rejects an offer on camera, show a downsell offer of batteries.
Combination – upsell, downsell, cross-sell
Let's say Kate visits your online store to buy a Chanel perfume. She is interested in the medium size variant.
Upselling here would be promoting a bigger size perfume variant.
If Kate rejects it, you show her the smaller size perfume variant at a discount. That's a downsell and Kate happily accepts
Now you offer a Sugar brand lipstick which is a complementary product. A cross-sell offer.
You see, how easily you can target multiple offers in the sales funnel with Smart Offers.
Know more about creating combination offers
BOGO
Buy one get one offer. A smart way to clear out stock. Buy one T-shirt, get another at a discount or free.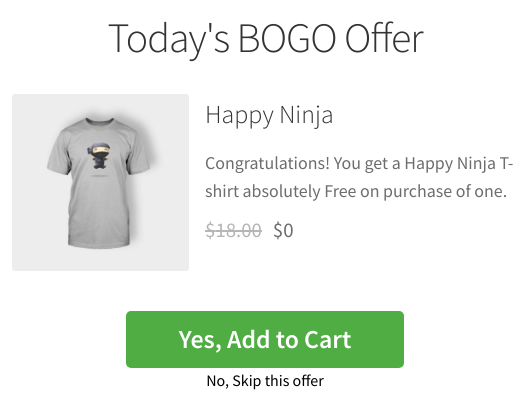 With Smart Offers, you have the flexibility to offer not BOGO but also these related BOGO offers in WooCommerce:
Buy One Get More
Buy More Get One
Buy More Get More
Learn more about creating WooCommerce BOGO and other offer combos
Bulk discounts / Volume discounts / Quantity based / Dynamic pricing
Smart Offers allows you to provide discounts for buyers who make bulk purchases. Store owners can easily create special offers, quantity-based product pricing options, etc. with the help of this functionality.
Some of these offers include:
Buy any four items and get 10% off
10% discounts on the purchase of 2 items from the same product category
15% off on 3 or more Polo T-shirt purchases
20% discounts on clothing above 5 items but less than 15.
Discount of 30% above $1000
$100 Extra Discount when lifetime purchases of a customer reach $2500
Buy t-shirts between 1 to 10, get 10% off, between 11 to 20, get 20% off, and so on. (You need to create different offers for each in this case.)
Order bumps
Another smart way of cross-selling, but only on the checkout page. For example, offering an extended warranty of purchase of a television.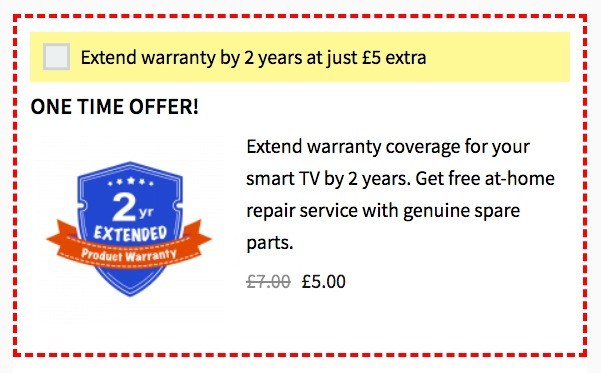 The message is clear – If you've spent some money on a great product, shouldn't you want to protect them by paying 5%-10% more?"
Order bumps are often priced at a much smaller price than the initial product to make it a special, one-time offer.
Know more about different order bump examples that work
Free shipping
One of the best methods to encourage customers to spend more is by offering free shipping on their orders. For example, offer free shipping on orders over $100.
Here's how to set up free shipping
Backend offer
Your highest-priced, most premium, most valuable products shouldn't be sold to all. A tailor-made product, a bundle of everything you sell, a club membership, a coaching program or a product with your personal touch make for great backend products.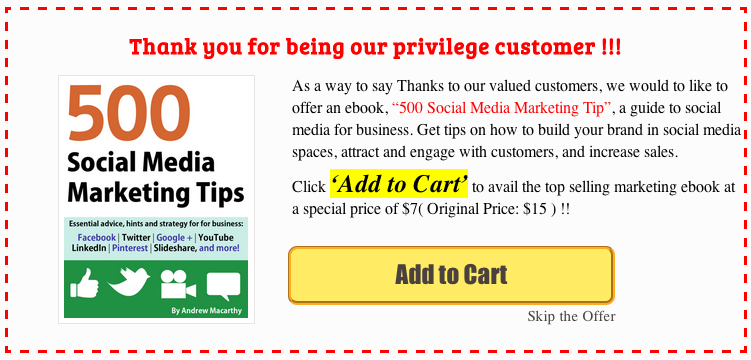 Set these products as "hidden". So they won't show up in searches. When someone's order total is very high or your old high-end customers come for a purchase, you can offer them these products using Smart Offers.
Giveaways
Why let users abandon you when you can use a giveaway to encourage them to complete the checkout?
Giveaway a product for FREE. Can be your company's T-shirt, mugs, etc. Time to do a little branding of your company. It can be on also based on initial quantity or just for brand visibility for initial few customers.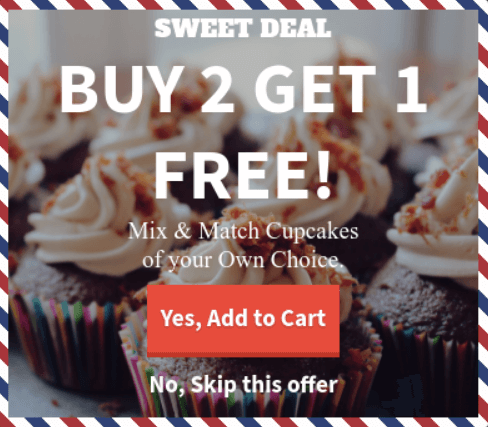 Also, add a message that the offer is valid only if the customer purchases within 30 minutes. This will induce urgency.
Know more about setting up a giveaway offer
Bundle discount
Instead of a single product, why not offer a product bundle at a discount? If a person wants to buy a camera, why not upsell it with a camera kit or bundle that consists of a case, stand and other accessories.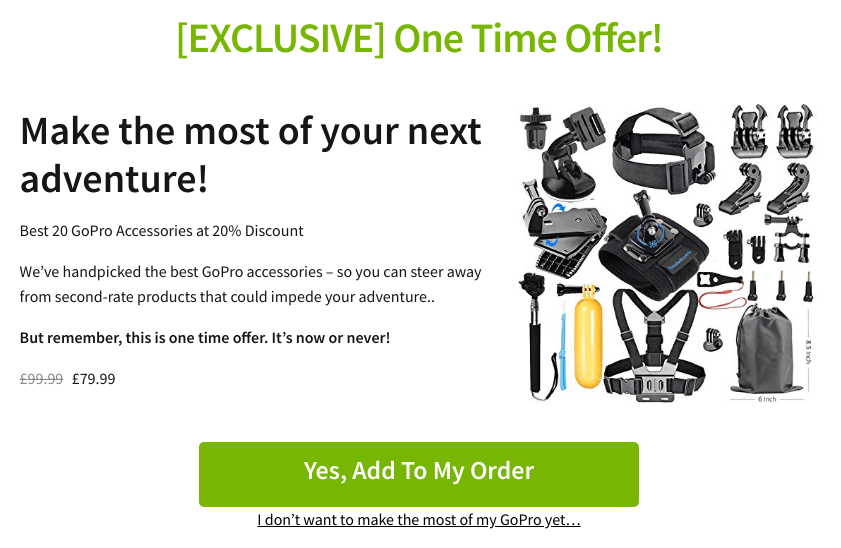 We recommended the Chained Products plugin to create bundles and then upsell them using Smart Offers.
Tripwires
Run a series of low-priced offers one after the other. Plugin X at 50% off, plugin Y at 60% off. Once visitors are in the funnel, encourage them to buy more with more discounts. This is similar to running combo offers. But here, the discounts involved are bigger.
For example, selling different courses. First, offer an internet marketing course at 30% off. Once accepted, offer a social marketing course at 40% off and then, offer an ads marketing course at 50% off.
Multiple gifts and discount based on quantity
If you want to offer gifts based on product quantity, this can help. This is like a Buy More Get More offer, but all the offers are shown together as a pricing table.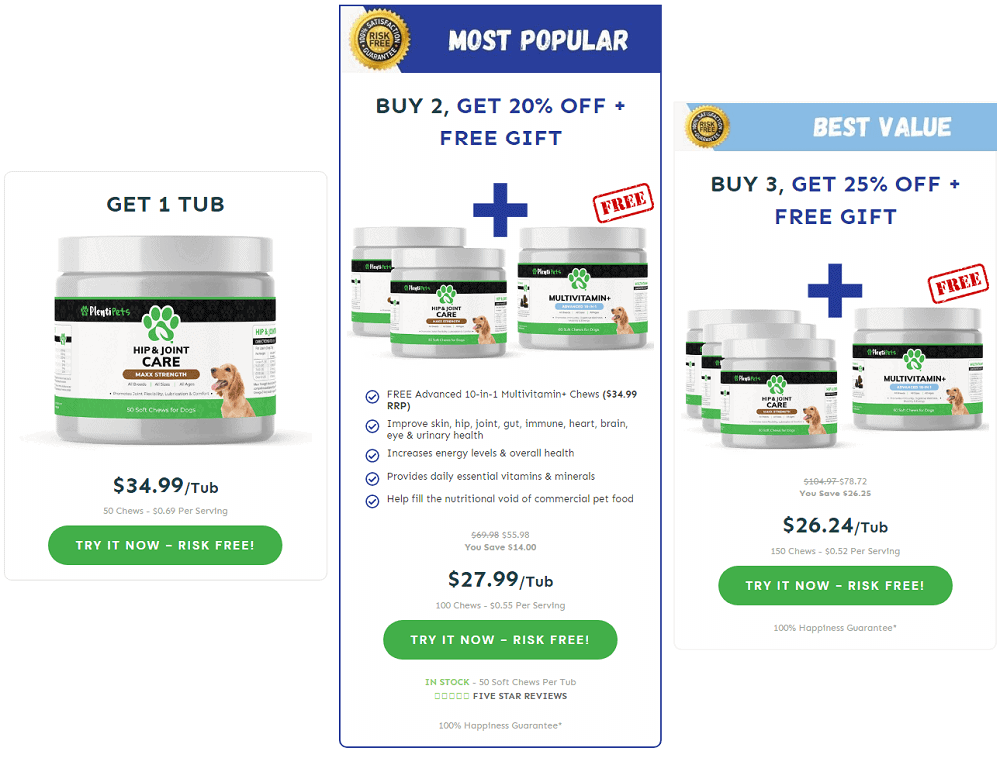 Like Buy two, get 20% off and free gift. Buy three, get 25% and free gift.
Sitewide discount
Smart Offers is more focused to help you increase average order value.
However, you can offer sitewide discounts as well. As mentioned at the start, to offer a discount, keep the offered product blank but use other rules to get targeted users.
We suggest here that not just discounts to all, but offer discounts based on rules. This could be like: Only if the product in the cart belongs to the Clothing category.
Cart total above $100
Once the offer is applied, you may want to restrict them based on shipping, payment, location or user role restrictions like:
Shipping method is flat rate
Payment method is not Cash on Delivery or Cheque Payments
Location is only United States and Canada
and other rules…
Note – For shipping, payment, location and user role restrictions, you need Smart Coupons plugins along with Smart Offers.
Not just sitewide discounts, you can also do upsells, cross-sells, BOGO and other offers using Smart Coupons for restrictions.
Product specific discounts
As mentioned about the rule-engine in Smart Offers, you can select what to include/exclude when showing the offered products and offers will be shown to the desired users.

It can be either a percentage discount or a fixed product discount.
For example, you want to offer a lipstick, only when the cart contains another lipstick or variations of those lipsticks.
Product category based discounts
Consider the same example above, but you want to offer a lipstick only when the product in the cart belongs to the Cosmetic category.
Product attribute based discount
This helps you to upsell or cross-sell any product based on any product attribute on your WooCommerce store.
For example, you want to offer a 2L Coke bottle at 50% off on the purchase of a 2L Coke bottle. Here, the attribute is volume.
The biggest advantage here is you can upsell a product without adding hundreds of products in the rules as the attribute factor takes care of that.
Discount for guests
Offer a product at a discount to visitors or guests.
User role based discounts
Offer a product if the user is a vendor, admin, supplier or other. You need to use any other plugin along with Smart Offers to set up user roles other than the ones provided with core WooCommerce.

User history based discounts
Offer discounts or products if the user has purchased any product within the last month or a year.

Order total (includes shipping + taxes) based discount
Show an offer only if the cart exceeds a particular value. Like, offer 50% off on fitness consultation if the cart total is above $500.
Email offer
What if some of your existing customers do not visit your website? What if you want to reach out to recent customers with some offers?
Smart Offers allows you to send your offers via emails to these customers.
Create an offer, copy its HTML code and paste it into your email. Your customers can directly accept the offer from the email.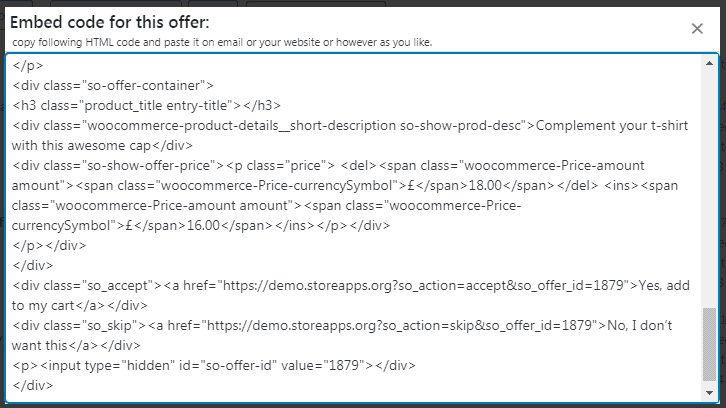 View all steps to create and email the offer
One-time offer / seasonal offers
Run one-time offers like 40% off only during specific days like Black Friday and Cyber Monday.
Ready to grow sales?
Setting up offers is a tedious task if you consider so many options above.
Fortunately, you have the option of using Smart Offers, a powerful WooCommerce discount plugin that allows you to set up all the above offers based on rules.
The end result – converts both new and existing customers, boosts sales and gets you money on auto-pilot. Set offers and let them do the rest.
If you want to make money while you sleep, Smart Offers is for you. And we are there to help you out if you are stuck at any time.