WooCommerce cross sells boost your revenues up to 6X. You get repeat sales from your high-valued customers without putting in extra effort, resulting in that hockey-stick profit ratio.
In this article, we're going to discuss how you can create and run converting cross-sell offers on your WooCommerce store. Let's begin.
What are cross-sells or cross-selling? How does it differ from upsells?
First of all, let's understand what is cross-selling.

Cross-selling means to encourage customers buy related products along with their existing product.
Let's understand cross-selling with an example.
Have you ever seen such a section while buying a product on Amazon?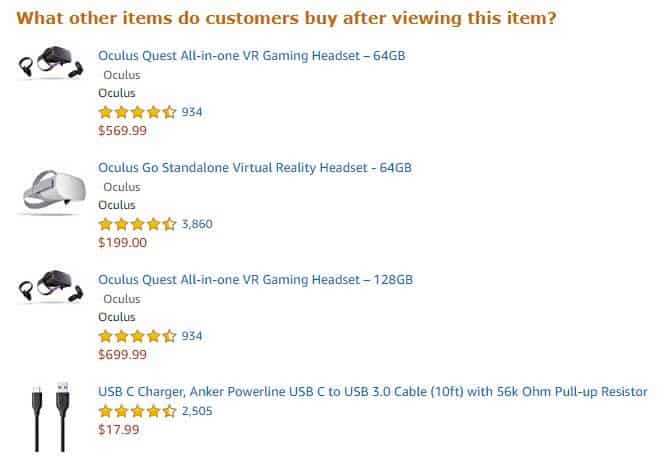 This section of Amazon showcases what other products you can buy with the one you're already buying.
So, if you're buying a virtual reality gaming headset, you need its USB charger. And, that's how Amazon cross-sells relevant products on its store.
That's how cross sell work in WooCommerce, offline or other platforms.
Then what is upselling? Is it the same as cross-selling?
The answer is NO.
Upselling means you try to sell a more expensive version of the existing product the customer is interested in or has already purchased.
Let's take another example from Amazon to compare cross-sells with upsells.
I am viewing this product worth $49.99 excluding shipping charges.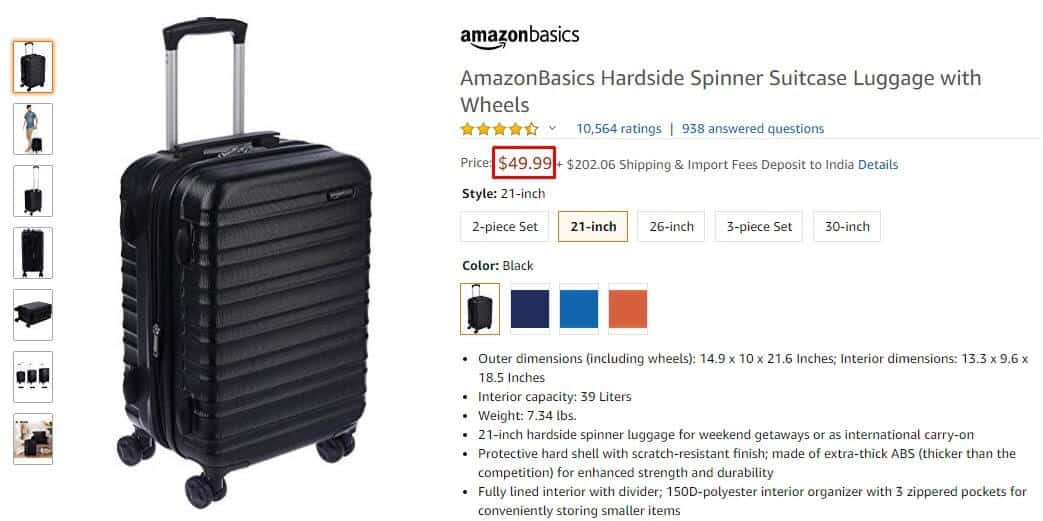 Now, Amazon tries to upsell the same product with higher cost under the following section-

You can try upselling when you don't have related products to cross-sell. Hence, you need to identify where you would upsell and cross-sell on your WooCommerce store.
But, then the agenda behind upsell and cross-sells is the same – driving more sales, more profits from existing customers.
BUT how would you cross-sell in WooCommerce?
Because default WooCommerce does not provide customized cross-sell offers on product pages.
All your customers can see the same type of cross-sell offers only on the cart page. No targeting rules mean no customization of the cross-sell offers. No customization means lesser chances of conversions.
That's the reason why you need a dedicated WooCommerce cross sell plugin to show targeted offers on your site.
Benefits of using WooCommerce cross sells
Enhances product visibility
If you choose the right plugin, you can show them a varied range of products at multiple stages of the customer journey.
Hence, it improves product visibility across your WooCommerce store.
Boosts average order value (AOV)
When you recommend relevant products to your customers, they may buy them too in addition to what they're already buying. Hence, they spend more compared to what they're expecting.
Ultimately, such cross-sells in WooCommerce see a spike in average order value (AOV).
Strengthens profits
Cross-selling/upselling intends to increase AOV with a limited amount of investment. So, when you see an increase in AOV, it directly influences the profit ratio.
Increases customer lifetime value (CLV)
You spend less on converting an existing customer using WooCommerce upsell cross-sell, and that same customer continues to buy from you, say, for example, till 3 years. Hence, it shoots up the customer lifetime value.
Where can you show WooCommerce cross sell offers?
Here are the pages on your online store where you can showcase them:
Product page
Using a WooCommerce upsell cross-sell plugin, you can show offers on product pages of your store. When a user is on the product page, the user might be making a buying decision. It's the time when you need to either showcase your upsell or cross-sell offer to influence them in deciding in your favor.
Cart page
Cart page is the page where you can upsell as well as cross-sell. Here, you can play with Fear Of Missing Out (FOMO) offers. Such offers generate higher chances of increasing the order value. Upsell can do wonders on this page.
Checkout page
The checkout page is the most crucial one as users are about to make the payment. You cannot disturb users' flow, and hence, you need to showcase only the most relevant products. Otherwise, you may lose the customer. Order bump is the best offer type in such cases.
Order received page
Caution! Your users are on this page means they've gone through the checkout process, and just bought your products. They trust your brand, and they won't like to go through the entire process all over again. Hence, one-click upsell works the best here.
Types of cross-sell offers with examples
Here's a complete list of types of cross-sell offers with real-life examples.
Related products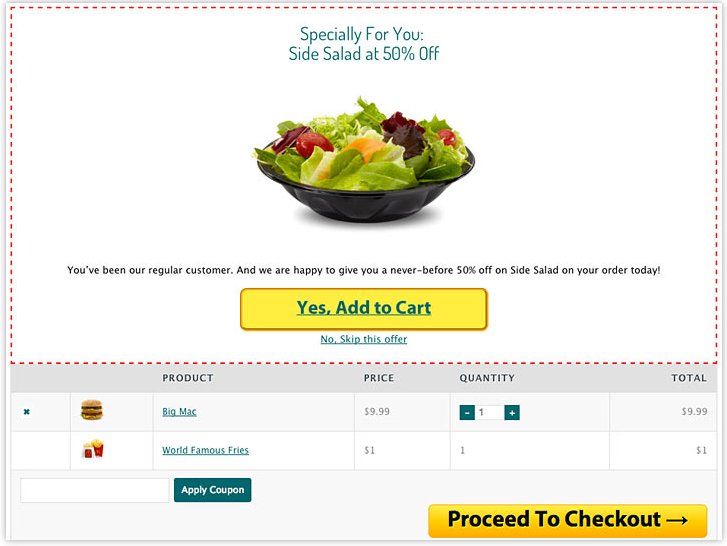 Benefits of showing related products:
Cross-sell offers on WooCommerce related products section work as reminders for the audience who might be missing out on the relevant products which are on great offers if they buy the main product.
You win customers' trust as they experience personalization here.
AOV increases to a great extent.
Complementary products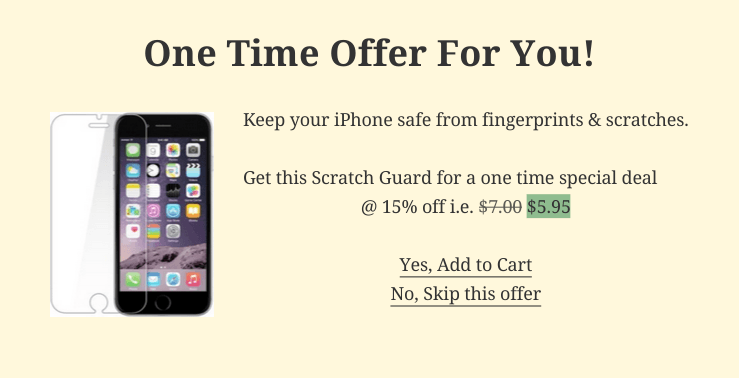 Benefits of showing complementary products:
Users need such products, and hence, it strikes instant sales for the main product.
Your inventory is sold out more quickly.
Product bundles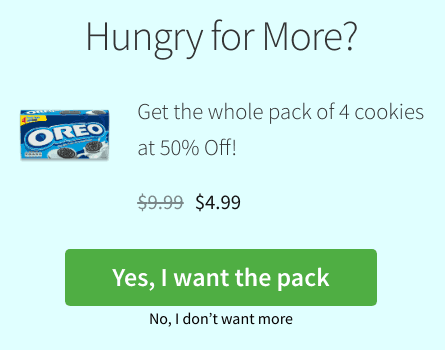 Benefits of showing product bundles:
Product bundles increase profits on each sale as it is a value-driven product with multiple useful items.
Initial return on the cost of customer acquisition also increases as you sell more products to a single customer.
Order bump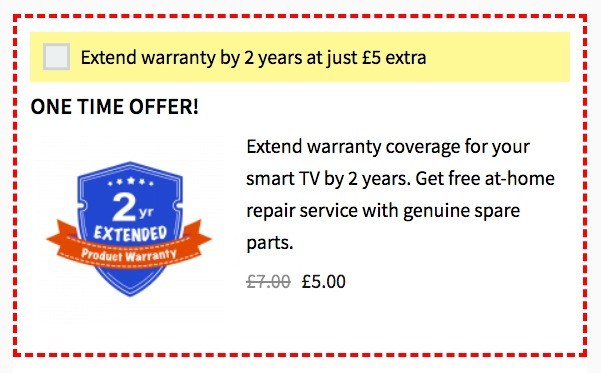 Benefits of showing order bump:
Order bump increases the value of the order as the customer now intends to pay little more than the main product's value.
The customers feel valued as they exactly know what they might be looking for while buying a product on your store.
Frequently bought together

Benefits of showing frequently bought together:
Frequently bought together helps you in moving your inventory faster.
With the right strategy here, you can multiply your profits instantly.
One-click cross-sell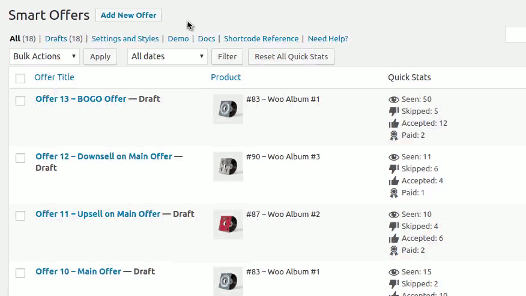 Benefits of showing one-click upsell/cross-sell:
Customer has already purchased from you and trust you more.
One-click upsell or one-click cross-sell eases checkout as no payment or contact details are needed.
BOGO (Buy One Get One) offer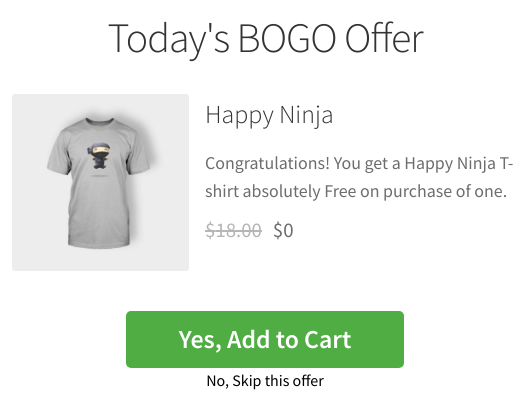 Benefits of BOGO offer:
Moving out less desirable inventory becomes easy with Buy One Get One (BOGO) offers while cross-selling.
Making money instead of losing out on stored inventory with heavy discounts is what BOGO offers specializes at.
Multiple offers in the sales funnel
Benefits of multiple offers in the sales funnel:
If you place multiple offers, you have the chance to convert users at least for one offer than not converting them at all.
Such multiple offers inspire your customers to come to you again and give you repeat sales leading to customer loyalty.
How to show different cross-sell products in WooCommerce with targeting rules?
Smart Offers is a very popular plugin that allows you to set up WooCommerce cross-sells, upsells, downsell, BOGO and other offers in a highly customized way.
The default WooCommerce only allows you to cross-sell and upsell on the cart page. This is not enough to grow your sales. Smart Offers plugin comes with extensive targeting rules and actions, making it simple for you to drive revenues and build customer loyalty.
Smart Offers plugin allows you to set-up and schedule personalized offers automatically based on:
Users
Selected products, attributes & categories
Cart status & total value
Product, cart, checkout, and order confirmation pages
Steps to create a cross-sell offer using Smart Offers without coding
In this example, we'll offer a Camera Kit as cross-sell (bundle) on the purchase of a GoPro Action Camera. You can cross-sell product bundles using Smart Offers. We recommended Chained Products plugin, available on the WooCommerce marketplace to create product bundles.
After you download and install the Smart Offers plugin, click on the 'Smart Offers' tab on the left side of your WooCommerce dashboard. Then follow these steps:
Step 1: Choose product and price

Click on What to Offer. Add details of the product you want to cross-sell along with the price.
Step 2: Set targeting rules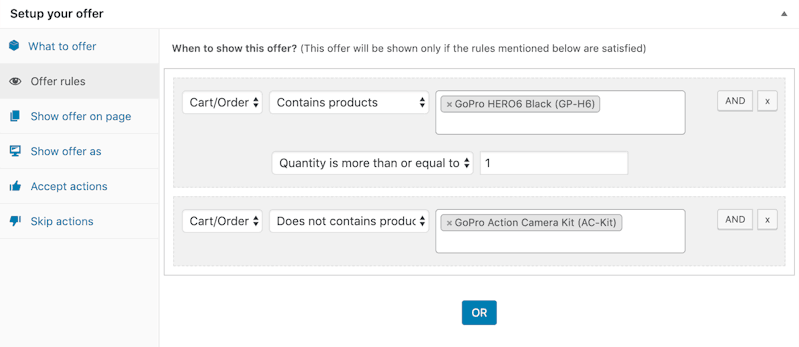 The next tab displays the Offer rules. Here, you can decide the conditions as to when should your customer see the offer.
For instance, you want to show this offer only when the customer has added GoPro Hero Black in their cart and not GoPro Action Camera Kit. Otherwise, it makes no sense.
Smart Offers also gives you options like cart total, the number of products, product category, and others to target your offer.
Step 3: Select page to show the offer

It can be cart page, order complete page or any other page.
Step 4: Choose how to show the offer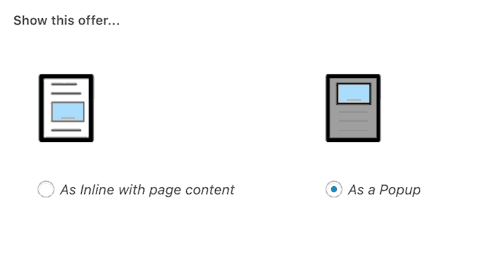 The next step is to decide how to show the offer. You can choose to show the offer as an Inline message or as a Popup.
Step 5: Set next set of actions on offer acceptance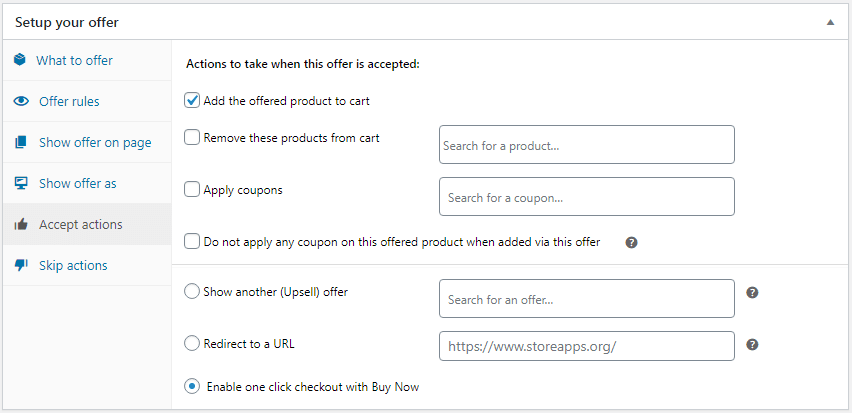 Now we come to the crucial step as to what to do next when the customer accepts the offer. You can choose from a range of options as shown above.
Here, we choose Add the offered product to cart. Moreover, you can also select the Enable one click checkout with Buy Now option for a faster checkout.
Step 6: Set next set of actions on offer rejection

However, if your customer declines the offer, you can choose the next action item from any of the above by clicking on the Skip Actions tab.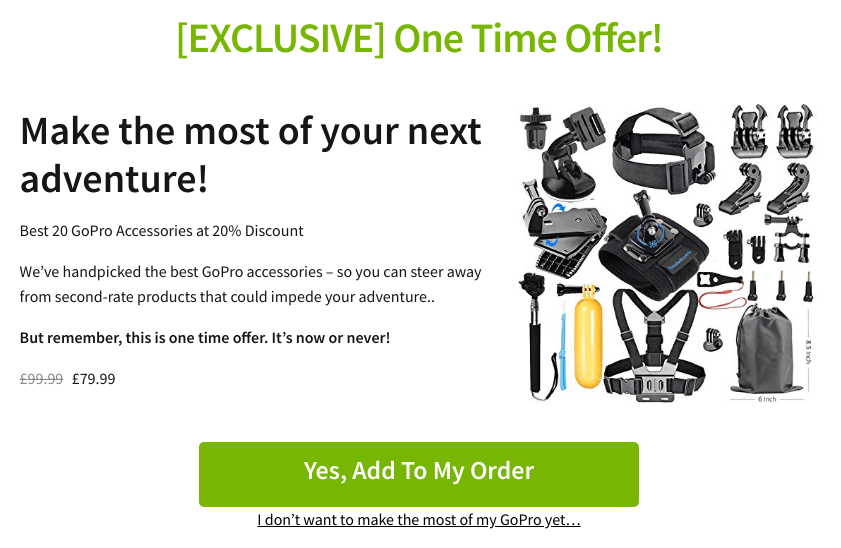 Congratulations! You're done with creating a cross-sell offer on your WooCommerce store.
Other powerful Smart Offers' features
Simple segmenting rules
Creating multiple offers for multiple rules is complex and challenging. Smart Offers plugin allows you to create one offer with various segmenting rules to work for all types of products and their variations.
Sequence offers
Based on your customers' actions, you can set up a series of offers throughout the entire user journey. Even if a user accepts or rejects an offer, you've something to offer them.
Cross-sell subscription products
Products created using the official WooCommerce Subscriptions plugin can be shown as a cross-sell offer.
Conversion metrics
Providing offers is not enough; tracking how these offers work is what matters the most. Smart Offers provide reports on conversions and based on them, you can optimize your offers.
Customized offer templates
Use Smart Offers with WordPress page builder plugins to create customized, attractive offer templates to boost your conversions.
Smart Offers provides Buy Now links, using which you can instantly enable direct checkout (skip cart) or one-click checkout (direct order completion).
Multi-lingual support on offer templates
Show offers based on the language of your audience to increase the conversion ratios with WPML compatibility of this WooCommerce offers plugin.
Customized thank-you page
Create the most attractive offer using the Smart Offers plugin and add it to your order confirmation page with the help of Thank You Page plugin.
Points to consider to nail the perfect cross-sell
Knowing the basics of cross-selling is one thing. But implementing it the right way is what matters the most. Let's learn a few points to consider to make a perfect WooCommerce cross-sell offer-
Selecting the right products that go with the main product
Show cross-sells on the product pages that are related to the product a customer is viewing. If you are selling a laptop and you showcase a t-shirt in the cross-sell offers, you're wasting your efforts. But, if you choose to display laptop screen cleaning, laptop bag, and more, you're more likely to get orders on the same as well.
Targeting offers based on user or cart total
Consider the cart total and come up with offers on what else they can add or for how much, they can upgrade.
Such offers seem to be personalized and hence, more chances of a user buying an upgraded version of the product.
No overwhelming the user with too many products
Don't overdo your cross-selling/upselling. Either look up to your competitors or test and try how many offers you can showcase up to. But, make sure you don't frustrate your audience.
Setting the right price of the offer
The price of your cross-sell is an essential aspect, and hence, you need to set it up carefully. But, say if you ask your user to pay double the amount, then your cross-sell offer is sure to fail. Play with different pricing strategies to entice the user and ensure they pay you for the cross-sells you expect them to.
Offering value the cross-sell would deliver
Inform your users about the value your cross-sells would provide. If they feel the relevant product is of no or less importance, they won't add them to their cart. Consider psychological factors while deciding how valuable each cross-sell offer should be.
Make the most powerful WooCommerce cross-sell upsell offers
Now you know how you can utilize your WooCommerce cross-sells on your store and make it a revenue-generating machine. So, create the most attractive set of offers and set them up to double your conversions and enhance customer trust with Smart Offers.