There are over hundreds of plugins compatible with WooCommerce, so you can build almost any type of e-commerce website. It is flexible, simple, and easy to use, so almost every e-commerce site uses it.
One such example is WooCommerce Product Add Ons plugin (Extra Product Options) that lets you add as many custom options to your product pages as needed.
One example would be to display a text box to allow the user to enter something on a product. Or a radio button that allows the user to select from different types of product upgrades. Or a checkbox that allows the user to add gift wrapping.
This plugin will improve customer experience, reduce customer inquiries, and boost sales. Thinking, how?
This article will explain how to manage WooCommerce Product Add-Ons from one place with Smart Manager plugin. We'll also cover some other popular WooCommerce extra product options plugins.
What are WooCommerce add-ons?
WooCommerce add-ons are like extensions or plugins that can be added to the WooCommerce e-commerce platform. They are designed to provide additional functionality and customization options for technical users who want to enhance their online stores.
These add-ons can offer advanced features such as integrating with specific payment gateways, enabling complex shipping options, implementing advanced product variations, integrating with external systems or APIs, and providing in-depth analytics and reporting capabilities. They allow technical users to tailor their WooCommerce stores to meet their specific requirements and make their online selling process more efficient and flexible.
Why use product add-ons?
Some people call them "product add-ons," others refer to them as "extra product options". Wondering what that mean?
Let's assume that you are the owner of a jewelry shop and you are trying to sell some gold and platinum rings online. How about an option to engrave the rings or to add diamonds?
Consider these cases – some customers would prefer customized tailoring for wedding occasions, some customers want to customize their pizza toppings, some would request a gift wrapping option.
In hundreds of such cases, all you need is the product add-ons plugin. Because the core WooCommerce only allows you to create variations, not extra product options.
Btw…for a fast and easy way to create product variations based on attributes and differential pricing, try our Bulk Variations Manager plugin.
Not only can you add custom options, but you can also increase the product's price based on the user's selection, and conditionally show fields based on their choices. A smart way to boost your sales to a great extent.
With that said, let's look how to add product add-ons with the help of plugins.
The official WooCommerce Product Add-ons plugin
The WooCommerce Product Add-Ons plugin is developed by the WooCommerce team itself. With a simple and intuitive interface, it's the perfect tool for adding extra features and functionality to your online store.
This plugin is a good place to start if you're trying to make your product pages more powerful or if you're looking for neat ways to present your products.
Adding custom options to a single product page is no more a hectic task. Concerning the plugin usage, online retailers dealing with jewelry, books, gifts, clothing & apparel, electronics, and many more will greatly benefit from this plugin.
Quick overview of main features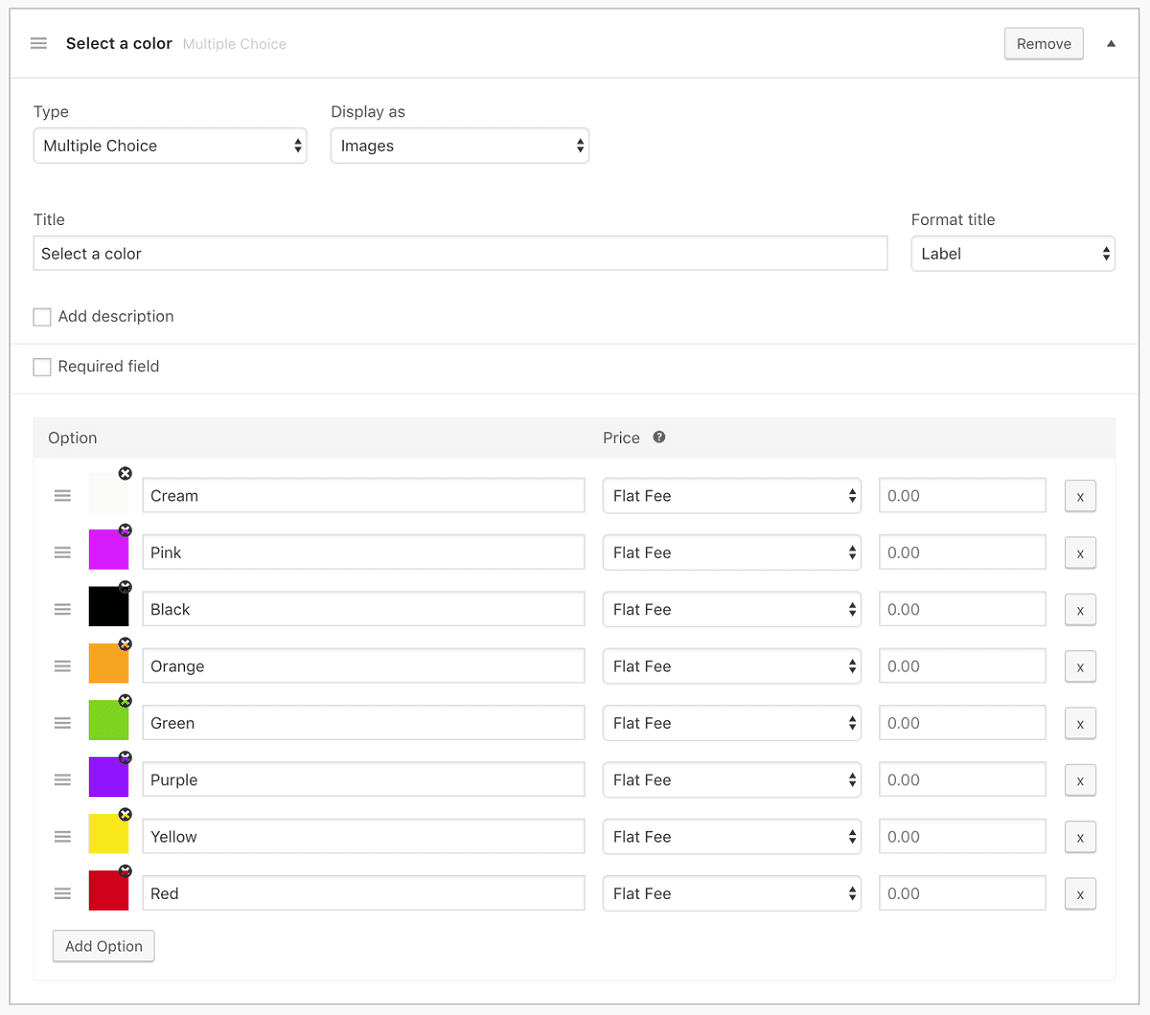 Apply plugin settings to all products, or to a few selective categories
Give buyers the chance to select from images, drop downs, radio buttons
Add custom price fields to your products
Enable a spinner input field to let buyers select the product quantity
Add optional top-up items or services as check boxes
Give short or long input text field options to customers so that they can add notes
Enable adding headings between two add-ons to keep your product page clean
Upload file attachments to deliver more information without filling up the product page
Add different pricing for all your product variants (color or size variants)
Create a product-specific add-on and exclude all global add-ons for that product
Insert proper information about each of the extra input or display field
Display all additional fields in the layout that matches your theme
Benefits of using WooCommerce product add-ons plugin
Regardless of whether a plugin is constructed incredibly, it's the convenience of the plugin that concludes how good it is for you. So, let's have a look at the perks offered by WooCommerce Product Add-ons integration:
Custom fields
Adding extra product options and custom fields is a fast and simple undertaking. For instance, you can add fixed discount details – or an extra field related to the product specification that you want to highlight.
Add variants
Be it color variants or size, variable products are supported by the plugin. So, if your online store sells a product with multiple variants, it will be very useful to you.
Promotions
For instance, you can add a short text, a long text or a heading to promote the same product or a product you want to upsell.
Enable services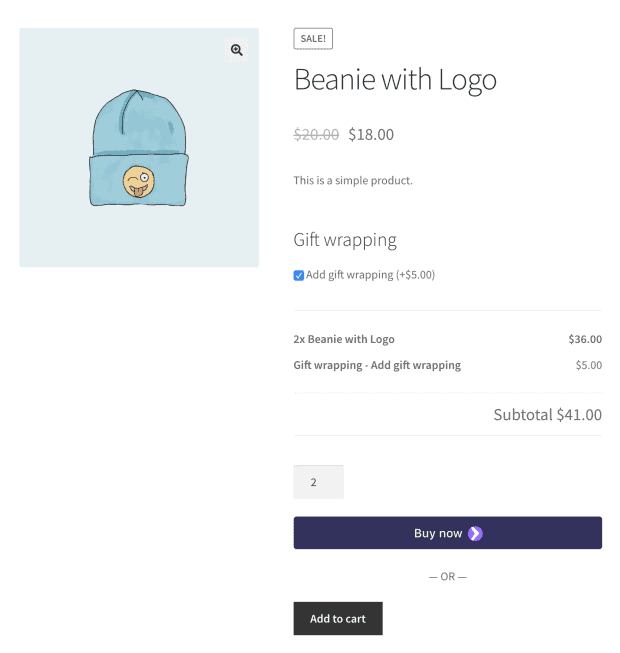 The plugin allows business owners to add additional services and facilities like gift wrapping, warranty, insurance, special transfer, and many more on the product page without much hassle. Doing so doubles up the ordering experience of the customers.
Educate buyers
The plugin allows file uploads and adding extra text fields. So, you can provide more information about the product to your buyers. From documentation to images and specifications, you can attach informative files to boost sales.
Customer notes and other such inputs
Extra text input fields (short and long) on the product page makes a huge difference as it supports more selling and fetching additional information from customers. It will let customers add notes in the order without much hassle.
Order customization
For e-commerce businesses like watches, stationery, wallet, and jewelry, the facility of adding notes plays an enormous role. Customers can add the required text for product engraving and get 100% customized orders. This way, rendering personalized service becomes effortless.
Pros, cons and pricing
Just like any other product or facility, the WooCommerce Product Add-Ons accompany a decent amount of upsides and downsides. Before you settle on any conclusion, focusing on both these elements is vital.
Pros
Easy-to-use and has a super-intuitive interface
Lets you add unlimited images to make the product presentation impressive
The drag-and-drop form builder makes arranging fields an effortless task
The interface design is UX-oriented and simplifies the product page building process
Works impeccably with WooCommerce Subscriptions
Cons:
Compatibility with third-party multi-currency extensions is not that great
No default selections for checkboxes and radio buttons
Inflexible for some high-level customizations (e.g. when your store do not sell a color variant for a particular size variant, it won't be possible to mark it 'unavailable')
Pricing:
$59
Should you buy WooCommerce Product Add-Ons plugin?
Clients will purchase from a store that offers a basic and smooth route and comprehends their shopping needs. With this Product Add-Ons plugin, building such an impressive online store is possible as it supports endless customization.
So, if you're looking for a viable way to empower your WooCommerce store, then this plug-in is the right choice to make.
Get WooCommerce Products Add-Ons plugin
Why use Smart Manager for WooCommerce Product Add-Ons plugin?
Using add-ons is a great thing. But what will you do if u want to manage these add-ons repeatedly in a few minutes and not hours? What if there are hundreds and thousands of products? Are you willing to lose your productive time?
Managing product add-ons can turn into a tedious errand assuming you go inside every one of them to make changes as and when required.
But with Smart Manager, you can make those changes directly without moving inside each add-on; that too from a single excel-like spreadsheet.
If you heard about Smart Manager for the first time, Smart Manager enables the user to accomplish all the WooCommerce store management tasks in a few minutes which took hours earlier.
Bulk update, inline edit, advanced search and a lot more…
One-page management using Excel-Like spreadsheet
Simply update all your add-ons data in one go. Smart Manager provides you an Excel-like spreadsheet to make changes to your add-ons.
Be it changing prices or adding a personal message, adding fees or shipping options, you have full flexibility to edit the add-ons directly using Smart Manager.
Don't bother digging inside every item to roll out an improvement. This was one of the efficient time-saving component I was talking about.
Search any item and get it instantly to make an update
Another Smart Manager highlight that saves you time is 'Search'. Rather than digging through thousands of items, simply search using keywords. Smart Manager will fetch you desired results in a blink of your eye.
Simply make a change and that's it.
Export add-ons data as CSV
Export all your add-ons data for future reference. You can also Export data based on date and search filters.
Use cases of Smart Manager to manage product add-ons
There are a lot to cover but for now, we have covered four, based on requests from our customers who use both the plugins.
Add shipping options directly
Say, you want to provide three courier options for shipping on only twelve out of the fifty shoe varieties on your store.
So, instead of going through each of the shoes, search for the desired shoes using Smart Manager and add shipping option there itself.
Upsell higher plans, support or warranty
This is incredible for subscription products as well as physical products.
You want to upsell a higher plan at 20%; ask customers to pay an additional $10 for email support or $15 for both email and phone support. For physical products, you pitch an extended warranty for two years at a nominal price.
To do this for every item individually is certainly not a savvy choice. Use Smart Manager's Excel-like spreadsheet to add this upsell options directly.
Add gift wrapping option at an extra buck
To delight customers, you plan to add gift wrapping option for just an additional $1 for all the watches (say 120) available in your store.
Again, if you want to save time and not repeat that process for each and every watch; search for 'watches' in Smart Manager, select all watches and add gift wrapping.
All your watches will now display 'Add gift wrapping for $1' on their individual product pages.
Show customization options for mobiles, t-shirts, and other products
Remember the pizza example at the start? With Smart Manager, you can also add customization options to any or all of your products in a matter of minutes.
Other popular WooCommerce product addons / WooCommerce extra product options plugins
There are other good WooCommerce additional item choices you can consider.
Advanced Product Fields (Product Addons) for WooCommerce
There are over 20,000+ active installs of this plugin on WordPress.org. The plugin offers conditional logic and dynamic product pricing based on custom field choices.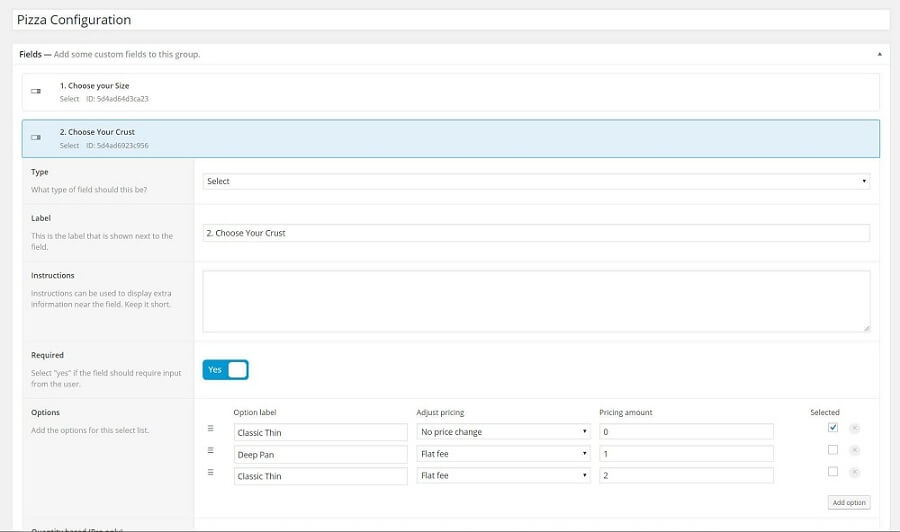 Top features:
The backend manufacturer is instinctive and lovely, like Advanced Custom Fields
You can browse nine different structure components
You can change the WooCommerce item cost in the truck in light of the field value(s)
Works with both basic and variable items. Upholds variable items over ajax
Translation ready
Pricing: Free version on WordPress.org, premium plans from $59
WooCommerce Extra Product Options
This is one of the most outstanding selling plugins on CodeCanyon with 30K+ sales. The plugin offers ten custom fields that includes check-boxes, radio buttons, range picker, etc. Curiously, the plugin is compatible with 40+ famous WooCommerce plugins.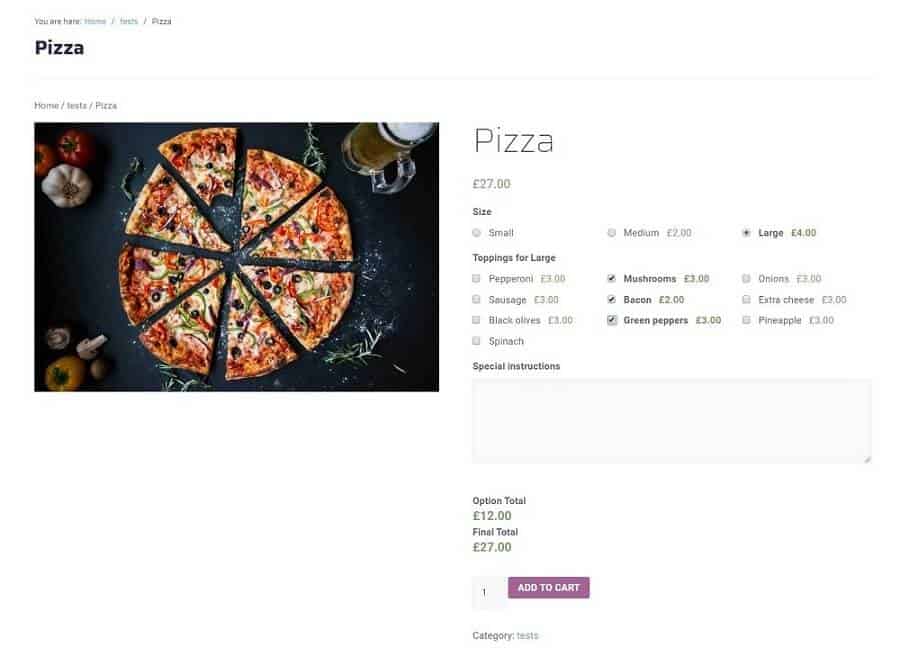 Top features:
Enable or disable the plugin and global options for specific roles
Enable or disable a floating totals box to show the selected options
Conditional logic for fields and sections within the form builder
Price per character feature for text-fields and text-areas
Choice between fixed or percentage price increase
Lazy load images for radios and check-boxes
Pricing: $49
WooCommerce Product Add-Ons Ultimate
This is another easy-to-use WooCommerce extra product options plugin. It provides sixteen kinds of extra fields like checkboxes, dropdowns, and transfer choices.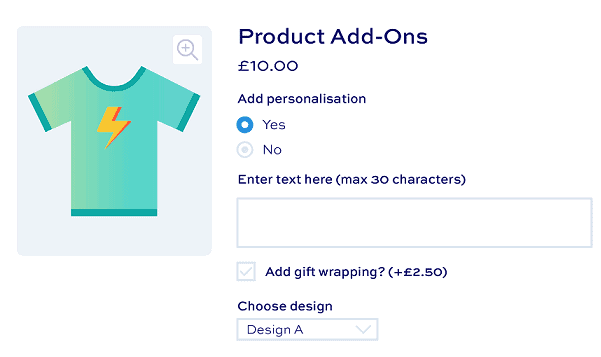 Top features:
Assign prices to your product add-on fields or offer for free
Add price per character costs to text fields
Create global fields and assign them to multiple products or categories
Accept custom prices (name your price fields)
Display product images as image swatches
Checkbox groups, percentage-based pricing, group toggles, and tabs
Pricing: Starts from $69
Extra Product Options (Custom Addons) for WooCommerce
Easily customize your WooCommerce product pages with more customizable options. Add, edit, delete, duplicate, and modify the custom product options based on your need with this plugin.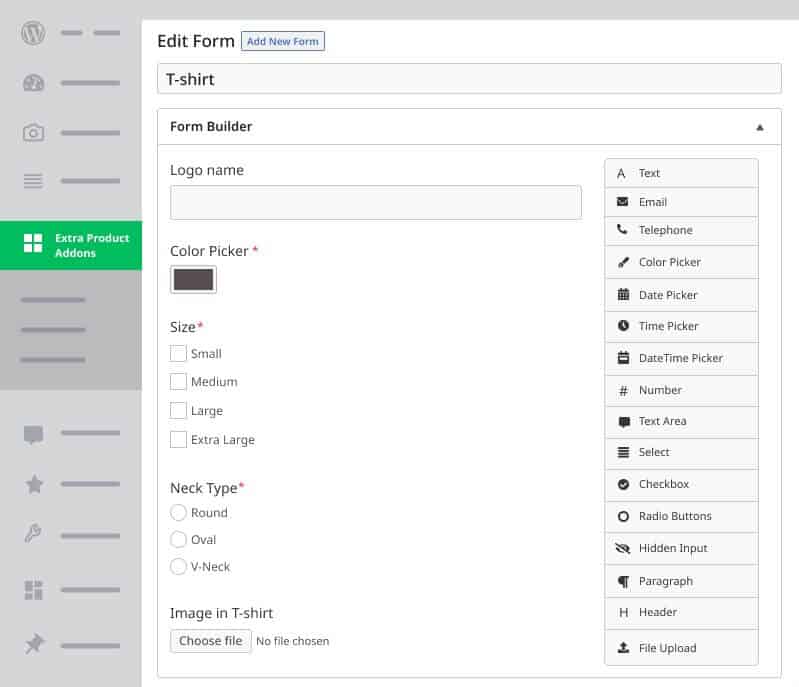 Top features:
16+ custom product fields
Conditional logic (Dynamic fields)
Create and position multiple sections (forms)
Set price options based on your need
Drag and drop form builder with WPML compatibility
YITH WooCommerce Product Add-Ons & Extra Options
The plugin allows you to make numerous choices for items, including radio buttons, checkboxes, drop-down menus and custom text inputs. These choices can be free or chargeable.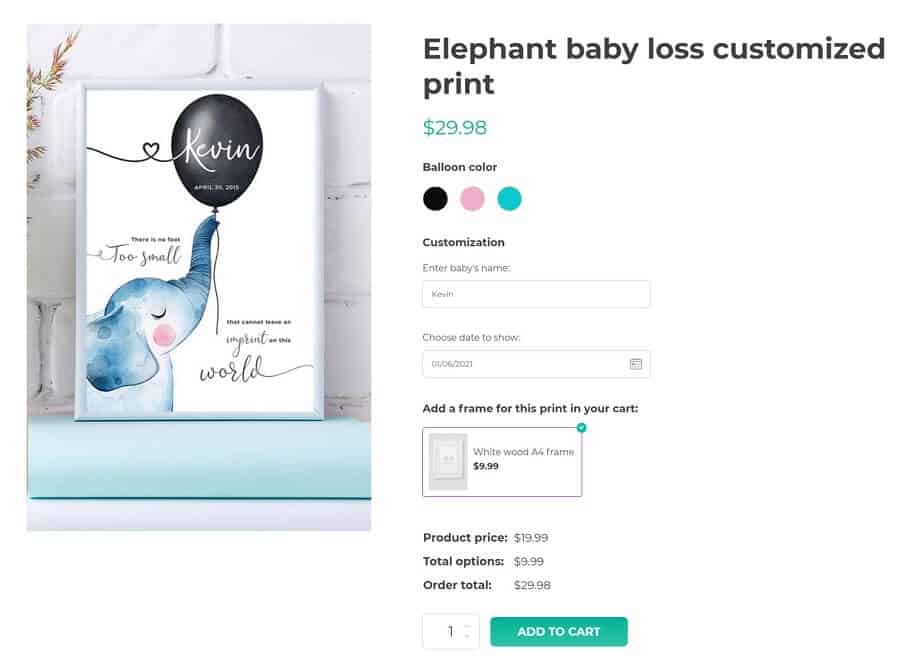 Top features:
Create unlimited blocks of options to show on specific products or product categories
Promote products in your store as additional options
Conditional logic to show or hide the options based on the user's selection
Customize every option the way you want to appear it on the product page
Compatible with WPML
FAQs
How to use WooCommerce product addons with pictures?
To use WooCommerce product addons with pictures, you can install a plugin or add-on specifically designed for that purpose. Look for WooCommerce extensions that offer image support for product addons, and follow the instructions provided to configure and use them.
How can I create custom product add-ons for my WooCommerce store?
You can create custom product add-ons for your WooCommerce store by using plugins or extensions that provide such functionality. Look for WooCommerce add-ons plugins that allow you to create and manage custom product options. Install the desired plugin, configure the options you want, and assign them to your products.
How to disable certain option in variables WooCommerce product addons?
To disable certain options in variables WooCommerce product addons, you can usually manage this through the settings or configuration of the product addon plugin you are using. Look for options or settings related to variable product addons and disable or exclude the specific options you don't want to offe
Can extra product options be used to create personalized or customized products for customers?
Yes, extra product options can be used to create personalized or customized products for customers. With WooCommerce product addons, you can add additional choices, custom fields, or options to your products. This allows customers to personalize their orders by selecting specific options or providing custom information.
How do I manage and track orders that include WooCommerce product add-ons?
To manage and track orders that include WooCommerce product add-ons, you can utilize the order management features provided by WooCommerce or the add-on plugins you have installed. These features typically include order tracking, reporting, and integration with inventory management systems, allowing you to efficiently manage and track orders that include product add-ons.
Winding up
WooCommerce Product Add-Ons is a good option for adding product customization and encouraging your customers to buy more.
But using Smart Manager to manage those add-ons is even better. You'll most likely express gratitude towards Smart Manager for saving you time.
So, if you are using both Smart Manager and WooCommerce Product Add-Ons plugins, update to the latest version and get this compatibility.
And if you are new to Smart Manager,