WooCommerce has made its way to almost every e-commerce website due to its flexibility and simplicity. Name a practical expectation for your online shop and WooCommerce can enable your store for that. Thanks to hundreds of plugins that it is compatible with.
One such example is WooCommerce Product Add-Ons plugin that lets you add as many custom options to your product pages as needed. Add detailed information about your products in the store, while taking more inputs from the customer than the default setup.
With this plugin, you will be able to improve user experience, reduce customers' queries, and boost sales. Thinking, how? Well, we will have a quick overview of the official WooCommerce Add-Ons plugin in this article. And also how you can manage these add-ons from a single place.
Why use WooCommerce Product Add-Ons?
The core WooCommerce allows selling any type of product and lets users choose simple variations. But consider a store selling rings or gold. Its customers need the engrave option or the carat size.
Some customers would prefer customized tailoring for occasions, some want to customize their pizza with toppings while some would like a gift wrapping option. In many such cases, all you need is the product add-ons plugin.
The WooCommerce Product Add-Ons plugin is developed by the WooCommerce team itself. It has an easy-to-use interface to offer for the end-users availing its features.
With its help and capabilities, you can enhance your store's product-wise details on many fronts. At first glance, it appears like a good plugin to make your product pages powerful and neat.
Adding custom options to a single product page is not at all a tedious job with this plugin. Thinking of its usage, online stores dealing with jewelry, books, gifts, clothing & apparel, electronics and many more stores will be highly benefited from this plugin.
Quick overview of main features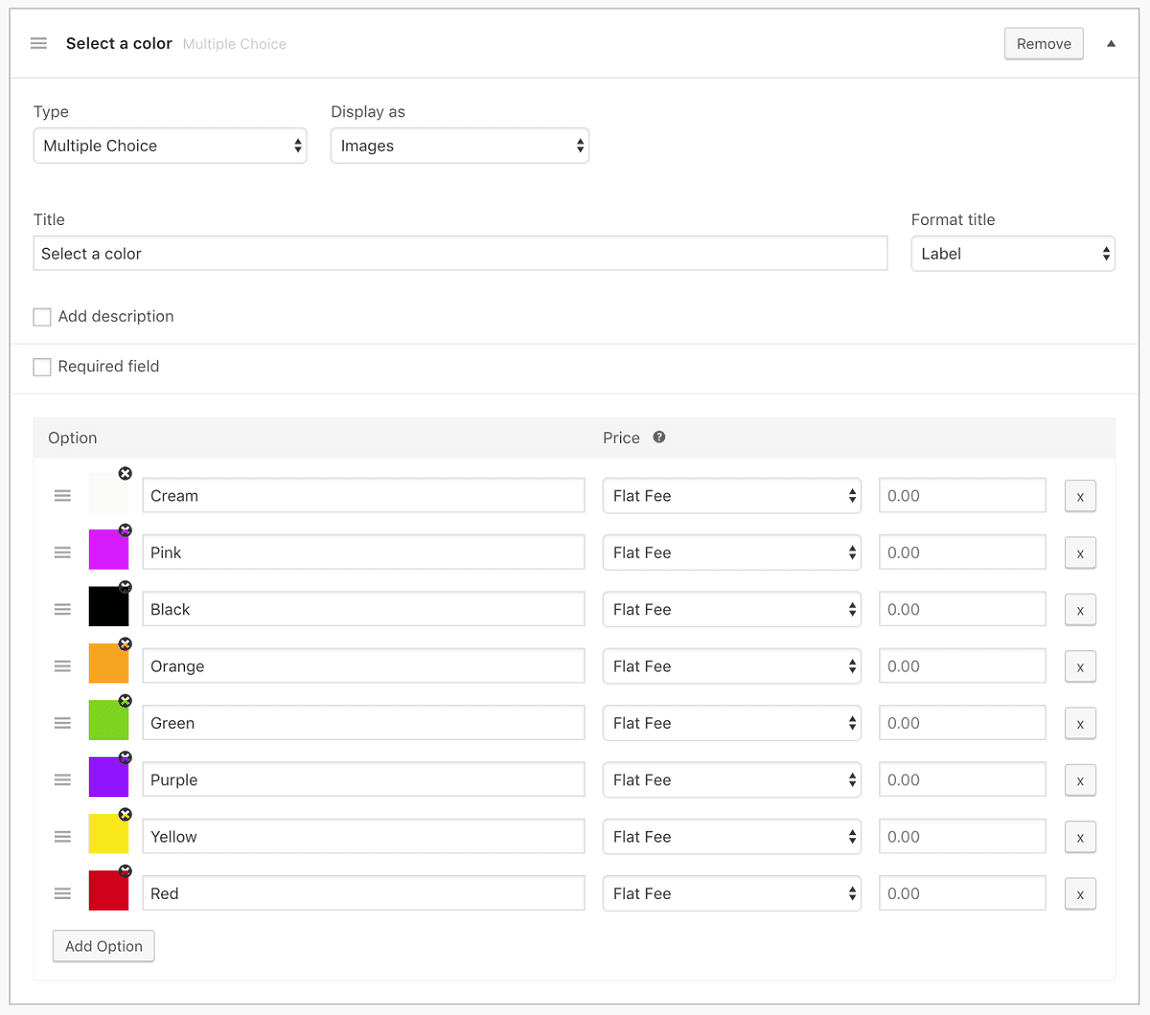 Apply plugin settings to all products, or to a few selective categories
Give buyers the chance to select from images, drop downs, radio buttons
Add custom price fields to your products
Enable a spinner input field to let buyers select the product quantity
Add optional top-up items or services as check boxes
Give short or long input text field options to customers so that they can add notes
Enable adding headings between two add-ons to keep your product page clean
Upload file attachments to deliver more information without filling up the product page
Add different pricing for all your product variants (color or size variants)
Create a product-specific add-on and exclude all global add-ons for that product
Insert proper information about each of the extra input or display field
Display all additional fields in the layout that matches your theme
Using WooCommerce Product Add-Ons plugin
Even if a plugin is built amazingly, it's the usability of the plugin that decides how good it is (for you). So, let's have a look at the perks offered by WooCommerce Product Add-on:
Custom fields
Adding extra product options and custom fields is a quick and easy task. For example, you can add fixed discount details – or an extra field related to the product specification that you want to highlight.
Add variants
Be it color variants or size, variable products are supported by the plugin. So, if your online store sells a product with multiple variants, it will be very useful for you.
Promotions
For example, you can add a short text, a long text, or a heading to promote the same product or a product you want to upsell.
Enable services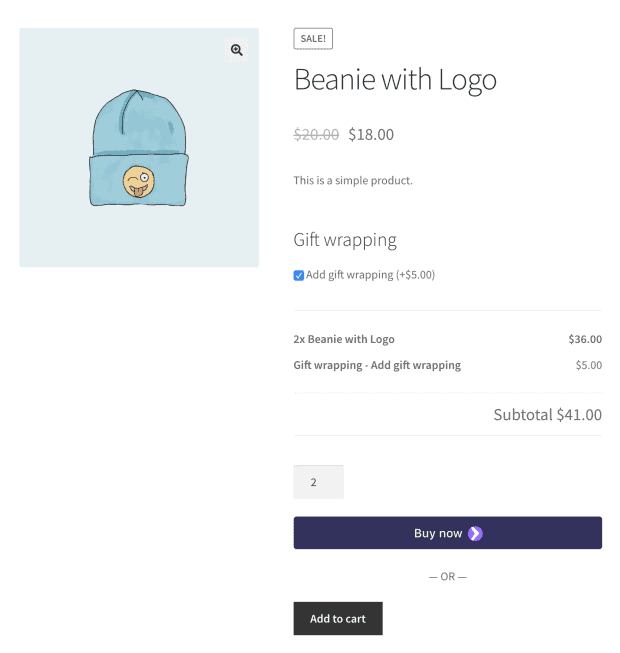 The plugin allows business owners to add additional services and facilities like gift wrapping, warranty, insurance, special transfer, and many more on the product page without much hassle. Doing so doubles up the ordering experience of the customers.
Educate buyers
The plugin allows file uploads and adding extra text fields. So, you can provide more information about the product to your buyers. From documentation to images and specifications, you can attach informative files to boost sales.
Customer notes and other such inputs
Extra text input fields (short and long) on the product page makes a huge difference as it supports more selling and fetching additional information from customers. It will let customers add notes in the order without much hassle.
Order customization
For e-commerce businesses like watches, stationery, wallet, and jewelry, the facility of adding notes plays a huge role. Customers can add needed text for product engraving and get 100% customized orders. This way, rendering personalized service becomes effortless.
Pros, cons and pricing
Just like any other product or facility, the WooCommerce Product Add-Ons come with a fair share of pros and cons. Before you make a final decision, paying attention to both these factors is crucial.
Pros
Easy-to-use and has a super-intuitive interface.
Lets you add unlimited images to make the product presentation impressive.
The drag-and-drop form builder makes arranging fields an effortless task.
The interface design is UX-oriented and simplifies the product page building process.
Works perfectly with WooCommerce Subscriptions.
Cons:
Compatibility with third-party multi-currency extensions is not that great.
No default selections for checkboxes and radio buttons.
Inflexible for some high-level customizations (e.g. when your store do not sell a color variant for a particular size variant, it won't be possible to mark it 'unavailable')
Pricing:
$49
Should you buy WooCommerce Product Add-Ons plugin?
Customers are going to buy from a store that offers simple and smooth navigation and understands their shopping needs. With the Product Add-Ons plugin, building such an impressive online store is possible as it supports endless customization.
So, if you're looking for a viable way to empower your WooCommerce store, then this plug-in is the right choice to make.
Get WooCommerce Products Add-Ons plugin
Smart Manager integrates with WooCommerce Product Add-Ons plugin
Using add-ons is a great thing. But what will you do if u want to manage these add-ons repeatedly in a few minutes and not hours? What if there are 100's of products? Are you willing to lose your productive time?
Managing product add-ons can become a time-consuming task if you go inside each of them to make changes as and when required.
But with Smart Manager, you can make those changes directly without moving inside each add-on; that too from a single excel-like spreadsheet.
That was one of the primary reasons to make Smart Manager compatible with WooCommerce Product Add-Ons plugin.
If you heard about Smart Manager for the first time, Smart Manager enables the user to accomplish all the WooCommerce store management tasks in a few minutes which took hours earlier.
Bulk update, inline edit, advanced search and a lot more…
Why Smart Manager is a must if you use WooCommerce Product Add-Ons plugin
One-page management using Excel-Like spreadsheet
Simply update all your add-ons data in one go. Smart Manager provides you an excel-like spreadsheet to make changes to your add-ons.
Be it changing prices or adding a personal message, adding fees or shipping options, you have full flexibility to edit the add-ons directly using Smart Manager.
No need to dig inside each product to make a change.
That was the time-saving feature I was talking about.
Search any item and get it instantly to make an update
Another Smart Manager feature that saves you time is 'Search'. Instead of going through thousands of items, simply search using keywords. Smart Manager will fetch you desired results in a blink of your eye.
Simply make a change and that's it.
Export add-ons data as CSV
Export all your add-ons data for future reference. You can also Export data based on date and search filters.
Some practical examples to see how Smart Manager can be useful for your product add-ons
Add shipping options directly
Say, you want to provide three courier options for shipping on only 12 out of the 50 shoe varieties on your store.
So, instead of going through each of the shoes, simply use Smart Manager, search for the desired shoes and add shipping option there itself.
Upsell higher plans, support or warranty
This is great for subscription products as well as physical.
You want to upsell a higher plan at 20%; ask customers to pay an additional $10 for email support or $15 for both email and phone support. For physical products, you pitch an extended warranty for two years at a nominal price.
And to do this for each product one-by-one is not a smart option. Simply use Smart Manager's Excel-like spreadsheet to add this upsell options directly.
Add gift wrapping option at an extra buck
To delight customers, you plan to add gift wrapping option for just an additional $1 for all the watches (say 120) available in your store.
Again, if you want to save time and not repeat that process for each and every watch; search for 'watches' in Smart Manager, select all watches and add gift wrapping.
All your watches will now display 'Add gift wrapping for $1' on their individual product pages.
Show customization options for mobiles, t-shirts, and other products
Remember the pizza example at the start? Similarly, you can add customization options to any of your products or even all your products using Smart Manager in a few minutes.
Winding up
WooCommerce Product Add-Ons is a good option for adding product customization and encouraging your customers to buy more.
But using Smart Manager to manage those add-ons is even better. You'll surely thank Smart Manager for saving you time.
So, if you are using both Smart Manager and WooCommerce Product Add-Ons plugins, update to the latest version and get this compatibility.
And if you are new to Smart Manager,