Setting up an affiliate program is an effective and money-spinner thing. Let affiliates bring qualified leads and you keep earning money even while you are asleep.
But confusion arises as to which plugin is the best when to comes to set-up your WooCommerce affiliate program. The market is flooded with options.
So here, we compare two popular plugins – AffiliateWP and Affiliate for WooCommerce.
This is an AffiliateWP review and how Affiliate for WooCommerce fares against it. Let's dive into a detailed comparison between the two.
AffiliateWP overview
AffiliateWP plugin allows you to create and manage your own affiliate program for your WordPress website. Allow visitors to sign-up for your affiliate program, approve them and provide them a commission for each sale they make for you.
AffiliateWP plugin is created by renowned WordPress plugins developer – Pippin Williamson. He's the same guy behind the creation of Easy Digital Downloads and other popular plugins. But now, AffiliateWP is acquired by Awesome Motive.
Affiliate for WooCommerce overview
Affiliate for WooCommerce plugin also lets you set-up and manage your own affiliate program on your WordPress site, provided you use WooCommerce. You don't need any third-party complex affiliate platforms. You can purchase Affiliate for WooCommerce plugin from WooCommerce.com
Allow visitors to sign-up for your affiliate program, approve them and provide them a commission for each sale they make for you.
Now, let's move on to the features / benefits both the affiliate plugins have to offer.
What you get from AffiliateWP
AffiliateWP is packed with good features –
Easy set-up. Install and activate the plugin. Add some settings and you are good to go.
Affiliate registration forms for users to register as affiliates.
Affiliates can generate their own referral links from the Affiliate Area with the built-in referral link generator.
Automatic and manual affiliate approval
No cap on affiliates that can join the program and promote.
Full integration with popular WordPress, eCommerce and membership plugins
Offer unlimited creatives – visual resources, links, etc. for better promotion.
Accurate affiliate tracking, real-time reporting.Track affiliate-referred visits, referrals, earnings and affiliate registrations in real time.
Pay affiliates directly to their bank accounts using the plugin's dedicated payouts (extra cost)
See your top earning affiliates, view affiliate reports, edit individual affiliate accounts, and moderate affiliate registrations.
A dashboard for your affiliates to track their performance, view earnings, retrieve their referral URL, find creatives, and more!
Use coupon codes instead of affiliate links.
Offer different commission rates to different users and also based on product.
Control the duration of referral tracking cookies.
Customizable emails – They provide customized emails for admin notification, affiliate registration, approval, rejection, earning reports, etc.
Export data to CSV for forecasting, bookkeeping, and accounting purposes.
Detailed log of every payout sent to affiliates from the Payouts screen.
Hooks and templates to add custom features and functionality.
Rest API and WP-CLI integration – Users can create, view, update, and delete the data (CRUD) using the WP-CLI commands from AffiliateWP. Also, perform CRUD operations using RestFul API.
On the other hand, Affiliate for WooCommerce too is jam-packed with features.
What you get from Affiliate for WooCommerce
Quite a lot of powerful features –
Easy to set up and manage. Single screen interface, no jargon. No more confusing terminology, clunky interfaces, or multi-screen processes for basic tasks.
Powerful affiliate system, runs everything automatically.
Affiliates can register (using forms), generate links, and track commissions themselves.
Automatic and manual approval of affiliates. Automatically turn your customers (or any other WordPress users) into affiliates.
Unlimited number of affiliates can join and promote
Integrate with your own site — Affiliate for WooCommerce works as a WooCommerce extension, so your costs and setup time are reduced. Also integrates with WooCommerce Subscriptions.
Offer unlimited marketing resources / assets. Create campaigns, add promotional material – images, videos, swipe files, anything you want and let affiliates pick them up and promote. All using your familiar WordPress editor.
Track affiliate progress and adjustments: commissions are adjusted based on order status changes and recurring subscription payments.
Real-time, accurate and advanced reports. Order sync, conversion rate, other useful metrics. Track product and customer level performance. Know who's promoting what and how well!
Affiliate leaderboard shows you top-performing partners at a glance.
Percentage commissions, payout logs, gross/net commissions…
A dashboard for your affiliates to track their performance, view earnings, products sold the most, find campaign resources, and more!
Payout partners easily using PayPal Mass Payout API
No site slowdowns, works on shared hosting – efficient code quality.
Set a store affiliate commission rate
Set different affiliate commission rates for different users. Flat rate or percentage. 25% for John, 35% for Erica, $5 for Matt…
Set up various commission plans based on product, product type, affiliate tags, number of orders and referrals, product price, quantity, taxonomy.
One-click migration from "WordPress Affiliates" plugin
Set up a multi tier affiliate program
Assign tags to affiliates based on their performance. This becomes easy to search these affiliates.
Predefined filters to search affiliates
Assign or unassign order to an affiliate
Modify affiliate referral ID and parameter
Export affiliates data to CSV
Regular improvements and updates
Now, let's move on to setting up your affiliate program using both the plugins.
Setting up affiliate program using AffiliateWP
You can install AffiliateWP by uploading its ZIP folder through the backend of WordPress or by uploading the unzipped version directly to your plugins folder.
The plugin provides shortcodes to insert the registration forms into any of the posts and pages of your website. This to give your visitors the ability to sign-up as affiliates by themselves.
After activating the plugin, head to the General tab and set the terms for your affiliate program.
Next, go to the Integrations tab of the Settings page and enable the application(s) you want to use with AffiliateWP and click on Save Changes.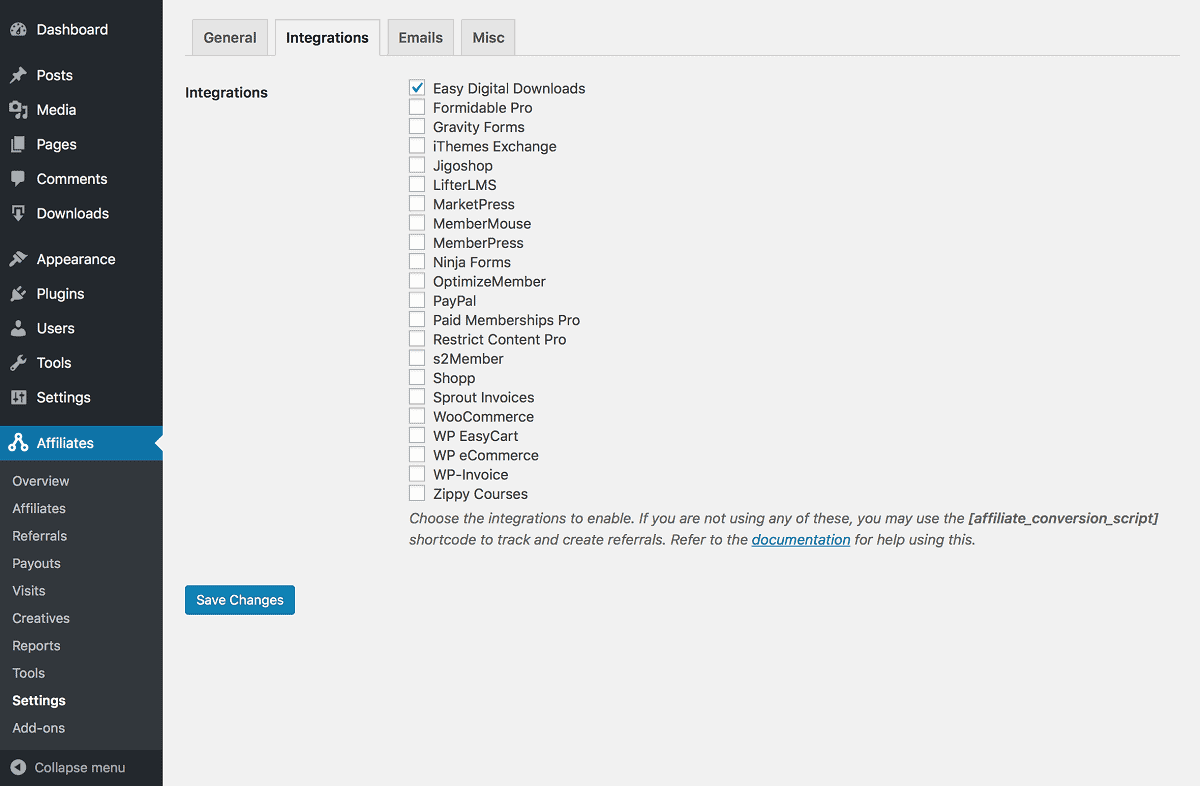 Your affiliates will find their referral ID from as shown.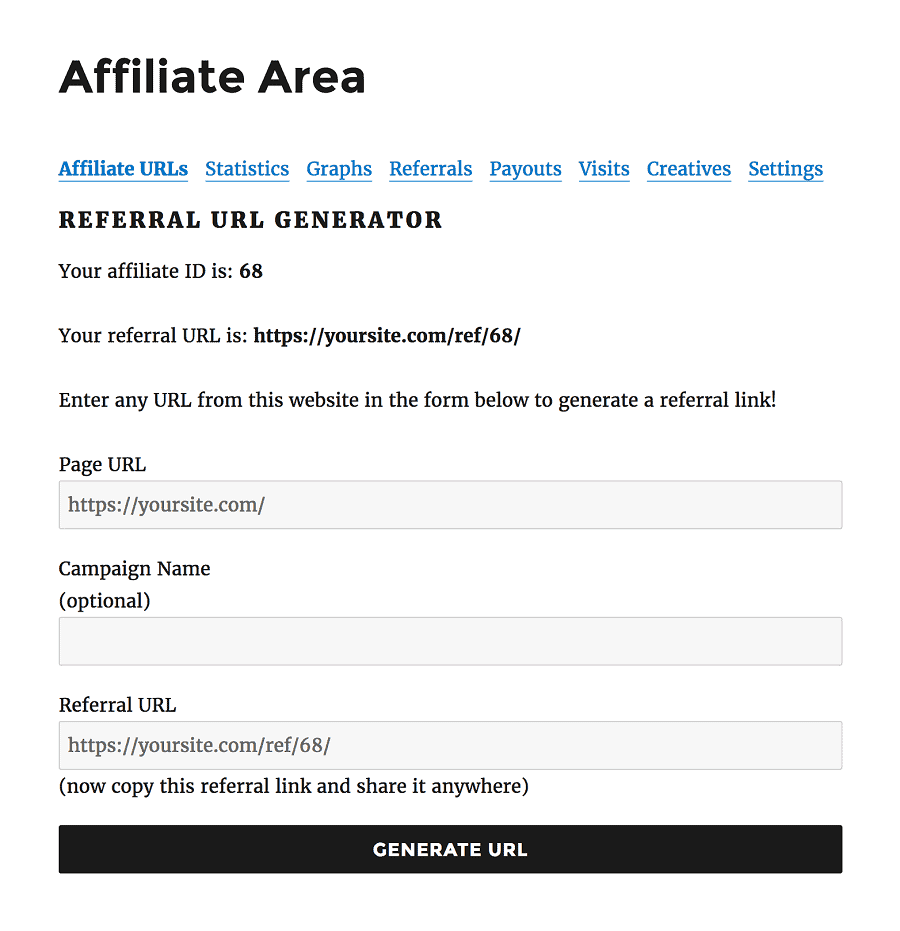 Dashboard, affiliate tracking and more…
From the affiliates page in the back end, you can view all of the affiliate accounts on your site — including pending and rejected applications. You can also view total earnings and other metrics related to each affiliate's performance.
Affiliate reporting
The reporting tools in the back end allow you to quickly get an overview of how your affiliates are performing — complete with charts and graphs to visualize the data.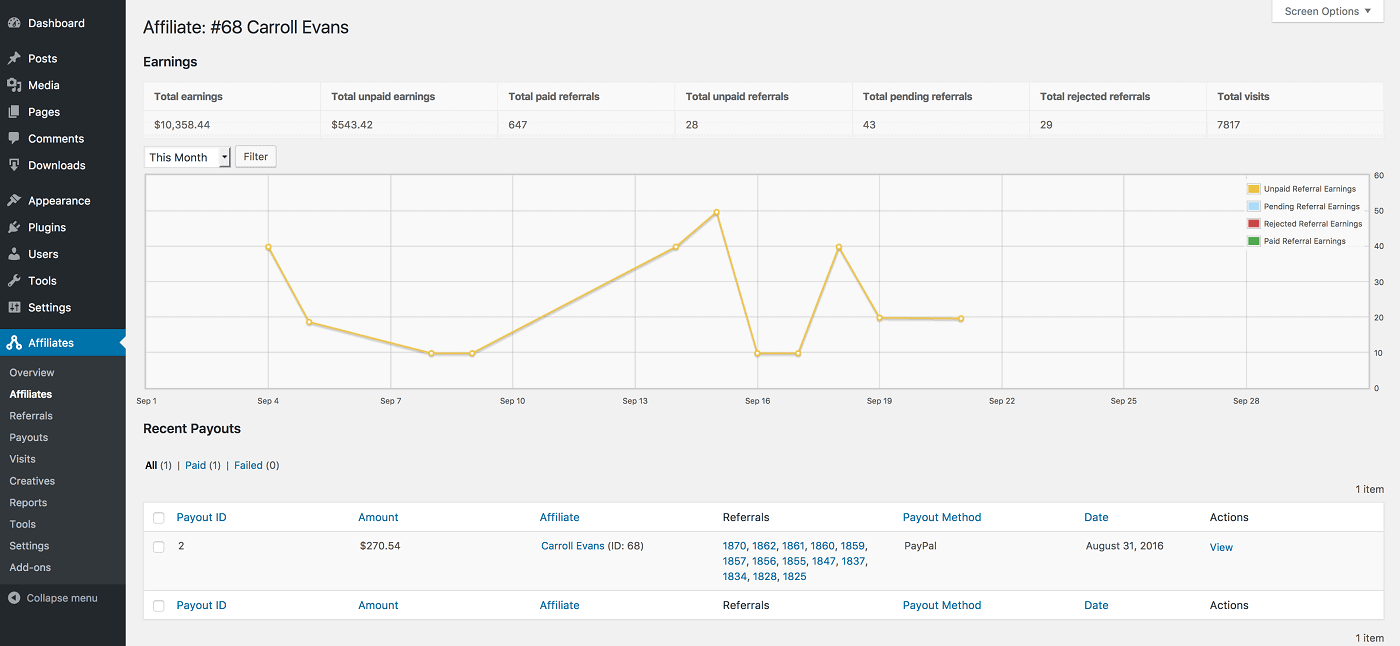 Creatives – Add marketing materials
The plugin provides a creative section wherein you can add banner images, graphics, text links, and other items to your website. For each creative, you can easily add an image or link text, and then specify a URL to a page on your website. This helps your affiliate promote your brand better.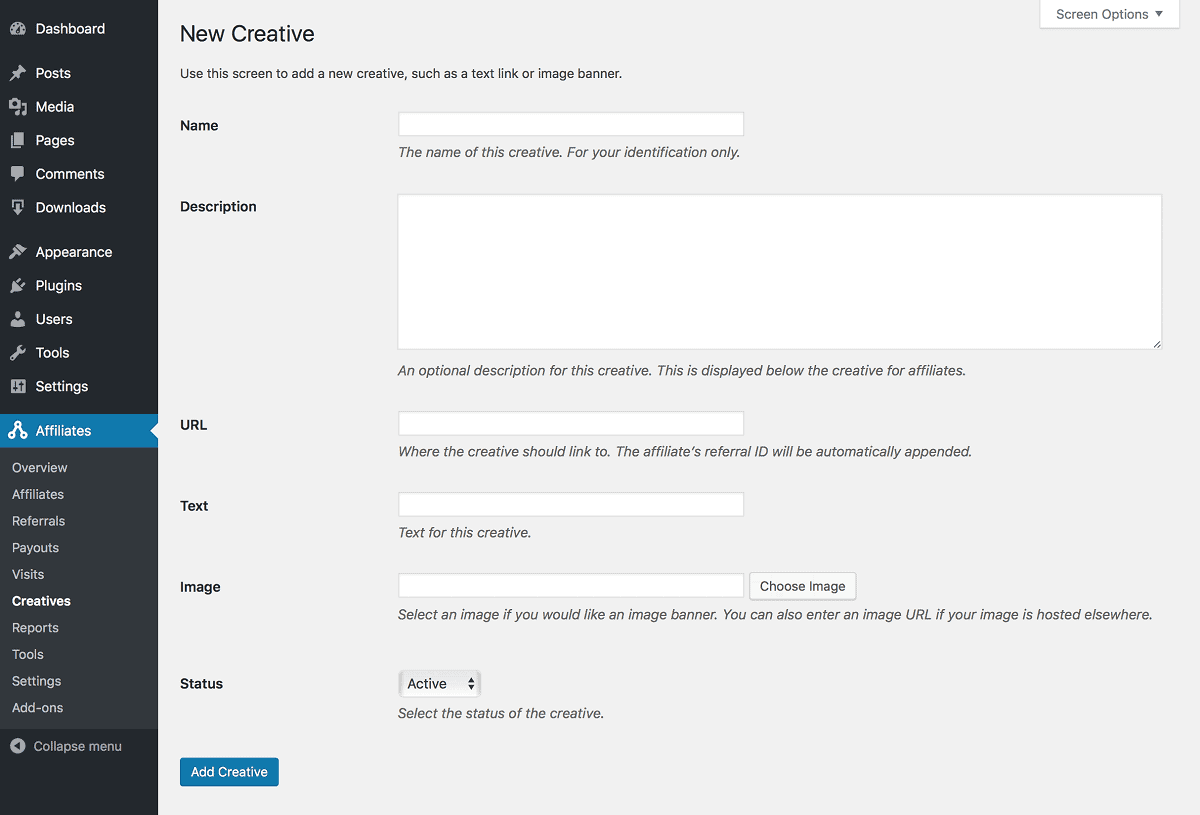 Payouts
You can use the Payouts tab to view payout details.
When it comes to making the payments to your affiliates, you can use the Generate Payout file tool on the referrals page in the back end. This will create a CSV file containing the payment details for all of the unpaid referrals in a date range of your choosing.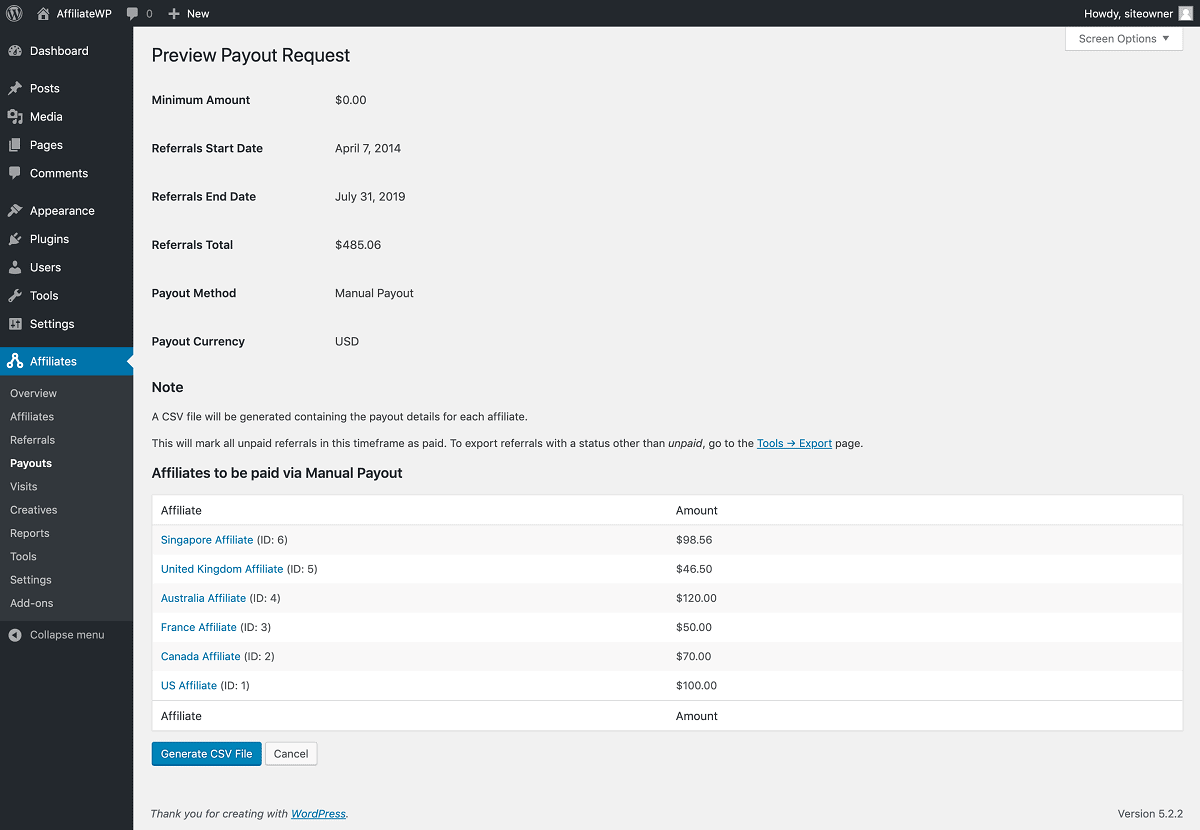 With that said, let's see how Affiliate for WooCommerce plugin helps set up your affiliate program.
Setting up affiliate program using Affiliate for WooCommerce
Setting up an affiliate program using Affiliate for WooCommerce plugin is very easy.
Download the .zip file from your WooCommerce account.
Go to: WordPress Admin > Plugins > Add New to upload the file you downloaded.
Activate the extension. That's it.
The plugin provides the following settings for the affiliate program under WooCommerce > Settings > Affiliate.
You can use a shortcode [afwc_registration_form] on any page or post of your site. This will show the registration form to visitors on your site and they can request to join your affiliate program.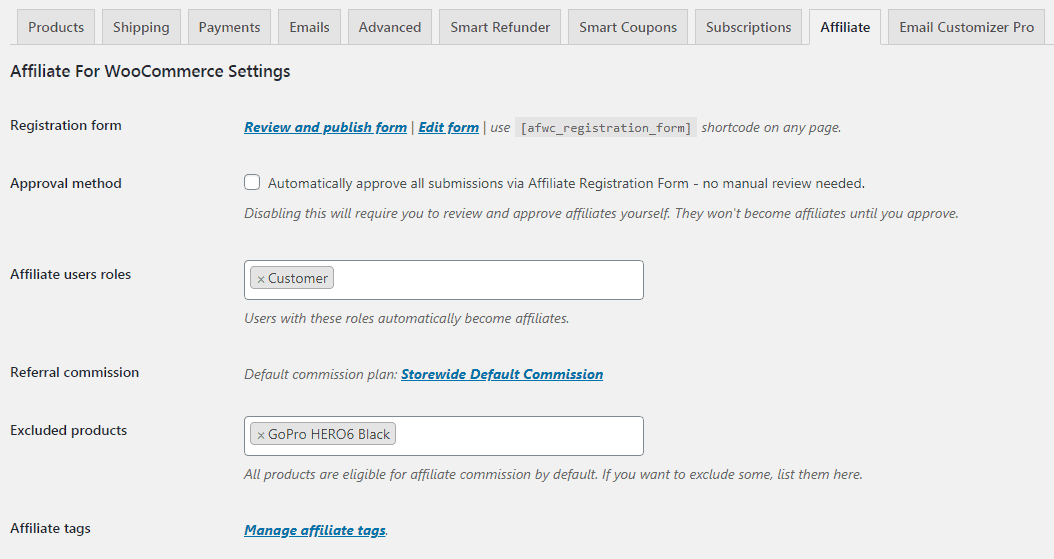 Additionally, you can also select some users roles to automatically make them your affiliates.
Set global commission rate, payout settings, coupons for referral and other settings and you are done.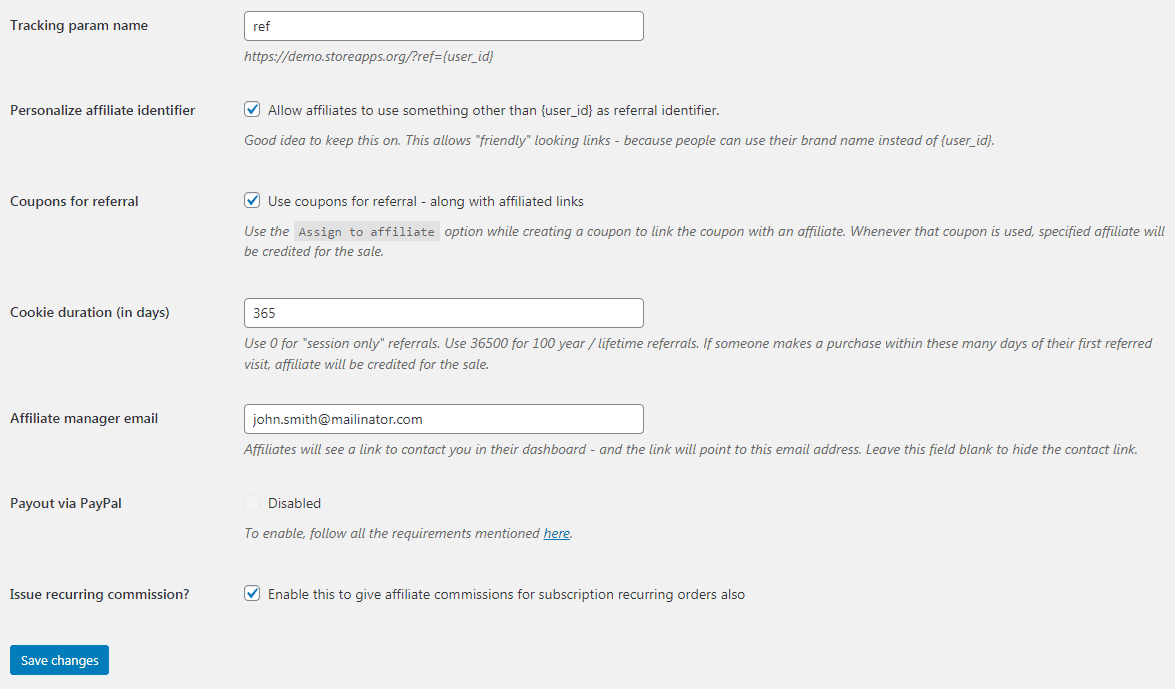 Your affiliates will find their referral ID / coupons from their My Account > Profile. They need to suffix it in the URL of any product they want to promote.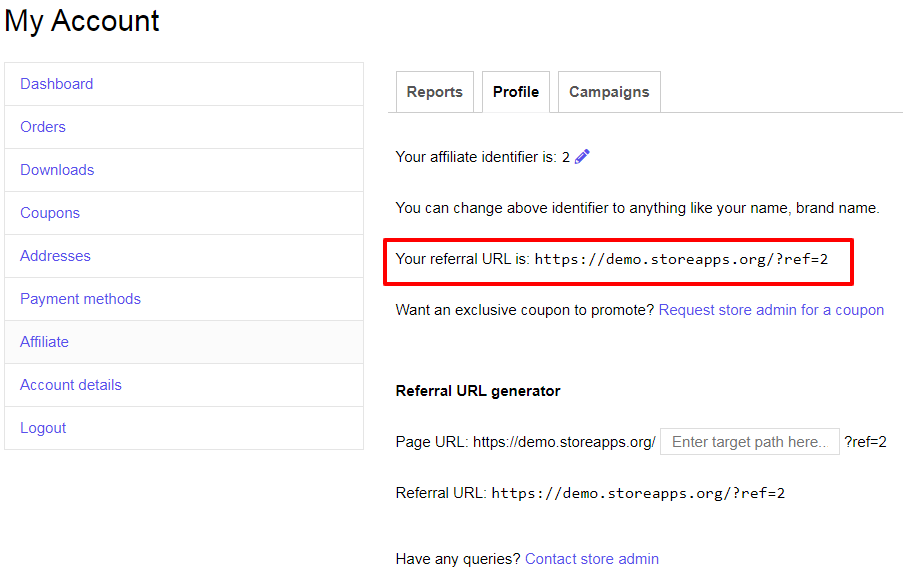 Dashboard, affiliate tracking and more…
This is another area where Affiliate for WooCommerce plugin shines. You can manage everything from a single dashboard – affiliate tracking, campaign creation and payouts.
No switching to multiple dashboards / screens like AffiliateWP.
Affiliate reporting
The plugin provides two dashboards – one for store admin and one for your affiliates.
Here's what the dashboard shows for store admin: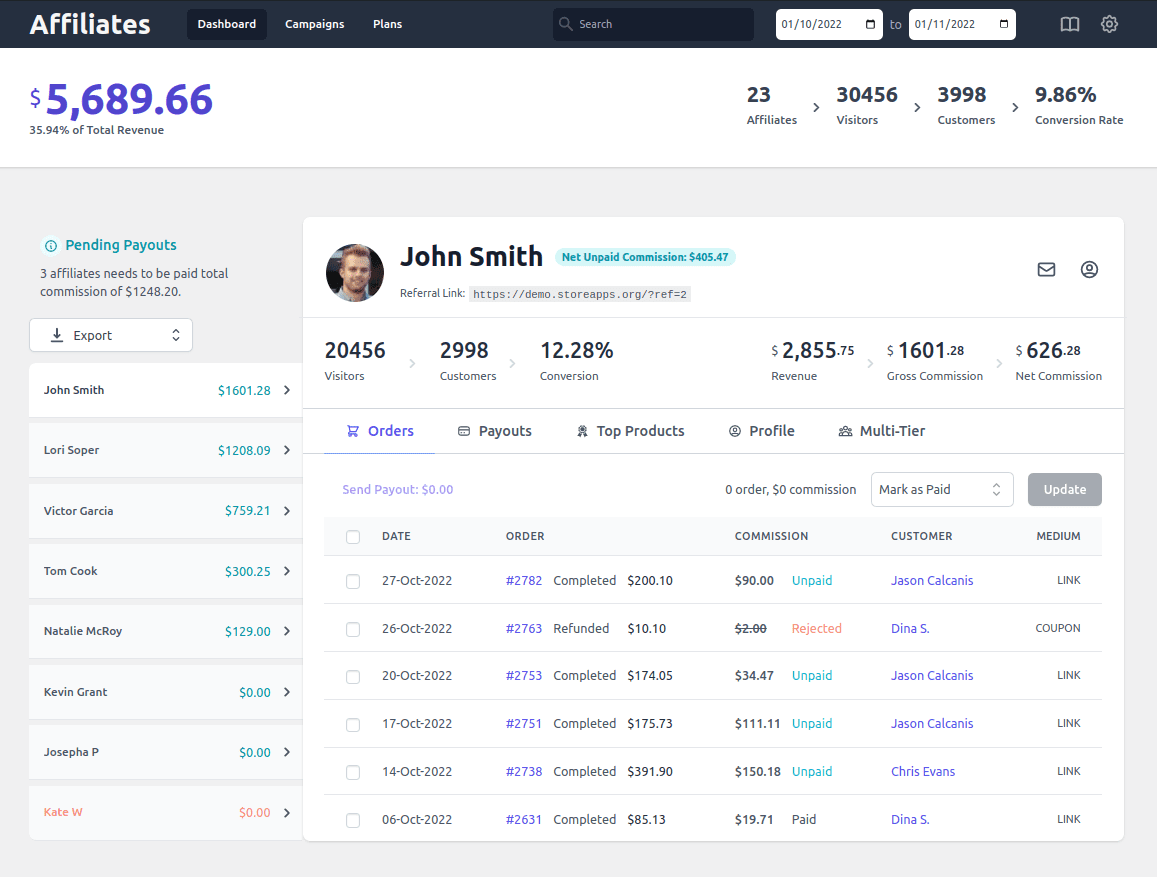 Net affiliate sales
Unpaid commissions
Refunds
Visitor, customers count and conversion rate
Complete details of each affiliate – Payment method, order date, commission paid, payouts, products sold, tags.
Here's what the dashboard shows to your affiliates: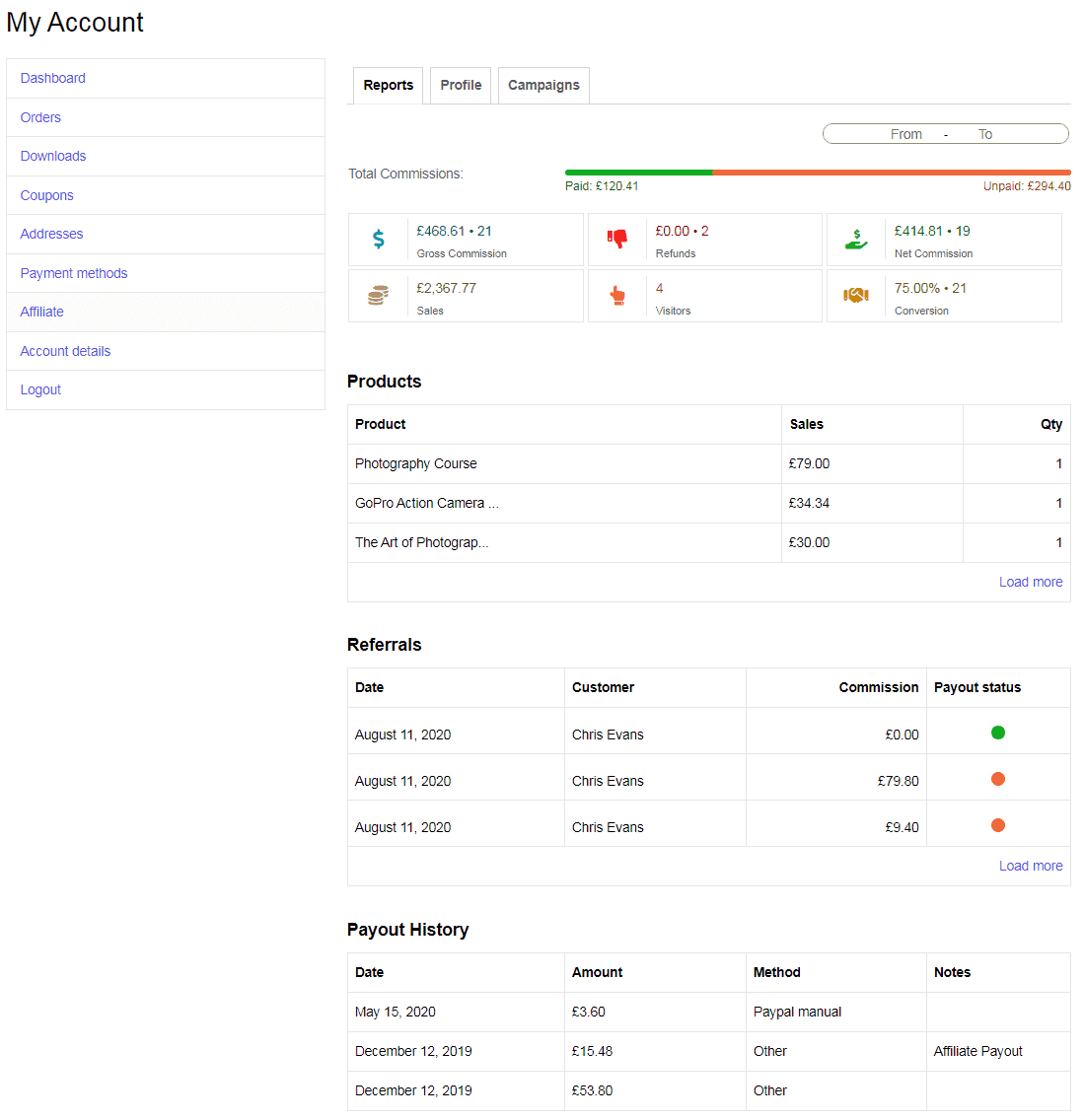 Gross and net commission
Total sales and conversion rate
Commission earned from each customer
Payout history
Product wise commission: This will show each product purchased with quantity and how much earned for that product purchased via an affiliate's referral link.
Affiliate marketing campaigns
You can create affiliate marketing campaigns using your familiar WordPress editor. Add images, banners, videos, swipe files, etc. your affiliates can use to promote your brand.
Learn more about creating affiliate marketing campaigns
Commission plans
Product-based commission, affiliate-based commission, tag-based commission, or others, you can quickly set up affiliate commission plans on your WooCommerce store.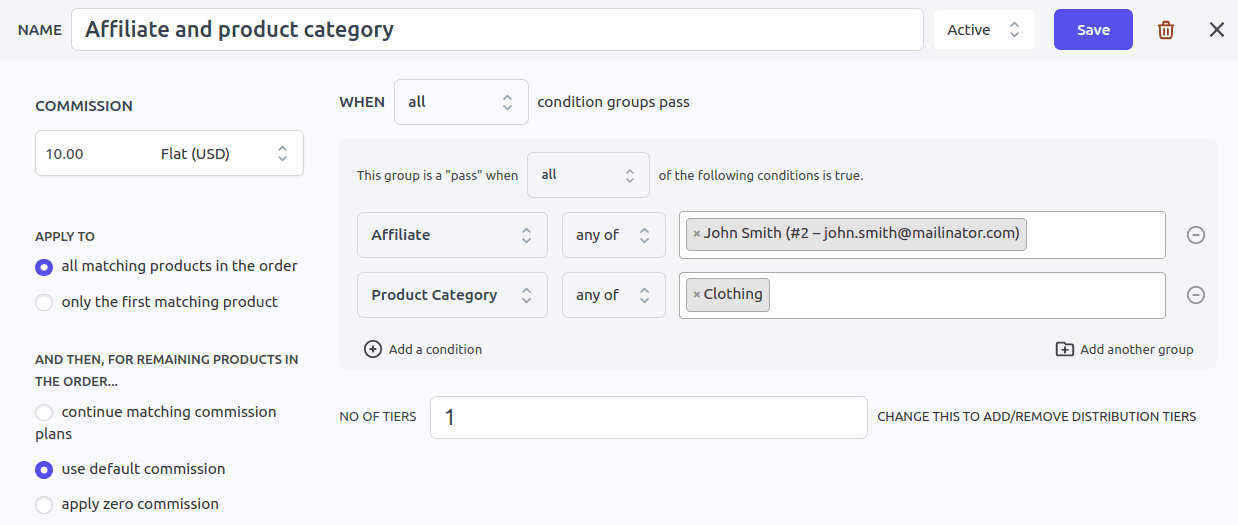 Learn more about commission plans
Payouts using PayPal or Manual payouts
For payout via PayPal, refer this doc for the steps.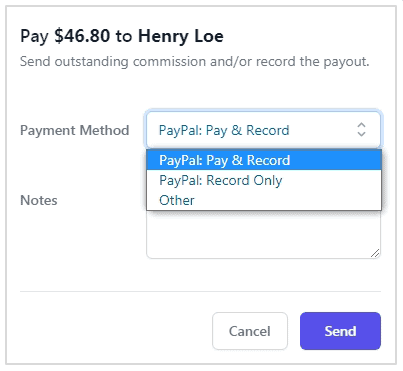 The manual commission payout is to keep track of the commission payout. The actual payment of the commission is done by you outside the Affiliate for WooCommerce plugin. It can be using a bank transfer or other payment method.
You can check for each payout made from the Payouts tab.
AffiliateWP Add-Ons and Extensions
While the core AffiliateWP plugin does include elements you need to run your own affiliate program, you need some third-party add-ons to extend the functionality even further.
The two lower-priced AffiliateWP packages get access to the 18 official free add-ons, while those who choose one of the two top-tier packages receive access to the 15 official pro add-ons (plus the 18 free add-ons).
Some AffiliateWP add-ons you may find useful:
Offer tiered affiliate referral rates
Enable recurring referrals
Instant PayPal payouts
Pay your affiliates with store credit
There are also some code snippets on GitHub that can help you to modify how the plugin works.
No add-ons hassle with Affiliate for WooCommerce
Unlike AffiliateWP, Affiliate for WooCommerce plugin boasts all the features and things you need, without providing any extra add-on, thus preventing you from spending extra bucks from your pocket.
AffiliateWP pricing
AffiliateWP is a premium plugin available on four pricing plans:
Personal: $149 — one site license
Plus: $199 — three site licenses
Professional: $299 — ten site licenses and 15 pro add-ons (plus all future pro add-ons)
All pricing options include one year of access to plugin updates and support, eighteen free add-ons.
There's also a 30-day refund policy in place, and you can also upgrade your license at any time.
Affiliate for WooCommerce pricing
Affiliate for WooCommerce costs $129.
Includes one year of support and updates.
You can buy it from WooCommerce.com
So, which affiliate plugin is better?
While AffiliateWP is a popular plugin amongst WordPress users, Affiliate for WooCommerce is the best-selling affiliate plugin on WooCommerce.
Both plugins are good for use and they don't disappoint.
If you want a WordPress plugin that has integration with WooCommerce and other popular services, some customization options, go with AffiliateWP. However, you will get stuck with multiple dashboards, clumsy UI and added cost of addons.
But, if you want a WooCommerce affiliate plugin that is simple to use, manage everything from a single place, cost-effective and has all the powerful features like AffiliateWP, go with Affiliate for WooCommerce plugin.