When it comes to looking professional and maintaining a record of orders, you can't neglect WooCommerce PDF Invoices & packing slips.
But creating, sending and printing invoices is surely not manageable with default WooCommerce.
You need some powerful plugins that do the job efficiently for you. And this article lists only the best plugins you should consider among the big lot out there in the market. Includes both free and premium plugins.
What are PDF invoices? What are packing slips? Any difference?
You may already know this. But just a quick glance if you have missed out on something.
A PDF invoice is a printable document or a bill a seller sends to their customers. The invoice contains transaction details, seller and customer contact details and most importantly, the payment details.
It used to be a plain document earlier. Now with the help of plugins, you can customize the look and feel of the documents to showcase your brand.
A Packing slip is a printable sales document that lists each item included in a shipment order.
Difference:
A packing slip is used to denote the physical goods being received, whereas an invoice is the financial document of the order. So for digital goods, there's no packing slip required.
Well, here's an interesting thing. If you order something for yourself, both documents will come your way. However, if you're buying something for someone else, you'll receive the invoice but the recipient will get the packing slip.
Why do you need WooCommerce PDF invoices & packing slips?
Quite a few reasons.
Maintain records
Know who placed the order and of how much value. It is also easy to dig through any previous order anytime if records are maintained. Further, the process becomes transparent while challenging disputes.
Quick delivery and clarity
You can automatically send a PDF invoice on order purchase. With packing slips, shipments are easy. This makes all the processes smoothly involved in the transactions.
Brand building
Thanks to plugins, you can customize the order invoices / shipping invoices to add your brand elements – logo, colors, etc. Professional invoices will help your clients trust you and get through the payment process with ease.
Accounting & Compliance
Many of the WooCommerce PDF Invoices plugins provide options to choose multiple fields for tax rates on the invoice. Additionally, this gives more flexibility when you are selling to multiple countries.
Saving resources
If you do not choose to print invoices but send via email, you are saving money on paper and printing. It also reduces the customer support involved if the invoice is delayed or lost during transit.
Seven best WooCommerce PDF invoices and packing slips plugins
Running a WooCommerce store involves a lot of tedious tasks. Generating PDF invoices and packing slips is one of them.
And you can't afford to spend time dealing with creating and printing PDF invoices.
In fact, sending professional and functional invoices to your clients doesn't have to be a headache. With the following WooCommerce PDF invoices plugins, you can create and send invoices to your clients in a matter of minutes.
WooCommerce PDF Invoices & Packing Slips Professional
With 300,000+ active installs and around 1170 five-star reviews, WooCommerce PDF Invoices & Packing Slips plugin is the most popular one.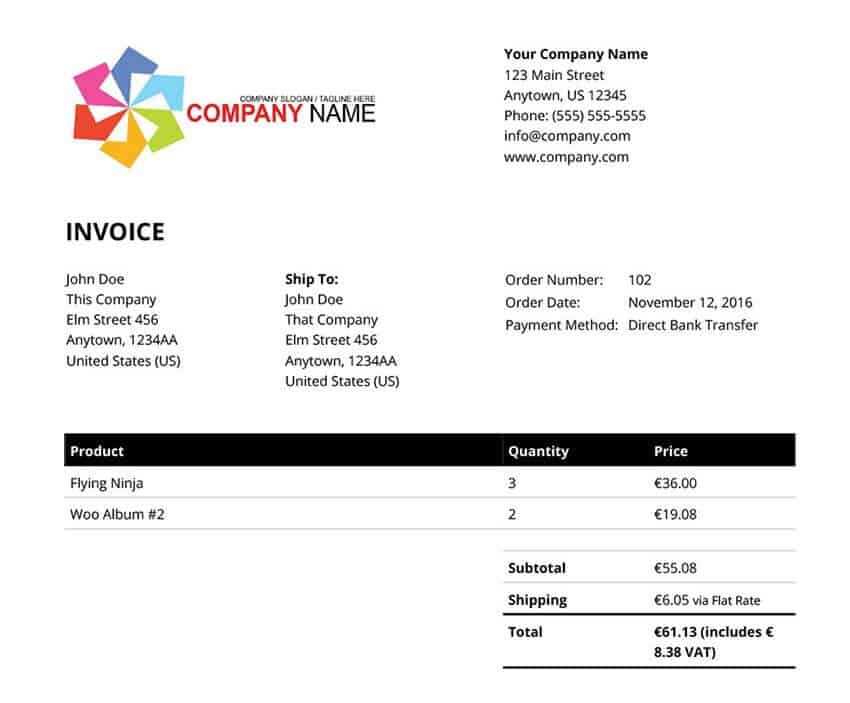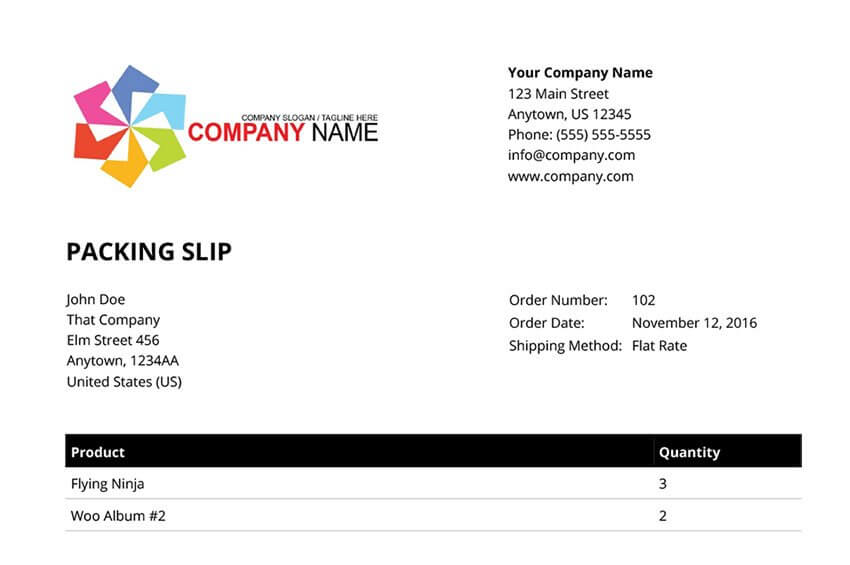 Top features:
Automatically attach invoice PDF to WooCommerce emails of your choice
Download the PDF invoice / packing slip from the order admin page
Generate PDF invoices / packing slips in bulk
Fully customizable CSS/HTML packing slip templates
Sequential invoice numbers – with custom formatting
Available in 15+ languages
Insert custom header image / logo
Modify shop data / footer / disclaimer etc. on the invoices & packing slips.
These were about the free version of the plugin on WordPress.org.
You need to get their paid extension to create / email PDF proforma invoices, credit notes (for refunds), email packing slips, automatic upload to Dropbox, etc.
Pricing: Free version on WordPress.org, Paid versions from 59 Euros.
Get WooCommerce PDF Invoices & Packing Slips Professional plugin
WooCommerce Print Invoices & Packing lists
This is a premium, yet popular plugin that sells on WooCommerce.com. The best part about this plugin is you don't require coding whatsoever.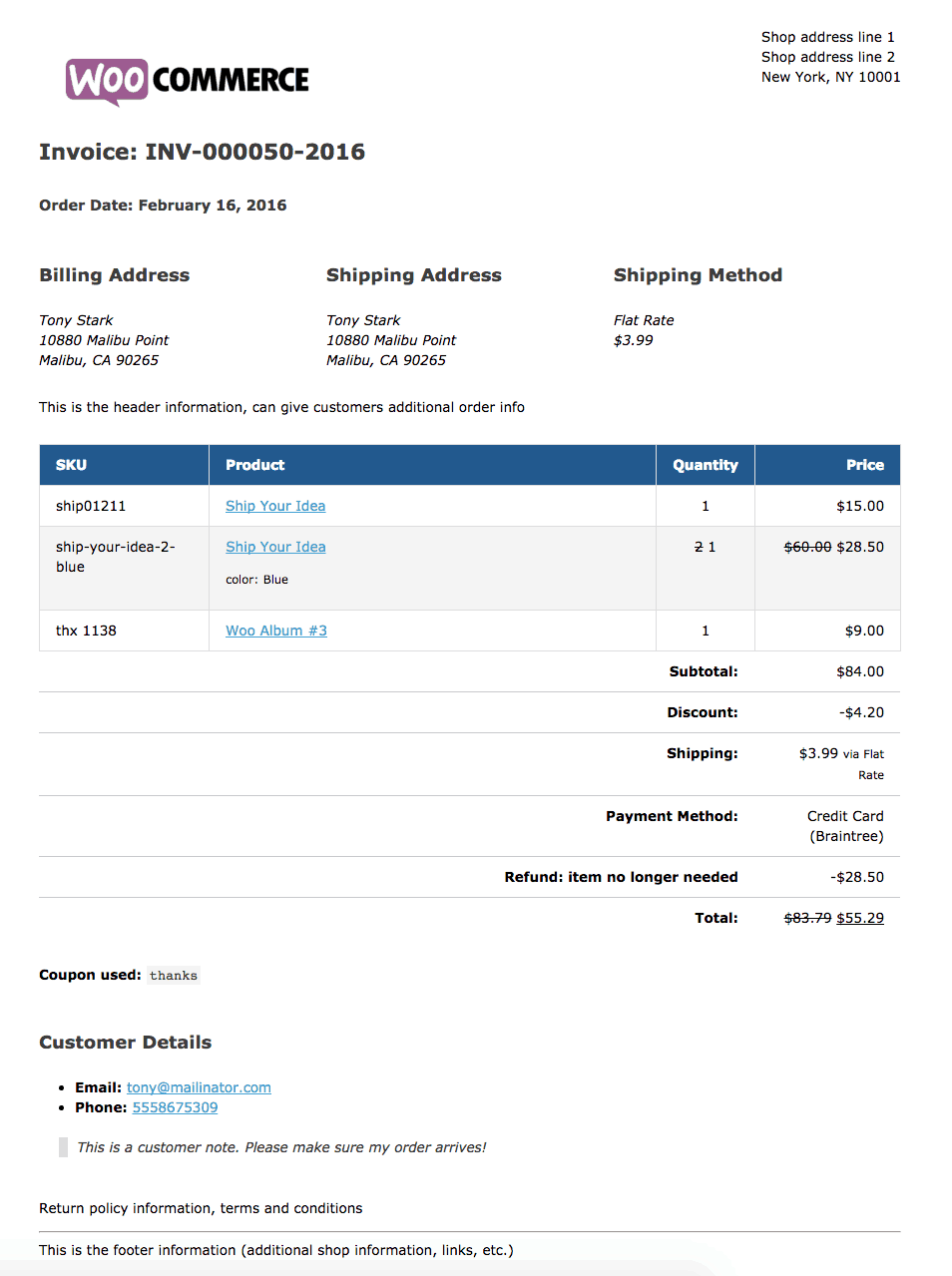 Top features:
Print order documents straight from the Orders page (individually and in bulk), while editing orders.
Allows customers to view invoices from the "My Account" page
Customize document appearance and information with a live preview using the WordPress Customizer.
Email invoices / packing slips on a per-order basis or in bulk. Emails will be sent only when an order is paid for.
Sort items on packing lists by category for faster order fulfillment
Automatically email packing lists to shop admins for new orders
Print pick lists for multiple orders to help with mass order fulfillment
Pricing: $79
Get WooCommerce Print Invoices & Packing lists plugin
Smart Manager
Smart Manager is a surprise entry to this list. Not just because it's a PDF invoice plugin, but it's a full-fledged store management plugin.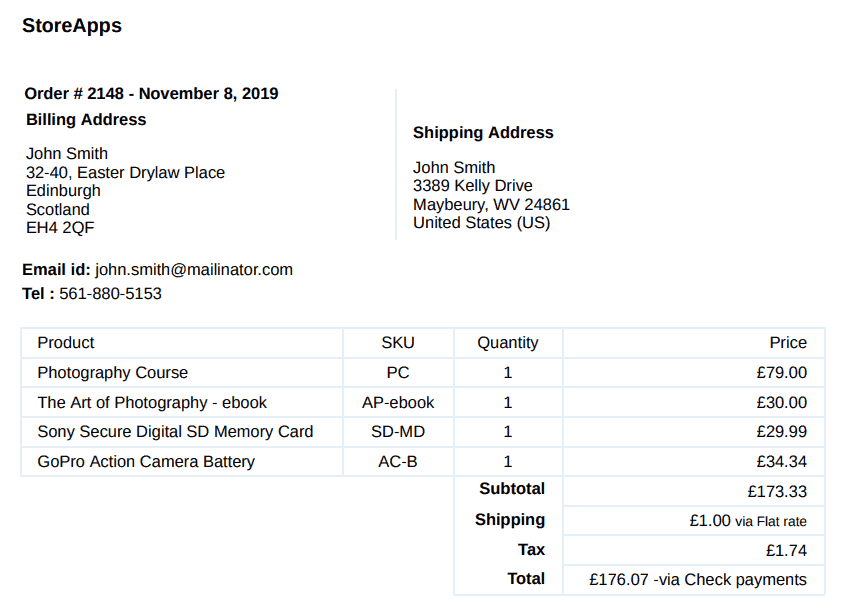 Features related to PDF invoices:
Generate and print WooCommerce PDF Invoices in bulk or individually.
View all your orders at one place, edit them directly and then print invoices.
Add your brand logo to the invoices
Apply search filters to print only those invoices for the orders you want.
Print order invoices PDF for a particular date range, precise time.
Powerful store management features:
If you just want a plugin for PDF invoices, there are plenty of options. But if you want a complete store management solution that also includes generating PDF invoices quickly and easily, stick with Smart Manager.
Pricing: Free version on WordPress.org, Paid version for $149.
WooCommerce PDF Invoices
WooCommerce PDF Invoices is also a feature-rich plugin on WordPress.org with 20000+ active installs and around 400 five-star reviews. There are quite a few things in the free version. However, better features are in the premium extension.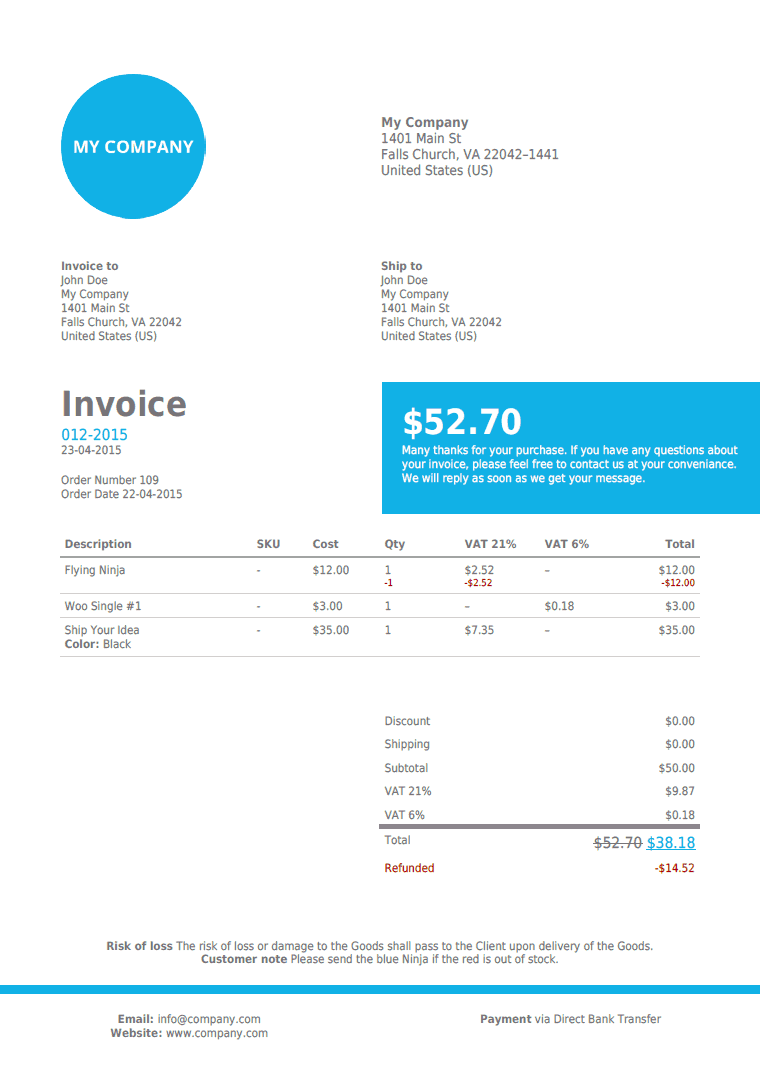 Top features (Free version):
Automatic PDF invoice generation and attachment
Manually create or delete PDF invoices
Attach PDF invoice to multiple WooCommerce email types of your choice
Generate PDF packing slips
Connect with Google Drive, Egnyte, Dropbox or OneDrive.
Multiple clean and highly customizable PDF Invoice templates
WooCommerce order numbering or built-in sequential invoice numbering
Advanced items table with refunds, discounts, different item tax rates columns and more…
Top features (Paid version):
Bulk generate PDF invoices
Send credit notes and cancelled PDF invoices
Fully customize PDF invoice table content by modifying line item columns and total rows.
Let customers decide to generate a PDF invoice on checkout
Change the PDF invoices font
Pricing: Free version on WordPress.org, Paid versions from 59 Euros.
Get WooCommerce PDF Invoices plugin
PDF Invoices
Another plugin on WooCommerce.com, simple to use and loaded with powerful features.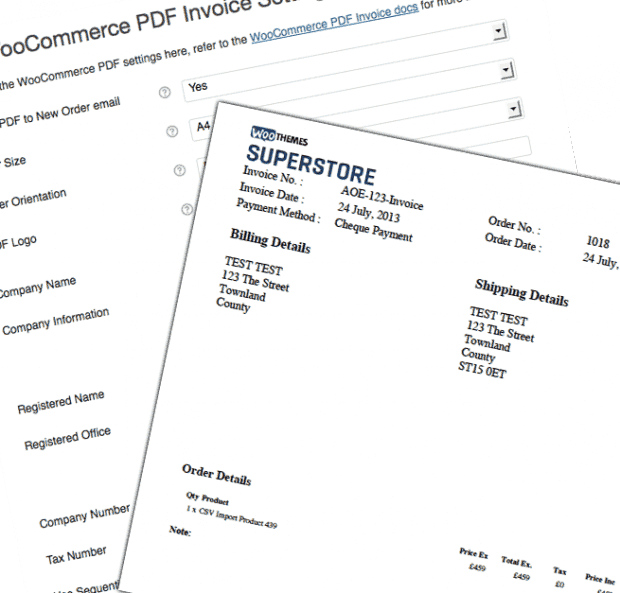 Top features:
Customizable invoice template
Legal company information sections like tax number
Sequential invoice numbering
Attach PDF to "New Order" email for admins
Add logo image to PDF
Customize date format
Customize invoice number format
Add / Remove columns from the invoice using filters
Resend Invoice or download invoice from the order list
Invoice info meta box on edit order screen
Hooks and Filters to to change one or two of the output strings like VAT number
Pricing: $79
WooCommerce PDF Invoice
WooCommerce PDF Invoice is a popular plugin on CodeCanyon. The developers behind this plugin claim it as the most professional WooCommerce invoicing extension in the world.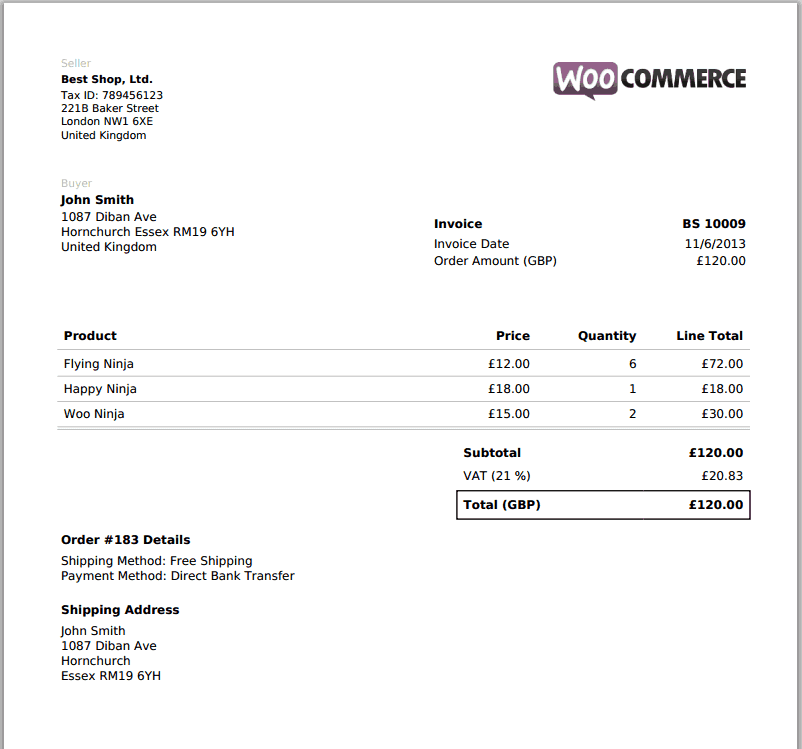 Top features:
Automatically generates invoice for each new order.
Invoice PDF documents get attached to standard WooCommerce emails
Detects currency that is used in your store as well as other settings
Proforma invoices available for all new orders by default.
Advanced buyer details block editor to match any possible formats
Built-in proprietary document numbering system
Protects from duplicate invoice numbers and gaps in the numbering sequence
Supports tax as configured in WooCommerce and displays tax rows in the totals block.
Easily add and modify footer content
Possible to use any custom order field as macro.
Pricing: $59
Get WooCommerce PDF Invoice plugin
Print Invoices & Delivery Notes for WooCommerce
Print Invoices & Delivery Notes plugin is completely Free. It has 50,000+ active installs on WordPress. The plugin adds a new side panel on the order page to allow shop administrators to print out the invoice or delivery note.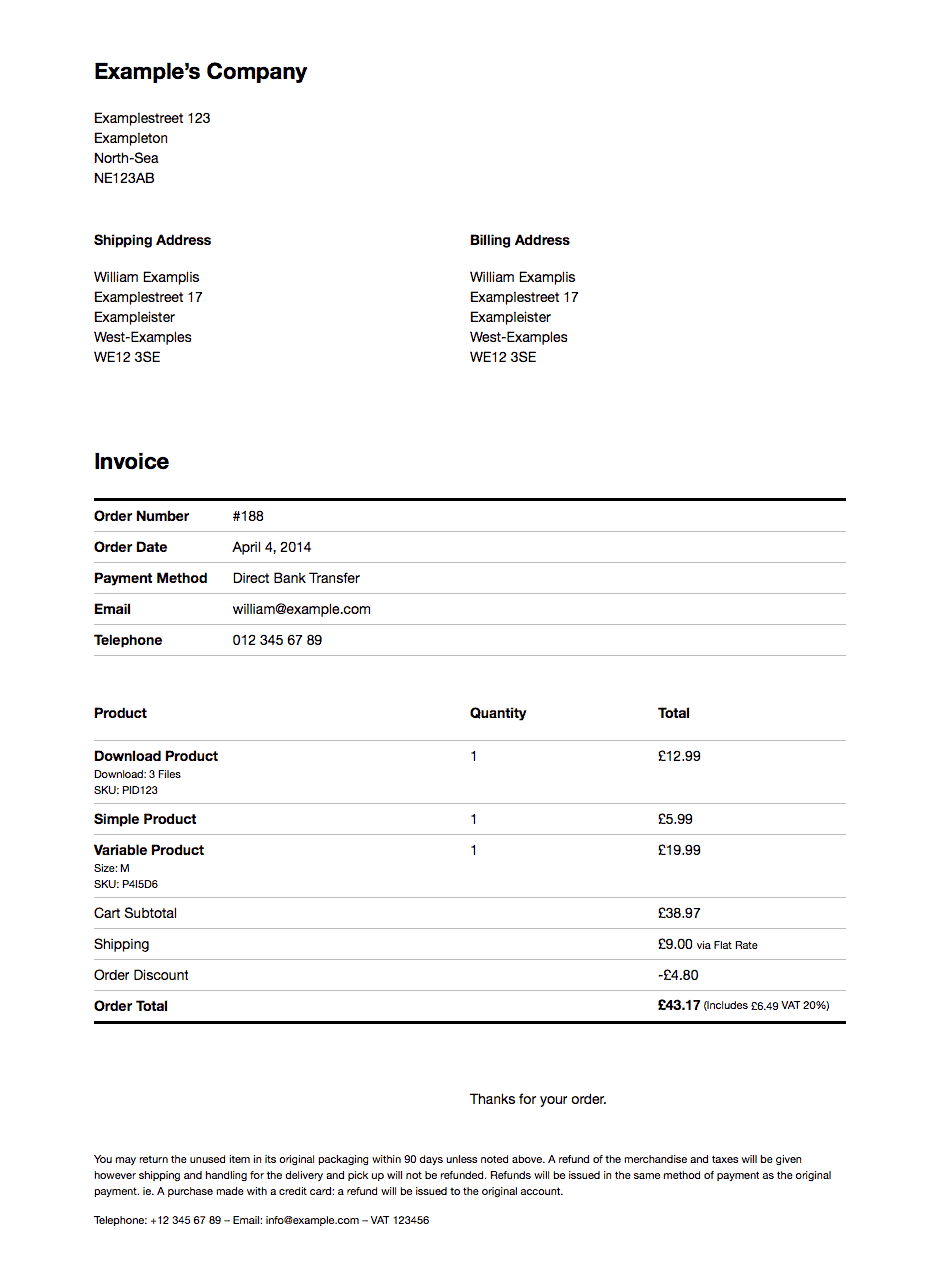 Top features:
Bulk print invoices and delivery notes
Allow customers to print the order from the "My Account" page
Include a print link in customer Emails
Completely customize the invoice and delivery note template
Supports sequential order numbers
Supports the WooCommerce refund system
Intelligent invoice and delivery note template system with hooks and functions.php support
Pricing: Free
Get Print Invoices & Delivery Notes plugin
So, which is the best plugin?
Well, that's a tough choice. All are good though.
If you are just looking for a simple PDF invoice solution (print in bulk) and also that can help manage your entire WooCommerce store 10 times faster, go for Smart Manager.
But if you want only a full-fledged PDF invoices and packing solution, you can opt-for WooCommerce PDF Invoices & Packing Slips Professional.
The bottom line, choose what your needs are. The best options are in front of you.