Stock management is stressful and every store owner knows it. But as the business grows, it will be even more stressful and time-consuming. And if you don't have a well-supported system, your business will be in chaos.
That's why we've put together this article to tell you about a cool solution for WooCommerce stock management. It will help you stay in control and achieve your tasks stress-free and with ease.
Read below to find out how.
The default WooCommerce stock management – hits and misses
Managing stock with default WooCommerce is straightforward if you're just handling finished products.
Make sure to tick the 'Enable Stock Management' box first. Keep uncheck to disable stock management.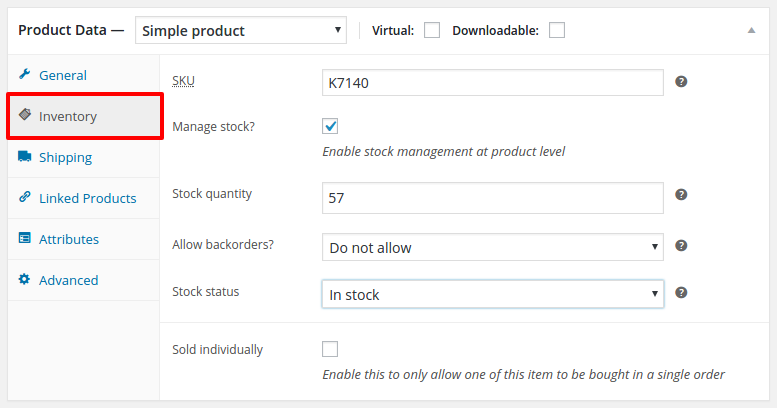 First, you need to add your product, set prices, SKU, taxes, shipping, and other details.
Read the complete steps in creating a product
Another thing, under WooCommerce > Settings > Products > Inventory, you can set some stock parameters to get notified via emails about your stock nearing zero or out of stock.
For about ten products, this is a good option.
But it has its limitations
What if you have 50 or 100 products, would you repeat this entire procedure? Imagine about 500 or 1000 products. What if you want to reduce the sale price by 20% of all products?
You can't update the products directly. You need to go to each product's edit screen to make a change. It's a very time-consuming process.
Also, you can't update all product prices or other fields in bulk for all product types.
The search filters are also not that good.
But the good news is that there are great plugins out there to manage your stock quickly and easily.
Something that takes away all your store management burden, saves you money and makes your life better. And that solution is Smart Manager.
Stay in full full control of your WooCommerce stock management with Smart Manager
A good stock management solution is an absolute must for every serious store owner. And Smart Manager gives you full control of your WooCommerce stock or inventory.
It lists all your products; not just simple products but also variable, grouped, affiliate, subscription…any type along with their stock fields in an Excel-like spreadsheet.
This makes it very simple to add, delete, modify any stock fields directly. (Inline edit)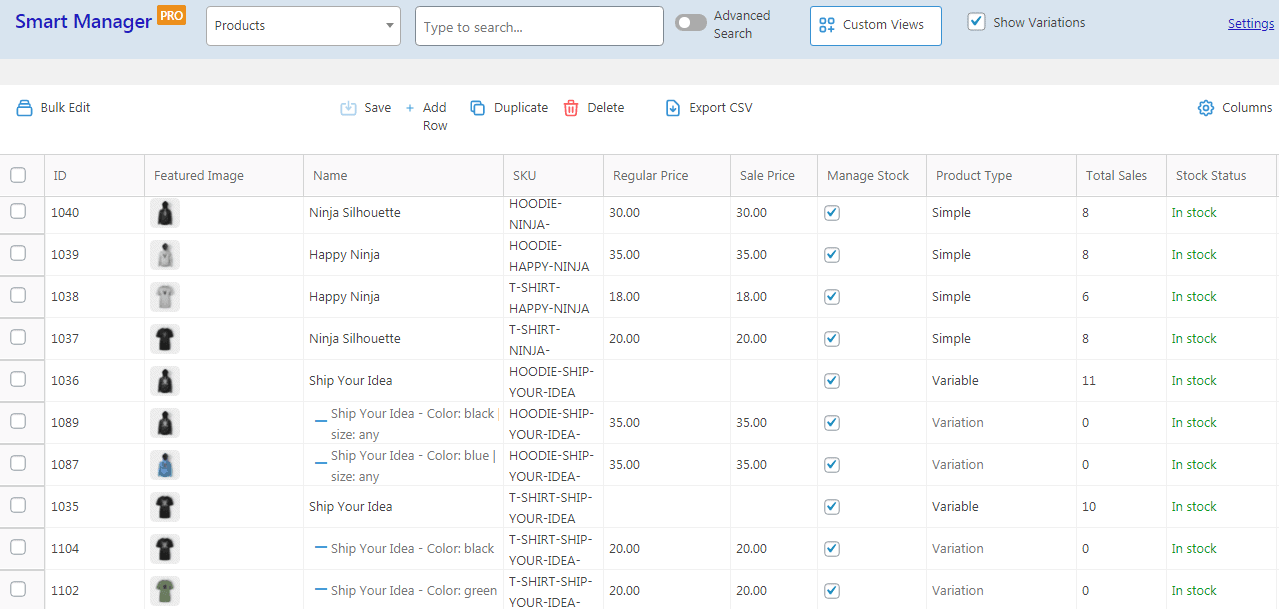 You can also edit all the stock fields in bulk – for all products or based on filters. Bulk stock management was never so simple.
Accomplish these stock management tasks from a single place
Add new stock directly
Directly add any number of new products to stock from the spreadsheet.
Manage stock for each product
Enable or disable the 'Manage stock' for each product.
Manage stock variations
Not just simple products, but also manage stock of product variations, affiliate, subscription…all product types. Set SKU, Stock status, the price for each.
Set regular price, sale price
Both can be different if you run an offer. In any case, you can edit the prices in bulk.
Set sale price based on the product's regular price using bulk edit.
Increase or decrease sale price by X% of regular price for all or selected stock items during offer period.
Increase or decrease sale price by X amount for all or selected stock items.
Bulk edit all stock fields
Bulk edit is Smart Manager's USP.
Not just price, but also stock status, inventory, etc. all can be updated in bulk.

In the above example, we update the following parameters for all products in bulk – sale price, stock, additional description and tax status. Perform operations like append, prepend, increase, decrease, set to, copy from, etc. using bulk edit.
Bulk edit stock quantity for each location
Smart Manager would automatically scan your WordPress database and let you manage any custom field for any custom post type. This means if you are using any WooCommerce product vendors or multi vendor or multi-store plugins to manage stock, you can manage fields for these plugins.
So, when you have multiple stock at different locations or warehouses and want to update quantity in bulk at each or selected locations, do it directly using the Smart Manager dashboard.
Real-time stock updates
For every sale made, you'll see stock quantity updated automatically.
Set Backorders
Get to know when a product goes out of stock to place an order with your suppliers.
Simple and advanced stock filters
Filter stock based on stock status, SKU, price, etc. Apply OR, AND or a combination of both conditions to fetch desired results amongst thousands of items.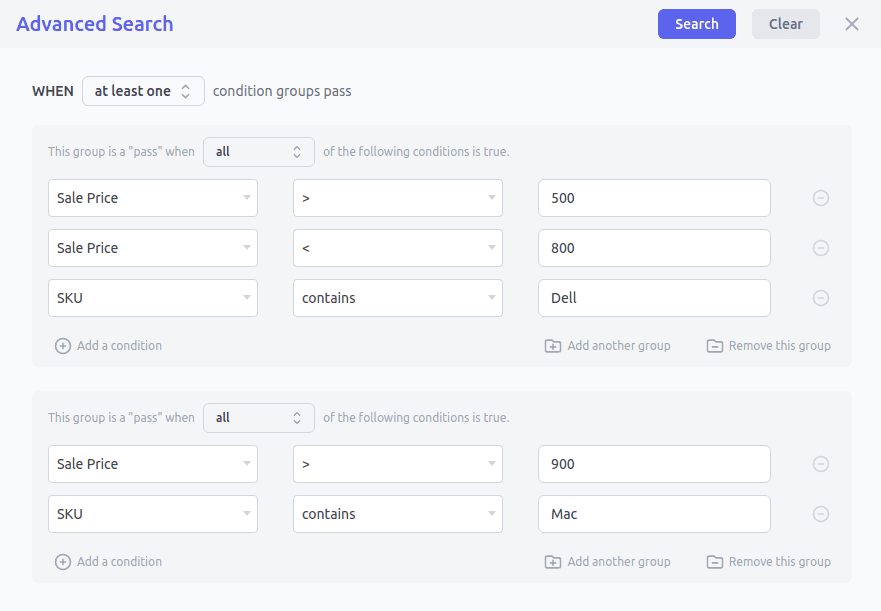 In the above example, we applied search filters based on SKU and sale price to fetch our required products.
Personalized stock management view
Show only stock-related data columns and hide all other columns to focus only on your stock or inventory-related metrics. Also sort products by name, SKU, price, etc. before making an export.
You also get predefined custom views – Product Stock & Product Price List.
Export stock data
Export only those stock data as CSV which you need. Like the name and stock quantity. These will let people at your shop or warehouse know which product needs quick replenishment, which product stock is slow-moving, etc.
Delete stock
Delete individual stock, using filters and using bulk edit. Learn more about how to delete all products safely.
Taxes, shipping and more…
Add Tax status, Tax class, Shipping class, features images, product thumbnails for each product. Add attributes, edit categories and product status.
Manage stock fields added by custom plugins
Smart Manager is compatible with these top WooCommerce plugins – Subscriptions, Bookings, Memberships, Product Add-Ons, Cost of Goods. You can easily manage all stock and product fields added by these plugins.
With such ease, don't you feel Smart Manager is the best WooCommerce stock management plugin?
Other powerful Smart Manager features:
Bulk edit any fields of any post type quickly – orders, coupons, posts, etc.
Add your own logo to order printing and also print PDF invoices in bulk.
Know the lifetime value (LTV) of all your customers along with their total purchases to date and last order details.
Manage media directly – add, delete 'Product Gallery Images'.
Manage WordPress user roles – change user role, change password, etc.
Conclusion
Look, you are here to grow your business and not waste time on mundane tasks.
As your business grows, WooCommerce stock management will get difficult and challenging. But if you have Smart Manager plugin with you, the challenges won't trouble you.
Your decision to buy Smart Manager today will reap your benefits for a lifetime. Get it now.
Until next time, happy selling!