WooCommerce is the most popular and easy-to-use e-commerce platform to sell products.
But if you want to analyze how your business is actually doing, the WooCommerce reports are quite basic and data is also not accurate.
To grow your business, get better insights into your customers, orders, subscriptions and other business KPIs, your only option is to switch to some WooCommerce analytics plugins.
In this article, we will see the basic WooCommerce reports and how a tool like Putler can reveal in-depth insights into how your business is actually performing. And also provide you with subscription reports.
Old vs new WooCommerce analytics and reports
Since the release of WooCommerce 4.0 in March 2020, the default WooCommerce reports are deprecated and won't receive further updates.
There is a new and better Analytics section for users running WordPress 5.3+.
Let's see the difference between these old and new WooCommerce analytics reports:
Old WooCommerce reports
The default WooCommerce reports included four sections: Orders, Customers, Stock, and Taxes.
To view these reports, go to WooCommerce > Reports.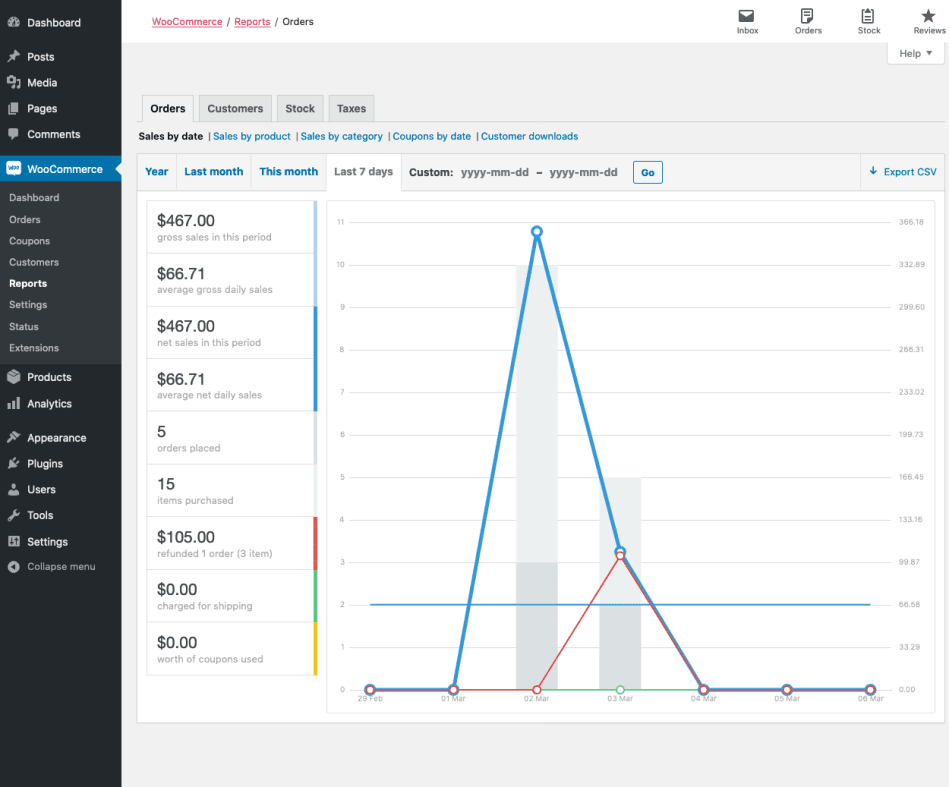 WooCommerce order reports / sales reports
View your gross and net sales volume and totals, top sellers, top freebies, top earners, and product downloads.
Note – By default, orders marked as Processing, On Hold and Completed are counted as sales.
These WooCommerce sales reports have further sub-sections:
Sales by date – View your sales via a sales graph for different date ranges; by year, last month, this month, last 7 days, and a custom date range.
Sales by product – Shows the sales per product based on different date ranges.
Sales by category – View sales numbers by category.
Coupons by date – Shows discounts in total and number of coupons used.
Customer downloads – Downloads are tracked and logged as per a unique customer ID.
Customers report
This report gives an overview of customers vs. guests and customer list (registered users) with options to further sort them by date ranges.
Stock report
Lists your low in stock, out of stock and most stocked products.
Taxes report
View your taxes by code (state) and taxes by date.
These are the basic WooCommerce reports. All these reports besides the stock one have the option to export to CSV.
New WooCommerce analytics (little advanced)
The new WooCommerce analytics is a step ahead of the default WooCommerce reports.
It introduces new reports along with advanced filtering and segmentation tools.
You'll find these reports under your WordPress Admin panel > Analytics.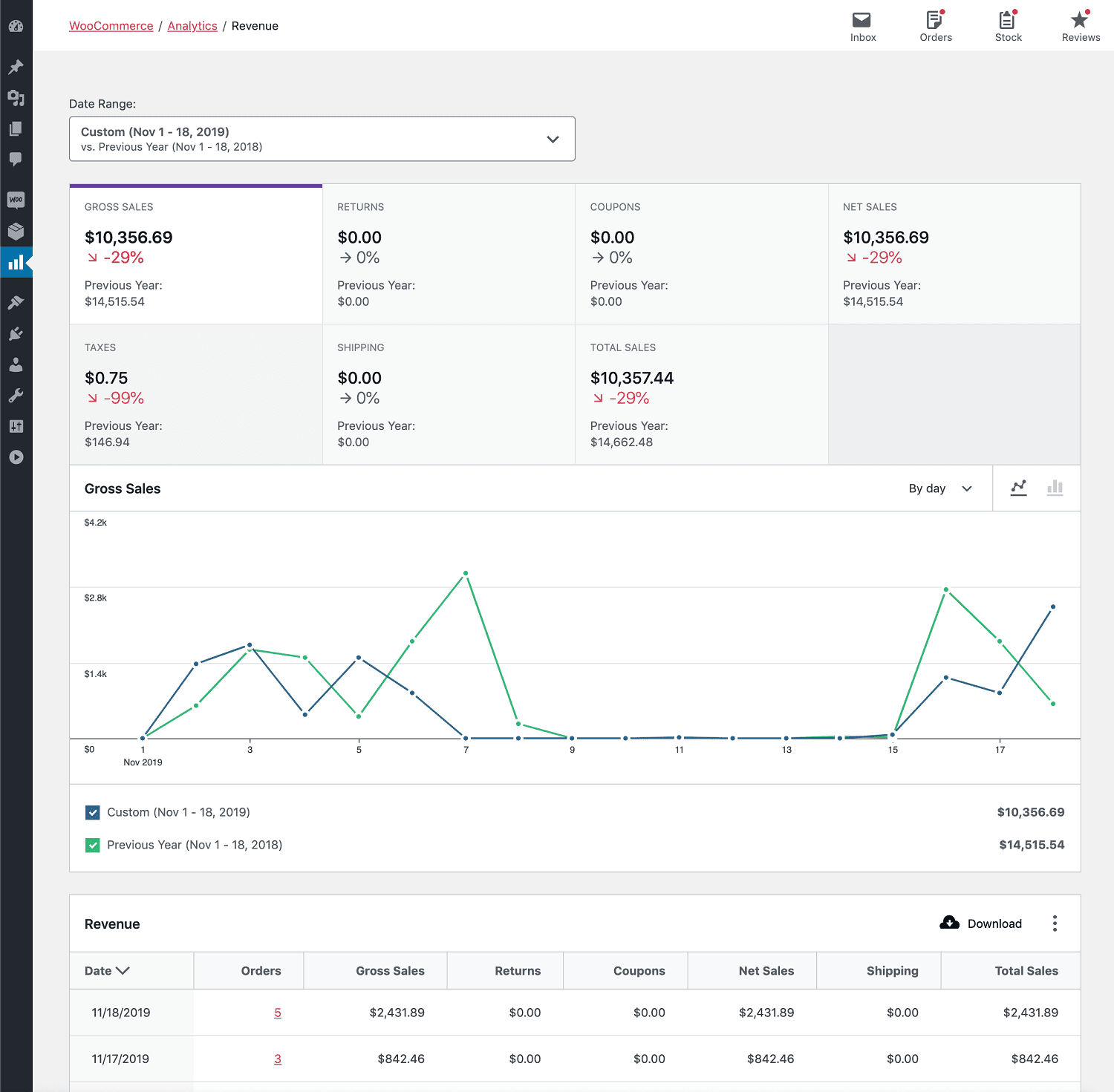 Revenue report
The Revenue Report provides insight into the daily revenue of your store. A row is included for each day to check for orders placed on that day.
Orders report
The Orders Report provides insight into your store's orders.
The Orders report is sorted with non-excluded statuses in descending order by default. Excluded statuses can be edited on the Settings page.
However, refunded orders cannot be excluded from the orders report. Refunded orders have two rows in the report:
Date of the original order
Date of refund
You can filter data by order status, products, coupon codes, customer type, refunds, tax rates and product attributes to gain some insights.
Products report
The Products Report provides insight into the sales performance of each product in your store.
The report displays the All Products view by default. All products that fetched sales in the specified date range will be shown.
You can also use the checkboxes in the report table to select products for comparison.
Variations report
The Variations Report provides insight into the sales performance of each Product Variation in your store.
Categories report
The Categories report is sorted by the number of Items Sold by category in descending order by default. You'll find the sales amount for a product included in the totals of all assigned categories. Know more.
Coupons report
Shows all the coupons for the selected date range. You can filter reports by coupon name and also compare coupons. Know more.
Downloads report
The Downloads Report provides insight into the performance of your store's downloadable products.
Stock report
The Stock Report provides insight into your store inventory. This report is available only if the Enable stock management option is checked.
Taxes report
The Taxes Report provides insight into taxes collected on your store.
Customers report
This report is separate as you will find it under WooCommerce > Customers.
You will find some interesting metrics for your customers – where they live, when they may have registered, and how they've spent money. You can also filter customers by specific names, country, average order value, etc. Know more.
These reports seem quite better than the basic WooCommerce reports. However, these reports also lack when compared to what the best WooCommerce analytics plugins have to offer:
Overview of metrics and not deep insights.
Only single store reporting. For multiple stores, you need to log in to individual stores.
Simple filters for date, order type and order status, but not advanced.
Slow and inaccurate data is reported sometimes.
No in-depth segmentation.
No subscription metrics.
Long story short, for a better and exact view of how your business is actually performing, you need to switch to a solution that eliminates all the drawbacks.
Is Putler the best advanced WooCommerce reporting tool?
Putler gives you a clear picture of your business performance and the leverage to use all the data – sales, orders, customers, products, subscriptions to make data-driven decisions.
Not just reports and analytics, Putler also provides you with segmentation, forecasting, filtering, custom segments, CSV export, comparison features to get better insights about your WooCommerce business.
It connects multiple payment gateways and e-commerce platforms – PayPal, Stripe, WooCommerce, Shopify, Google Analytics, etc. and also dedupes and enriches data, so you get accurate and real-time happenings of your store.
Here's what Putler's advanced reports for WooCommerce and other platforms offer:
Home dashboard
Provides an overview of your entire business by showcasing important performance indicators in one place.
Sales dashboard
All the sales KPIs – gross sales, net sales, refunds, avg revenue/day, avg revenue/sale, best and worst sales periods, and in-depth information on every sale along with the invoice.
Products dashboard
Monitor the performance of every product – sales history, people who bought it, frequently bought together items, top sellers and worst sellers, and a lot more.
Customers dashboard
This report provides more than customer insights, it allows you to get RFM segmentation of your customers which is a key index.
Transactions dashboard
The whole view of all the activities (not just sales) that happen on your website.
Audience dashboard
This is unique only to Putler. The audience dashboard pulls in the most important metrics from Google Analytics and displays them.
Time machine
Forecast your WooCommerce store's monthly revenue, customers and the 10X formula for your business.
WooCommerce subscription reports
Putler's subscription dashboard provides you with the most-important SaaS metrics like ARR, MRR, churn, LTV, etc. you need to monitor for your WooCommerce subscriptions business.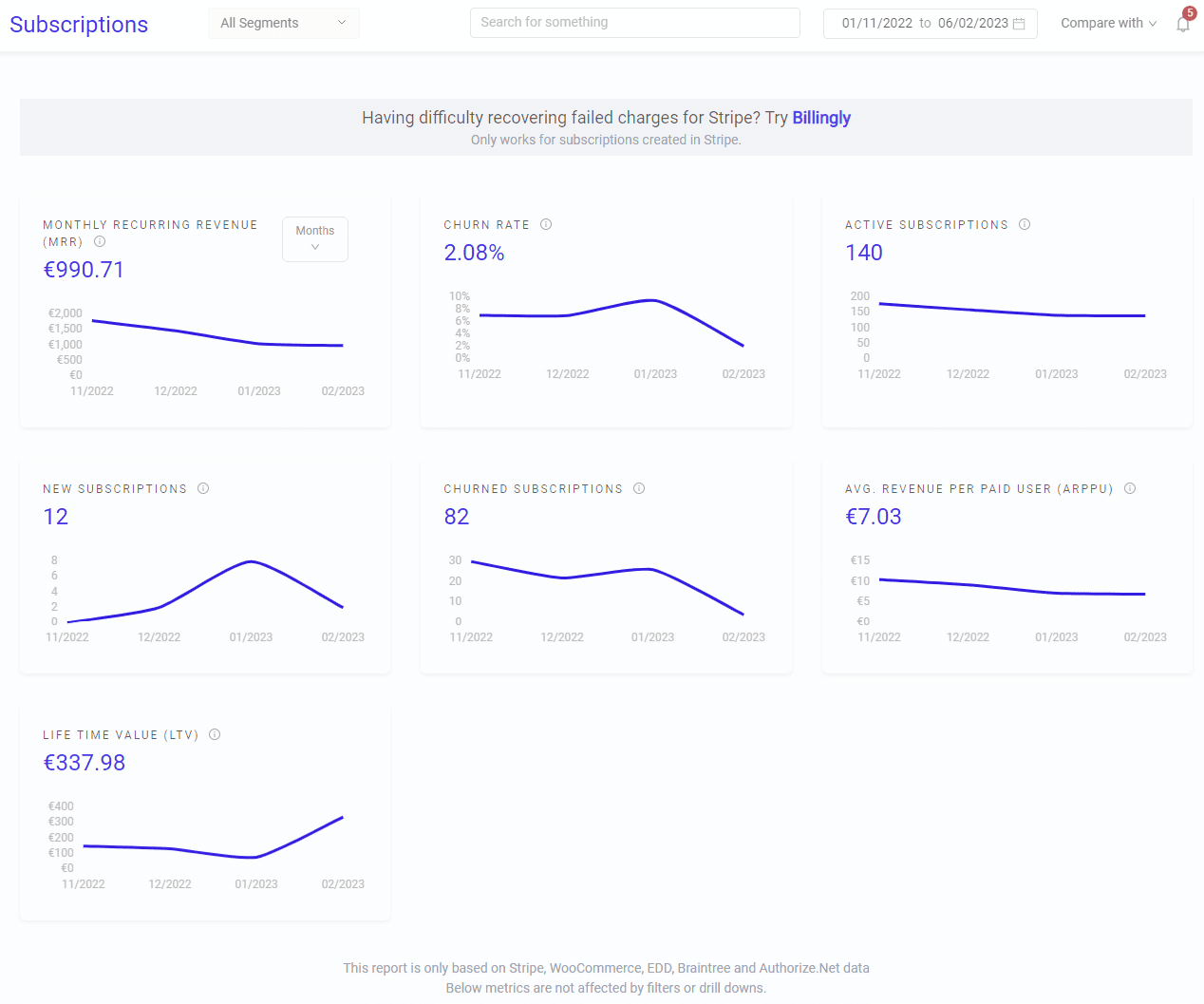 Managing multiple WooCommerce stores with Putler
Yes. Connect unlimited WooCommerce stores to Putler and then monitor all of them from a single window.
Putler will automatically pull in the data and remove duplicates to show you combined reports of various types. You can monitor all your WooCommerce stores combined or individual stores.
No switching between your WooCommerce shops to monitor each store's reports.
This is why Putler is a highly rated WooCommerce advanced reporting tool.
Other powerful Putler features
Export products, customers, orders and transactions to CSV.
Restrict access to analytics and reports so that only dedicated people can monitor data.
RFM analysis – automatic customer segmentation based on their shopping behavior.
Forecasting – monthly revenue prediction, annual scenario planning.
Advanced comparisons – even across multiple stores.
Weekly summary report emailed to your/team's inbox.
Conclusion
I hope this article helped you gain what WooCommerce reports provide and a better solution to grow your business to new heights.
Any doubts about these reports or Putler? Share your thoughts below.