WordPress posts, pages, custom post types…all these contain tons of data. But default WordPress admin columns shows only limited data. And managing all this data is cumbersome.
So, this article will tell you how you can better view and manage all the important data in one place for all posts, pages and custom post types along with the custom fields. Not just these, but also for WooCommerce products, orders, coupons, users.
Make inline edit, perform bulk edit, sort columns, export data and do a lot more. Clear enough? Let's get started.
A better and clean way of managing WordPress post types
Running a WordPress site means you are constantly dealing with large amounts of content, whether it is a blog post, a pages or other post type. This can become difficult to manage and edit easily. Search, export, edit, filtering too is limited.
For posts and custom post types, for example, not much more than the date and title of the post is displayed. But that is not the case from now onwards if you use Smart Manager.
Smart Manager for WordPress and WooCommerce plugin will display all your data into columns in an Excel-like spreadsheet. Neat, clean, well-organized.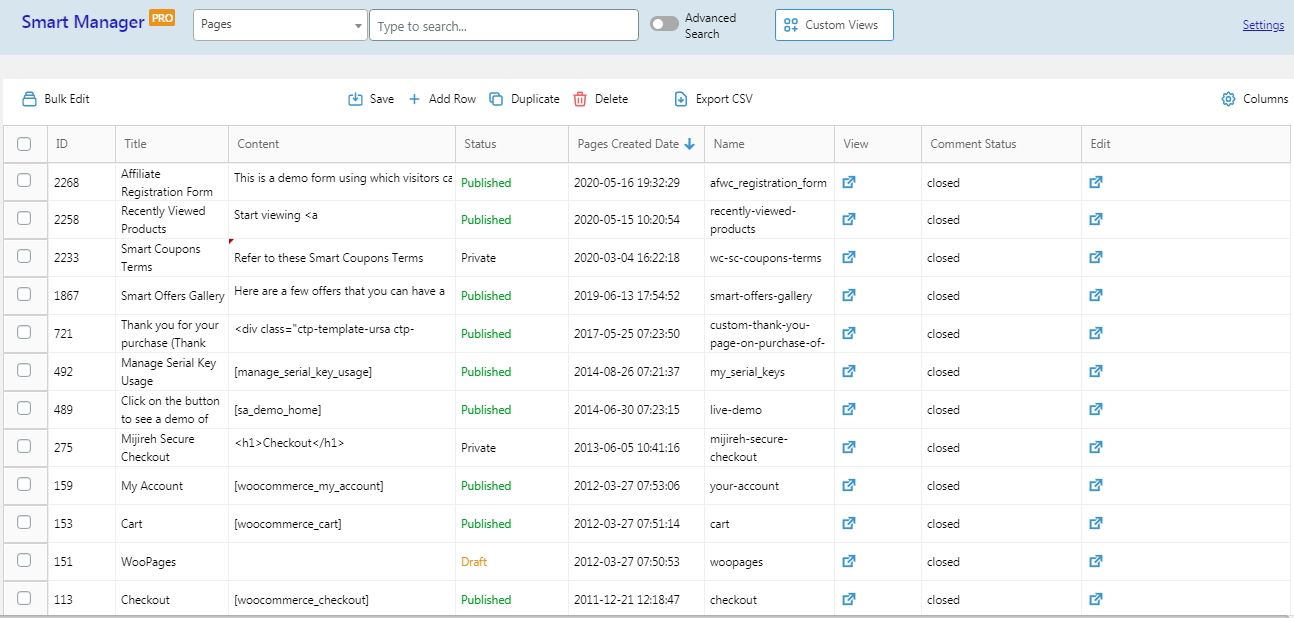 You can quickly sort, filter, edit WordPress admin columns content and effortlessly access important information.
Manage, edit all default fields, advanced custom fields for any WordPress post type
Your WordPress admin dashboard looked so clean when you installed it, right?
Then, add some plugins and things start to get a little messy! More plugins, more data, more custom fields.
Analyzing data becomes difficult. That's where Smart Manager shines.
Posts, pages, media…be it any, Smart Manager lets you edit (also bulk edit) columns data for all fields and custom post types as well, without needing to edit individual pieces of content.
No hooks, no filters, no coding required. Everything served on the plate. Smart Manager will automatically pull custom field data from the database if available.
Some important fields you can edit for Posts / Pages
Title, Content, Status, Posts Created Date, Name, Category, Post Tag, Post Format, View, Ping Status, Ping Status, Modified GMT, Password, Modified, Comment Status, Excerpt, Posts Created Date GMT, Author, Content Filtered, Pinged, Parent, Guid, Menu Order, Mime Type, Comment Count, To Ping, Edit, Other Meta (all post/page custom fields)
Some important fields you can edit for Media
Title, Content, Status, Media Created Date, Name, View, Wc Attachment Source, Wp Attached File, Wp Attachment Context, Wp Attachment Metadata, Ping Status, Content Filtered, To Ping, Password, Comment Status, Excerpt, Media Created Date GMT, Author, Parent, Menu Order, Edit Lock, Woocommerce Exclude Image, Other Meta (all media custom fields)
List of fields you can edit for products, order, coupons, users
In a nutshell, Smart Manager has the ability to help you edit unlimited fields.
Organize, find and update WordPress admin columns data within seconds
For any blog post, page, any WordPress post types and WooCommerce products, orders, coupons, users…you can easily manage content with Smart Manager.
Enable / Disable columns and sort them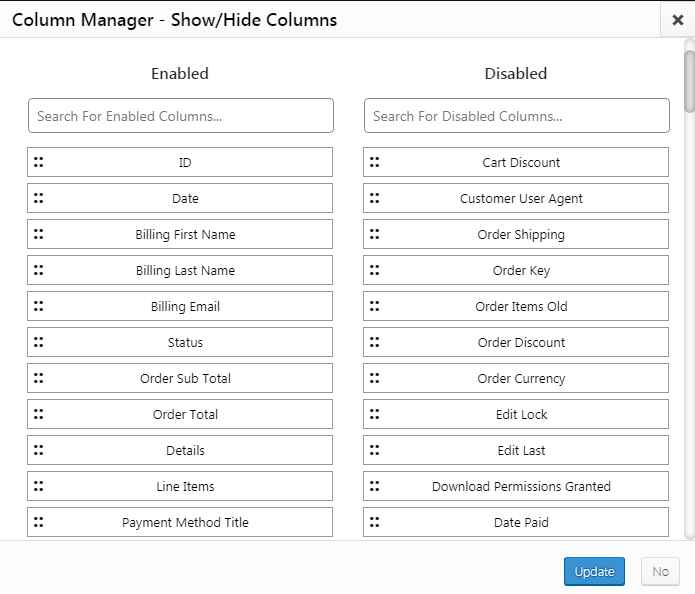 Want to view limited data? Simply enable/disable columns using drag and drop. Decide as to which columns you want to view in the spreadsheet. Also sort data columns in ascending or descending order, like view published date columns with the recent date at the top.
Find any content quickly
Heading, comments, author or other custom fields, Smart Manager quickly fetches up the desired results. Searching for WordPress content was never so easy.
Advanced search filters
Want to find blog posts published in Jan 2021? Or find pages written by authors Max and Lina? Or search using other smart filters like tags, comments…Smart Manager makes it a walk in the park.
Direct edit (Inline edit) content
Edit your content directly from the spreadsheet without opening any post or page. Be it changing the title, replying to comments, adding images among others.
Bulk edit
Bulk edit all your content or based on filters. Like do a no-index to selected posts or change author name for posts, do it all at once. Learn more on bulk edit of WordPress posts and pages
Drag and drop
Drag and drop like Excel to copy the values from one cell to another or multiple data cells in the column. Smart and quick.
Set-up and edit custom views
When you want to analyze only limited yet important data from a ton, Excel provides this mind-blowing benefit. Show/hide data columns, apply filters and save them. This is a custom view.
Like Excel, you can do the same with your admin columns using Smart Manager.
For Posts / Pages, if you just want to view data columns of title, content, meta description, publish date, you can create a custom view and make this possible.
Here's how to create a custom view with Smart Manager
Another thing, you can also restrict access to various post types for custom views based on user roles.
Quick add
Add new posts or pages directly from the spreadsheet and start editing right away.
Quick delete
Want to delete all posts or based on filters? All required is just click the Delete option and move them to trash or delete permanently.
Duplicate
You can also duplicate any post or page in just a click and start making edits.
Export to CSV
Create your own custom exports of your WordPress content in a CSV format. You can export all data or based on filters as per date, search and column filters. Like simply enable/disable data columns you need for export.
Infinite scrolling
With vertical scrolling, there is no limit to the amount of content that fits in the spreadsheet.
Compatibility with RankMath SEO and Yoast SEO plugins
This gives a competitive edge to Smart Manager over its competitors. Smart Manager will list special columns for keywords, meta description, SEO score and other fields of these plugins.
This makes it even flexible to search columns based on SEO filters and edit content. Allowing you to display, bulk edit, filter and search any SEO field.
Learn more about how to manage RankMath SEO fields and Yoast SEO fields with Smart Manager.
User permissions
Control in the hands of the admin as to whom to assign access to various post types.
Manage products and variations, order, coupons
Smart Manager can help you greatly improve managing your online WooCommerce shop. Finding products and updating them in bulk, view and filter orders, bulk edit coupons, export filtered data to CSV, it's all there. It's fun and time-saving!
But that's not it. Smart Manager is compatible with these top plugins selling on WooCommerce.com –
You can easily manage fields for these plugins as well. Be it bulk editing cost of goods, extending the subscription limit, rescheduling bookings among others.
Do you need anything else to try out Smart Manager?
FAQs
What is Admin Columns for WordPress?
Admin Columns is a feature in WordPress that lets users customize the columns displayed on admin screens.
It allows users to add, remove, or rearrange these columns to better suit their needs.
This streamlines the content creation and management process. The functionality like the WordPress admin columns filter can be extended through plugins.
On a parting note
Growing websites can become challenging to manage. Smart Manager helps you to overcome this challenge. It arranges all your data in a clean and well-organized spreadsheet view. This makes editing your content friction-free.
Smart Manager can do much more cool stuff, but there's just not enough room to add it here. Why not take a look and check out some of the awesome features for yourself?