We know modifying WooCommerce product prices individually is time-consuming. So here we list an easy way to bulk edit prices. Be it for thousands of products (any WooCommerce product type), based on product categories, attributes and other search filters, you can bulk edit prices at once quickly.
Do you use default WooCommerce to bulk edit prices?
Tell me how do you edit prices of all products on your store during Black Friday or Cyber Monday sale?
Now, if you are doing it one-by-one, you are making a grave mistake.
However, if you are using the 'Bulk Actions' feature provided by WooCommerce, you can update prices only of simple products. But what about variable products and other product types?
Here's where default WooCommerce bulk edit falls short
Yes. You can't update your WooCommerce variable product prices in bulk. Not just variables, but you also can't update prices of bundles, subscriptions, grouped or any other product type.
You can only change the price of simple products. Here's how: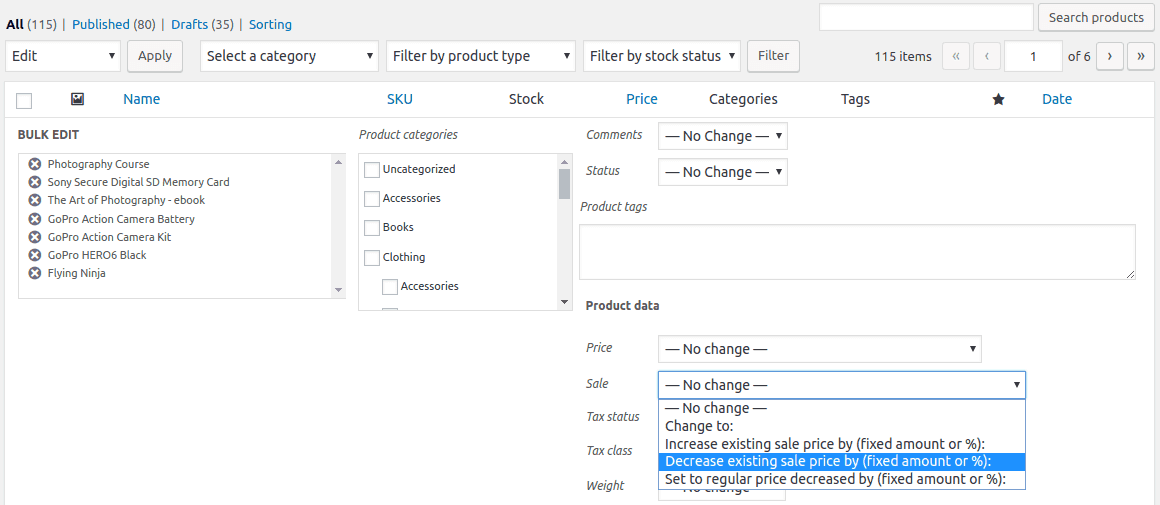 Go to WooCommerce > Products
Tick all the products you want to edit the sale price for.
Click on Bulk Actions > Edit
Under Product data > Sale, use the drop-down to select an option.
Enter the value, say 25.
Update
Now here's an interesting part though. You can select variable products to update prices. But it won't happen. Strange!
Therefore, if you sell many variable products where each product comes in different sizes, colors, styles, etc. then the above method won't work for you.
Also if you need to edit the price of a single product (any type) as well, you need to enter inside each product.
Thankfully, there are plugins to ease this work. As usual, we've selected the one which is popular, reliable, robust, having quality support. And most importantly, one that makes your life easier. That WooCommerce extension is Smart Manager.
Smart Manager – The best WooCommerce bulk edit plugin
Smart Manager helps you save time by applying edits to multiple fields at the same time without accessing each product or post type singularly. We'll concentrate more on price fields here.
For example, you can increase or decrease the price of several products with just one-click. Be it simple, variable, bundles, etc.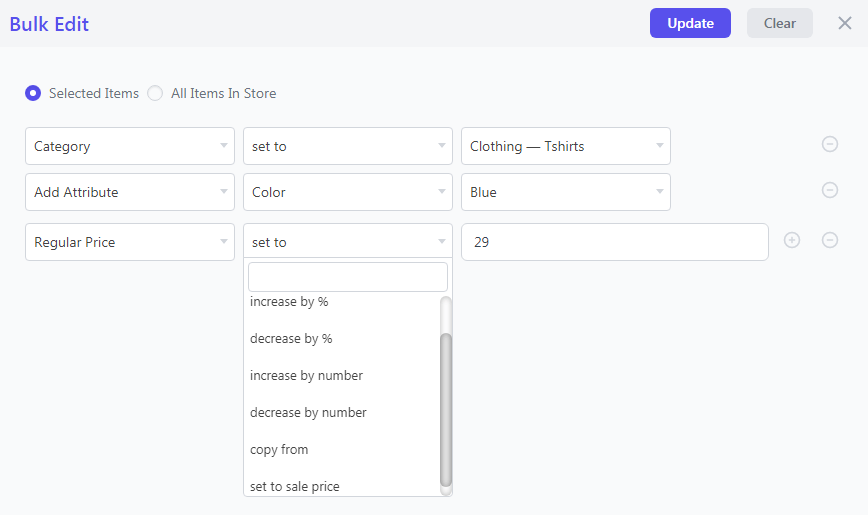 Smart Manager provides you an Excel-like spreadsheet (sheet editor) so that you can directly edit all your WooCommerce fields including prices from a single place.
Go to Smart Manager > Products dashboard. Click on the top header checkbox to select all items available on your store. Or select the ones you want to set or edit prices for.
Click on Bulk Edit which is right on top of the header checkbox. It will open up a slide over panel.
Select Regular price from the drop-down list of select field.
In the drop-down of the next option set to, you get options to determine the exact product price you want to set:

set to
increase by %
decrease by %
increase by **specific number**
decrease by **specific number**
copy from
set to sale price

In the last drop-down, you can fill the value and Update
You can immediately see the reflected changes. Quite flexible right?
Here's how you can control the price fields in WooCommerce
Bulk edit sale price and regular price.
Bulk edit variation prices or any other product type – bundle, affiliate, etc.
Increase or decrease prices by a fixed amount or percentage in bulk.
Set sale price the same as regular price in bulk.
Inline edit stock price (direct edit) – no need to go through individual product.
Bulk edit price of only selected products.
Update prices based on product categories in bulk.
Bulk update sign-up fees, recurring fees, etc.
Add prices in bulk to the products.
Apply search filters and edit prices of selected products.
Use price filters to make a change. Say find all products above $200 and decrease their price by 10%.
Update product price based on the condition – Say increase price of products belonging to category clothing and price above $100 by 15%.
That proves how flexible and powerful Smart Manager is.
With Smart Manager, you can also
Bulk edit any post type – orders, coupons, posts, users, etc.
Apply search filters and edit in bulk
Sort data columns for all post types
Export CSV data based on filters
Compatibility with other powerful WooCommerce plugins – Subscriptions, Bookings, Memberships and others. This means you can bulk edit prices of bookable products, membership products, any custom fields provided by these plugins.
Winding up
Editing multiple products, their price, and other post types were very exhausting earlier. But with Smart Manager, it's a cakewalk.
If you haven't used Smart Manager yet, it's high time you begin. It will also help you reduce your workload, cut down on expenses.
Until then, happy growing!