Occasionally, some items need to be purchased directly without your users having to walk through the steps of adding them to the cart or reviewing them. In such a case, the cart page only adds discomfort to the process and is not a good choice. Choosing a direct checkout would make more sense here.
Here's the challenge: how can you optimize your store so users skip the cart page and go straight to the checkout page for increased conversions?
With this as our point of discussion, we draft this article to outline who needs WooCommerce direct checkout and why. We also provide a list of the best WooCommerce direct checkout plugins you can choose for your store.
So without further ado, let's get started.
Who needs WooCommerce direct checkout and why?
WooCommerce direct checkout is a checkout process where the cart page is skipped and customers are redirected to checkout to place their order. In some cases, direct checkout also means customers can skip the cart, checkout and payment steps and place orders directly. This is one-click checkout.
Direct checkout for WooCommerce simplifies the navigation process offering the ease to order products in a single click.
It cuts short the overall process of buying. This saves a lot of time and reduces the cart abandonment rate.
The direct checkout for WooCommerce can be added to every business type. If you consider retail or FMCG industries, they prefer an 'Add to Cart' button because people tend to save products for later or review them.
Be that as it may, for computerized vendors, gadgets, and others where the crowd buys a solitary item, they ought to stress more on WooCommerce direct checkout to save clients' time and accelerate the purchasing process.
Additionally, I suppose you might have known about the one-page checkout that likewise helps clients checkout quicker. In any case, one-page checkout and direct checkout are by and large unique. Learn more about WooCommerce one page checkout.
Some industries where WooCommerce direct checkout is more beneficial
Digital products
Electronics
Jewellery
Music
Networking
Home & Decor
Bookings
Designing
Best WooCommerce direct checkout plugins
Now that you are aware of the perks of direct checkout for WooCommerce and who needs it, let's move on to our list of the top plugins that will help you accomplish it.
Cashier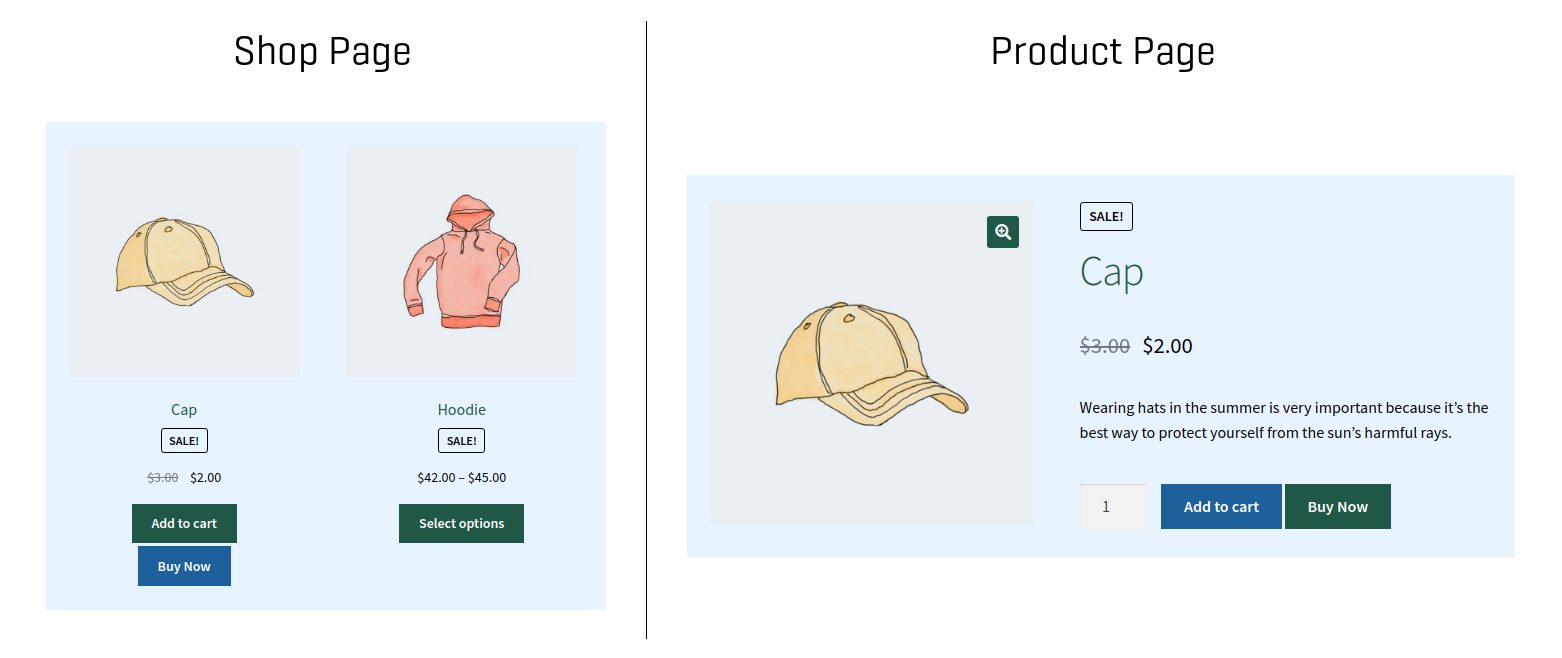 Cashier plugin is available on the WooCommerce marketplace. Cashier will help you add a direct checkout button or Buy Now button, clicking on which users can skip cart and proceed to checkout.
Cashier plugin can also skip checkout and payment steps and complete the order in one click based on the customer's previous order and payment details.
Top features:
Autofill shipping and billing-related information for logged-in customers.
Automatically recommends frequently bought together items.
Show both the WooCommerce 'Add to Cart' and 'Buy Now' buttons on the product page.
Enable direct checkout via email, social media using Buy Now links. You can also embed these links anywhere on your website.
One-click checkout works with these payment methods – Stripe, PayPal Standard, Braintree, Authorize.Net, Cheque Payments, Direct Bank Transfer and Cash on Delivery.
Redirect to any page using 'Add to Cart' links.
Checkout field editor
One page checkout
Cost of Goods Sold metric for simple and variable products.
Show cart notice to encourage users to add more products to qualify for free shipping.
One-click clear cart option for customers.
Pricing: $49
WooCommerce Buy Now (Now part of Smart Offers plugin)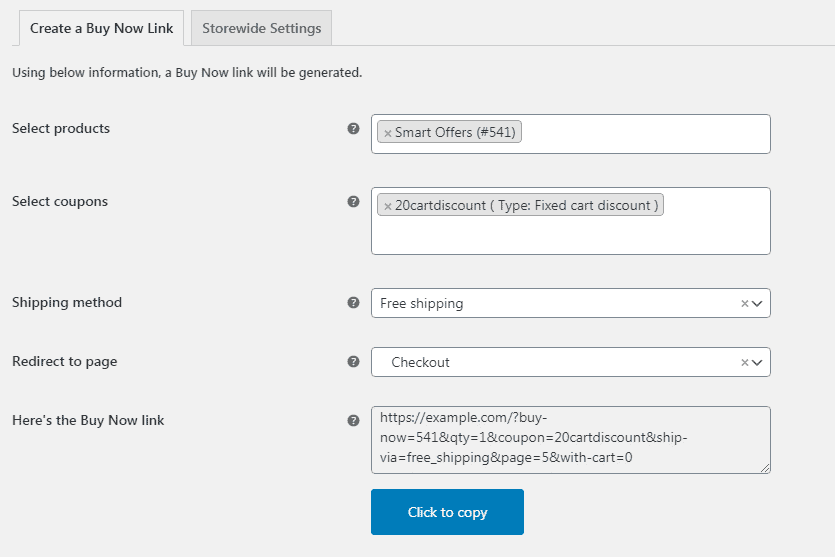 Regarded as one of the most flexible and extremely reliable WooCommerce quick checkout plugins. WooCommerce Buy Now plugin provides the flexibility to add a quick Buy Now button that skips cart and redirect users to checkout / other pages or complete the order in one-click without the need for payment details.
Buy Now plugin is now available as a functionality in our Smart Offers plugin. So now, you get Buy Now functionality, yet in addition, the flexibility to create targeted offers to boost sales.
Top features:
Create and target one-click upsells, cross-sells, order bumps, BOGO offers based on rules.
Use popular page builders such as Elementor, Visual Composer, and Divi to create more appealing offers.
Convert all your 'Add to Cart' buttons with the 'Buy Now' button in a single click
Add the 'Buy Now' links for direct checkout for one specific product, multiple products, storewide, or product categories.
Allows you to redirect customers to any custom URL, and not just within the shop. For example, you may redirect the customer to thank you page after checkout in WooCommerce or a blog related to the product.
Embed coupons using the Buy Now links
Share 'Buy Now' links in email, social media, etc.
Pricing: $99
PeachPay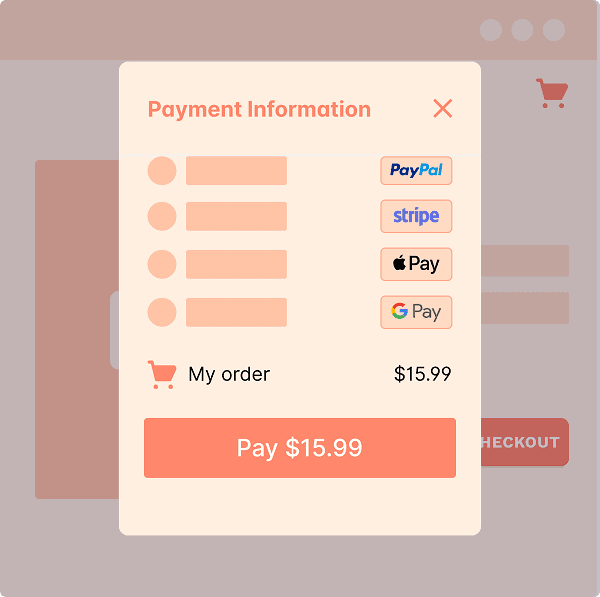 PeachPay, a WooCommerce-backed company, allows a direct checkout with an easy-to-implement, conversion-optimized checkout window on the product page.
Top features:
Customers with prior PeachPay purchases on other stores are remembered
Fully customizable checkout button (color, width, text, rounded corners, shine effect, disable by page, and more…)
Fully customizable window (additional fields, coupon/discount field, upsells/cross-sells, related products, product images, and more…)
Multicurrency/multilingual functionality
Support for four payment methods: Stripe, PayPal, Apple Pay, and Google Pay
Pricing: Free
Direct Checkout for WooCommerce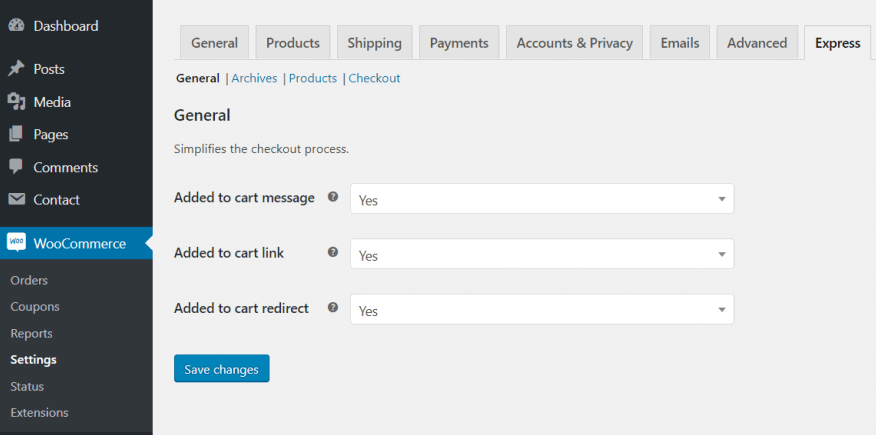 This is another popular plugin for direct checkout, which includes multiple features that make it easier for users to purchase products faster from your WooCommerce store.
Top features:
Incorporate the cart form on the checkout page. This permits clients to edit the cart and confirm the order on the same page.
Provision to remove checkout fields like order comments, shipping address, coupon form, policy text, terms and conditions and others, that results in a quick purchase.
Ajax add to cart on single products
Include a button to display a quick view of the WooCommerce shop page and products categories.
Pricing: Free version available on WordPress.org, paid versions starts from $49.
Get Direct Checkout for WooCommerce plugin
Direct Checkout Options Pro For Woocommerce
This is a new plugin, launched in mid 2021 on the WooCommerce marketplace. The plugin empowers you to add a "Buy Now" button to allow checkout on the same page or skip cart and redirect customers to checkout. So, you get same page checkout and direct checkout options using a single plugin.
Top features:
Customize the Buy Now button such as text, text color, background color, padding, etc.
Hide the default add-to-cart button from shop and product pages
Remove unnecessary fields from the checkout page to make the checkout easy
Pricing: $29
Get Direct Checkout Options Pro plugin
Add to Cart Direct Checkout for WooCommerce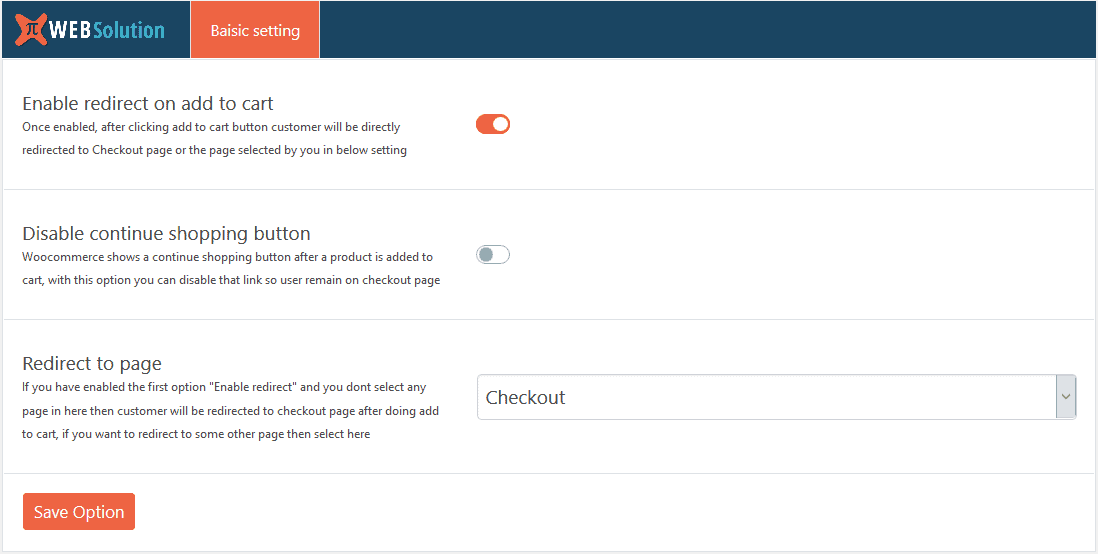 Unlike the traditional method of removing the checkout page by using shortcodes, the Add to Cart Direct Checkout for WooCommerce plugin allows you to have a Buy Now button without modifying the HTML code of the page. With the plugin, you can customize your checkout page to add any or multiple links that redirect customers to the required page.
Features:
Edit the 'Add to Cart' button and replace it with the 'Buy Now' button.
The Pro version of the plugin allows you to change the URL of the redirect page
With the premium version, you can enable / disable redirect for a specific page
Remove the 'Continue Shopping' link
Set any page as the success page of order completion
Edit the position of the 'Buy Now' button
Pricing: Free version available on WordPress.org and Paid version starts from $16
Get Add to Cart Direct Checkout plugin
WooCommerce Direct Checkout, Skip Cart or Checkout on the Same Page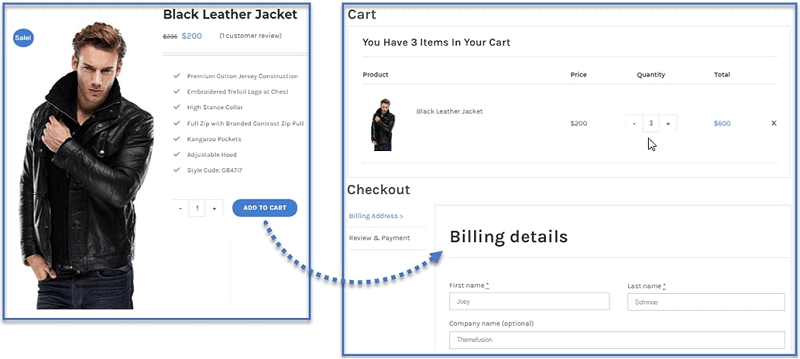 This plugin provides three types of checkout. One-page checkout, sticky checkout and one-click checkout. You can select either of the three based on your needs.
Top features:
Additional call to action button on product page.
Configure the URL of the checkout button or the Buy Now button as it appeals to your customer's needs
One-page checkout shows checkout form on the same page
Sticky checkout shows the checkout form in a slider
One-click checkout redirects customers to a particular page
Pricing: $29
Our recommendation and why
You will not have to worry about selecting the one best suited for you since there is no hassle of picking one from the above.
As you saw in this article, Cashier is the best choice if you want to use direct checkout in WooCommerce. The fact that it is an all-in-one WooCommerce checkout optimization plugin.
You also get to convert more visitors by showing product recommendations. Easy to use, the plugin doesn't require any coding knowledge.