One thing that has saved hours of work and frustration for millions is the search.
Type anything in Google and you get what you want, quickly. Can't imagine life without it.
Similar applies to WooCommerce product search and WordPress search. Your customers or users can quickly find what they want on click of that magnifying glass.
But, product search is not just for users. What about you (store-owners, managers, marketers)? How would you get exact results amongst thousands and millions of records?
This article mentions an easy way for both frontend and backend product search for WooCommerce and WordPress.
Product search from the customer and store owner perspective
You have less than 15 seconds to convert visitors. So helping them find exactly what they want is the key to optimized conversions and better user experience.
Similarly, for store owners, who need to find what products are in and out of stock, or want to bulk edit thousands of products using search filters, the job should be done quickly.
That's why search mechanisms are so critical for any WooCommerce store.
These search filters should be flexible to deliver accurate results instantly. Be it search using the name, price, SKU, categories, attributes, etc.
That's the reason why we'll cover both frontend and backend WooCommerce product search.
The default WooCommerce product search functionality for frontend
WooCommerce does come with a search bar by default but it is very basic and it will only search from the product title and description. It only shows a limited amount of products and it's slow and hard to use.
WooCommerce default search function lets you search only after you've entered the full words in the search box. Once you enter the full search query, click the search button and the search results would be displayed on a separate page.
Your customers also can't search by product SKU. (and we'll show in this article how to do it).
Ajax product search
Considering most online shoppers are accustomed to live search (think search engines, Amazon, and eBay), you need to offer AJAX search. This means automatically showing suggestions to the searched query.
Cloudways team has given a solution for this using some code for ajax product search. You can customize the product search using this code. Click here to view the code
This is good. But, it involves coding work which may not be suitable for all. So how do you ensure that you have a lightning-fast search to get that conversion?
By using a powerful WooCommerce search plugin!
And WooCommerce Product Search plugin, available on WooCommerce.com tops our list.
Benefits of using WooCommerce Product Search plugin
This is a very popular WooCommerce product search plugin. It helps customers buy the right products, quickly and easily.
Live search with images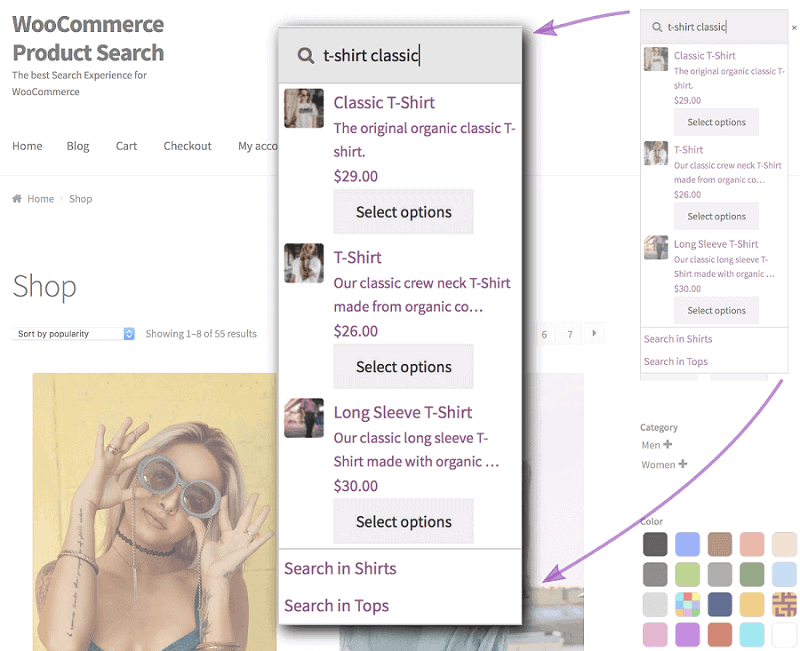 Based on what customers type, the relevant products show up along with images, price information. Your customers can search by keyword, price range, categories, tags or any product attributes to narrow down the results. They can also add the products directly to the cart.
Search and business insights
Gain valuable insights on what your visitors and customers are searching for in your store. You get to see real-time and historic product search activity.
Search index
Even when you add, modify or remove products and related aspects, the Search Indexer will automatically index all products in your store and keep everything up-to-date for you.
Visually intuitive filters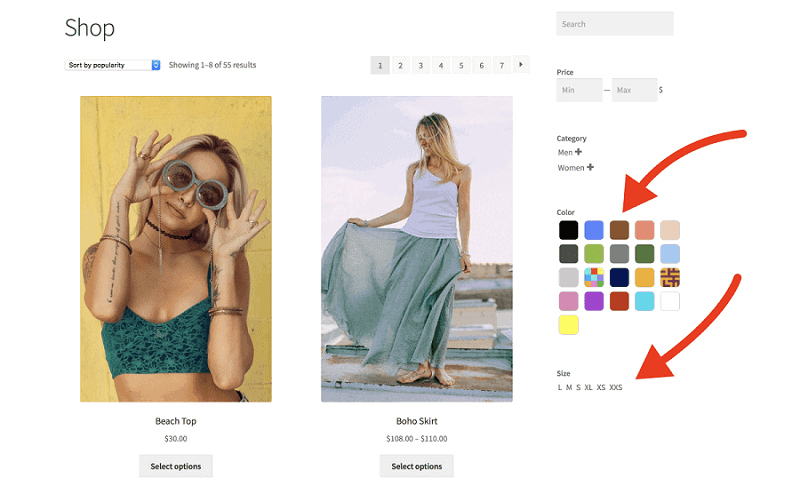 An image says it all. Add thumbnails used with live product filters for product categories, tags and attributes. Filter by color, size, brand … showing the actual color, intuitive icons and logos. This makes for a delightful search experience for customers.
Live product filter widgets
The built-in Assistant helps users to add live product filter widgets to sidebars instantly. It shows users which filters are already present and suggests to add those that aren't. Can also be customized as and when needed.
Shortcodes
All live search facilities are available as WordPress shortcodes. In addition to these, the plugin includes facilities to render search results on any page. This even allows you to create specialized shop pages.
Compatible with popular brands
The extension is tested and integrates with lots of popular themes and requires no or very little CSS adjustments in most cases. You can add your own CSS rules.
API
As with the widgets and shortcodes, the plugin provides a very easy to use API that gives you access to all search and filtering facilities, so you can effortlessly include them in templates.
WordPress Blocks – Gutenberg
The extension can also be used with the block editor introduced in WordPress 5. With its advanced features, you have limitless possibilities to build custom shop sections.
Get WooCommerce Product Search plugin
Other popular WooCommerce product search plugins for frontend
WooCommerce product search for backend
If customers get such big advantages, then why store-owners, shop managers and marketers should be left behind.
You do need quick search filters, accurate results, right?
Smart Manager for WooCommerce and WordPress plugin makes this possible.
Look, the default WooCommerce product search for backend is limited. You only get to filter via stock status, category and product type.
The process is slow as well.
So, you need a powerful plugin like Smart Manager that makes your job very much easier.
Using Smart Manager for WooCommerce product search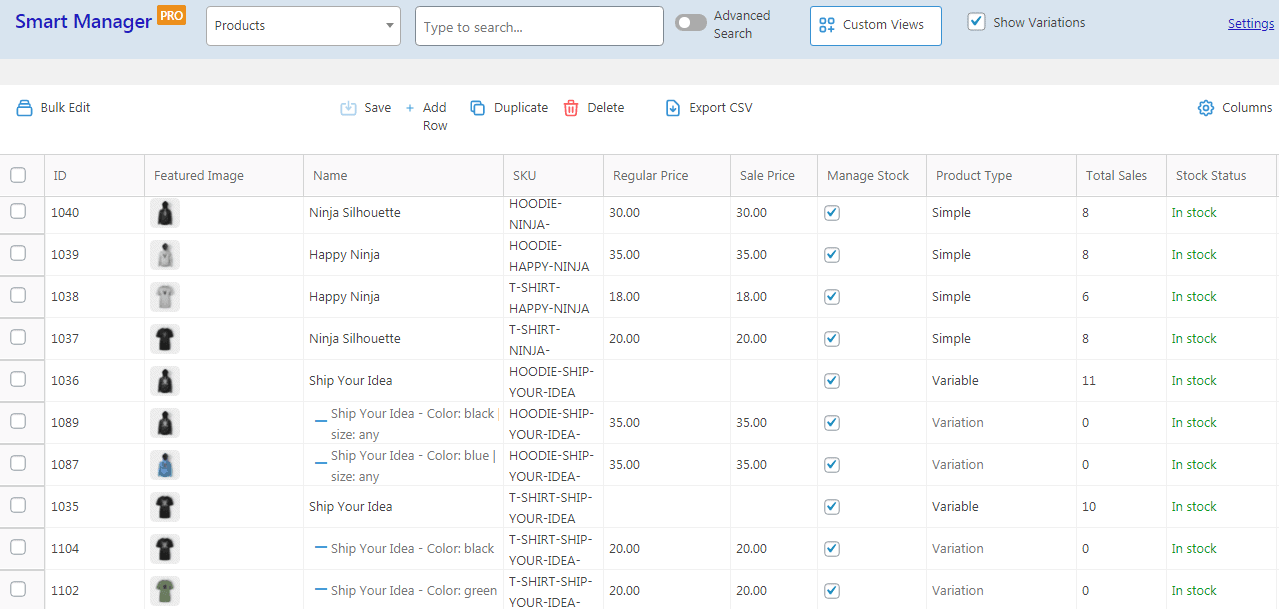 Smart Manager works like an Excel spreadsheet. So making changes is quick and simple.
Not just products, you can quickly apply search filters and get results for orders, coupons, users, WordPress blog posts, WordPress pages…any post type.
You get both simple and advanced search filters.
No matter if you have hundreds or thousands or millions of products, you'll be sure of getting exact results.
Smart Manager search is elastic and flexible. It has an instant search like Google. Let's see how:
Simple search filters
Enter your search query in the Search bar provided and all corresponding records containing that query will be shown.

Search by SKU
Being store owners or shop managers, searching via SKU is a major thing. Smart Manager lets you search for products by simply typing the SKU in the search bar.
You can also add other filters for the SKU to narrow down your search results.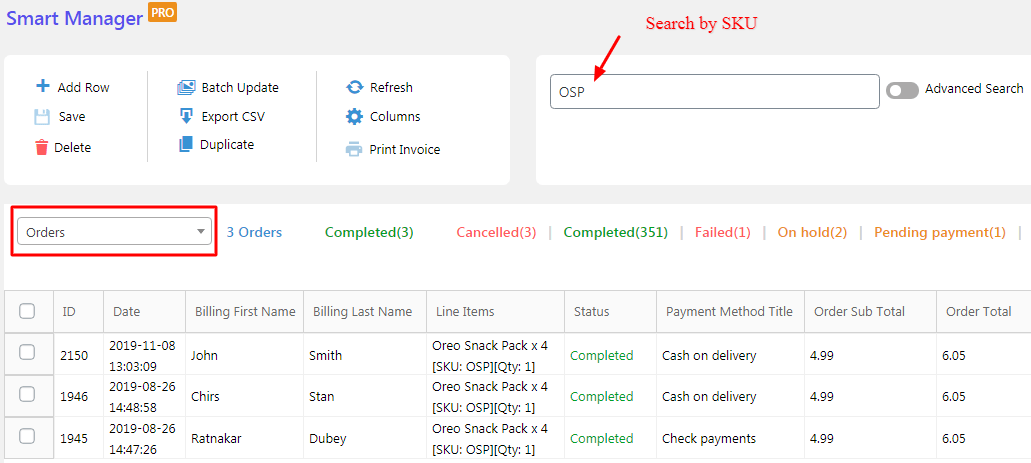 Learn more about simple and advanced search by SKU
This is good for a small number of records. For a larger number of records, we recommend advanced filters.
Advanced search filters with example
This is where Smart Manager shines. You can search using any of the product parameters and get your results. You can search using stock status, product attributes, product categories, etc.
You can also combine multiple product fields and apply search filters using OR & AND filters or a combination of both as well.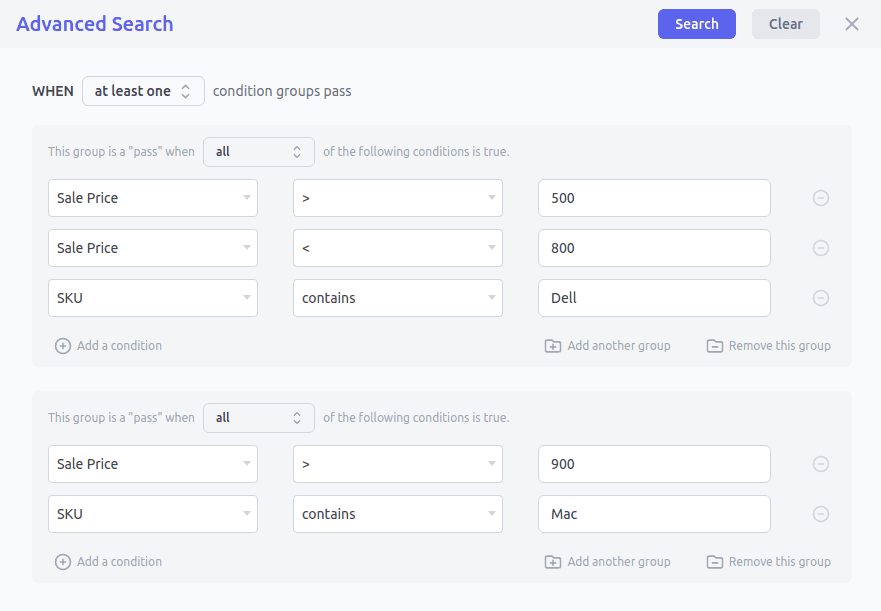 Use of AND filter to search for all Dell laptops in the price range of $500 and $800 and all Mac laptops having price greater than $900. (This is a search filter based on SKU and price)
You can search using product categories, attributes, stock status, backorders, product name, SKU, etc.
Apply filters and make inline edit
Want to make changes to a product directly (inline edit)? Simply apply a search filter and you'll get the desired products. Then make the changes and save.
Apply filters and bulk edit
This is the most used and super useful feature. Say you want to bulk edit all products based on attributes and SKU.
Apply the search filter, select all products, click on the Bulk Edit option, enter values, update.
Search and delete
You can use Smart Manager to delete specific products based on search filters.
As shown above, apply a search, select products you want to delete and click on the Delete option.
You can either move them to trash or delete them permanently.
Learn more about WooCommerce delete all products
Search and duplicate
If you want to duplicate single or multiple records for a specific product, you can apply filters and then select products you want to duplicate.
Then click on the Duplicate option and you are done. Smart Manager also gives you the option to duplicate your entire WooCommerce store.
Apply filters and export
Smart Manager lets you export your entire store data or data based on filters.
You can apply search filters and export only specific data.
Combine search filters with column and date filters for an advanced export to CSV. Learn more about WooCommerce product export
Other benefits of Smart Manager:
Bulk edit any post type
Inline edit
Export CSV for any post type
Print PDF invoices
and more…
WooCommerce orders, coupons, users search
As mentioned, like products, you can apply all corresponding filters for orders, coupons, users, any post type and get results quickly. Like:
Find all order Pending orders for the month of Jan 2023 from the United States
Search all coupons whose usage limit is 1, and expiry date is Mar 2023
Find all users whose lifetime value is above $500
Be it bulk editing order statuses, extending coupon limit or other tasks, you can accomplish all.
List of tasks users accomplish with ease and peace using Smart Manager.
Smart Manager is also a powerful WordPress search plugin
Smart Manager search feature works like a charm for WordPress too.
Be it any WordPress post, page, custom post type, you can apply operations like bulk edit, inline edit, export, etc. as you do for products.
Here's how search filters is beneficial for WordPress:
View all your posts, pages at one place in a spreadsheet view
Search and delete posts. For example – delete all test posts in bulk
Apply search queries like post title, post content, post status, post excerpt, featured image, publish date, comment status, parent page, post categories, and post tags to get specific results.
Search using keywords and find out duplicate keywords to make the necessary SEO changes
Whatever you think of, Smart Manager will handle them.
Search filters for WooCommerce subscriptions, bookings, memberships…
Smart Manager integrates with top plugins like WooCommerce Subscriptions, WooCommerce Bookings, WooCommerce Memberships and others.
This means all search operations and benefits you can apply for these plugins' fields as well.
Some of these include:
Search for all expired subscriptions and delete
Search for bookings made between a date range and bulk edit them
Inline edit a membership based on search
Search for all posts having same keyword and make an edit
Search for all products whose cost of goods is…
and many more…
Winding up
Search functionality is a time-saver and life-saver. All those tasks that took hours and caused frustration can now be done quickly.
Not just for products, but for all orders, WordPress post types…Smart Manager's search feature is a boon.
Thousands of users reap the benefits of it daily. Then why should you be left behind!!