Discounts, special prices, promotions, bonuses, free products…proven formula for instant sales. But running them for a longer time will only hurt your profits in the long run.
So to overcome that, WooCommerce store owners must think out of the box. They need to have a strong and effective discount or pricing strategy that gives higher sales without compromising on profits.
That's where WooCommerce dynamic pricing & discounts help and this article covers all the details you need to take your e-commerce store to the next level.
You will also see the different types of dynamic pricing and discounts that convert as well as some plugins you can use without hassles.
Let's get started with the question that might be revolving around your mind right now!
What is WooCommerce dynamic pricing?
In simple terms, dynamic pricing involves selling the same product at different prices to different people.
It helps you define and distinguish prices and discounts based on four different factors –
Product pricing – Prices and discounts based on the product and the quantity of the product.
Order pricing – Discounts given on the amount of total cart value or order summary.
Role pricing – Prices determined as per the user role / profession of the buyer.
Categories pricing – Pricing decided as per the category of the products (For eg. in clothes: Ethnic, Western, etc) & offer discounts accordingly.
It is equally important to have a strategy to use each of the above pricing wisely to grow your store, multiply profits and lead stress-free store management.
Why should you use WooCommerce dynamic pricing & discounts?
Based on the demand and supply, the pricing keeps fluctuating. But still, you can review the pricing and stay in control of it.
Best marketing strategy to boost sales
'Discounts' are undoubtedly one of the best tools to boost your sales. When in doubt about a marketing strategy, discounts are what come to the rescue for a marketer.
Special price for every customer
WooCommerce dynamic pricing & discounts give you a variety of ways to make your customers feel special by setting a different price for each customer and offer them a personalized shopping experience.
Encourages buyers to spread word-of-mouth publicity
Discounts are one of the fastest ways to reach the unexplored audience and excite your existing buyers to spread the word.
Saves money in the long run
The use of plugins, analytics gives WooCommerce users the right data and information that can be used to set optimal product prices and stay profitable despite the price fluctuations. This saves time and costs in the long run.
With that said, let's move to the core section of the article.
Types of WooCommerce dynamic pricing and discounts
Now, let us help you with the types of WooCommerce dynamic pricing and discounts that will drive your brand the sales it desires!
Bulk pricing discounts or volume based discounts
Bulk pricing encourages buyers to purchase in higher quantities by attracting them with discounts. This discounting type offers a product quantity at a normal price and decreases the price as the quantity increases. For example:
10% discount per 100 units purchased, 15% discount on 150 units, 20% on 200 and so on
Buy 1 soap for $4, Buy 3 soaps for $10
Category-wise pricing discount
These offers are valid only for some selected categories of items in WooCommerce. They provoke the buyer to go for a specific brand or product due to the attractive discounts offered. For example:
Get 25% off on all Nike shoes
Purchase three US Polo Tees & get 10% discount on the total cart value.
User role-based pricing
Set unique discount offers as per user roles like customer, wholesaler, retailer, vendor, manager, etc. This motivates them to purchase looking at the specialized role badge. For example:
Wholesalers get a flat 20% discount on purchase of 200 units or more
Retailers get a flat 10% discount on purchase of 100 units or more
Cart discount
As the name suggests, this discount applies based on the product in the cart or cart value. For example:
All orders above $250 get a flat 30% discount
Free shipping for orders over $500
15% discount on the total cart value
WooCommerce BOGO discount
This is nothing but WooCommerce Buy One Get One discounts. WooCommerce BOGO coupon strategy is a smart way to upsell or increase the sale of the product.
Also, it helps to attract more visitors due to word of mouth publicity and convert them into customers. For example:
Buy one get one free of the same item
Buy 2 and get a 50% discount on the third item
Buy 6 products and get 6 for free
Buy X and get a flat 75% discount on Y
Here's how to create a WooCommerce BOGO offer
Order subtotal
This is a discount offer that you create on the order subtotal, i.e exclude taxes from the discount. For example:
8% discount on the order subtotal above $500
Flat 10% discount on the subtotal of today's orders
Coupon-based dynamic discounts
This is the most popular WooCommerce dynamic pricing discount strategy amongst customers.
You can offer coupon discounts on occasions like festivals, sales, celebrations, or on some milestone achieved, based on location restrictions, email restrictions, or others. Your customers can redeem the coupons according to the conditions applied. For example:
Offer 20% off only on 4th July to only US residents
Offer 30% off on low-selling products and 20% off on best-sellers
Run a 25% off coupon for Boxing Day for customers in Australia, Canada, UK and 15% off coupon for customers residing in other countries for the same day
Use coupon code 'CELEBRATIONS' & get 20% discount on all ethnic wear.
Get a 10% discount on all lifetime licenses by redeeming the coupon code 'ANNIVERSARY10' by or before 31st Jan 2021.
We recommend using the best-selling WooCommerce Smart Coupons plugin to create coupons based on restrictions.
Percentage discounts
Create percentage discounts for single or multiple products, subscription products or one-off purchases, a single product category or multiple categories, total cart total and much more. For example:
Flat 15% discount on all one-off purchases
Flat 10% off on subscription products
Buy one chair and get 10% on the second.
Buy over $100 & get 8% discount on the total cart value
Purchase-history pricing
Offer discounts based on the purchase history of the customer. These types of WooCommerce pricing discounts could be based on the total amount spent on previous orders or the total number of orders placed by the customer. For example:
10% discount for those who purchased items of over $250 in the last 2 months.
Flat 20% discount for those who have bought more than 5 pairs of shoes in the last 6 months.
5% discount on shoes to all customers who bought Nike Jerseys earlier.
Phew, that's quite a list. Think of any other case and it may fall into dynamic pricing. Tiered pricing, shipping based discounts, bundle discounts, etc.
Run targeted discounts and offers. You get the idea right?
Now, we'll see some top WooCommerce dynamic pricing & discounts plugin you can use on your store.
Best WooCommerce Dynamic Pricing Plugins to help you get started
With infinite cases of dynamic pricing, it is practically impossible for one plugin to cover all.
But here, we list some plugins that cover most of the widely used cases of dynamic pricing, ones which you need to implement on your store.
Offermative
Offermative is an AI-based plugin that automatically runs offers and discounts on your WooCommerce store.
Product selection, targeting rules, offer copywriting, designing, conditional logic…everything is automated.
Select offer campaigns, run them and see your sales soar. Here's an in-depth Offermative review.
Top features:
Smart algorithms to show campaigns to visitors, keep converting them to customers, and maintain a track of results.
All the offer types – WooCommerce upsell, cross-sell, order bump, cart bump, percentage / flat discount coupons, Amazon like frequently bought together, instant coupons, sitewide sale…
High converting, beautifully designed, mobile responsive offer message design templates: inline, header / footer bars, slide ins, overlay popups…
Run highly targeted offers on hundreds of products. You may never know what can convert.
Smart Offers for WooCommerce
Smart Offers is designed to specially meet your goals of running offers based on powerful targeting rules. Set up powerful WooCommerce upsell, cross-sell, BOGO, order bump and other offers.
Well, not directly you can set up a dynamic pricing offer or discount on the product, but you can set the discount on products you are going to offer as an upsell or cross-sell.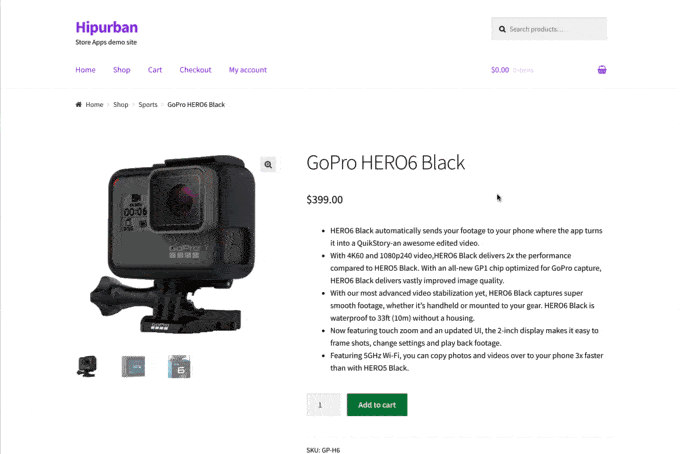 Top features:
Set up a buy one get one (BOGO), buy more get more offer
Show an offer only when cart order contains X number of products
Show an offer only when order total or subtotal is less or more than equal to X amount
Offer additional discount when user is a vendor and quantity purchased is greater than X.
Show offer only when user has previously placed more than X orders or purchased more than Y amount
Show offer if user is registered past 'X' number of months.
Time based offer during Black Cyber – Run an offer only from 27th Nov to 30th Nov.
Show a product at 25% off when a product from the same or other category is added to cart.
ann many other possibilities….
WooCommerce Dynamic Pricing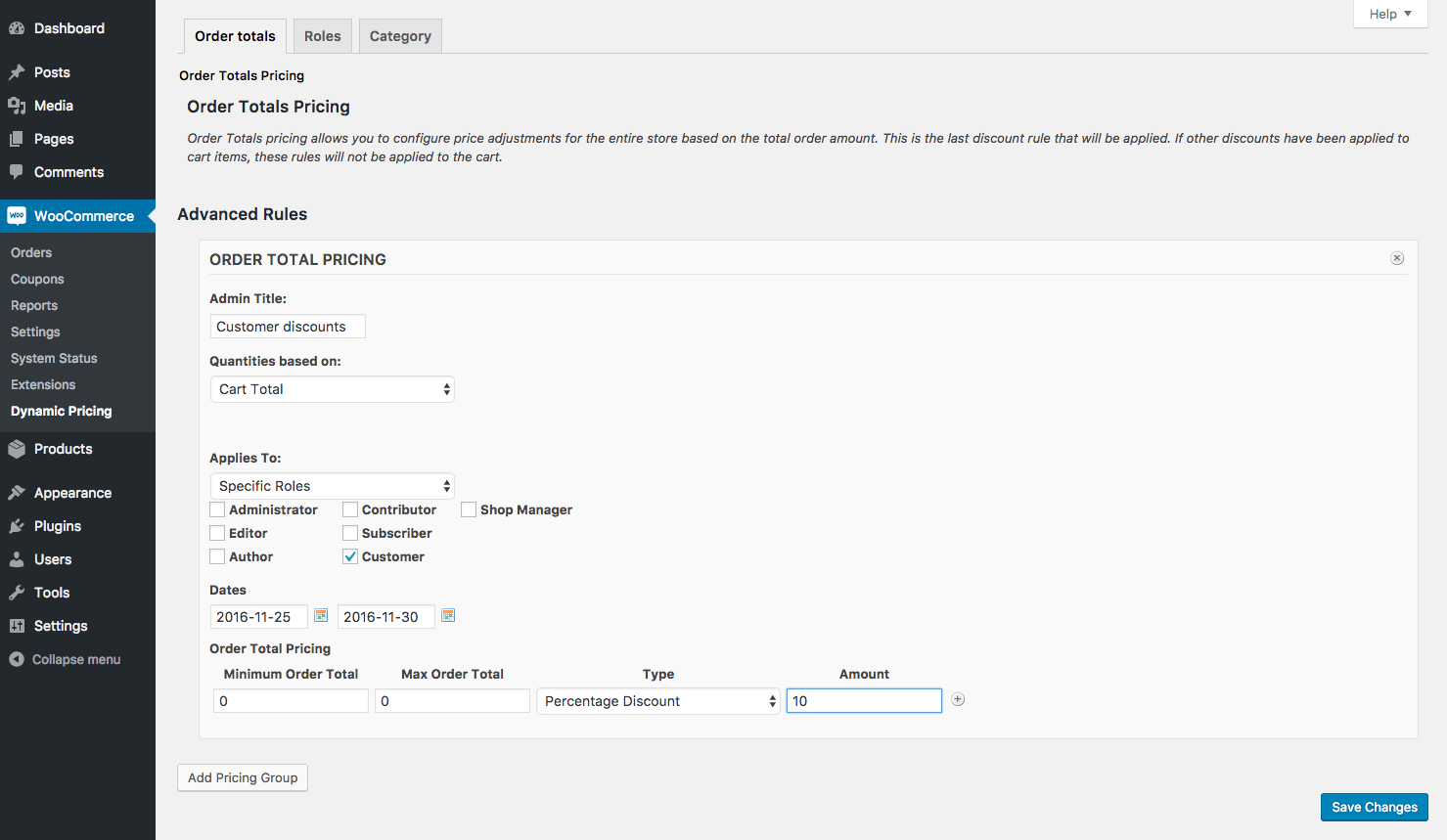 Dynamic Pricing plugin is listed on WooCommerce.com. It allows you to set prices for your store based on four factors:
Advanced product pricing
This pricing method is favorable when you need to offer discounts on the quantity of the order. It offers bulk discounts by clearly showing how much the amount is reduced in the form of a discount against the quantity of the product. Also, it can be applied to members having specific tags like 'Gold Members'. For example:
Offer the Microwave at a discount of 10% if the customer purchases 2 more items from the same category.
10% discount on Ethnic Wear today to normal members and 25% discount to Gold Members for the same.
Advanced category pricing
It is useful when you need to offer discounts on the product based on the same category the customer is purchasing. For example – Get a 15% discount on all handmade items if you purchase 3 or more items from the handmade category.
Simple category pricing:
As the name suggests, a discount is applied to a specific category of the store. For example – Flat 8% discount on all mobile phones today.
Role-based pricing
These discounts are allotted to specific role users or simply on all products of the store. For example:
All the members with Platinum Membership get a flat discount of 10% on all the items of the store today.
Flat 8% discount on all the items of the store today.
Pricing: $129
Get WooCommerce Dynamic Pricing plugin
WISDM Customer Specific Pricing for WooCommerce
As they say, the plugin transforms your relationship with your customer by bridging that gap offering meaningful and useful discounts to your customers.
WISDM stands out with its uniquely useful benefits that help their customers take the eCommerce store pricing to the next level.
Top features:
Creating a special page having their personalized discounts listed
Attracting customers by offering role-based discounts
Encouraging customers to shop by setting customized pricing for their group or segment
Offering Buy One Get One & Bulk Discounts to bulk quantity purchasers like wholesalers, managers, etc.
Conducting store-wide discounts on some special occasions, festivals or during holidays.
Pricing: Starts from $80
Get WISDM Customer Specific Pricing plugin
Ready to boost your sales?
Seems like you are now ready to implement dynamic pricing and discounts on your store. Keep on experimenting with the various pricing types mentioned, track performance and identity what works best for you.
And the best plugins for it are already listed for you to choose from.
Any suggestions for the article? Would like to hear your thoughts on it.