Often, people aren't sure what to get their loved ones on different occasions and cash doesn't have the personal touch. A gift card solves this dilemma.
You don't have to find the perfect gift for someone who may or may not like it and instead, you could simply give them a gift card or voucher to use to buy whatever they want.
Therefore, this article is meticulously written to help you know the importance of gift cards, how to create and send customized gift cards to drive more sales, gift card applications and the best WooCommerce gift card plugins.
What is a WooCommerce gift card?
A WooCommerce gift card is a digital voucher that can be purchased and redeemed from a WooCommerce store. Customers can use gift cards to purchase products or services from the store at checkout because they have specific monetary values.
Gift cards can be purchased for fixed denominations like $10, $20, $50 or for any amount. Your customers can purchase these gift cards/store credits for themselves of send it to someone else.
It is profitable to sell gift cards since they are popular among shoppers. If you don't know what to buy but want to give a gift, this is a great option.
Why eCommerce gift cards are better than cash?
Gifts make people happy, yet buying one is always a gamble on whether that person will appreciate it or not. Right?
The easy way would be to give cash instead. However, cash lacks that emotional, personal touch.
A gift card makes the same amount of cash more appealing. It has an oomph factor. It is likely to increase the recipient's happiness.
A gift card is a redeemable thing with a monetary value that you assign to customers or the customers buy from your store for themselves or their loved ones.
Copy what Amazon does and you succeed
People purchase gift cards on Amazon like crazy.
So like Amazon, why not let customers gift cards OR, do you send them gift vouchers as a loyalty token on their birthdays? It will make people smile.
The good news is – WooCommerce Smart Coupons, the all-in-one WooCommerce coupons plugin, developed by StoreApps can help you create, sell and send gift cards easily.
Benefits of using WooCommerce gift cards
Easy way to bring in new customers to your store
Improve your sales instantly
A great way to start word-of-mouth marketing and increase brand value
Attract targeted audiences from your existing customers
Improve your WooCommerce store conversion rate
Let's jump into creating WooCommerce gift cards, now that we know how important online gift cards are for your store.
Is Smart Coupons the best WooCommerce gift cards plugin?
Smart Coupons, the official WooCommerce coupons extension has everything you need to grow your sales and customers using online gift cards. You can manage discounts, coupons, credits, promotions, giveaways, and vouchers using this plugin.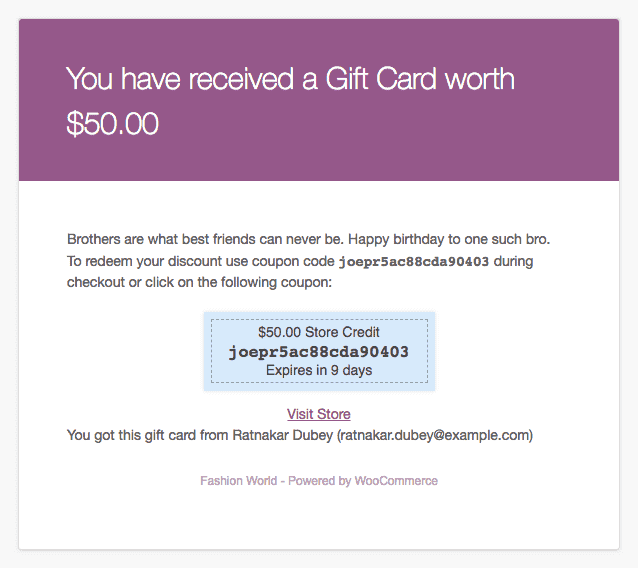 Top gift card related features:
Create and send gift cards/store credits of any amount. So users can make as many purchases as they want until the credit is exhausted or its validity expires.
Customers can purchase gift cards of any amount from your store.
Customers can purchase gift cards of fixed denominations. Say $50, $100, $500 and gift them to their loved ones. Customers can even schedule them. Widely used during Christmas.
Bulk generate and schedule gift cards with a customized message. This can be a great tactic to delight your loved ones on birthdays, anniversaries, or even your customers during holiday season sales.
Use credits to provide refunds or compensation as well. This is a great way to retain customers.
Allow restrictions on gift cards based on payment methods, user roles, etc.
Send physical gift cards (discount vouchers) by printing them and distributing them via newspapers, magazines. It is a smart way to gain more exposure from more people and to allow them to redeem that gift certificate online.
Not just gift cards, Smart Coupons does a ton more:
Bulk generate unique coupon codes
Auto-apply coupons via URL
Advanced coupons restrictions based on product quantity, location, user role, payment methods, shipping, product attribute, product taxonomy.
Issue a product as a gift via coupon. Also gift more than one quantity of a product.
Subscription/Recurring coupons – Give discounts to customers who opt for subscriptions.
Get WooCommerce Smart Coupons plugin
How do I create a gift card in WooCommerce?
Creating WooCommerce gift cards/gift certificates using Smart Coupons is straightforward.
It's similar to creating a coupon in WooCommerce. You can issue gift cards of any amount.
Let's start with how you can create a gift card of any value that customers can buy from your site. Here are the steps:
Go to WordPress Admin panel > Marketing > Coupons > Add coupon. Give it a name, say Gift Card.
Go to the General tab.
Under Discount type, select Store Credit / Gift Certificate.
Leave coupon amount blank.
Enable Coupon Value Same as Product's Price option.
Next, you have the normal usage restrictions and limits for a coupon.
Publish the coupon.

Now, since this gift card will be a digital product, you need to create a 'Simple' product in WooCommerce.
Go to WooCommerce > Products > Add or edit an existing 'Simple' product.
Name the product, i.e Gift Card.
Important: Leave Regular Price & Sale Price fields blank. Mark product as 'Virtual' to let off shipping charges.
Under the Coupons option, search for and select the coupon created in the above step, i.e. Gift Card.
Publish the product.
Note – Since we want customers to purchase a gift card of any amount, coupon amount and product prices are left blank.
That's it. Your WooCommerce gift card is ready to sell to your customers.
You can also refer to this video for the steps to create and sell gift cards.
How to sell gift cards in WooCommerce?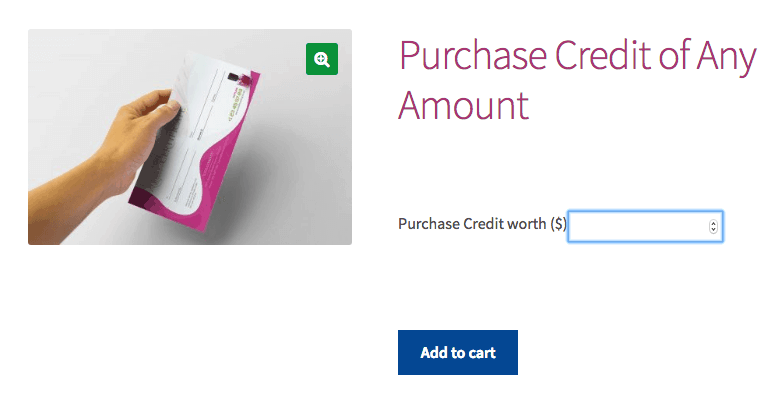 You can create gift cards as mentioned above and customers can purchase them like any other product from your shop. They can enter the amount of the gift card they want to purchase, add it to their cart and then check out.
During checkout, your customers also have the option to send gift those cards to someone else or themselves at checkout and they can schedule when to send those gift cards.
Remember the holiday season example I mentioned earlier?
And if you send gift cards to customers on their birthdays or during the holiday season to redeem on your store, they will find it under their My Account > Coupons section. Your customers can make payments from their gift card balance on your store until the credit/validity expires.
Eleven applications of gift cards using Smart Coupons
There are many but we have hand-picked the best ones:
Bulk generate gift cards and schedule them on special days like Christmas
Now, these are two great features of Smart Coupons – bulk generation and scheduling.
Gifts are expected at Christmas, you know. You can simply schedule gift cards for a specific date (say, 24th December) rather than remembering to send them and forgetting them later. Smart Coupons handle the rest.
Gift cards will be delivered to your customers on December 24. ( Before Santa gives)
Issue a higher-priced gift voucher at a lower price during the Black Friday season
Holiday season is the best time people spend more money. So why not let customers purchase higher-value gift cards at a discount from you!
For example – a $100 gift card at $90, or a $50 gift card at $45.
Here's how to create and send higher value gift cards at a discount
Email gift cards to potential loyalist customers
Then there may be some customers who have been with your brand for a while and pay more; however, they are still resistant. They may be looking for a BONUS from you.
Now, these customers can be good leads for your high-end products, bundles, or membership.
What you can do is identify these customers, send them a gift card which can be redeemed only on your special products.
And when you send this voucher only to selected customers with a personalized text via emails, they feel it's an exclusive deal that can't be ignored.
Send gift cards to special customers on their birthdays and anniversaries
Your loyal customers will feel special if you send them a gift certificate which they can use in your store for their birthday.
Note – For this, you need to have the dates of these respective customers.
Offer a store credit with a product that can be sent to a different recipient
Using Smart Coupons, you can issue a store credit coupon with a product. When the recipient purchases that product, they will receive a store credit coupon that can be sent to another individual.
Here, if you don't exclude the product from the coupon, the recipient can keep on passing credits to other individuals and so on, forming a chain.
So to avoid this, create a separate product for issuing credits and link the coupon to the new separate product. Also, in the coupon, exclude the newly created separate product. This will avoid other recipients to share the credit coupon and get the product at a low price or free.
Now, when a person has a gift card to redeem but falls short of balance to purchase some premium products, they'll surely pay extra from their pocket to grab that.
So, this is a great opportunity to upsell higher value or premium products and earn more money.
Add a short-term validity to the gift card to build urgency
When the customer has a gift card valid for a longer duration, he/she may delay the purchase or may not purchase at all. Sad!
But a gift card expiring soon will nudge the customer to buy the product at the earliest. The best is to send a reminder email regarding the same.
Restrict gift card to specific products
Likewise, giving discounts all the time or giving too many things will also reduce your profit margin. Therefore, restrict your gift card from getting applied to your best-sellers.
Restrict gift cards usage for variable products
You can create a gift card with a fixed amount that can be used to purchase a particular product X times. As an example, if you are selling courses and want users to apply a fixed amount discount each time they buy a course, but only five times.
Add a special message to the gift card
Why send a plain text gift card? You can attach a special message to the gift card and make it more personalized.
Add a link in the gift card email. This will take the recipients directly to the shop or cart page, with the product added to the cart and discount applied.
Use gift cards for partial payments
It's possible to allow customers to spend a portion of their gift cards on a specific purchase and the remainder using other payment methods.
Some more WooCommerce gift card plugins
Ok, now that you have understood about Smart Coupons and it's gift card features, let's get into my curated list of other WooCommerce gift card plugins.
Gift Cards
This plugin packs the features that your customers require. This plugin is available on the WooCommerce marketplace.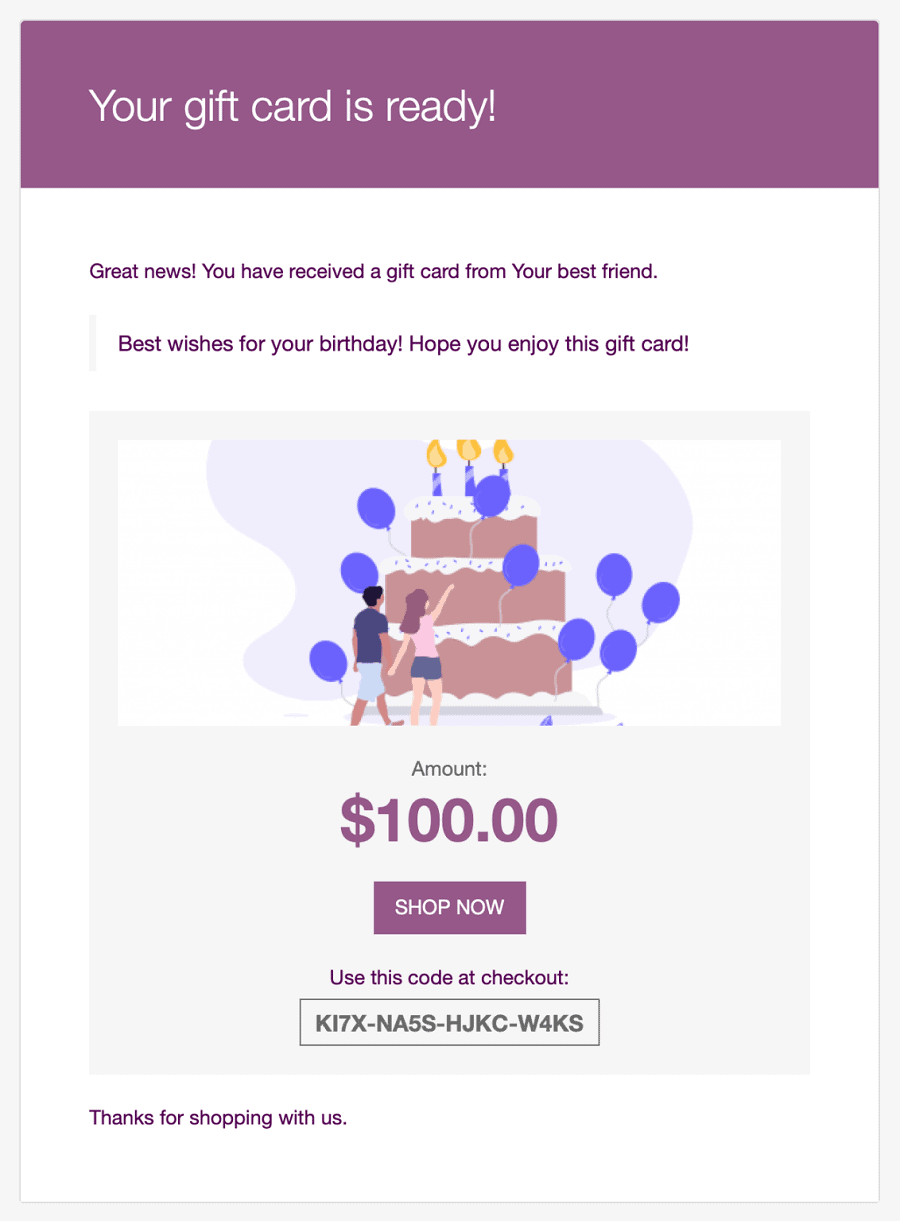 Top features:
Existing customers can add gift certificates to their account for later use.
New customers can apply gift card codes right before placing an order — just like coupons.
Choose a delivery date in the future to send the gift card.
Reporting – keep track of every issued code, generate balance reports for issued, purchased, and expired codes.
Pricing: $49
Gift Up! Gift Cards for WordPress and WooCommerce
Another simple and easy solution to sell gift cards is Gift Up! It is a free plugin, but they charge a small fee (3.49% per each sale) when you sell a gift card. If you want to avoid the 3.49% fee, there are pre-paid bundles available.
If you are really low on budget and are just getting started, you can give this a try.
Top features:
Fully automated email delivery of your gift cards.
Easy management of all gift cards on your store.
Design your own gift cards, or choose from readymade designs.
Sell gift cards in any currency.
Integration support for more than 1000 softwares.
Gift Card for WooCommerce
You can also check out Gift Card for WooCommerce. The workings here are also similar.
Top features:
Select gift cards from the templates available.
Add your brand logo in the gift card sent via email.
Customers can send unlimited gift cards.
Customers can send the gift note also.
Pricing: Starts from approx $35
Get Gift Card for WooCommerce plugin
PW WooCommerce Gift Cards Pro
PW WooCommerce Gift Cards is another good option in the market, which is easy to set up for your online store and start selling.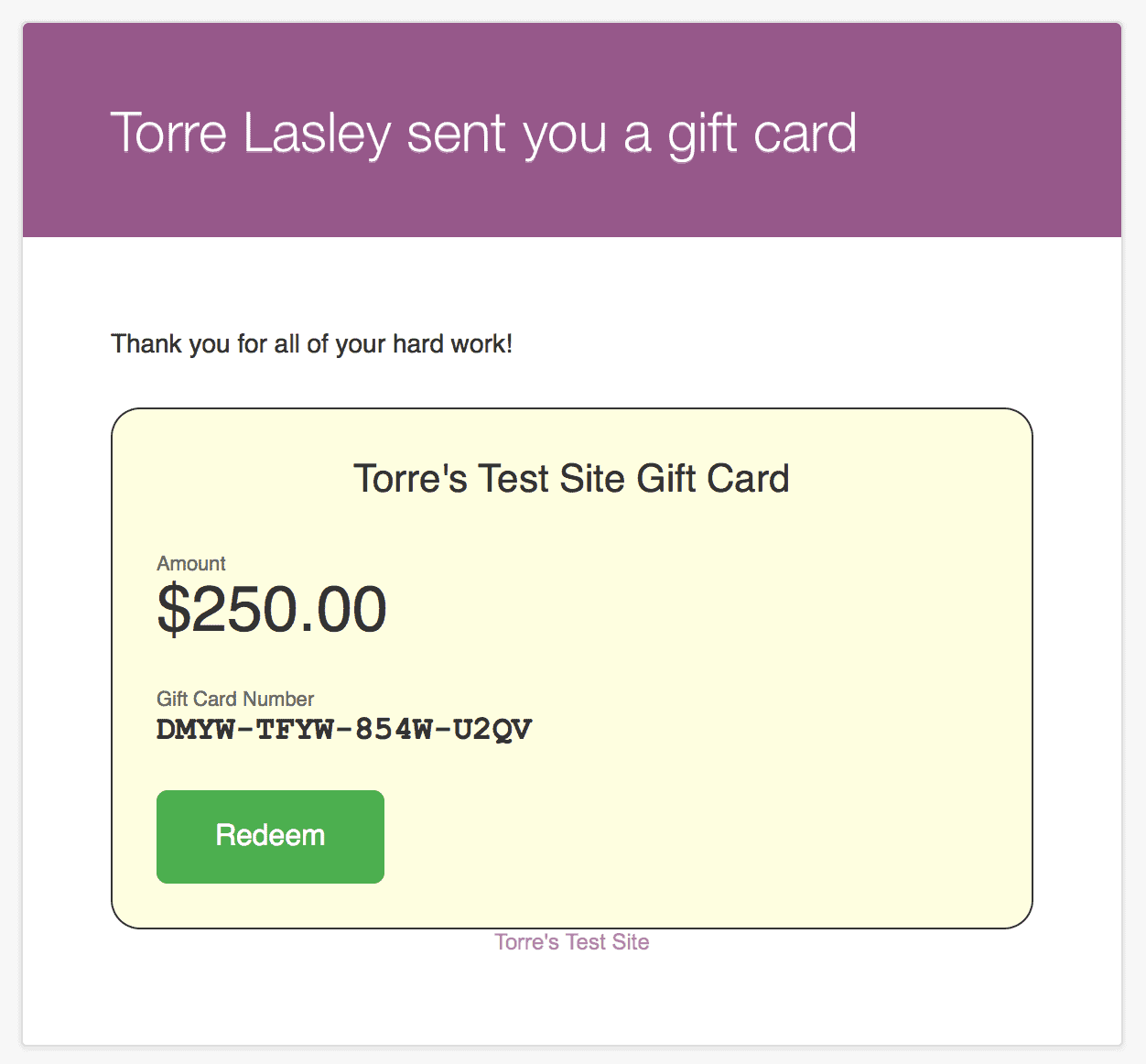 Key features:
Set expiration dates automatically based on the purchase date.
You can also sell physical gift cards.
Add funds to existing gift cards.
Email template system to create beautiful looking emails for gift cards.
Bonus gift cards – offer a free gift card for purchasing a gift card.
Pricing: Free version on WordPress.org, Pro version starts at $59
Get PW WooCommerce Gift Cards Pro plugin
YITH WooCommerce Gift Cards Pro
YITH WooCommerce Gift Cards Pro is also a good plugin to manage your gift cards effectively all-in-one place.
Key features:
Customers can create gift cards of any amount and customize the cards as per their preferences for their family and friends.
Choose a custom amount rather than a specific amount set by the store owner (only if allowed).
Easily sell physical gift cards if virtual gift cards are a limitation for you.
Add QR Code for the gift cards and use them faster.
Notifications and email options (Both when the gift card is sent and used).
Pricing: $129.99
Get YITH WooCommerce Gift Cards plugin
Quality plugins are not always expensive…Smart Coupons will save you a minimum of $200
If you purchase any gift card plugin, it will cost you anywhere between $49 to $100 or more. Now,
Moreover, you need to manage so many plugins which can be troublesome.
But Smart Coupons costs just $99, and you get all these features and benefits. You can easily make 10x more money if you do it!
Which is the best gift card plugin for WooCommerce?
Whether it's to reward customers, get sales, or retain clients, gift cards are incredibly useful.
Those mentioned above are good WooCommerce gift card plugins. But if you do not wish to spend the extra money on additional coupons plugins, want all the premium features in one place, Smart Coupons is your pick.
You have one-click coupons, you can restrict coupons based on attributes, you can make a URL coupon, you can use coupons for WooCommerce Subscriptions, you get a better ROI overtime…there are a lot of advantages.
FAQs
Why offer gift cards for your online store?
You can increase revenue and retain customers by using gift cards. Gift cards also brings in new customers, improves brand visibility and boosts brand awareness.
How do gift cards work in WooCommerce?
Each time a gift card order is received, you generate a unique code for the specified customer. By using the gift card at checkout, customers can pay for orders until the balance is exhausted.