Most people don't know what's the right gift they should get for their loved ones on different occasions. And cash doesn't have that personalized touch. Therefore, a gift card helps people solve this dilemma.
Instead of finding the perfect gift for someone who may or may not like, why not just give them a gift card or voucher so that they can buy whatever they want through that.
Therefore, to help you create and send gift cards, we have picked some best WooCommerce gift card plugins. If you haven't started with gift cards for your business yet, then you have landed just at the right place.
Why use gift cards?
While preparing for the sales season and forming your marketing strategy to bring in more customers, it's tough to ignore the power of gift cards / gift certificates / gift vouchers for your WooCommerce store.
Gift cards will easily let your customers give their loved ones a certain amount, the recipient could redeem by purchasing any product from your store. It's super-easy, yet many online store owners are not leveraging this system to boost sales.
Benefits of using gift cards:
Easy way to bring in new customers to your store
Improve your sales instantly
A great way to start word-of-mouth marketing
Attract targeted audiences from your existing customers
Improve your WooCommerce store conversion rate
Best WooCommerce gift card plugins
Ok, now that you have understood why gift cards are a no-brainer for your store, let's get into my curated list of WooCommerce gift card plugins.
WooCommerce Smart Coupons
There is a reason why this plugin is listed first. Smart Coupons plugin has everything you need to grow your sales and customers using gift cards. You can manage discounts, coupons, credits, promotions, giveaways, vouchers using this plugin.
The plugin is available on the WooCommerce official website.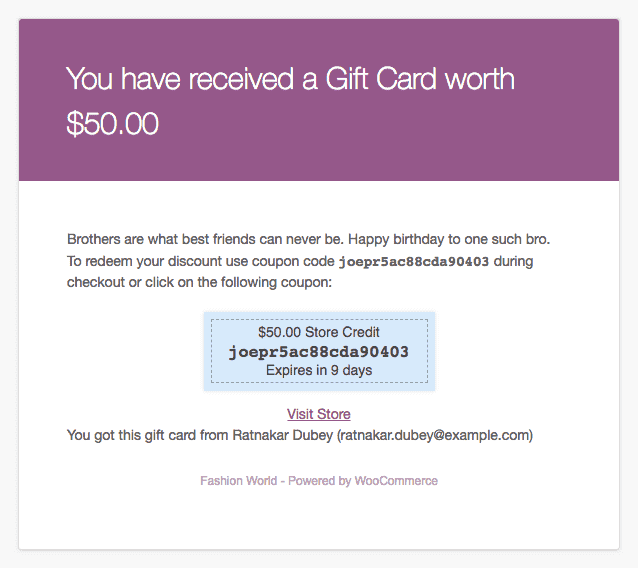 Top features:
Create and send gift cards / store credit of any amount. So users can make as many purchases as they want until the credit is exhausted or its validity expires.
Allow customers to purchase gift cards of any amount from your store
Allow customers to purchase gift cards of fixed denominations. Say $50, $100, $500 and gift them to their loved ones. Customers can even schedule them. Widely used during Christmas.
Bulk generate and schedule gift cards with a customized message. A great tactic to delight your loved ones on birthdays, anniversaries or even your customers during holiday season sale.
Use credits to provide refunds or compensation as well. This is a great way to retain customers.
Allow restrictions on gift cards based on payment method, user role, etc.
Send physical gift cards by printing them and distribute them.
Not just gift cards, Smart Coupons does a ton more
Bulk generate unique coupon codes
Auto-apply coupons via URL
Advanced coupons restrictions based on location, user role, payment methods, shipping, product attribute, product taxonony.
Issue a product as a gift via coupon. Also gift more than one quantity of a product.
Subscription / Recurring coupons – Give discounts to customers who opt for subscriptions.
Quality plugins are not always expensive…Smart Coupons will save you a minimum of $200
If you purchase any gift card plugin, it will cost you anywhere between $49 to $100 or more. Now,
Moreover, you need to manage so many plugins which can be troublesome.
But Smart Coupons cost just $99, and you get all these features and benefits within Smart Coupons.
It's worth the bucks because you can easily make 10x more money!
Get WooCommerce Smart Coupons plugin
Gift Cards
This plugin packs those features that your customers require. This plugin is available on the WooCommerce official website.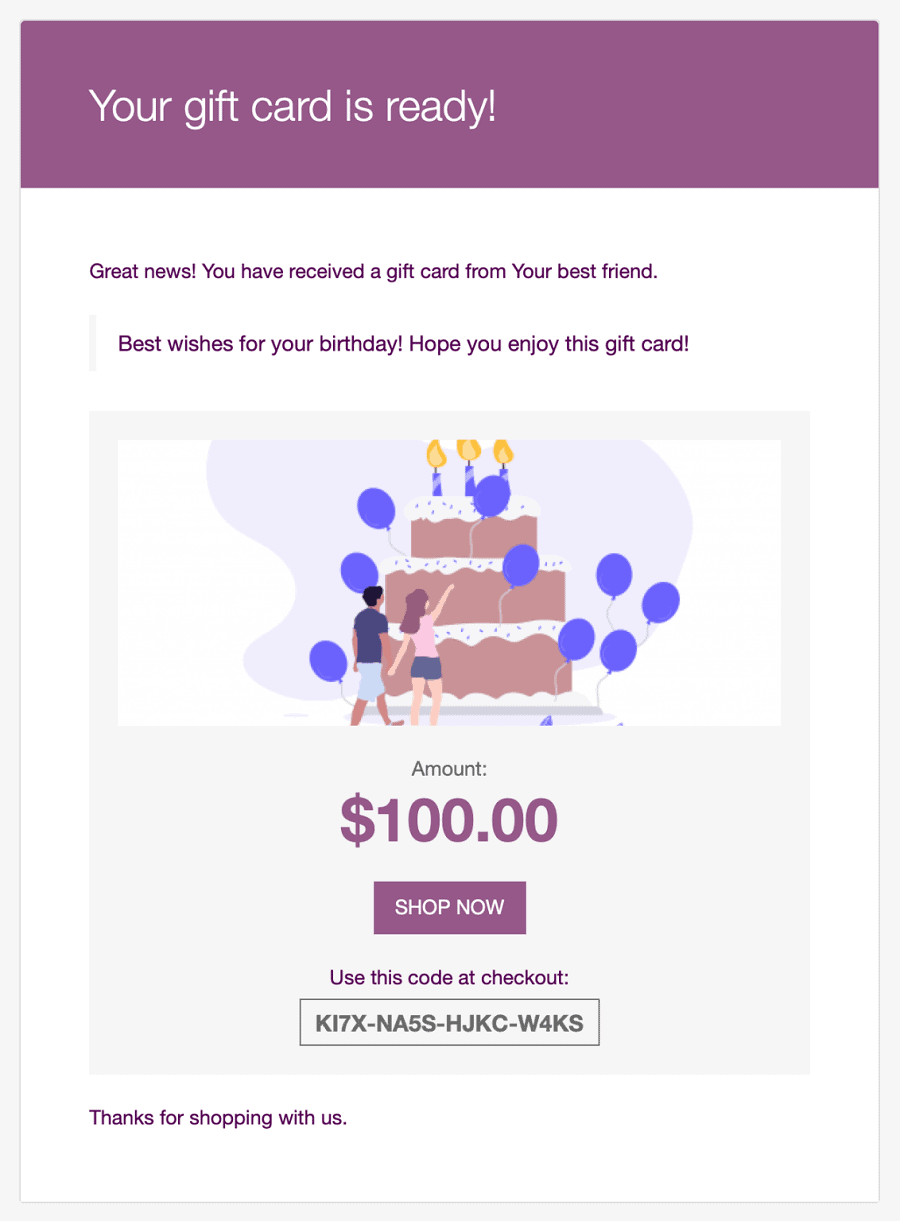 Key features:
Existing customers can add gift certificates to their account for later use
New customers can apply gift card codes right before placing an order — just like coupons.
Choose a delivery date in the future to send the gift card
Reporting – keep track of every issued code, generate balance reports for issued, purchased, and expired codes.
Pricing: $49
Gift Up! Gift Cards for WordPress and WooCommerce
Another simple and easy solution to sell gift cards is Gift Up! It is a free plugin, but they charge a small fee (3.49% per each sale) when you sell a gift card.
If you are really low on budget and are just getting started, you can give this a try.
Key features:
Fully automated email delivery of your gift cards
Easy management of all gift cards on your store
Design your own gift cards, or choose from readymade designs
Sell gift cards in any currency
Integration support for more than 1000 softwares
Gift Card for WooCommerce
You can also check out Gift Card for WooCommerce. The workings here are also similar.
Key features:
Select gift cards from the templates available
Add your brand logo in the gift card sent via email
Customers can send unlimited gift cards
Customers can send the gift note also
Pricing: Starts at $36
PW WooCommerce Gift Cards Pro
PW WooCommerce Gift Cards is another good option in the market, which is easy to set up for your online store and start selling.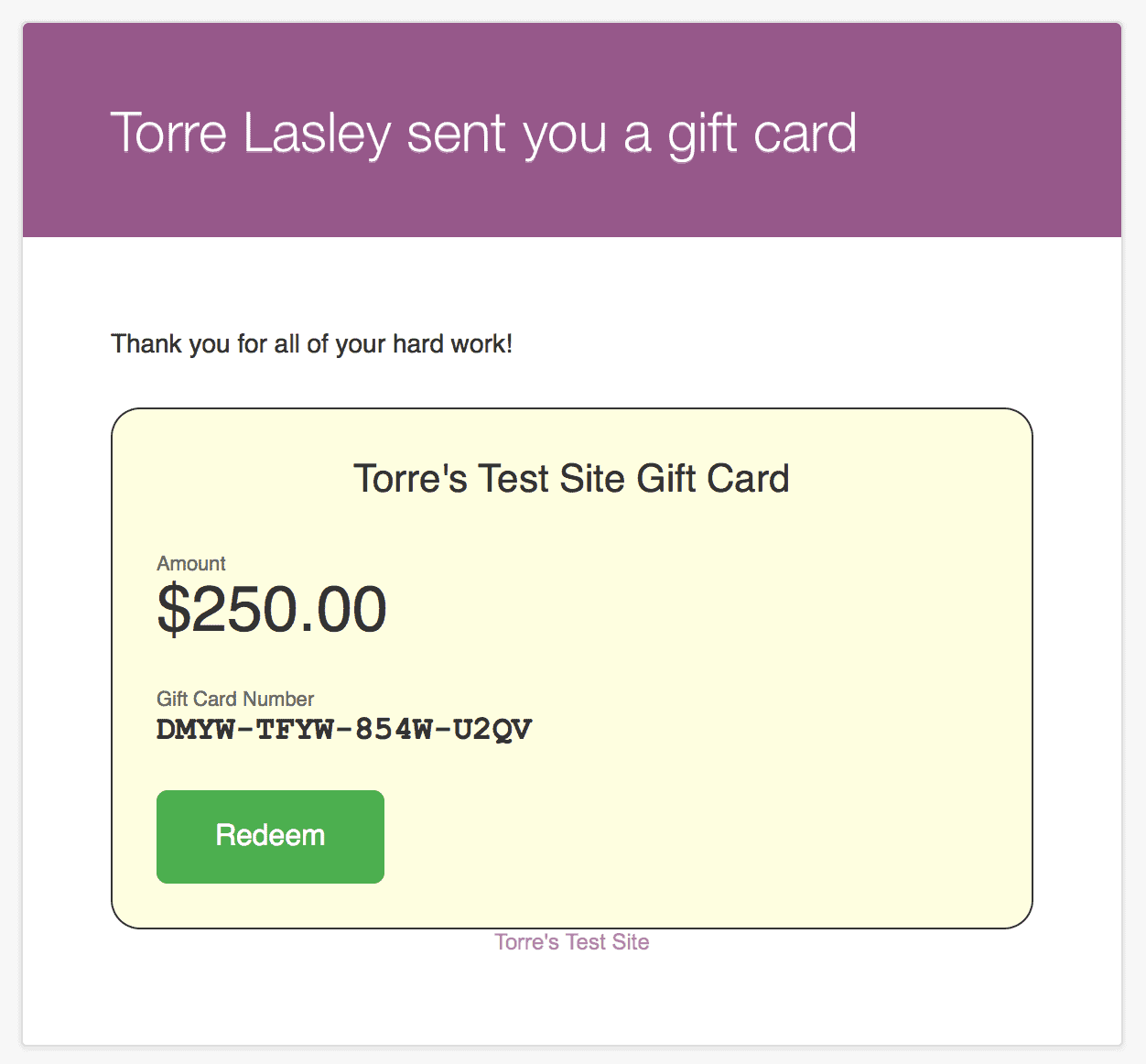 Key features:
Set expiration dates automatically based on the purchase date
You can also sell physical gift cards
Add funds to existing gift cards
Email template system to create beautiful looking emails for gift cards
Bonus gift cards – offer a free gift card for purchasing a gift card.
Pricing: Free version on WordPress.org, Pro version starts at $59
Get PW WooCommerce Gift Cards Pro plugin
YITH WooCommerce Gift Cards Pro
YITH WooCommerce Gift Cards Pro is also an awesome plugin to manage your gift cards effectively all-in-one place.
Key features:
Customers can create gift cards of any amount and customize the cards as per their preferences for their family and friends.
Choose a custom amount rather than a specific amount set by the store owner (only if allowed)
Easily sell physical gift cards if virtual gift cards are a limitation for you.
Add QR Code for the gift cards and use them faster
Notifications and email options (Both when the gift card is sent and used)
Pricing: $130
Get YITH WooCommerce Gift Cards plugin
So, all-in-one coupon solution or only WooCommerce gift card plugin?
No doubt, gift cards are a great way to build to explode sales. Have a clear strategy of how you are going to use gift cards to bring in new customers and retain them for a longer period.
All WooCommerce gift card plugins mentioned are good. But if you don't want to spend the extra money and want to avoid managing so many coupons plugin, want all the premium features of coupons rolled into one, Smart Coupons is your pick.