Digital coupons are one of the top ways to drive sales for your eCommerce store. How can we say that?
Here are the digital coupon statistics that prove the same-
Around 31 billion eCoupons or digital coupons are projected to be redeemed in 2019 (Emucoupons).
53.8% of Internet users between the ages of 18 to 20 years say that discounts and coupons are an essential feature in their overall digital buying decision (Statista).
By the end of 2019, the number of U.S. mobile coupon users is expected to reach 142.4 million (eMarketer).
87.6% of app downloads in the U.S. happens because of the digital coupons (research by Pyments.com and LISNR).
How coupons made it this far – from 1887 till date.
For your eCommerce business, you know how hard it is to grow your brand and drive sales. The growing competition and the enormous online marketplaces make it difficult for you to grow sustainably.
Today, one key strategy is to use digital coupons. To keep up with your competitors, you need to offer deals on your products regularly.
Online digital coupons have become a popular marketing tactic today and can be beneficial from small to large eCommerce businesses.
What are digital coupons?
Before we move on to explain why, when, and how you can use digital coupons for your WooCommerce store, here is the definition of digital coupons-
Digital coupons are the electronic coupons, similar to paper-based traditional coupons that your customers can use to redeem discounts or deals you offer. They are also known as eCoupons.
WooCommerce allows you to use digital coupons and get benefits out of the same.
Why should you use digital coupons on your WooCommerce store?
Here are a few reasons why must use digital coupons for your WooCommerce online store:
Improves store traffic
Today, e-commerce businesses have started focusing on going omnichannel. If people don't come to any of your stores, you're going to make losses as there will be no purchases. And hence, one of the prime reasons to use digital coupons is to drive people to either online or offline stores.
Forever 21 used scannable Twitter coupons to drive in-store sales. Their main agenda behind using this kind of digital coupons was to drive foot traffic.
Helps in cross-selling
Digital coupons can be considered as a medium not just to inspire regular conversions, but also to cross-sell and up-sell your products. As eCoupons consists of a minimum amount of spending required, you're sure to sell more than expected.
Encourage customer retention
Using digital coupons should not be limited to specific campaigns. When we talk about maintaining relationships with customers, customer retention is crucial for every company to keep up with their sales.
You can encourage customer retention using coupons and bring back your customers who haven't been at your online store from 3 to 4 months.
Reduces cart abandonment ratio
The average global cart abandonment ratio is 69.57% as of mid-2019, as per Statista. Your customers leave your online carts full of products without making purchases.
Create a digital coupon strategy that will influence people to buy the products that reside in their carts. You can recapture your customer's attention towards cart notifying them that they have discount coupons and can make checkouts at the reduced costs than earlier.
Enhance customer loyalty
Customer loyalty is one of the success drivers in today's e-commerce industry. Loyal customers bring repeat business continuously.
They choose you over other brands and hence, it's the perfect time to come up with digital coupons to inspire them to buy other products. Tell your loyal customers that you care, using digital coupons.
When should you use digital coupons on your WooCommerce store?
After learning about the benefits of using digital coupons, you need to understand when you can use them to ensure you achieve all of the benefits mentioned above. You can use eCoupons (digital coupons) for:
Welcoming new customers
Online coupons are excellent ways to welcome new customers to your brand. When people sign up to your WooCommerce store, providing a digital coupon for an exclusive discount or free shipping can invoke their first purchase with your brand.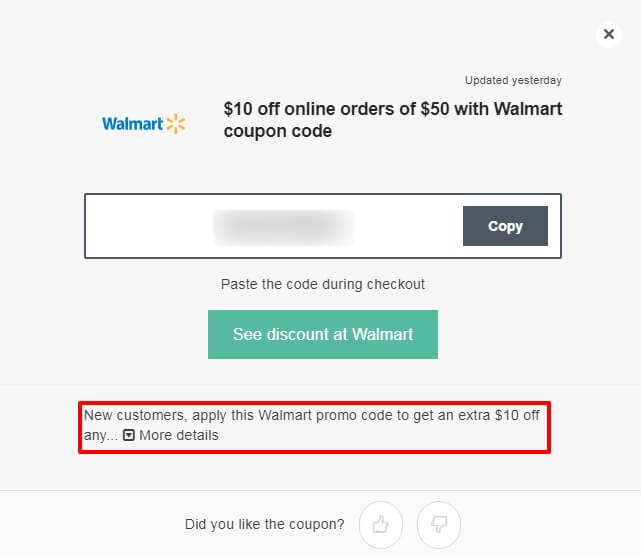 Online coupons for new users drive instant conversions. So, make sure you have special offerings for your new customers.
Introducing new product lines
Announcing new product lines needs a grand launch. Promoting them with digital coupons enhances product awareness and helps you drive sales at a discounted price. The more people will come to know about new product lines; the more conversions will take place.

Getting rid of unwanted inventory
No brand explicitly announces coupons for unwanted or old inventory. But, that's obvious. You announce higher discounts using online coupons for your unwanted inventory. Such coupons are a great way to get rid of them easily and instantly.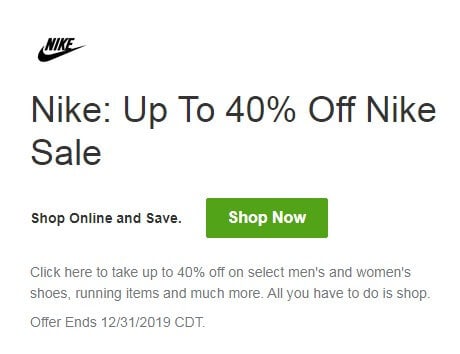 Encouraging customers to try out a new brand
Whenever marketplaces launch a new brand, they need to encourage customers to try out that new brand. But, it's impossible to attract them without discounts. Well, digital coupons sound revenue-boosting even when you go online for the first time or launch your new physical store.

Why use WooCommerce Smart Coupons?
Now you know the benefits and the opportunities to use digital coupons to drive sales. But how to create digital coupons? Creating them manually, issuing, and maintaining them is challenging.
So, here is an automated way to create online coupons – WooCommerce Smart Coupons.
WooCommerce Smart Coupons plugin allows you to create coupons, credits, and gift certificates, and a lot more…
What benefits does WooCommerce Smart Coupons plugin provide?
Let's find out-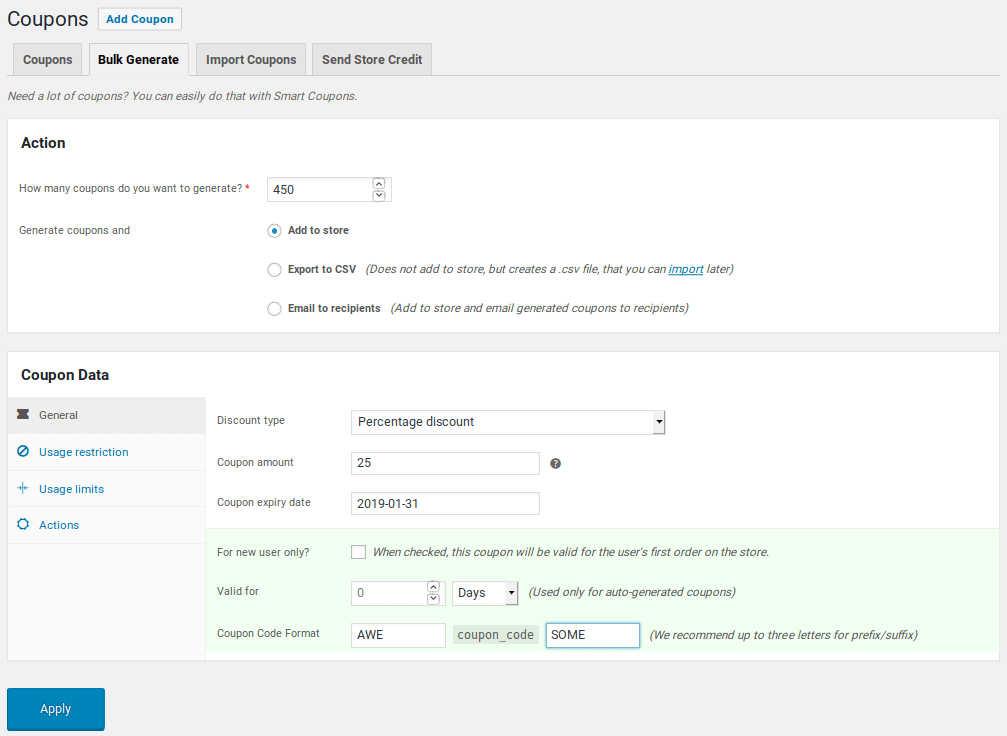 Generates bulk coupons and dispatch them automatically– With WooCommerce Smart Coupons, you can create coupons in a massive number, email them to your customers, add them to your online store, and export them to a CSV file. Everything happens quickly and easily.
Provides credit to your customers– When you want to provide credit for new users or in exchange for return amount, this plugin enhances your customer lifetime value (CLV). Your customers can maintain such credits and even utilize them while making purchases.
Offers gift certificates– With this plugin, your customers can buy or even send coupons as gift cards, credits or vouchers.
Provides one-click coupon usage– How would you manage your coupon codes? Would you need to remember them? Not at all. Smart Coupons allow you to show coupons on Cart and My Account pages. Your customers can redeem them while making payments using a single click.
Allows you to share coupons using links– Sometimes, you want to share referral coupons to your customers. WooCommerce Smart Coupons enable you to share coupons via URLs. You can use them when allowing your customers to share links with their family and friends.
WooCommerce Smart Coupons plugin by StoreApps is a brilliant way to compete with other brands and sustain in this competitive market.
Five most effective ways to use Smart Coupons
What is WooCommerce Smart Coupons and why you should use them is what we discussed above. But, here are the ways you can use Smart Coupons on your store.
Sell or issue gift certificates / store credits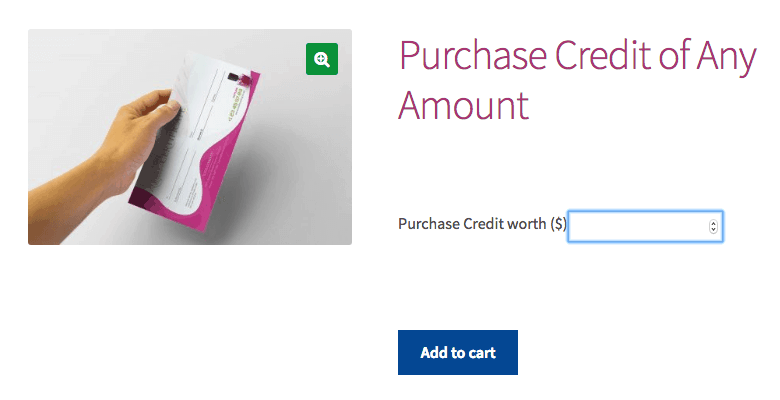 An average gift card sales reached around 160 billion U.S. dollars by 2018, as per Statista. You can sell gift certificates or gift cards or store credit during Thanksgiving, Black Friday, Christmas or any other festive day. Such gift cards invoke instant purchases and even the number of purchases.
So, sell gift certificates to ensure people come to know about your brand and even buy from you.
Once you create gift certificates/store credits using Smart Coupons, you can send them through emails and even promote them on social media channels.
Your customers will not just buy them for themselves but also for their loved ones. Anyway, choosing a gift is a hassle for people today, and gift cards eliminate such hassles quickly.
Deliver coupon on a particular date-time
When is a good day and time to deliver coupons to your customers? Create coupons using Smart Coupons and schedule them based on the customers' birthdays, anniversaries, festivals, and more.
When you deliver coupons on your customers' special days, they feel valued and keep buying your products regularly.
With Smart Coupons, you provide discounts to customers. But, in return, you're earning a high-valued customer and its loyalty.
Give conditional discounts on coupons
Giving discounts should never be a loss-making affair. And hence, you need to ensure that your discounts invoke at least some amount of purchase.
So, giving out conditional discounts such as '50% off on the purchase of $100' or '50% off up to $100′ creates an urge for the customers to at least make a purchase of $100.
Such conditional discount coupons by Smart Coupons help you earn more business despite giving out discounts. Indeed a smart one!
Time-sensitive promotions with automated date+time expiry
Time-sensitive promotions convince your customers to take immediate action to save their coupons from getting expired.
Smart Coupons by WooCommerce is intelligent enough to help you create time-sensitive coupons without your manual intervention.
Restrict and promote conditional coupons by customer's geolocation
Do you want to target people who live in Massachusetts? Well, that's just an example, but Smart Coupons allow you to create such conditional digital coupons as well.
Some retailers or merchants are actively looking to drive in-store sales. In such cases, you can create conditional coupons based on the customers' billing/shipping country, state, city, or Pincode.
You don't have to do anything in that except for providing conditional values. Using Smart Coupons plugin is that simple.
Not just simple, but also enjoyable. You will love doing it, surely!
BTW…this isn't over yet. Below are listed some top use cases of using Smart Coupons on your WooCommerce store. Implement them on your store for soaring profits.
Ten other awesome Smart Coupons features
Smart Coupons provide many other features that help you create and manage your coupons, credits, and gift certificates.
Auto-generating unique codes
You can create exclusive code for each customer using Smart Coupons. Such unique codes are restricted to each customer's email address. Hence, only your customers can use the coupon code, and they cannot share that code with their near and dear ones.
Predefined coupon designs
Designing eCoupons become easy with Smart Coupons plugin. It allows you to choose from the predefined coupon designs, which are beautiful and engaging. You no more need to be dependent on the designing processes and resources.
Creating duplicate coupons
Once you've created coupons, WooCommerce Smart Coupons plugin allows you to refer them and create duplicate ones by making only a few changes. You save time in creating digital coupons and deliver them instantly.
Deleting coupons automatically
With Smart Coupons, you can create credit coupons that get deleted on their own when they're utilized, or the credit balance becomes zero. You don't need to keep tracking such coupons on their utilization.
Applying before tax
Just fill in the details, and Smart Coupons apply gift cards or credits before taxes are calculated.
Emailing auto-generated coupons
On your behalf, WooCommerce Smart Coupons email your auto-generated coupons to the targeted recipients.
Adding prefix/suffix to the coupon codes
Creating customized coupon codes is possible with Smart Coupons. Add a prefix or suffix to the coupon codes to deliver branded codes and not just the common ones.
Linking coupons with products
When you link coupons with certain products, Smart Coupons generate coupons when your customers buy those linked products. Such coupons are activated for your customers' next purchase.
Creating coupons for new users only
WooCommerce understands how important it is to provide coupons to new users. Hence, Smart Coupons allow you to create coupons specifically for new users only with one click.
Compatible with WooCommerce Subscriptions
WooCommerce Smart Coupons is compatible with WooCommerce Subscriptions which helps you provide deals or discounts to subscription-based products and services.
WooCommerce Smart Coupons provide many other highly essential features that you can leverage to get maximum ROI of your coupon marketing strategy.
Multiply your store sales with WooCommerce Smart Coupons
With Smart Coupons, you can enhance customer experience and hence boost your store sales.
Create multiple strategies to use Smart Coupons to offer store credits, create bulk coupons, provide coupon links to customers, and selling gift cards at every stage.