WooCommerce
Smart Coupons
Complete, flexible,
best-selling coupons plugin
WooCommerce Smart Coupons plugin is all you need to grow sales and customers using gift cards, store credit, discount coupons, and a lot more. 10,500+ customers, 8+ years of proven track record, reliable plugin.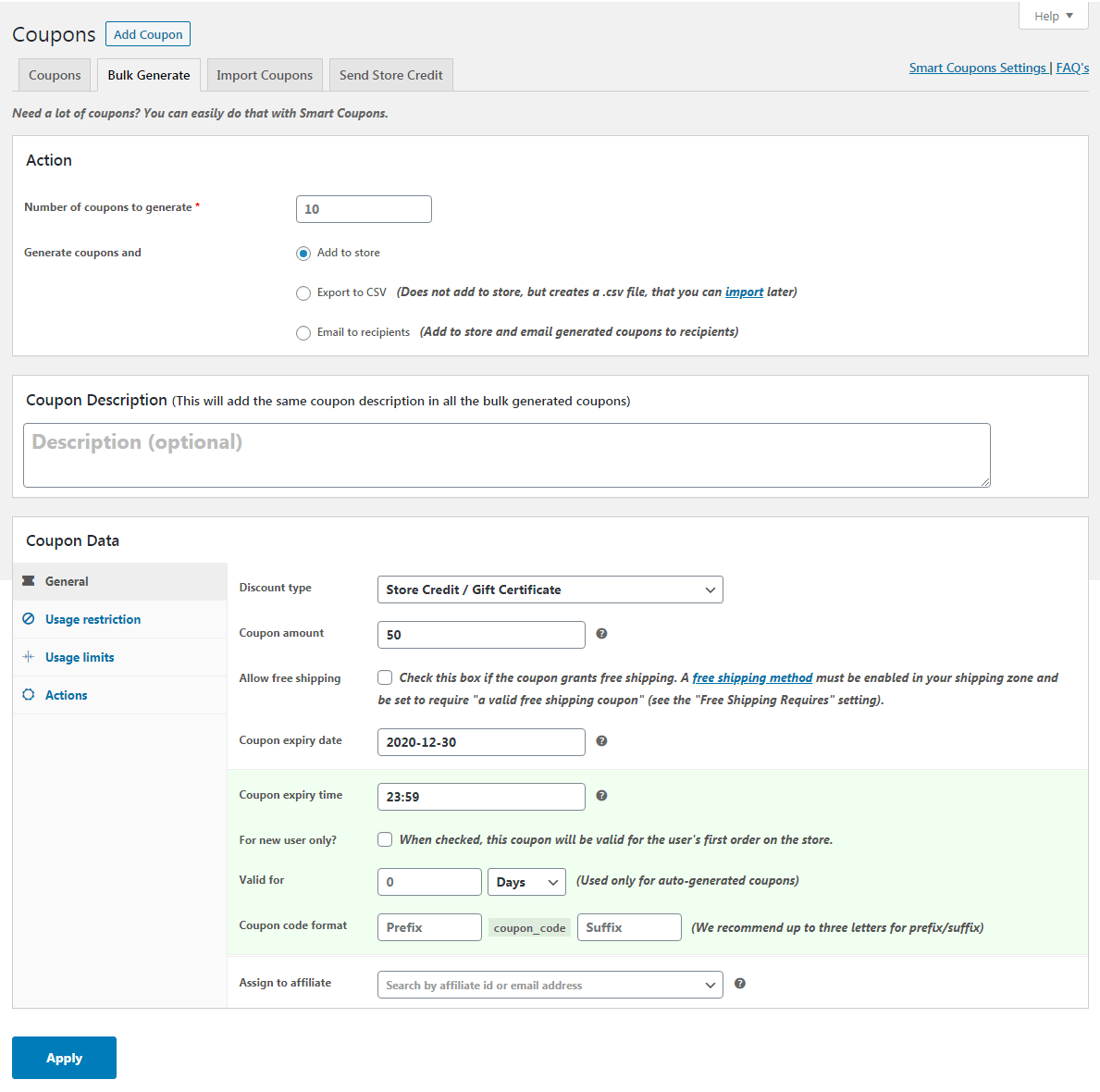 Make more money, gain repeat and loyal customers using WooCommerce Smart Coupons
Manual coupon creation and dispatch with the traditional WooCommerce coupon system is very tedious.
Create a coupon, enter a unique coupon code, set up all coupon options, restrict the coupon to the customer's email and then save. That too for a list of thousands. In addition, keep a track of all this, ensuring nothing goes wrong. And doing this could take days.
Sheer frustration, mental stress and waste of time. This dates back to the 2012 holiday season when we wanted to drive sales for our new products.
So how did we solve the above problem? By creating WooCommerce Smart Coupons!
It bulk generated and emailed thousands of unique coupons in a matter of minutes. And now, Smart Coupons has become an all-rounder WooCommerce coupon management plugin.
WooCommerce gift cards / store-credit

Purchase and send gift cards / gift certificates / credits / vouchers to yourself or friends with custom messages on their birthdays, anniversaries or special occasions. Customers can maintain, top-up and purchase from their fund balance.

Bulk coupon generator, dispatch, import-export

Generate thousands of coupons at once, email them to customers, add them to WooCommerce, export to CSV to share with partners. Or import via CSV.

Embed coupons / shortcodes

Show available coupons anywhere you want – cart page, checkout page, order received page, My Account page, blog post or any other page. And get the coupon applied with a single click.

Advanced coupon restrictions

Restrict coupons based on location, payment methods, shipping, user roles, product attributes, email address. Also, set a maximum discount limit to be redeemed. Say flat 30% Off up to $100.

URL coupons

No coupon code hassle, no copy-paste needed. Pass single or multiple coupons in a link and automatically apply it. And (optionally) add products to the customer's shopping cart.

Readymade, customizable designs

Includes readymade, good-looking and responsive coupon designs. Get full design control via CSS.

Gift a product via coupon

Attach a gift of any value (free or paid) to a particular coupon. On applying the coupon, the gift is automatically added to the cart and the customer may continue shopping or checkout normally.
Review, filter and manage coupons from a single place, run time-sensitive discounts, seasonal promotions, etc. There is a lot more to Smart Coupons though. Read the WooCommerce Smart Coupons documentation for detailed info on using Smart Coupons on your site.
"Incredibly powerful!"

StoreApps Smart Coupons plugin – especially with its ability to not only create coupons but to give store credits as well – is incredibly powerful.
Top WooCommerce Smart Coupons benefits
Flexible gift cards
Create and send gift cards to customers, or allow customers to purchase gift cards from your store. Also sell higher amount gift cards at a lower price.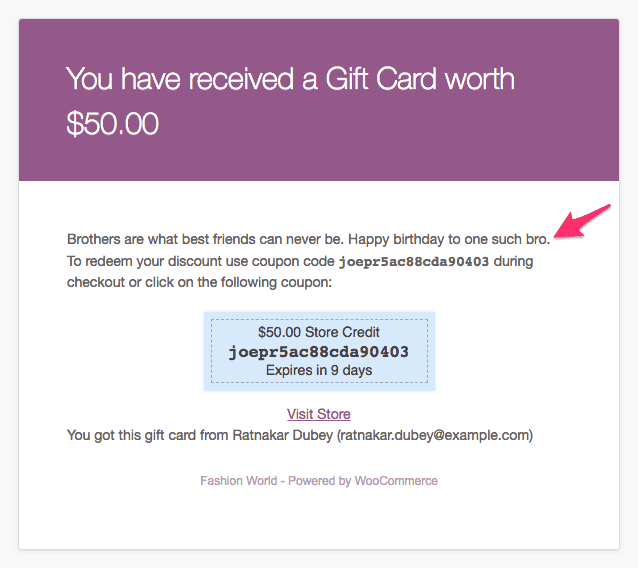 New, beautiful, converting Smart Coupons Styles
Readymade, high-converting coupon styles that can be customized easily to match your brand. No coding, no designing hassles. Non-buyers too will get encouraged to make a purchase when they see these coupon templates.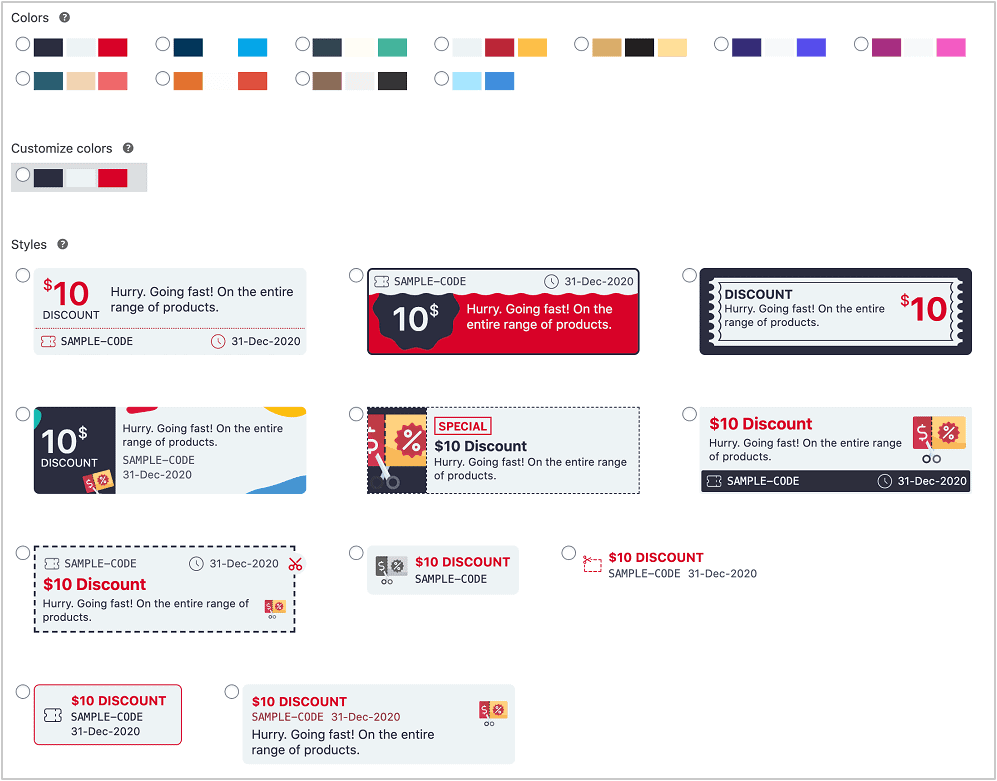 Coupon generator, scheduling
Generate coupons in bulk with unique code. Email them to customers before the sale starts and make them delighted. Very useful strategy during Halloween, Black Friday, Cyber Monday and Christmas season.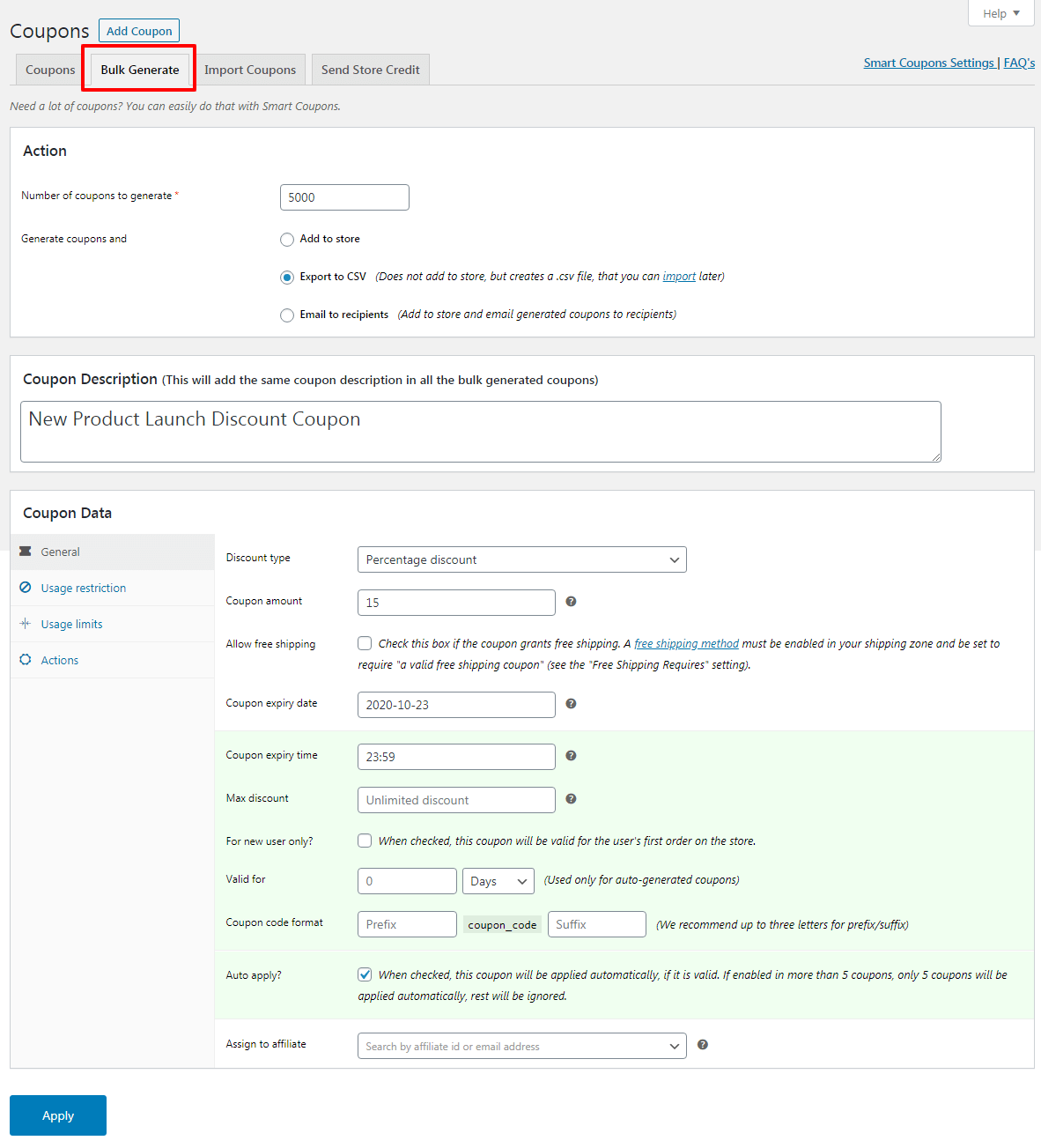 Five strategies to 2x your sales using WooCommerce Smart Coupons plugin
Strategy #1 : Provide a time-sensitive coupon during the holiday season
Provide customers with a coupon that expires at a particular time during the holiday season. This urgency encourages customers to make an early purchase.
Strategy #2 : Issue multiple coupons with one or more products
Example – You can issue a coupon of 10% discount on product A and another discount of 15% on product B.
Or, you can issue store credit and a discount coupon on product A itself.
Strategy #3 : Offer discount on high-end products on purchase of low-end products
Create a discount coupon and allow its usage only on a specific higher-priced product. Link this coupon with a related lower-priced product. This encourages more people to buy the lower-priced product and many of them will convert to a higher-priced product as well.
You can sell gift vouchers or give a discount on other products on the purchase of a product. Great for upsells, cross-sells, downsells and to encourage repeat sales!
Strategy #4 : Offer a higher value gift card at a lower price
Consider a case where you offer a $550 gift card at $500. Here, you are giving an additional $50 to your customers. Hence, the next time if a customer purchases any other product, he / she already has the gift card balance to redeem.
Here, acquiring $500 customers is more profitable at the expense of $50. Learn more about WooCommerce gift cards
Strategy #5 : Issue store credit for a refund
Using Smart Coupons, you can issue store credit of any amount to your customers.
If customers are not satisfied with the first purchase, you can issue a store credit to bring them back to your store and encourage them for their next purchase to compensate for the earlier poor experience.
Ready to achieve record-breaking sales?
Developers, store-owners, marketers…everybody loves and relies on WooCommerce Smart Coupons plugin every-time to grow sales, reward their customers and create loyalty.
Be it the holiday season, special events or occasions, look no beyond than Smart Coupons. It's your go-to solution. Get WooCommerce Smart Coupons today. You won't regret it!
Want to bulk edit coupons?
(coupon code, coupon amount, discount type, description, usage limit, extend expiry, delete…?)