The 3 fundamental questions that require more concentration than the fidget spinner–
How to increase sales and conversion rates?
What hacks will contribute to business growth?
How to increase customer lifetime value?
I'm sure you have tested numerous tactics to achieve answers to these questions and got good results at times. Right?
What if I tell you, using just four simple hacks, you could crack all the three questions simultaneously and achieve fruitful conversions ALL THE TIME.
Can't believe? Then read below to find out.
---
The Sales Funnel
Before moving to the hacks, it's absolutely necessary to understand the customer psychology and for that, you need to know the sales funnel.
What is a Sales Funnel?
The sales funnel, also known as the revenue funnel or the sales pipeline is a process in which your prospects or leads move from one stage to another in the funnel till they become your paying customers.
Some may even call it the marketing funnel or the sales order pipeline.
Understanding the sales funnel helps you identify the critical elements where you are leaking money.
As any normal funnel is wide at the top and narrows down  at the bottom; the same way you have a lot of leads initially but at the end, they are just a handful. Hence, the name sales funnel.
If you are selling online; be it physical or digital products, you are probably having a funnel but the biggest loophole is it isn't an optimized conversion funnel.
---
The 4 Fundamental Sales Funnel Stages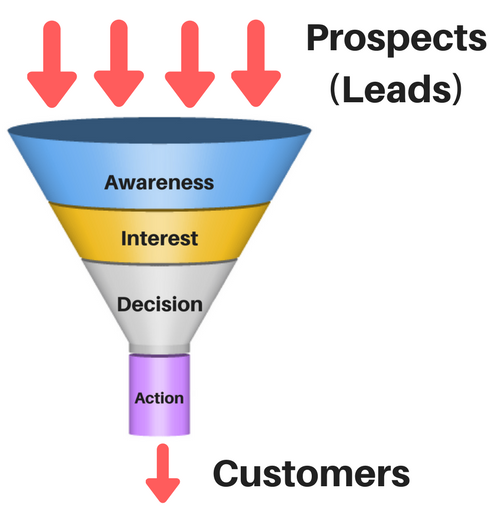 There may be more than 4 stages and they differ from one prospect to another depending upon the buyer's persona, your niche and types of product you sell.
But we restrict ourselves to the main 4 stages which are almost same for the majority cases where your primary purpose is to guide your prospects from stage one to another.
1. Awareness
As the name suggests, the first stage begins with prospects/leads being pulled into your funnel when they become aware of your brand. This maybe through organic search, referral links, social media promotions or paid searches.
Note- As the funnel progresses, your prospects will start reducing. Every stage of the funnel will give you more qualified lead leaving behind the unqualified ones.
---
2. Interest/Interaction
The second stage is the one where the prospect looks out for the solutions to his problems.
And the best way to hook them is using an awesome content piece. The content piece must include strong attention grabbing headlines, how your product solves that pain points and relevant call to action.
Note- Some leads may slip from the pipeline at this juncture if they couldn't find what they were looking for or may return at a later stage.
---
3. Decision
Arguably, the most important stage of the funnel as the prospect likes your product and desires to buy it.
At this stage the prospect will be looking for better packages or options or perks you might be offering to make the final decision and that's the best opportunity to hit jackpot.
Here's the catch-
Our 4 hacks will be applied at this stage as this is the goldmine.
Note-  Research says that – Mostly prospects drop off this stage as they don't find good enough offers to close the deal.
---
4. Action
The final stage where the prospect finally buys your product or products.
But you must not stop here. You need to bring them back to your store and for that, you must build a relationship with them.
---
The 4 Hacks To Grow Sales Funnel Conversion Rates
Congrats! You are now at the article's core piece.
As mentioned above, the decision phase is the most critical phase and if you aren't converting the almost converted leads here, you are leaving a huge pot of gold on the table.
Hence, here are the 4 simple to use techniques that can bail you out from this situation anytime.
Hack 1- Upsell Offers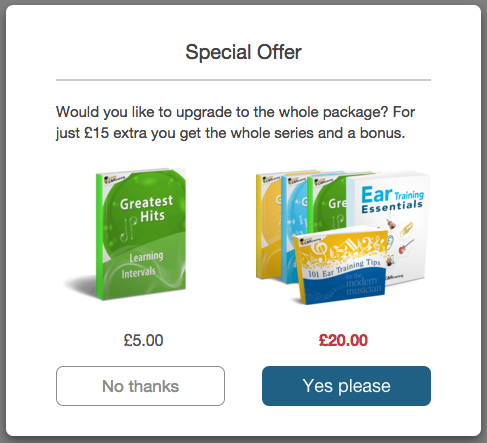 In simple terms, upsell means offering customers the expensive or advanced version of the product they already have in cart. You may even offer a bundle.
Example 1– As shown in the above image, the package costing 20 pounds is upselled with the package costing 5 pounds.
Example 2– A website offering single site license for $100 but two site licenses at $150.
Note- Don't jump directly in up-selling a product of $100 with a $10 product. Instead, you can upsell a $30 product with the $10 one.
Tip– Restrict yourself from running offers frequently otherwise people will feel you are only into making money and not in providing value.
---
Hack 2- Downsell Offers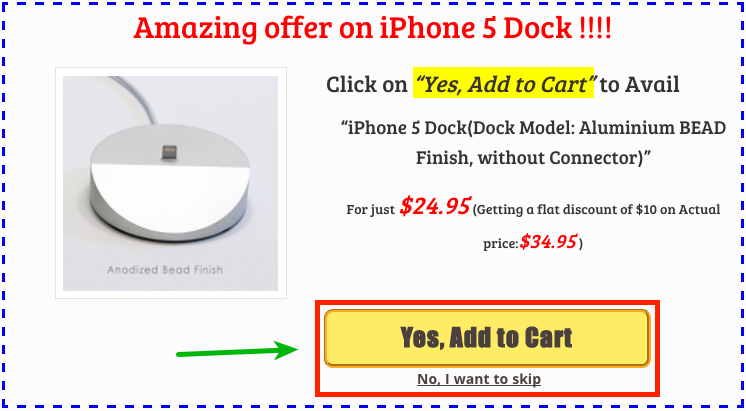 Downsell means to pitch an offer to the customer at a lower price to prevent him from abandoning your cart.
Example 1– You were offered a subscription plan worth $100 but you decide to cancel it and hence you were shown an offer that offered the same plan at $80 but with less features.
Would you accept it? Preferably Yes.
Example 2- As shown in the above image, you were offered a $10 discount on the original price.
Note- You can also offer another product related to the original but at a lower price than the original.
Tip– Don't always downsell to earn money. You may lose out on the desired profit margins. The trick here is to lure customers into discounts.
---
Hack 3- Cross-Sell Offers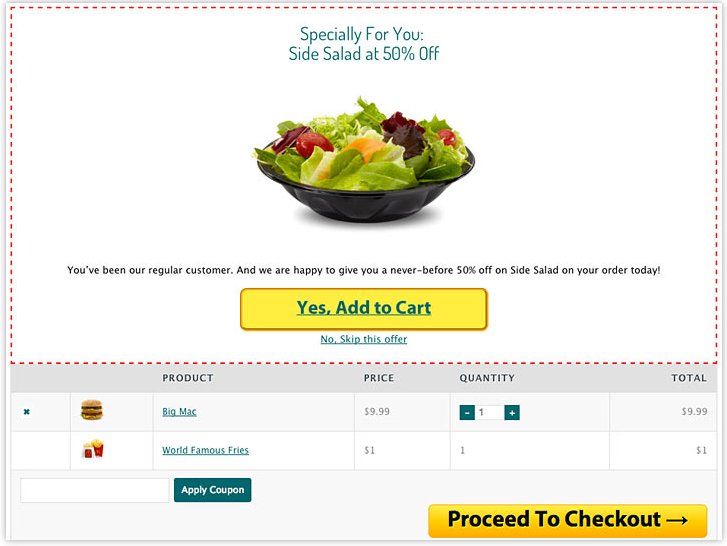 Cross-sell generally implies you are offering related or complimentary products along with the original product to increase your profit margins.
Or you may even have tied up with an affiliate and you pitch their product. The affiliate product may be non related or related too.
Example 1- As shown in the image above, along with burger and fries, you are offered a salad at 50% discount.
Example 2– You are offering web designing or content writing services to clients but they don't know about SEO and you also are not into SE. So you are offering them SEO services from your partners.
Tip– Though up-sell and cross-sell are used interchangeably, both are effective in their own ways. You can even use upsell and cross-sell one after another.
---
Hack 4- One-Time-Offers (OTO)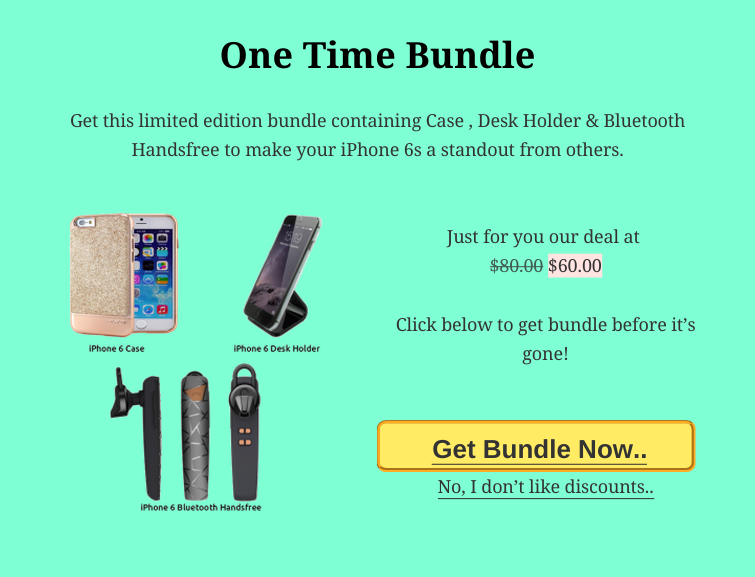 This means the offer is valid once only. The highlight here is the word "One time" which makes it work.
Point to be noted here is the the word is so powerful that it creates a sense of urgency among the users to buy the products.
Being one time offer, it should be a highly lucrative offer as well. Hence, it must involve a massive % discount, Say Flat 50% OFF or even a higher value discount.
Tip– Since it's one time, it should be one-time only. And your customer mustn't see it again otherwise you will lose your credibility instantly.
---
Top 6 Direct Benefits of Offers
More orders fulfilled
Higher conversion rates
More sales, more profits
Exposure to high-end items and best-selling products to customers
Low-end items gets sold in offers
Customer gets the best products
---
Instant Solution For Upsells / Cross-sells Offers
Smart Offers from the house of StoreApps is an all-round sales growing solution for your WooCommerce store. You can easily create:
Upsells
Cross-sells
Downsells
One time offers
Backend promotions
We at
StoreApps
believe that growth hacking comes only when our customer business grows along with us and that's why we keep on improving our products every now and then.
Smart Offers is no exception and we have recently launched the latest version.

Specialities:
New user interface
Extra settings for offers
Grid view for targeting rules instead of the long list view as shown in above image
User friendly; even a novice can create offers easily
Friendly support
Last but not the least, proven results

Create High Converting Offers Now
---
How 'Offers' Contribute to 'Growth Hacking'?
Though growth hacking is not a new term, but it surely ignites oneself.
What is Growth Hacking?
Growth hacking in simple words is a process to identify the best ways to grow a business. It involves marketing experiments that needs to be performed and monitored on a regular basis to take business decisions.
For all enthusiasts who wish to know about growth hacking, here's the ultimate growth hacking guide.
Coming back to offers, since growth hacking involves experiments, pitching various offers is no less than an experiment.
Example – You offered an upsell and people accepted it; your experiment is successful.
You offered two upsells in succession, but user accepted only the first; still it's a success.
Thus with more people accepting your offers, you are pocketing in more sales than ever before as well as indirectly contributing to your business growth.
---
How 'Offers' Impact 'Customer Lifetime Value'?
What is Customer Lifetime Value (CLTV)?
CLV is the projected revenue that a customer will generate during their lifetime.
Some customers remain while some churn out. Hence more the retain customers compared to the churned one's, ltv will be higher.
Example- If the customer spends $50 per month on an average to you and 5% is the churn rate, the lifetime customer value would be $1000.
Once prospects accept your offer and you build a strong relationship with them, they would be more happy to stay then churn out. Such a case, customers will turn into repeat customers contributing to an increased lifetime value.
---
Conclusion
The online world is full of competition and with so much pressure to acquire customers, there's no dearth of offers by businesses.
But what they lack is how to pitch that offers the smart way.
Hence, here's your chance to standout amongst the crowd with the amazing hacks mentioned above.
Afterall, the answers to the 3 fundamental questions stated on top are already with you now. Just need to tick them off.