Offering discounts changes the game for the brands overnight. All you have to do is to present your discount offers effectively and timely.
But that's where most people struggle. Copywriting, designing, product selection…it's too much work. WooCommerce expert, Chris Lema highlights 15 challenges to overcome to run successful WooCommerce campaigns.
So how to overcome these challenges? Are there any WooCommerce discount plugins that help run highly successful offer campaigns, that too automatically? Let's find out.
Types of discounts and discount rules
A flat % off discount does not work every time. You must experiment with different offer campaigns and identify what works best.
Here are some different kind of discount offers you can run for your customers, based on some rules.
Bulk discounts – Buy 3 Soaps & get 1 free or Buy 10 shirts and get 50% Off
Quantity based discounts – Get 10% discount on all handmade items for orders over 3 or more items from the handmade category.
Cart discounts – 8% discount for all orders over $100
Percentage discounts – Get a 15% discount on all Puma products!
Storewide discounts – Flat 30% Off on all products
Range-based discounts – Flat 7% discount per 100 units purchased. 10% discount per 150 units purchased.
Category based discounts – Use promo code DIWALI & get 12% off on all ethnic wear (for men & women both).
BOGO discounts – Buy one T-shirt, Get one T-shirt free
User role based discount – 15% discount for retailers on purchase of above $1000
Previous order based discount – Offer discount only to specific users when their previous order value was greater than $200
Time-based discount – Whether the discount is applicable throughout i.e. Always or for some period of time, say till 31st Jan or only during some special occasions i.e. during Christmas.
These are some conditions based on which the discount rules are determined. There are endless possibilities.
You can combine multiple discount types as well and find what works best for your store. And even use dynamic pricing strategy to boost sales.
Learn more about WooCommerce dynamic pricing and discounts
It is easier said than done to create the entire system that effectively selects the products, designs best discounts, visually and technically completes the campaign and derives great results out of it.
Major challenges faced and what's the solution
Here are few major challanges that faced during creating an running the above discount stratagies:
Which products should we offer the discounts on?
What kind of discount will work the best for this?
Who should be the target audience?
Is offering this discount worth it?
These and many such doubts arise and businesses end up spending too much time making the decision.
Once, above things are finalized, the execution process comes into the picture.
How do we design the offer? How do we understand and perform coding?
So, what if you get a plugin that takes care of A to Z of your discount campaign and helps you get the results you desire?
Yes!
If you're a WooCommerce store owner tired of solving all the problems mentioned above and are looking for that one-stop solution, Offermative can help!
Offermative completely takes off your burden of creating and running discount offers.
You can also check out this Offermative review post.
How Offermative helps tackle the challenges of running successful discount campaigns?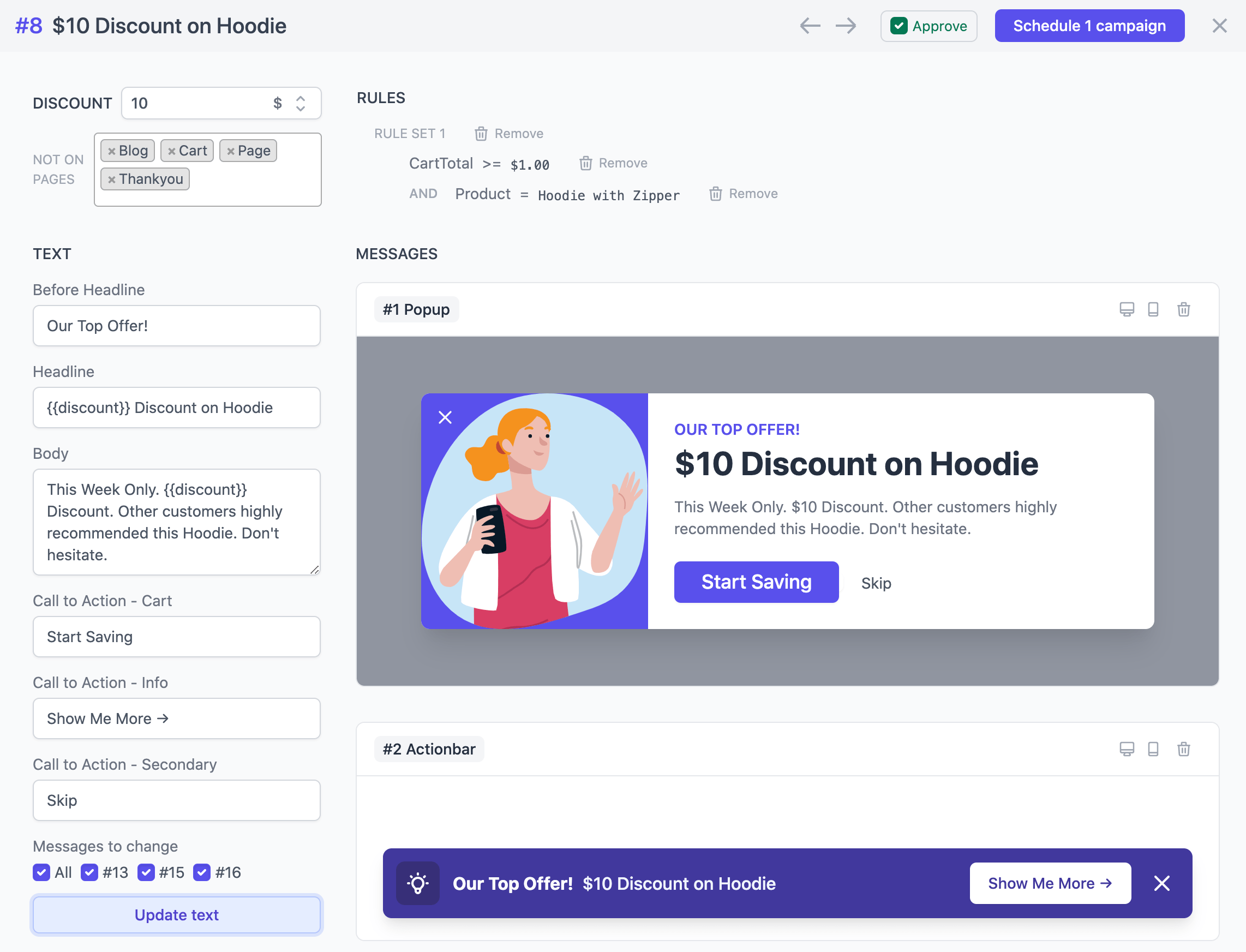 Offermative is your copywriter, designer, web developer, data analytics expert and strategy mentor combined into one plugin, intended to:
Do all the hard work
Create beautiful designs
Write convertible copy
Optimize the sales funnel
Grow your revenue like never before
This is an AI-powered WooCommerce discount plugin that smartly executes upsell-cross sell strategies, suggests similar products, deals and automates the entire process of designing offer templates, copywriting.
How does Offermative work? What are the steps to follow?
There are no steps.
Offermative requires you to just submit the maximum discount you want to offer, a bit of information about your target audience and the products/services you do not want to include for the discount campaigns.
Let's have a brief look at how this WooCommerce discount plugin exactly works.
As you click on the Generate Campaigns, the system creates some offers for your campaigns automatically.
You can select the campaign you want to run and twist it a bit wherever you want to as per your branding & marketing strategies. Once you're done, you can click on Publish and make the campaign live.
The campaigns are scheduled to run at the set date and time.
Offermative uses its smart algorithm to take these campaigns to your target audience, visitors and re-target for conversions.
Is Offermative the best WooCommerce discount plugin?
Using Offermative, you can automatically set up and run:
Storewide discounts
Category-wise discounts
Upsell and cross-sell
Percentage based/coupon codes/flat discount offers
Order bump, cart bump
Product recommendations just like how displayed on stores like Amazon
Basically, Offermative lets you run all the kinds of discounts, offers and rules that are effective, trending and would help you scale your eCommerce store.
While selecting designs for your discount campaigns, you can choose any from the header/footer bars, slide-ins, pop-ups, inline.
While choosing from the pre-generated content copies, you can customize the headline, body text, CTAs that you wish you to change as per your brand communication.
Also, you can run micro offers which are also highly targeted offers for as many products as you want.
With Offermative, you will build long-lasting relationships with your customers and your revenue will keep growing significantly.
Thus, the investment in this WooCommerce discount plugin will pay off instantly then you expect.
Also don't miss out on WooCommerce Smart Coupons
We know how tiresome the process of manually creating and dispatching the coupon codes is.
To avoid this, eCommerce store owners and businesses are using WooCommerce Smart Coupons, the original WooCommerce coupons extension.
It is considered to be a complete coupons plugin for WooCommerce stores.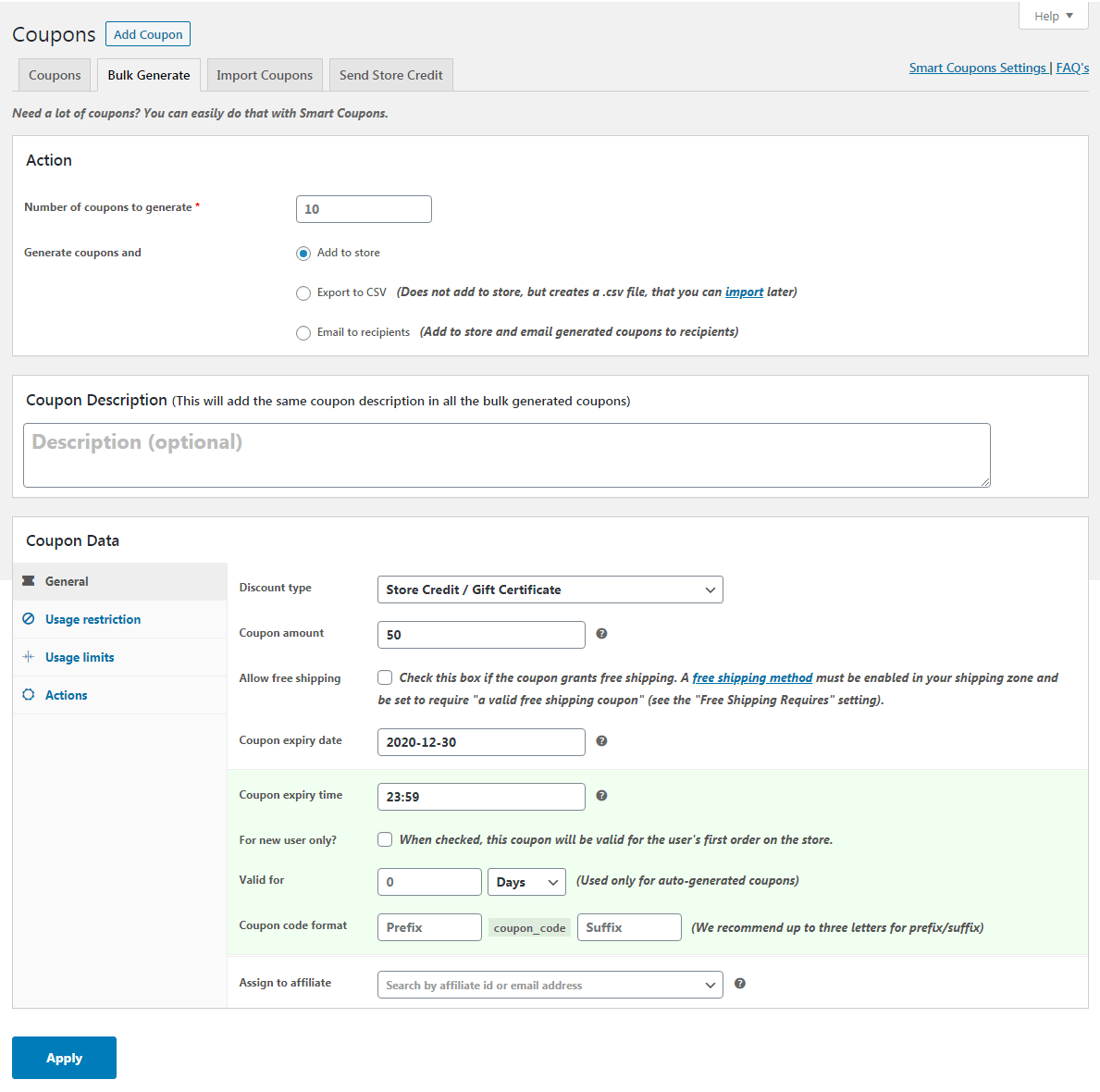 Best use of Smart Coupons for discounts –
Create any flat % off or fixed price off discount coupon
Issue store credit / gift cards that can be redeemed as discount vouchers
Allow customers to purchase higher value gift card coupon at a discount. Say $500 coupon at $400
Set maximum discount limit on the coupon. Example – 40% off upto $100
Auto apply discount coupons via URL
Bulk generate thousands of unique discount coupons within minutes
Pay using discount coupons for recurring subscriptions
It is designed in such a way that anybody can handle it and run it without any hassles or difficulties.
The fact that more than 15,000 businesses are relying solely on it, Smart Coupons is undoubtedly one of the most effective WooCommerce discount plugins.
On a parting note
Hope this article has given you a head start to run successful discount campaigns with Offermative.
In case you need any further guidance with the plugin, feel free to put your questions in the comments below and we would be more than happy to guide you.