One of the most successful e-commerce marketplaces, Amazon is everyone's first choice when it comes to purchasing goods online. And copy the tactics Amazon uses to grow sales. You wouldn't disagree even for a moment. So the next question is, how?
As you may know, WooCommerce is flexible and supports the integration of third-party applications to add more to the store functionality. We mean to say that there are a few plugins that allow you to create a compelling WooCommerce store with Amazon-like functionalities.
This article covers some smart Amazon tactics and WooCommerce plugins to implement those tactics directly. And some plugins that help you sell your WooCommerce products on Amazon.
Top WooCommerce plugins to implement Amazon-like functionalities
Given below is the list of WooCommerce plugins that allow you to add Amazon-like features within your store without any hassle.
Cashier for WooCommerce
Cashier plugin allows your users to add Buy Now buttons or links, clicking on which users can skip cart and redirect to the checkout page or any other page.
And for logged-in users and using their previous order details, the plugin will complete the transaction in one click, enabling a one-click checkout!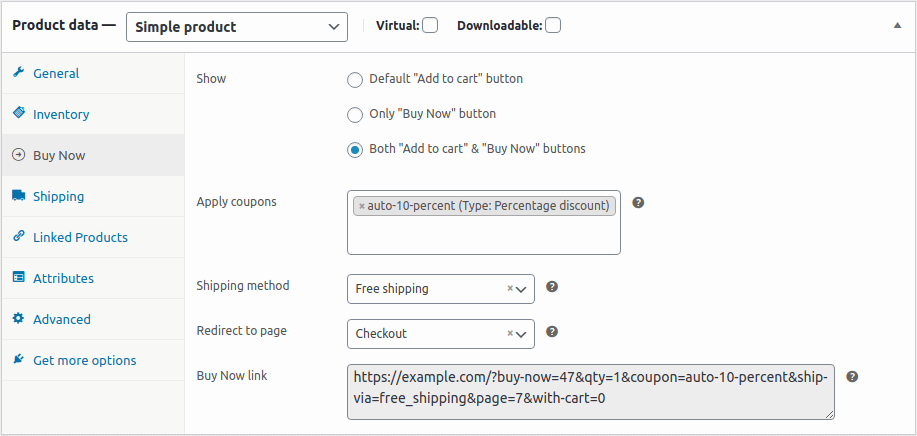 Top features:
Add the quick 'Buy Now' button storewide, specific products or product categories
Compatible with all types of WooCommerce products
Convert existing Add to Cart buttons to 'Buy Now'
Embed coupons, choose shipping methods with Buy Now links
Embed Buy Now links anywhere on site or share them via email, social media
Allows redirection to any page
Shortens checkout for all payment gateways
Automatically recommend products as upsells or cross-sells
Set min-max quantity, show cart notices, enable side cart and many more features
Pricing: $149
Saved Addresses for WooCommerce
Give your customers the ease to save and pick from their multiple saved addresses for billing and shipping.
Apparently, customers find it irrelevant to enter the same details time and again. Amazon has this feature where, during checkout, customers can add or modify the shipping address. With Saved Addresses plugin, you can have a similar functionality added to your store.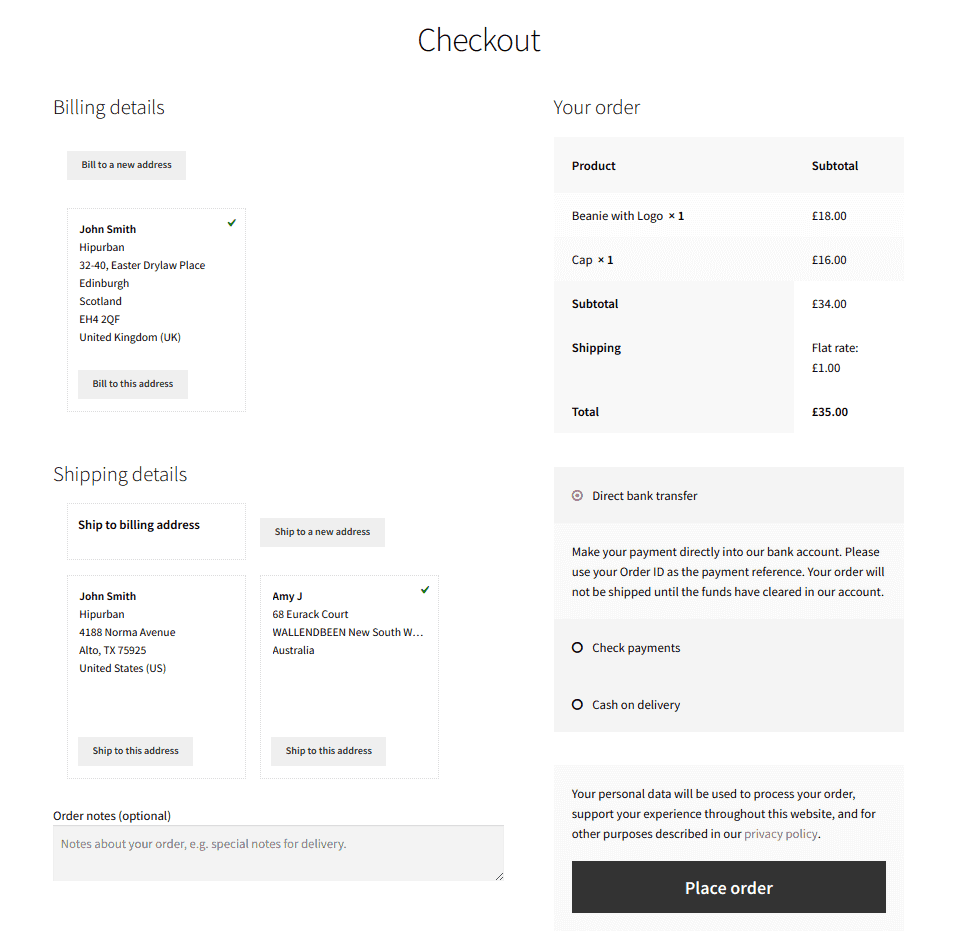 Top features:
Users can switch to any saved address during checkout
They can add, edit/modify or delete addresses directly from the checkout page
Add or delete addresses from the 'My Account' section
Set a default address for faster checkout
Mobile-optimized checkout page
Pricing: $79
Get WooCommerce Saved Addresses plugin
Frequently Bought Together for WooCommerce
Cross-selling is an effective marketing strategy. Amazon is one step ahead, implementing the same. The bought together feature is one that displays product recommendations that are purchased together with the items added to the cart.
Often, this entices customers, compelling them to add more products and scale their purchases. This WooCommerce Frequently Bought Together plugin offers the ease to set up a similar strategy and show products that are related to the one in the cart.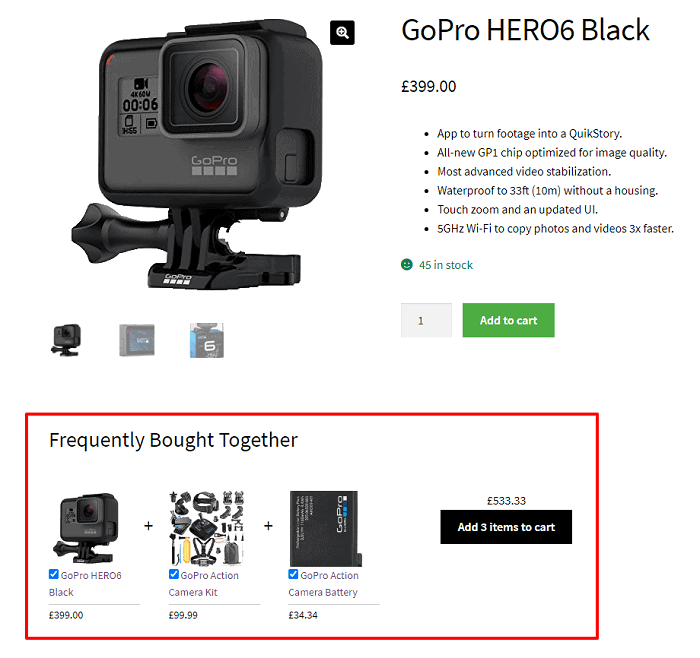 Top features:
Automatic product recommendations based on previous orders on your store
Option to manually set products that would be displayed as frequently bought together
Limit to show a maximum of two products to avoid confusion
Allow customers to directly select / deselect the products they want, among those suggested.
Pricing: $49
Get WooCommerce Frequently Bought Together plugin
Save for Later for WooCommerce
Not every website visit is intended for purchase. It might so happen that the customer is simply looking for a product while browsing and would make a purchase sometime later. In such a case, the save for later option gives them the flexibility to save products, eliminating the need to look for them again.
Amazon has this feature for a long time and has witnessed a sharp increase in sales. And this Save for Later plugin will help you witness a boost in sales as well.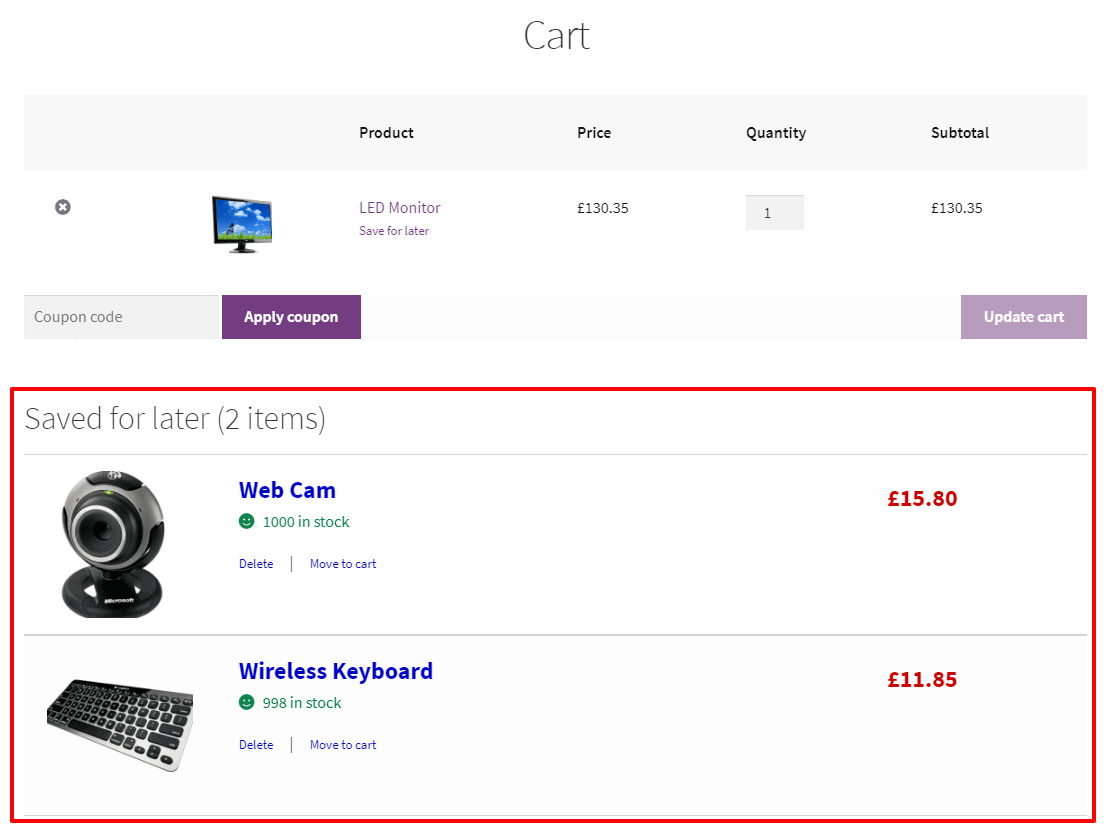 Top features:
No settings, no coding, no login / account required
Users can save unlimited items for an unlimited time
Users can move or delete products from the list to the cart and vice-versa
Saved items are displayed on the cart page, even though it's empty
Pricing: $49
Get WooCommerce Save for Later plugin
Recently Viewed Products for WooCommerce
To show your customers the products that they last viewed, grab their attention, and regain the possibility of making sales, use this Recently Viewed Products for WooCommerce plugin.
Customers add products to the cart and leave without making a purchase. In such a case, cart abandonment emails are sent to get the attention. What if the customer left the store without adding them to the store? With this Recently Viewed Products plugin, they can view the products without searching from scratch and complete their order quickly.
The plugin highlights the recently viewed or the last browsed products by the customers, grab their attention and nudging them to proceed to checkout.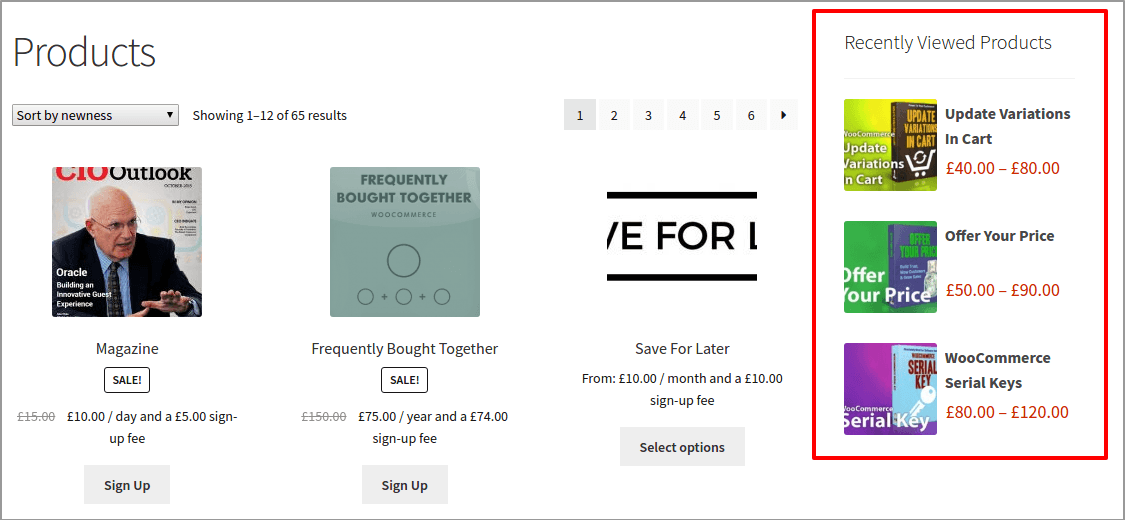 Top features:
Simple to use without any settings or coding
Login / account is not necessary for both visitors & customers to view their desired products
Show recently viewed products to your users using shortcodes or widgets
Unlimited products can be displayed
Pricing: $49
Get WooCommerce Recently Viewed Products plugin
The above were some popular WooCommerce plugins with Amazon-like functionalities. But that's not it.
While having your store makes a difference, it is advised to sell your products on Amazon as well. For one, it is trusted and a reliable place, and when your product is listed on the site, it increases the chances of a sale.
Popular plugins to ship products via FBA / sell via the Amazon marketplace
It is seen that 49% of online buyers search for products on Amazon first. Finding yours will only add up to the overall sales. Further, Amazon-listed products have a higher rate of conversion. All in all, selling your products on Amazon increases sales, benefitting you as a whole.
WooCommerce Amazon Fulfillment
An all-in-one plugin that automatically ships orders from your WooCommerce site to your customers with Fulfillment by Amazon (FBA). Irrespective of the region you sell in, this extension will connect to any single Region and Marketplace in Amazon.
Top features:
Configure whole store or set per product for FBA
Quick tracking of the FBA order status directly from the page
Superfast email notifications giving information on the progress of the order
Synchronizes stock level without having the need to do it manually
Automatically switch the id of the marketplace, if the region is EU
Pricing: $129
Get WooCommerce Amazon Fulfillment plugin
WooCommerce Amazon Affiliates WordPress Plugin
A very popular plugin to advertise Amazon products on your Woocommerce website and earn advertising fees from qualifying purchases.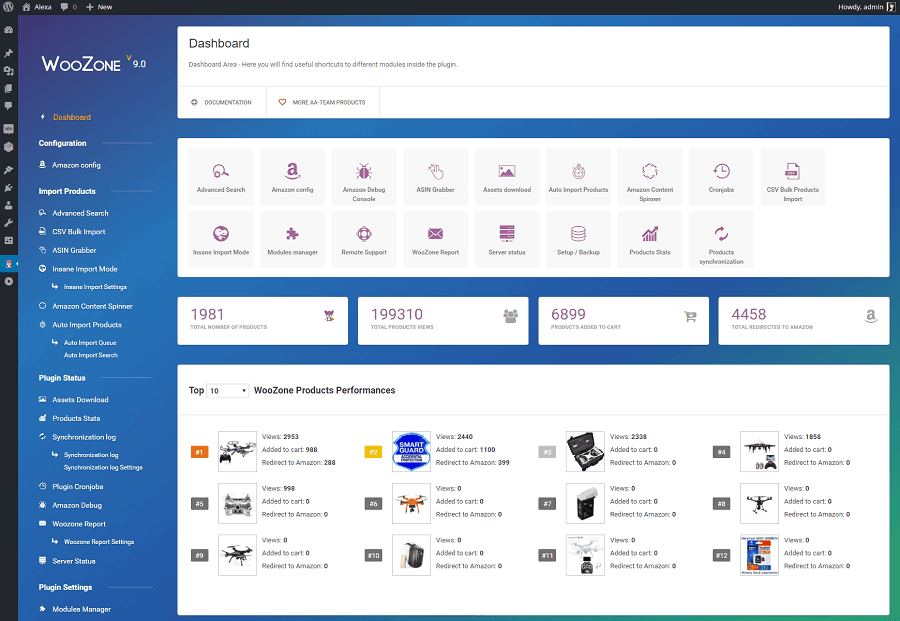 Top features:
Simple to implement and quick integration
Bulk import hundred of products from Amazon into your Woocommerce store
Best for product marketing and promotion
Automated referral generation
You can have Amazon products and simple WooCommerce products in the store at the same time.
Pricing: $49
Get WooCommerce Amazon Affiliates plugin
Amazon and eBay Integration for WooCommerce
Expand your business with this exclusive Amazon-eBay integration plugin. A marketplace listing tool, a fully-featured multichannel solution and inventory and pricing sync, it's an all in one powerful extension.
Top features:
Facilitates the creation of new listings or existing Google, Amazon, Walmart & eBay listings in bulk.
Set separate pricing, fulfilment rules and product details for Amazon and eBay listings based on your existing WooCommerce catalog data
Get marketplace orders in your WooCommerce store.
Synchronize orders, inventory, pricing, and all of the product details in real-time.
Pricing: Free download, 14-day free trial for integration services
Get Amazon e-Bay integration plugin
WooCommerce Data Feed for Amazon Marketplace
Create a custom-fit product feed of all your WooCommerce store items in a matter of minutes. Sharing all of the WooCommerce products on the Amazon marketplace is a tough task. Not when you have this plugin. It is simple to use and easy to integrate offering all of the features.
Top features:
Quick installation process
Direct products upload to Amazon using API or uploading feed files
Two-way synchronization of orders on the Amazon marketplace
Map local categories to Amazon product category
Supports WooCommerce product variations
Pricing: Free
Get WooCommerce Data Feed plugin
Conclusion
Now that you have all of the information, go ahead and equip your store with all of the must-have features, and embark on the journey of a successful entrepreneur. Our list of WooCommerce plugins that enable having Amazon-like functionalities will help you in achieving the desired sales.