Why you should opt for a quick checkout process?
The checkout process is the most crucial part of all WooCommerce stores.
What customers look for before buying is a quick and efficient checkout process that doesn't take much of their time and completes the payment process without any hassle.
If customers find lengthy forms, unnecessary form fields, and multiple checkout steps, they will abandon the cart/checkout there without giving it a second thought.
The more speedy, minimum steps & fields, and easy-to-use interface a website's checkout process possesses, the less the abandonment rate and more converted customers. So a quick checkout process will always make your customers delighted.
Top WooCommerce checkout plugins to achieve more loyal customers and sales
Cashier for WooCommerce
Cashier plugin figures out the shortest path to payment by analyzing your past orders. This extension lets you generate special Buy Now links clicking on which customers land directly to the checkout page or pre-fill checkout information from past orders and complete the order bypassing the payment step.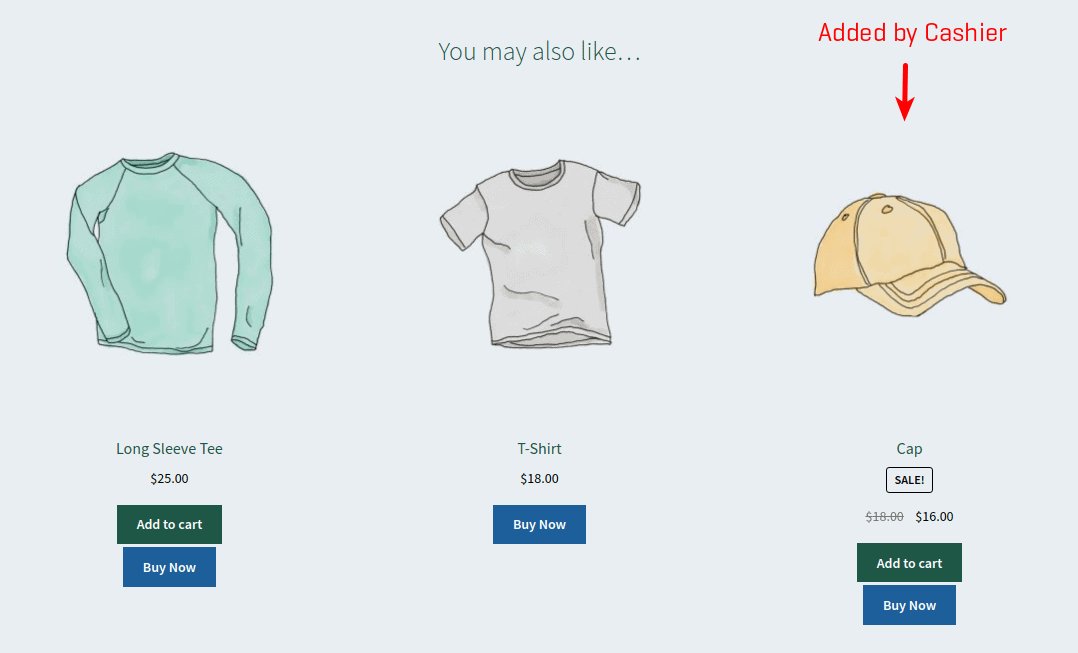 Top benefits:
You can enable Buy Now for the entire store, or create a special buy now links for products of your choice.
You can even embed coupons, choose shipping and redirect to a page of your choice with Buy Now links.
Share Buy Now links over email / social media or use them on your site.
Works for guest users too
Automatic product recommendations to boost sales via cross-selling
Add to cart redirect, cart notices, side cart, cost of goods sold and other powerful features
Pricing: $49
Express Checkout for WooCommerce for Virtual and Downloadable Products
Express Checkout for WooCommerce plugin eliminates the unnecessary shipping address details section for virtual and downloadable products & ensures a quick and smooth checkout process for the customers. Being digital goods, there is no need to ask for the shipping address.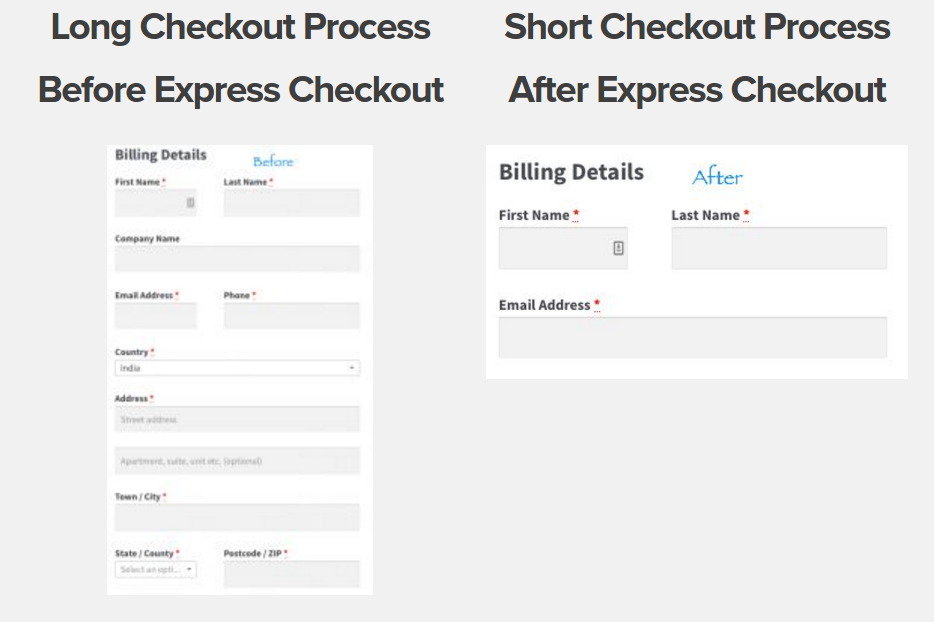 Top features:
Quick customer checkout and instant delivery
Customize the default WooCommerce checkout page. It gives you the option to choose what parameters you see on your checkout page and what you don't.
Reduced cart abandonment
Increased conversions and sales
Price: $39
WooCommerce One Page Checkout
WooCommerce One-Page Checkout allows you to display both product selection and checkout forms on one page. Customers can add/remove products to order and complete payment without leaving the page.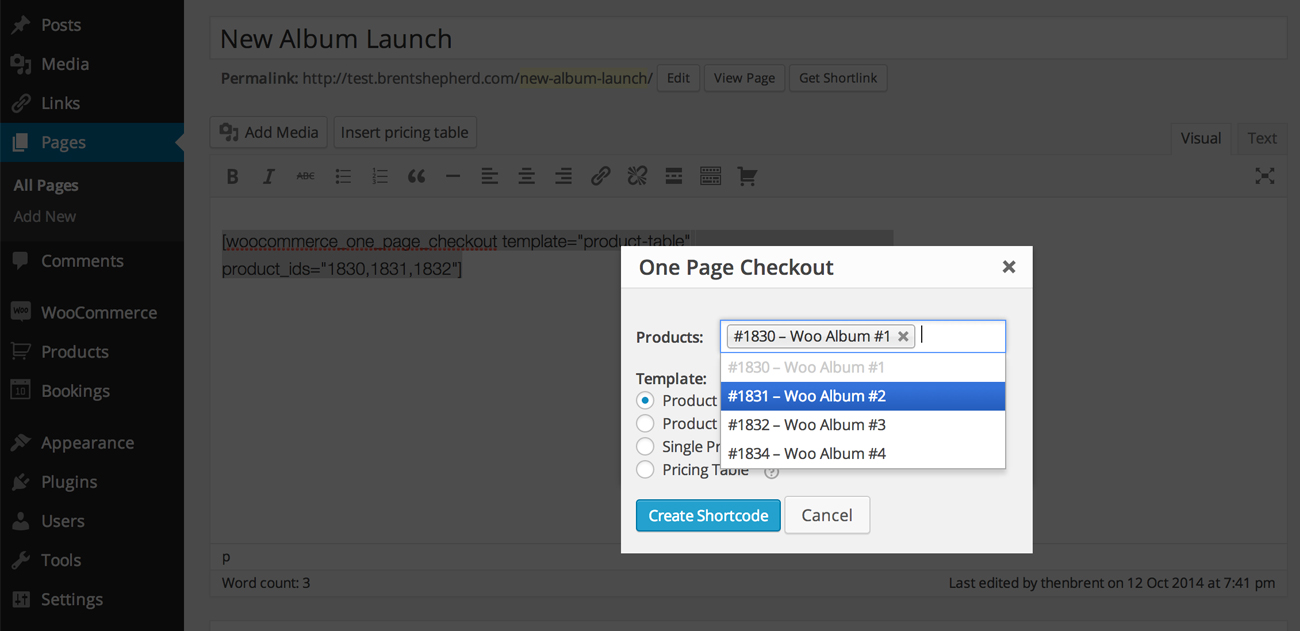 Top features:
Create multiple unique landing pages for special events, promotions, or select customers.
Create a page for one featured product, related product, or entire store catalog.
Pre-made templates + customizable template creation.
Price: $79
Get WooCommerce One Page Checkout plugin
WooCommerce One Page Shopping
WooCommerce One Page Shopping plugin is available on CodeCanyon. In this plugin, after the user adds an item to their cart, the checkout fields appear at the bottom of the same page, allowing the user to complete the purchase process right then and there.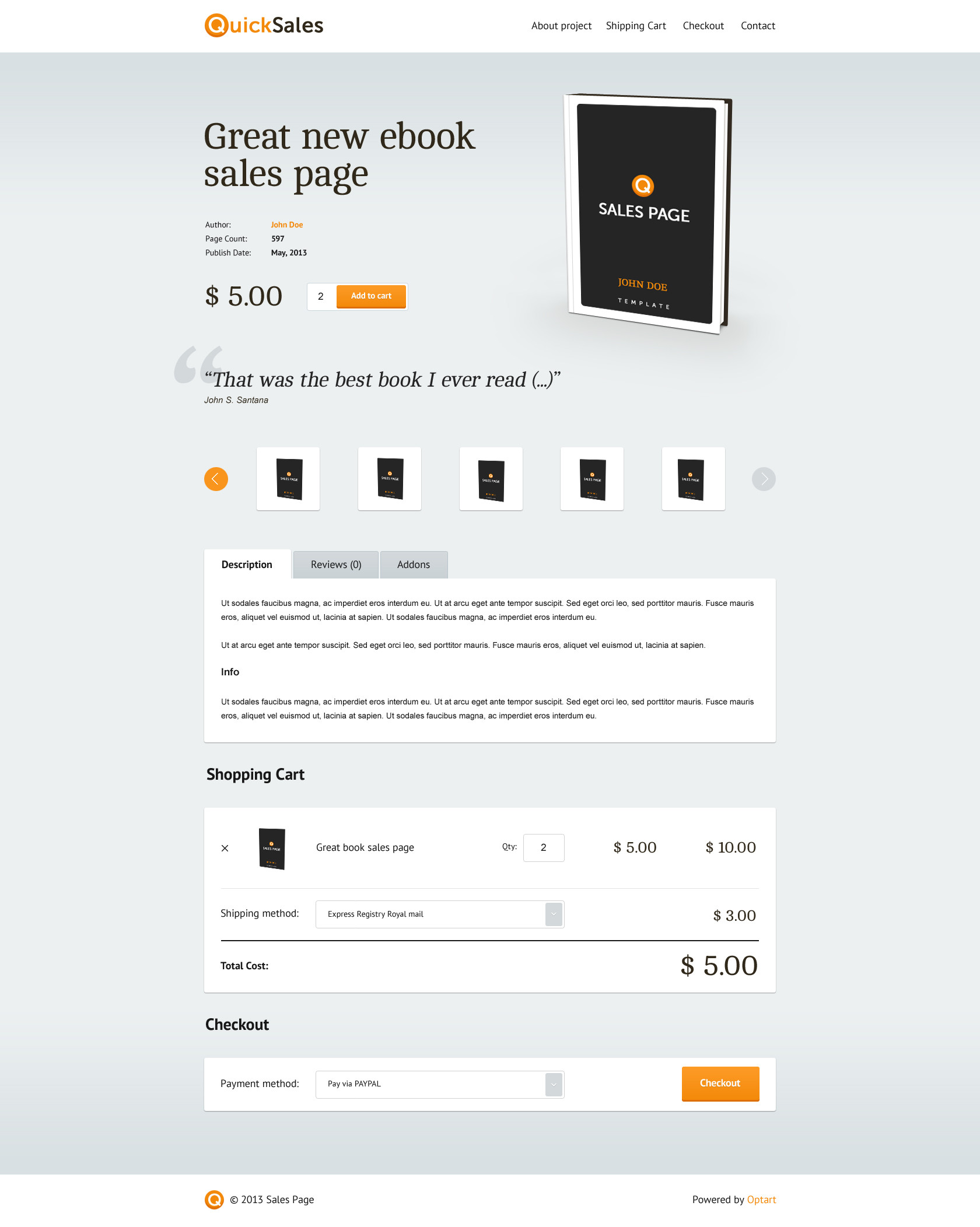 Top features:
Advanced plugin settings allow showing combinations of cart and checkout on the shop page, category pages and product pages based on user preferences.
A user can decide about the scope of the plugin in Product and Category settings.
Pricing: $20
Get WooCommerce One Page Shopping plugin
YITH WooCommerce One-Click Checkout
In YITH WooCommerce One-Click Checkout, once customers' billing information is saved during their registration, they will be able to use a simple button to purchase immediately what they desire. With a simple click, the purchase will be completed, without any other steps or waste of time.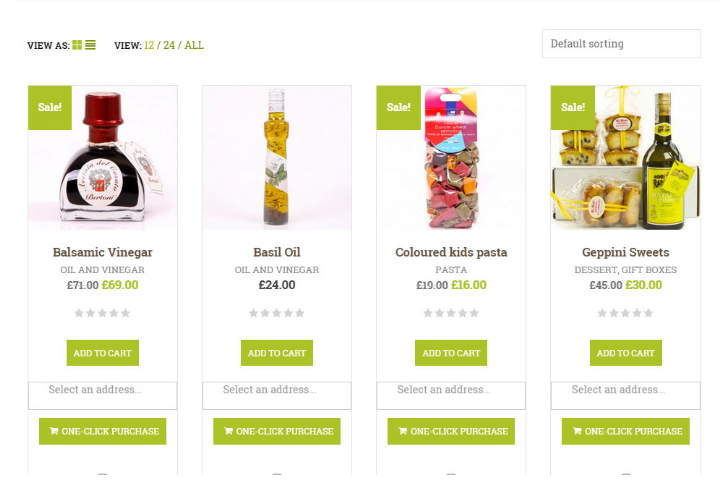 Top features:
Customers can upload attachments directly from the product itself.
Hide the button on specific products/ show only on certain products.
Redirect the user to the page of your choice after an order is created.
Pricing: $70
Get WooCommerce One-Click Checkout plugin
Comments…Feedback?
These were some of the popular WooCommerce checkout plugins. A quick WooCommerce checkout process will always make your customers delighted.
Have you used or aware of other WooCommerce checkout plugins? Share it with us in our comments section below.